Hong Kong Festivals and Events
August 2015
Chinese Hungry Ghost Festival Celebration in Peng Chau Island
Dragon Boat Races have come and gone, but we have yet a couple of colorful festivals this August, the Birthday of Kwan Tai and Yue Lan, the Hungry Ghost Festival. Also this month a couple of entertaining exhibitions and fairs, the Hong Kong Food Expo and the Computer Festival and the Lan Kwai Fong Beer and Music Fest has moved to August this year.
We are in the midst of the wettest and hottest time of the year, pack very light clothing, sandals, sun protection, and also a light jacket or sweater for the air-con at hotels, restaurants and shopping centres. An umbrella will also come in handy.
We are also in the middle of Typhoon season... watch out for any alerts. Here's what you need to know about typhoons in Hong Kong.
So let's get on with the fun part, here's what's going on in Hong Kong this August:
Also check-out these popular ongoing events during August 2015:
---
Pulse: Hong Kong's 3D Light Show
Hong Kong Pulse is the city's newest light show, a great FREE show with spectacular 3D audiovisual effects in the Kowloon harbourfront at the Hong Kong Cultural Centre and the TST Clock Tower, just a short walk from the Tsim Sha Tsui Star Ferry station and the Avenue of the Stars.
This month, the show runs through the Summer Fun season and the theme is of course refreshing and invigorating. There are four nightly sessions, each 8 minutes long.
When?: July 17 - August 2, 2015 - 8:30pm, 9:00pm, 9:30pm and 10:00pm nightly
Where?: Hong Kong Cultural Centre and Clock Tower
How Much?: FREE!
More info: Hong Kong Pulse.
---
Birthday of Kwan Tai - August 8, 2015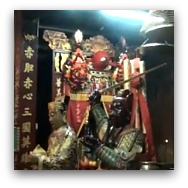 Kwan Tai was the God of War and highly regarded among the police and military circles. His Birthday is celebrated on the 24th day of the 6th Lunar month, which this year falls on August 8, 2015 in the Western calendar.
One of the best and more convenient places to join in the celebrations is at the Man Mo Temple a stone-throw away from Central, which is also dedicated to this God and where an old statue of Kwan Tai from the 19th Century is revered.

When?: Saturday, August 8, 2015
Where?: Man Mo Temple
How Much?: Free

---
Hong Kong Food Expo - August 13-17, 2015
Hong Kong is the city of food, and this annual fair sponsored by the Hong Kong Trade Development Council, is the leading food trade event gathering over 900 exhibitors with delicacies and the finest selection of foods from all over the world.
Another draw for visitors are the series of special events including cooking demonstrations by prominent chefs, forums on a variety of topics such as nutrition and food safety, and games and competitions throughout the five-day event.

When?: August 13-17, 2015 10:00 a.m. to 10:00 p.m., last day closes at 6:00 p.m. Public Hall and Gourmet Zones are open to visitors.
Where?: Hong Kong Convention and Exhibition Centre
How Much?: Free for Trade visitors, admission ticket price to public HK40
Here is more on the Hong Kong Food Expo
---
The Hong Kong Computer & Communications Festival
August 21-24, 2015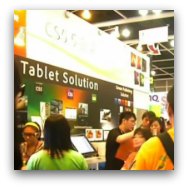 Organised by the Chamber of Hong Kong Computer Industry (CHKCI), the Hong Kong Computer & Communications Festival is the largest exhibition for the I.T. industry in Hong Kong.
And if you're wondering, yes, this is open to the public with items for sale to everyone. This is a very popular festival, everyone interested in computers, gadgets, and anything digital will want to take a look and take a advantage of the many deals offered by the suppliers.

When?: Friday to Monday August 21 - 24, 2015
Where?: Hong Kong Convention and Exhibition Centre Hall 1
How Much?: HK30
---
Slide The City - Hong Kong
August 22-24, 2015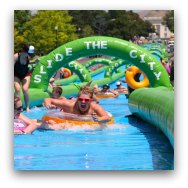 Slide the City is coming to Hong Kong this summer!
The one-of-a-kind 300 meter long water slide will be set up in the waterfront at the Kai Tak Cruise Terminal and will be welcoming all to this massive water party including live music, food and drinks, all manner of spraying, squirting, sliding and splashing fun.
When?: August 22 - 24, 2015
Where?: Kai Tak Cruise Terminal

How Much? Different packages available from HK120 - HK 480 The price range depends on the number of times down the slide and other fun items
This event is likely to be a sell-out, you need to secure your tickets by pre-registering as soon as possible.
Requirements: All participants must be at least 8 years old and 117cm tall, under 18 need to have your legal guardian sign the waiver.
More Info: Visit the official site www.slidethecity.hk.
---
Chinese Hungry Ghost Festival Yue Lan - August 27, 2015
The seventh month of the Lunar calendar is considered the "Chinese Ghost Month". The 2015 Ghost Month will run from August 14 to September 12, 2015. On this month, the spirits of the deceased are released and they come back to wander off in the living world.
It is said that some spirits may be restless and will have to be appeased, and thus, worshippers will burn paper money and make the usual offerings to make sure they are back in the good graces of their ancestors and any other wandering ghost that may happen to "drop by".

The Hungry Ghost Festival marks the middle of the Ghost Month, and offerings and activities will be held particularly on this day.
Activities other than the usual offerings of incense, Chinese paper money and food, include Chinese Opera and the dragon and lion dances with plenty of noise to scare away the evil ghosts, and are held in parks and plazas throughout the territory.
When?: August 27, 2015
Where?: Various locations throughout Hong Kong
---
Chinese Opera Festival - June 19 - August 2, 2015
"Chinese Opera encapsulates the long history and traditional culture of China. The immaculately crafted movements of the hands, the eyes, the body and the feet of the actors are unique to a whole system of Chinese performing arts."
This art form has been around for centuries and to foster a better understanding of this ancient art, the Hong Kong Leisure and Cultural Services Department brings the annual Chinese Opera Festival to the community.

If you have never experienced this unique kind of traditional art, this is your chance! The festival will offer daily stage performances by some of the leading Companies in the genre. Besides the stage performances, the festival also puts together an array of events from symposiums, Chinese Opera film screenings and exhibitions.
When?: June 19 - August 2, 2015
Where?: Stage Performances at various venues including a couple of locations very convenient to visitors:
The Grand Theatre at the Hong Kong Cultural Centre at the Tsim Sha Tsui Promenade
The Hong Kong City Hall in Central
The Hong Kong Space Museum
How Much? Ticket prices vary depending on event.
Tickets for a stage performance at the Hong Kong Cultural Centre for example range from HK 100- HK 350.
Tickets for a Chinese Opera Film Show at the Hong Kong Space Museum are HK 30.
Discounts are available to students and seniors.
Tickets can be purchased online at the Urbtix site.
More Info: Visit the official site of the Chinese Opera Festival.
---
Lai Yuen Amusement Park Super Summer
June 26 - early September 2015
Lai Chi Kok Amusement Park, the beloved iconic park that opened in 1949, was once the city's largest amusement park.
It closed in 1997 to give way to modernisation, but this summer, the old rides and games and the legacy of the old park are being revived and recreated in one of the most spectacular settings in the Harbourfront.
The carrousels, bumper cars and stage theatre are back along with many attractions inspired by the original Lai Chi Kok.

When?: June 26 to Early September 2015
Where?: Central Harbourfront Event Space near the Hong Kong Observation Wheel
How Much? General Admission is FREE, tokens are needed for the rides, each token is HK$10
More Info: Visit the official site www.laiyuen1949.com.
---
Lan Kwai Fong Beer and Music Fest - August 8-9, 2015
This massive outdoor party really needs no introduction...
When?: Saturday and Sunday August 8 - 9, 2015 - 1:00 p.m. until late
Where?: Streets of Lan Kwai Fong. Take the MTR to Central Station Exit D2, on to Theatre Lane and up D'Aguilar Street, just follow the crowds.
How Much?: Free!
More information at www.lankwaifong.com.
---
---
Ongoing Hong Kong Events for August 2015
These are some popular ongoing events that are worth checking out, specially since they are FREE or offered for a low fee!
These events feature some of the great and ancient traditions of the territory and are offered by experts in their corresponding fields:
---
The Symphony of Lights
The Symphony of Lights is Hong Kong's light and sound show, a tribute to the city and its people, their diversity, energy and vitality.
The stage is the entire city, which is what makes it so unique, you can watch the lights from just about anywhere in the waterfront. This free show offered by the city, takes place every night at 8:00 pm and lasts aboout 15 minutes.

When?: Every Night
Where?: Can be seen from both sides of Victoria Harbour
How Much? Free
Click here for more on Hong Kong's Symphony of Lights and best spots to watch.
---
Hong Kong Events
Thank you for visiting www.hong-kong-traveller.com!
Here is to a wonderful Hong Kong travel experience!