Hong Kong Festivals and Events
December 2016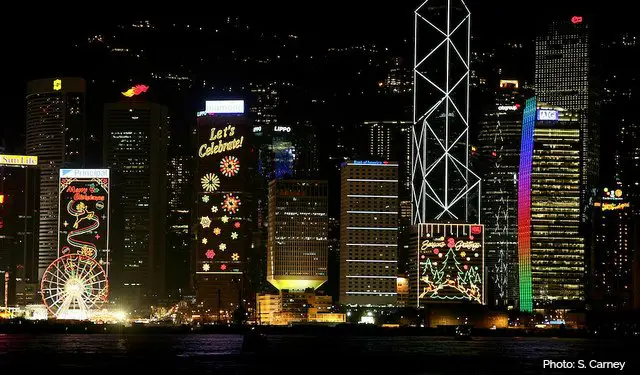 December is a very pleasant time to be in Hong Kong with cooler and drier temperatures as the WinterFest celebrations are getting underway.
With Christmas just around the corner, the lights, decorations, and smells of the season are permeating every corner of the land.
Santas, caroling angels, snow flurries, glittering stars, all come together to get you in the mood of the holiday.
Here are the top Hong Kong Festivals and events for December 2016.
Also check-out these popular ongoing events during December 2016:
Hot offers and discount tickets
The following are some of the best Hong Kong deals available
Hong Kong WinterFest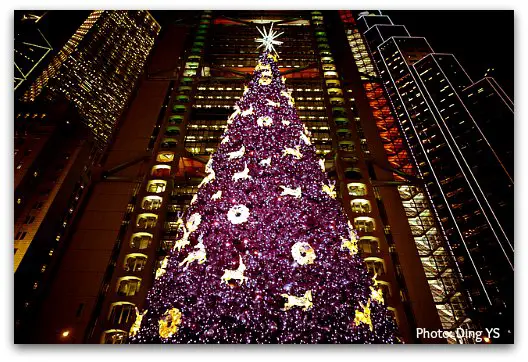 Hong Kong WinterFest is the series of events sponsored by the Hong Kong Tourism Board which kick-off late November/early December and run up until the New Year's Countdown on January 1st.
One of the highlights is the centrepiece in Central's Statue Square, which becomes the season's icon.
When?: December 2016 exact dates TBA
Where?: Central's Statue Square and events all throughout Hong Kong
How Much?: Free
More Info: Hong Kong Christmas Events
Longines Hong Kong International Races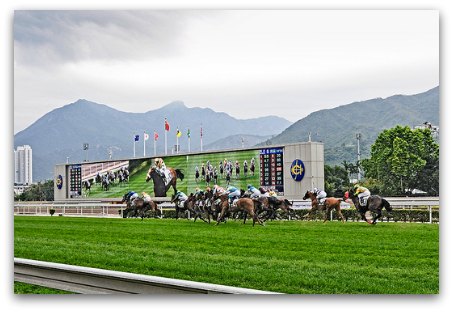 Longines is the tittle sponsor and official timekeeper of the biggest and most anticipated meeting in Hong Kong's horse racing calendar.
Without a doubt a thrilling day not to be missed for horse-racing enthusiasts as the four international G1 Races share in the stupendous HK83 million purse: the Hong Kong Cup, Hong Kong Mile, Hong Kong Vase, and Hong Kong Sprint.
When?: Sunday, December 11, 2016 - 12:00 - 6:00 pm
Where?: Sha Tin Race Course
How Much?: General Admission at Public Enclosure HK10 or Members' Enclosure with Tourist Badge HK190 (must bring passport)
More Info: Hong Kong International Races
Hong Kong Disneyland Sparkling Christmas
Parades, Carols, Christmas Trees...The entire park is transformed into a wonderland full of the holiday cheer, shiny ornaments, dazzling lights, fluffy snow, bows, balls and garlands, holiday wreaths... all decorate every corner of this magical world and make it even merrier...
You don't want to miss the magnificent Christmas Tree, the parties, the parades, and of course the fireworks.
When?: Mid November to Early January Exact Dates TBA
Where?: Disneyland Hong Kong
How Much?: Included with Admission Ticket.
Remember you can buy discount tickets online at Klook.com:
HK Disneyland Discount Tickets Adult HK539 HKD497 Children HK385 HKD360

More info:Disneyland Hong Kong Sparkling Christmas.
---
Ocean Park Hong Kong Christmas Sensation
Lots happening at Ocean Park during the holiday season, we've had stunning ice skating shows, this year's highlights are TBA, but you can always count on...
The 70-foot tree at Waterfront Plaza
Christmas Candyland
Christmas Street Shows at the Summit
Santa feeding the fish at the Grand Aquarium
Christmas Menus, snacks, cakes and tons of souvenirs to highlight the season
When?: From Mid-December to early January, exact dates TBA
Where?: Ocean Park Hong Kong
How Much?: Included with Admission Ticket
Remember you can buy discount tickets online at Klook.com:
Ocean Park Discount Tickets Adult H385 HKD334 Children HK193 HKD169
The Great European Carnival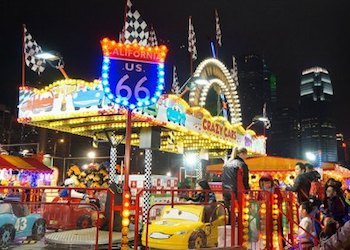 A giant, amazing outdoor event in one of Hong Kong's most iconic settings with sweeping views of Victoria Harbour. What is it? Thrilling rides for all, carnival games, live entertainment including local and international music artists and comedy performers, Hong Kong's biggest ever outdoor ice rink, and of course, festival food from around the world!
When?: Mid-December to Mid-February exact dates TBA - 11:00am to 11:00 pm
Where?: Central Waterfront next to the Ferris Wheel
How Much?: General Admission: TBA, last year Adults HK 125 (includes 10 tokens), Child (3-11) HK 90 (includes 7 tokens)
Tokens are HK10. Number of tokens required for each attraction/ride vary.
More Info and Tickets: The Great European Carnival Asia Official Site
Lan Kwai Fong Christmas and New Year's Eve Street Party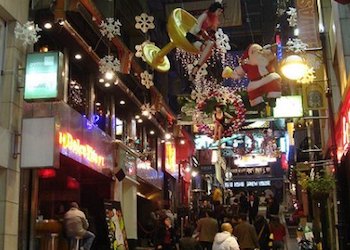 One huge street party...
As if this wasn't already the liveliest spot in Hong Kong, during the merry season Lan Kwai Fong goes all out with its renowned Christmas street party and then a week later, ready to do it again, to welcome the New Year.
Food, drink, entertainment... all restaurants, bars and clubs will be at capacity so reserve early!
When?: Christmas Eve and New Year's Eve December 24 and 31, 2016
Where?: Streets of Lan Kwai Fong. Take the MTR to Central Station Exit D2, on to Theatre Lane and up D'Aguilar Street.
How Much?: Varies
More information at www.lankwaifong.com.
Hong Kong Ballet: The Nutcraker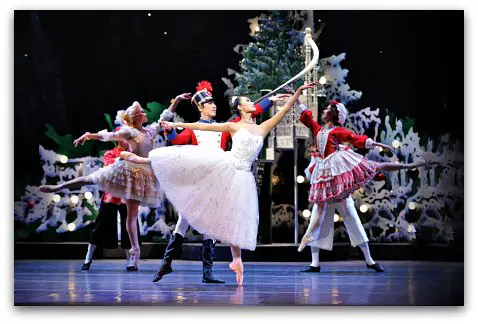 Christmas just isn't Christmas without The Nutcracker and a visit with Clara and her Prince, the Sugarplum Fairy, King Rat, the Snowflakes and all the fascinating characters from this favourite of childhood classic holiday entertainment.
When?: Several performances December 16 - 25, 2016
Where?: Hong Kong Cultural Centre - Grand Theatre
How Much?: HK$180, $320, $480, $680, $1,000 (Limited VIP)

More information and tickets at The Hong Kong Ballet.
Hong Kong Mega ShowCase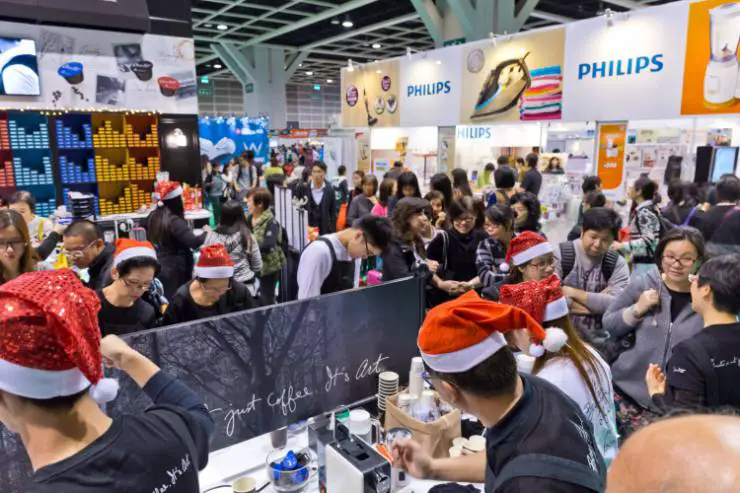 Christmas shopping on steroids! One mega event Ten Mega Themed Zones combined under one roof, open to the public, the largest Christmas indoor carnival in Hong Kong.
The Hong Kong Mega ShowCase is one big indoor festival that takes place at the Hong Kong Convention Centre every year just around Christmas time and combines several major expos and theme trade shows that are held concurrently, all under one roof for a total of ten themed zones:

Hong Kong Homex
Hong Kong Car Show
Hong Kong Food Festival
Hong Kong e-Expo
Beauty and Health
Books, Gifts and Toys
Trendy Fashion and Accessories
Baby and Kids
DIY Crafts and Creativity
Pioneer Zone
When? December 24 - 27, 2016 Food Festival until December 28, 2016
Where? Hong Kong Convention and Exhibition Centre, 1 Expo Drive, Wan Chai, Hong Kong
How Much? HK$20 this covers entrance to all zones and mega events
More info: Hong Kong Mega ShowCase
Hong Kong's New Year's Countdown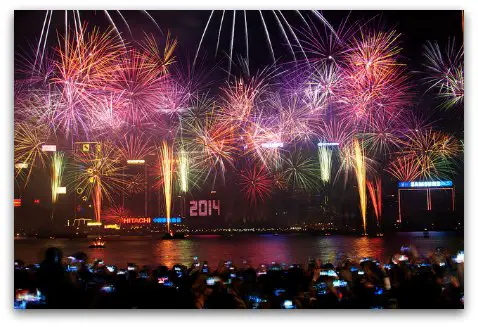 Wave goodbye to 2016 and welcome the new year with a bang! Hong Kong's New Year's Countdown to 2017 and fireworks display on the Harbour is one of the territories signature events of the year.
This year's limelight is expected to be on the Hong Kong Convention and Exhibition Centre as it was in prior years. The fireworks display lasts about eight minutes, and are launched from both the skyscrapers and the harbour barges. The scope and range of view is massive but you still want to stake out your position well ahead of midnight!

We are looking forward to this year's celebration!
When? Midnight December 31, 2016
Where? Many vantage points, wherever there is a view of the skies above Victoria Harbour!
How Much? Free!
More Info: Hong Kong's New Year's Countdown to 2017
Hong Kong Philarmonic's New Year Celebration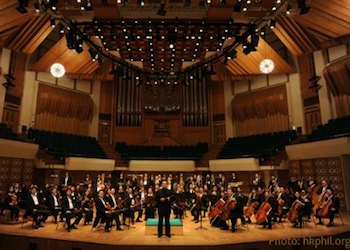 Blue Danube Waltz , Radetzky March and more Viennese waltzes and polkas. Yarub Traub conductor. Like the spectacular Viennese celebration that inspires this always-sold-out performance, the concert will culminate in the Blue Danube Waltz and the Radetzky March (clapping and foot-stomping encouraged!).
When? Friday and Saturday December 30-31, 2016 - 8:00 pm
Where? Hong Kong Cultural Centre Concert Hall
How Much? HK$180, HK280, HK$380, HK$480
More Info and Tickets: www.hkphil.org
Ongoing Hong Kong Events for December, 2016
These are some popular ongoing events that are worth checking out, specially since they are FREE or offered for a low fee!
Pulse: Hong Kong's 3D Light Show in the Harbourfront
Hong Kong Pulse is a great FREE show with spectacular 3D audiovisual effects in the Kowloon harbourfront at the Hong Kong Cultural Centre and the TST Clock Tower, just a short walk from the Tsim Sha Tsui Star Ferry station and the Avenue of the Stars.
In December, the show runs through the Winterfest season and the theme is of course holiday related. There are four nightly sessions, each 8 minutes long.
When?: November 25 - December 28, 2016 - 8:20pm, 8:45pm, 9:15pm and 9:45pm nightly
Where?: Hong Kong Cultural Centre and Clock Tower
How Much?: FREE
More info: Hong Kong Pulse.
---
Hong Kong Cultural Events
These events feature some of the great and ancient traditions of the territory and are offered by experts in their corresponding fields:
The Symphony of Lights
The Symphony of Lights is Hong Kong's light and sound show, a tribute to the city and its people, their diversity, energy and vitality.

The stage is the entire city, which is what makes it so unique, you can watch the lights from just about anywhere in the waterfront. This free show offered by the city, takes place every night at 8:00 pm and lasts aboout 15 minutes.


When?: Every Night

Where?: Can be seen from both sides of Victoria Harbour

How Much? Free

Click here for more on Hong Kong's Symphony of Lights and best spots to watch.
---
The Happy Valley Horse Races
Happy Valley Hong Kong whether or not you are a horse racing enthusiast is an experience not to be missed!

The beautiful horses, the skillful jockeys, the crowds going wild, they all add up to an exciting, fun-filled, thrilling atmosphere in a world-class venue.

The Happy Valley race course itself is a sight in itself, the city has built around it through the years and it is now practically surrounded by skyscrapers, an awesome experience specially at night when the city is illuminated.


When?: Wednesday Nights. First race starts at 7:15 p.m. and the gates open at 5:15 p.m. The races are done by 11:00 p.m.

Where?: Happy Valley Race Course

How Much? Depends, there are many ways to experience the races, from General Stand to Private Boxes and special packages including dinner and drinks. General Stand entrance starts at HK10. The "Come Horseracing Tour" provides transportation to/from your hotel, dinner and drinks and access to the Member's Boxes.

Click here for more on Happy Valley Horse Racing, how to get there and options for viewing the races.
---
Hong Kong Events
Thank you for visiting www.hong-kong-traveller.com!
Here is to a wonderful Hong Kong travel experience!