Hong Kong Hotels Top Picks With Kids
Travelling with children? While all areas in the city are family-friendly, the challenge in Hong Kong is to find roomy accomodations. In a city where land is at a premium, you can expect smaller room sizes all-around, single and twin rooms are common, but triple, quad, and family rooms somewhat scarce.
That said, here are a few choices that we have found quite good in the past when travelling with our kids.
We look for places that offer
Family rooms or simply a bit more space to accomodate 3 - 4 people
Kitchenettes or fridge and coffee/tea making facilities
Swimming pools which come in handy with weary kids after some sightseeing or shopping at the markets
"Walkable" areas with eateries, shopping, nearby
Not surprisingly, many of the properties offering spacious accomodations in central locations at more affordable prices are found in the Kowloon side. We also prefer this side as it feels more "pedestrian friendly" and not as "hilly" as the Hong Kong Island side with the many overpasses, which may be a bit more challenging if travelling with little ones in strollers.
And of course you have the ultimate stay for families with kids at Hong Kong Disneyland Resort, which offers two very different options, the Victorian themed flagship Hong Kong Disneyland Hotel and the more relaxed art deco Hollywood Hotel.
For families, another great option is staying in an apartment or vacation rental. It involves a little more planning and research to find the right accomodation but it is well-worth the effort.

Great Family Hotels in the Kowloon Side
Cordis Hong Kong at Langham Place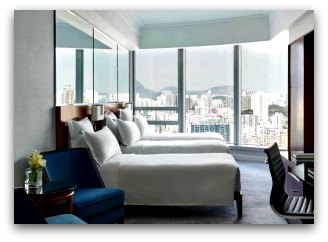 Fantastic location in the heart of Kowloon and connected to the Mongkok MTR station and the Langham Place shopping center
Family Trio and Quad (37 sq m), Family Two-Bedroom, Studio (40 sq m) and Suites available (56 sq m) Get a room in a higher floor facing the Harbour for some fantastic views
Hotel has a 2-Michelin star restaurant Ming Court
Outdoor swimming pool
Babysitting available
Free Wi-Fi
This is a very lively neighborhood and is one of the kids' favorite market and street food areas with the Ladies Market and Temple Street Night Market just around the corner
Cordis at Langham Place Hong Kong:
555 Shanghai Street, Mongkok, Kowloon
Royal Plaza Hotel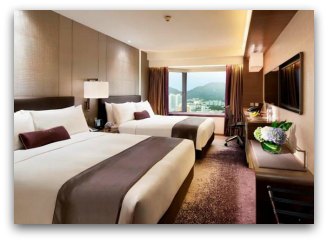 The Royal Plaza in the Mongkok area of Kowloon offers in general larger rooms than your typical double room in Hong Kong. There are also family rooms (32 sq m) with two queen sized beds that will accomodate a family of 4.
There are two MTR stations nearby, about a 10-minute walk, Prince Edward MTR and Mongkok MTR stations, they can get you to all the attractions and central areas of the city. The walk to Mongkok MTR is on covered walkways. There is also a free shuttle from the hotel that takes you to Tsim Sha Tsui or the Prince Edward MTR station to save you the walk, you need to reserve a spot in advance.
The hotel is adjacent to newly renovated MOKO Shopping Mall with a fantastic food court, supermarket, cinema, and of course all famous brand stores
Outdoor swimming pool
Babysitting available
Free Wi-Fi
Tea/coffee and a minibar in all rooms
Some of Hong Kong's most colorful markets for kids are in this area: Flower market, bird garden, gold fish market...
Royal Plaza Hong Kong:
193 Prince Edward Road West, Kowloon
Harbour Grand Kowloon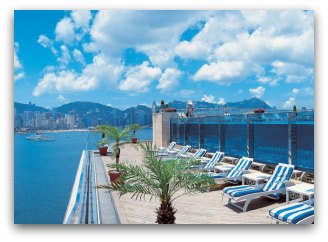 This hotel is located on the waterfront, not in the center of the city but close enough and the hotel offers free shuttle service to Tsim Sha Tsui every 20 minutes. The views as you can imagine are spectacular, day and night...
You can walk via the Promenade along the water and reach Tsim Sha Tsui and the Star Ferry terminal, a beautiful 25-minute walk
Rooftop Swimming Pool with gorgeous panoramic views of Victoria Harbour
Junior Suites or Two Connecting Rooms (80 sq m) Rooms feature large floor-to-ceiling windows, go with the harbourview rooms, well worth it!
Free Wi-Fi
Babysitting available
Shops and Restaurants including Whampoa Shops within 5 - 10 minute walk
This might not be the most convenient of locations, but the Harbour Grand Kowloon is good value and yes, that view...
Harbour Grand Kowloon:
20 Tak Fung Street, Whampoa Garden, Hunghom, Kowloon
Butterfly on Prat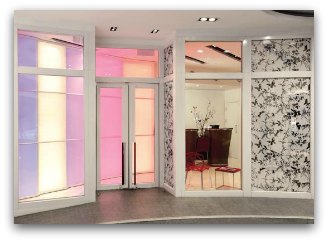 Butterfly On Prat is a stylish Boutique Hotel that offers excellent value in Hong Kong.
Centrally located and within 4 minutes walk from Tsim Sha Tsui MTR Station it's in a busy neighborhood near to everything... Nathan Road, restaurants, fast-food, shops...
Trio (35 sq m) and Quad Family Rooms (49 sq m)
Free Wi-Fi plus smart device-friendly multimedia docking station
Free use of a smartphone offering local calls and unlimited 3G data
Fantastic staff
Butterfly on Prat:
No.21 Prat Avenue, Tsim Sha Tsui
The Royal Garden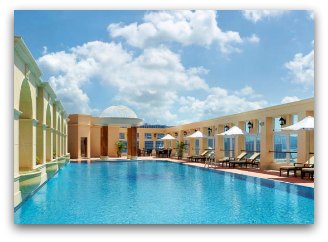 The Royal Garden in Tsim Sha Tsui East is conveniently located, just a five minute walk from the Tsim Sha Tsui East MTR station and Hong Kong's most epic walks, the Promenade and Avenue of the Stars in the waterfront.
It offers triple rooms (28 sq m) and family rooms (60 sq m) with two double beds or two twins and one double
Rooftop swimming pool with fantastic views of Victoria Harbour
A one-star Michelin rated Restaurant, Dong Lai Shun, and six other dining options
Royal Garden features a gorgeous 110-foot natural light atrium
Free Wi Fi
Free use of smartphone which provides unlimited local and international calls for 27 countries, unlimited 3G data connectivity and Wi-Fi hotspot
The area is quieter than bustling Nathan Road but a short walk gets you in the middle of plenty of restaurants, shops, cafes
The Royal Garden Hong Kong:
69 Mody Road, Tsimshatsui East, Kowloon
Holiday Inn Golden Mile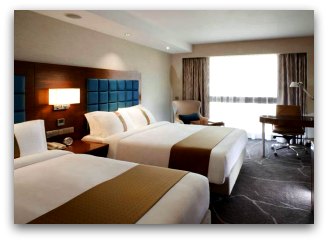 The Holiday Inn Golden Mile is one of the old timers in the heart of Tsim Sha Tsui.
Fantastic location just steps from restaurants, bars, cafes, shops, Nathan Road, the harbour, the Star Ferry and the TST MTR Station
Rooms are spacious, comfortable, although decor is dated and in need of a face lift. Deluxe Rooms (29 sq m) can accomodate a family of 4 in two double beds
Rooftop pool to unwind...
Babysitting available
Free Wi-Fi
Holiday Inn Golden Mile:
50 Nathan Rd, Tsimshatsui
Caritas Bianchi Lodge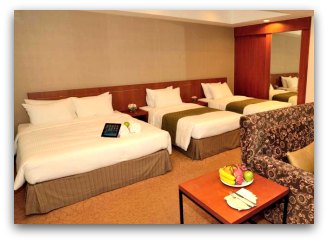 The no-frills option but what it lacks in ammenities, it makes up with its fantastic location in the middle of Yau Ma Tei, a lively district minutes from some of the best markets in town
Five minute walk to Yau Ma Tei MTR
Larger rooms that offer lots of space for families: The family room has one double bed, two single beds and a sofa, easily accomodate a family of 4 with 2 adults and 2 children
Lots of restaurants, convenience stores at the doorstep, Nathan Road, Temple Street Night Market, Ladies Market all nearby
Free WiFi
Caritas Bianchi Lodge:
4 Cliff Road, Yaumatei, Kowloon
Great Family Hotels in the Hong Kong Island Side
JW Marriott Hotel Hong Kong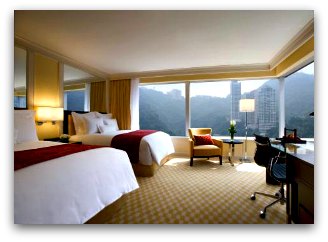 This hotel is located in the Central District in a top location in the Pacific Place Complex with direct access to the Admiralty MTR Station and Pacific Place Shopping Mall.
Fantastic city and harbour views
For families, there are adjoining Deluxe Rooms with extra-large double beds
Free Wi Fi in the lobby
Outdoor swimming pool
Super convenient transportation connections: bus terminus, ferries, and Admiralty MTR station, a major traffic hub.
JW Marriott Hotel Hong Kong:
Pacific Place, 88 Queensway, Hong Kong (Admiralty)
Great Family Hotels Outside the City With Convenient Transport Links
Hyatt Regency Sha Tin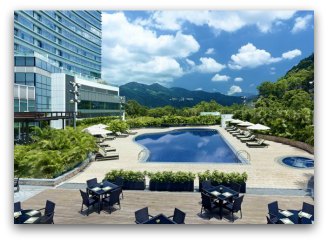 Located in the New Territories with fantastic views of the mountains and the harbour in the north, this hotel is not in the city but is a good option for those that want to get away from the hustle and bustle, have lots of space and great ammenities without the price tag.
There is a (sporadic) free hotel shuttle to the city. With the MTR you can get in and out of the city in 40 minutes. University MTR station is only within a couple of minutes walk from the hotel
Larger rooms that offer lots of space for families: 115 - 120 sq meters Two-Bedroom Twin Suites accomodate 4, Family Studios accomodate up to 6.
More laid back and relaxed atmosphere, with a fantastic outdoor swimming pool, kid play areas and Camp Hyatt. Adjacent to the hotel there is a biking/walking path with great views of the surrounding area
Free Wi-Fi
Free use of smartphone which provides unlimited local calls and international calls to Australia, China, Japan, South Korea and the United States, and unlimited 3G data connectivity and Wi-Fi hotspot
Babysitting services available
This is not in a central area where you can walk around and find a cafe/restaurant/market, but a great jumping off point to the Saikung Peninsula if you love the outdoors, 25 minutes from Lo Wu if you are heading to Shenzhen at the Mainland China border, and steps from Sha Tin Horse Racing.
Hyatt Regency Sha Tin:
18 Chak Cheung Street, Sha Tin, New Territories
---
Hong Kong Hotels Quick Links
Thank you for visiting www.hong-kong-traveller.com!
Here is to a wonderful Hong Kong travel experience!