Hong Kong Mega Showcase
Christmas Shopping on Steroids
Hong Kong Mega Showcase 2017: From December 23 - 26, 2017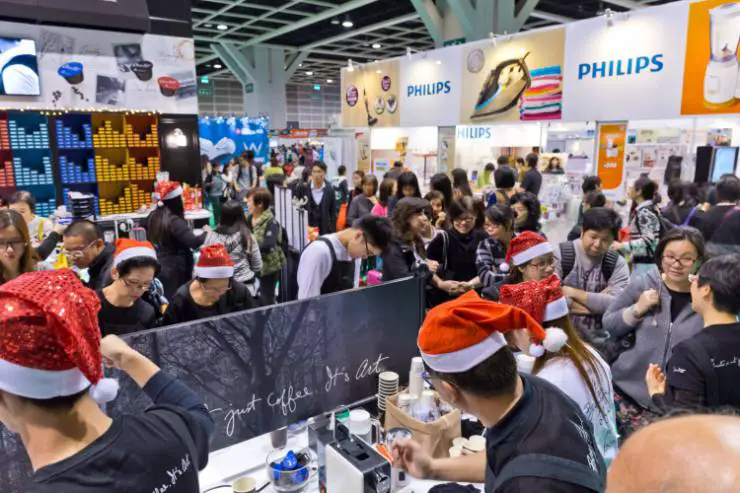 The Hong Kong Mega ShowCase is one big indoor festival that takes place at the Hong Kong Convention Centre just around Christmas time and combines several major expos and theme trade shows that are held concurrently, all under one roof for a total of ten themed zones:
Homex
e-Expo
Hong Kong Car Show
Hong Kong Food Festival
D.I.Y. Zone Crafts and Creativity
Music, Fitness and Sport Related Zone
Beauty and Health Care Zone
Hong Kong Toys Expo
Trendy Fashion and Accessories Zone
Baby and Kids Zone
So what exactly is this? Is it open to the public or only the trade? This is one major expo and trade show that is open to the general public.
It has been recognized as "Hong Kong's biggest Christmas indoor carnival with "Eat, Drink, Play and Fun" elements under one roof".
With over 1,000 booths with vendors from around the world, including Taiwan, Macau, Mainland China, Japan, Korea, Italy, Australia, Malaysia, India, Indonesia, Vietnam, etc. it welcomes over a million of visitors over the four-day extravaganza.
Yes, it will be crowded, many come to take advantage of the great deals on offer, from electronic, computer and camera equipment, housewares, home decor and small appliances, and this being Hong Kong, of course food! Yes, this is your time to load up on all those delicacies for Chinese New Year!
Another major aspect of the MegaShowcase is the live entertainment and fabulous on-site activities. At all theme zones there will be a host of events so it is a great chance to spend a fun-filled day with the entire family.
When? December 23 - 26, 2017
Where? Hong Kong Convention and Exhibition Centre, 1 Expo Drive, Wan Chai, Hong Kong
How Much? HK$20 this covers entrance to all zones and mega events
More info: www.megashow-expo.com.hk
Here is what to expect at each of the major expo zones:
Hong Kong HOMEX - Home Expo
This is the one home show you don't want to miss. Everything from furniture, home appliances, housewares, interior design and home decoration...
Main Zones:
Furniture and Bedding
Electrical Appliances and Smart Home
Interior Design and Decoration
Bathroom and Kitchenware
Home Services: Insurance, Pest Control, Cleaning Services, etc.
Pet Care
Special events:
Houseware auctions - bid for your favourite houseware appliances, how much? you decide!
Feng Shui seminars - specialists will be on hand to advise all about the most auspicious and practical ways to decorate your home
Interior Design Trends seminars - tips by professional interior designers on the latest trends and styles
Lucky Draws with Grand Prizes
Where: HKCEC Hall 1
More info: www.megashow-expo.com.hk/homex
e-Expo - Intelligent Life with Technology Products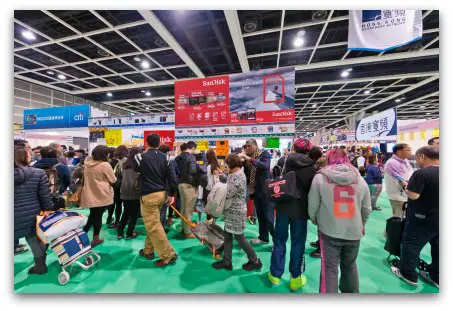 Everything you need for that e-Lifestyle: mobile technology products, computers, peripherals, networking, digital media products, wireless applications
Main Zones:
e-Entertainment
e-Digital Products
Smart Living and Home
Photographic and AV Equipment
Special events:
Game Competitions
Photo Competitions
Where: HKCEC Hall 1
More info: www.e-expo.com.hk
Hong Kong Car Show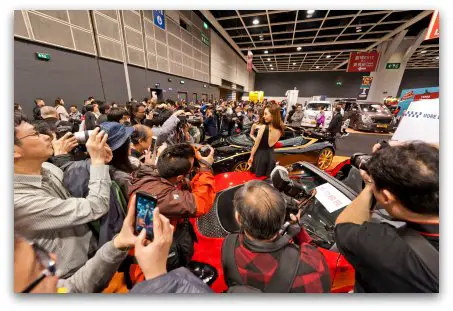 One-Stop Car and related products and services with a number of well-known automotive brands to share with car lovers. Previous exhibitors include Volkswagen, Tesla, Mitsubishi, etc.
Main Zones:
Vehicles: Recreational Vehicles, Sports Cars, Off-road, Traditional and Antique Cars, etc.
Concept Cars
Motorbikes
Diagnostic Vehicle and Product
Parts and Accessories
Repair and Maintenance
Special events:
Game Racing Simulators
Photo Competitions
Where: HKCEC Hall 1
More info: hongkongcarshow.com.hk
Hong Kong Food Festival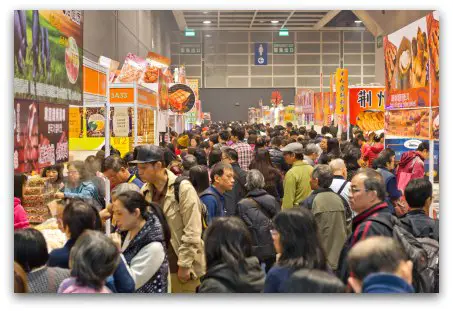 Bringing you traditional cuisine and delights from around the world including Japan, Korea, Italy, Australia, Thailand, Singapore, Malaysia, Indonesia, Vietnam... and of course our daily Chinese essentials.
Try something different, enjoy the traditional snacks and foods for Chinese New Year, great shopping opportunities, learn to cook a new dish! Needless to say, this will be one crowded zone!
Main Zones:
New Year Food, Daily Essentials, Quality Dried Seafood Zone
Hong Kong Delicacies
Worldwide Food and Trading Zone
Dessert Zone
Healthy Green and Vegetarian Food Zone
Staple Diet of Japan
Taste of Korea
South East Asia Favour Zone
International Wine and Luxury Food Zone
Premium Brands Zone
Special events:
Celebrity Chef Cooking Demos
Over 40 sessions of "Gastronomic Paradise @ Star Kitchen"
Where: HKCEC Hall 3
More info: www.food-expo.com.hk
D.I.Y Zone - Arts and Creativity
This zone showcases hands on DIY Seminars led by creative masters as well as a wide variety of handcrafts, leather, knitting, etc.
Music, Fitness and Sport Related Zone
New for 2016, this zone will feature a great diversity of indoor and outdoor sports products, musical instruments and related products.
Beauty and Health Care Zone
With the latest trends and products in Spa and Massage, Hair Salon, Nail Care, Cosmetics, Health Care Products and Equipment.
Hong Kong Toys Expo
New for 2016, it replaces the Books, Gifts and Toys Zone and is bound to be a hit, specially during the holiday season. Expect to see the latest in toys and animation products, and a wide assortment of educational toys, promotional gifts, etc.
Trendy Fashion and Accessories Zone
Girls paradise... clothing, jewelry, bags and purses, shoes and accessories...
Baby and Kids Zone
For parents and parents-to-be, all you will ever need for baby care: bedding, furniture, maternity products, clothing, feeding needs...
Hong Kong Events
Thank you for visiting www.hong-kong-traveller.com!
Here is to a wonderful Hong Kong travel experience!