A Day Trip to Lamma Island
Beaches, Hikes, And Splendid Seafood
Lamma Island is a Y-shaped island located just south of Hong Kong Island and easily reached with the convenient ferry service for a nice short day trip out of the city.
It is one of the very few places in Hong Kong that still hangs on to its old fishery ancestry customs and traditions and a real treat to visit any time of the year.
It is hard to imagine that only 20 short minutes away from the sparkling skyscrapers and maelstrom of Central, you can find yourself in a different kind of sparkle:
...Gleaming white sand beaches with crystal clear blue waters...
...Contrasting brilliant green hills...
...Sleepy fishing villages...
...Seafood... fantastic fresh seafood in the waterfront...
Whether for a day or only a few hours, Lamma Island is a great option for an escape from the tumult of the city. There are no vehicles or public transport here, except for service vehicles. It's either walking or bikes... a nice change of pace!
The ferries from Central will bring you to either of two main piers in Lamma:
Yung Shue Wan and
Sok Kwu Wan
There is a very popular trail that traverses the island and connects both towns. Exploring the island is as easy as fully or partially embarking on this 4 km path that takes about one-and-a-half hours from one end to the other.
You can start the day with the ferry to Yung Shue Wan, explore the town a bit before embarking on the light hike to Sok Kwu Wan passing through fantastic vistas of beaches, hills, local temples... stopping for a dip in the ocean or a break at the breezy pavillions along the way... then enjoy a nice seafood lunch or dinner before catching the ferry back to town. Or you could do it in reverse as well.
If time is short, skip the hike and stick to either side. The ferry rides are worth it just for the views, both of the majestic Hong Kong Island skyline, and the lush greenery of the mountains as you approach Lamma. And once there, enjoy a nice seafood dinner, and perhaps a breathtaking sunset...
Yung Shue Wan - The Town
This is where the main "town" is located and where the majority of the 6,000 population of the island live. As soon as you arrive, there is a lively vibe, at the little streets lined with souvenir shops, fresh markets, cafes and restaurants.
This end has more variety of food than Sok Kwu Wan, where the main emphasis is on seafood. Many expatriates have chosen to relocate to Lamma for its great laid-back atmosphere and their influence is quickly felt in the many choices for food. In Yung Shue Wan you find both Chinese as well as all sorts of Asian, ethnic and Western dishes.
Sok Kwu Wan - The Fishing Village
This is the quieter end of the island with a population of only about 300. Sok Kwu Wan was once the largest fish farming center in Hong Kong. You can still see the many junks traversing the little bay amongst the many floating fish farm rafts.
Sok Kwu Wan's waterfront is lined with small shops and mainly seafood restaurants where you can sit out in the open and enjoy the views from the lively harbour.
As you walk through the short and narrow corridor that starts just by the ferry pier, you stumble into brimming seafood tanks, fish laid out to dry, the tenacious restaurant staff trying to lure you to their establishments and the occasional stray dog.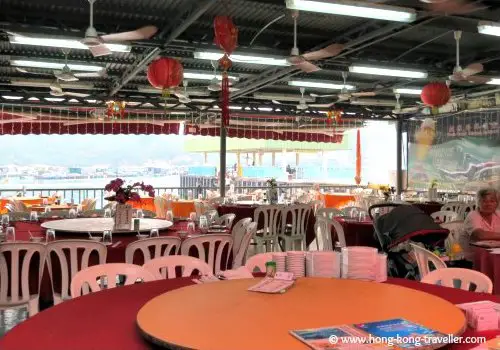 The Lamma Island Family Walk
The trail which is known as the "Lamma Island Family Walk" is a great way to see the Island and is one of Hong Kong's most loved trails.
It is a gentle hike and relatively easy as it is paved and well-marked, with even refrehsment stops and many resting points along the way.
There are some ups and downs and some stairs and steep hikes if you wander out to the many outlook posts, just take your time.
You will walk along the water, through the forests and lots of vegetation, little temples, pavillions, with many fantastic views... be sure to stop frequently and take it all in... (and try to ignore the ugly power plant that is definitely an eye sore)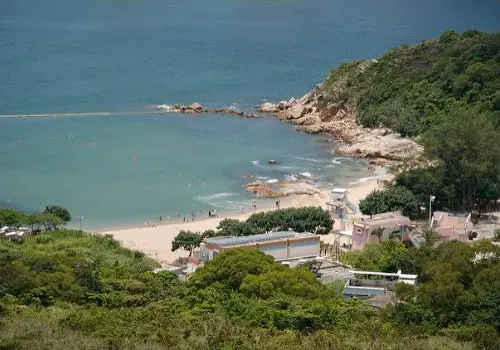 The trail is most enjoyable during the cooler months. I would not attempt the trail during the full heat of summer. Shade is sparse or non-existent in some areas, so a better alternative in the hotter months is to take the ferry to Yung Shue Wan and hike down one third the way of the trail to Hung Shing Ye Beach, go for a swim and enjoy some sun and surf. There are changing facilities, toilets, refreshment stands at the beach.
During weekends and holidays try to stay off the main trail which will be very crowded. The trail extends beyond the main stretch that connects the two ports. There are also many short loops and trails that will also give you excellent views.
Getting to Lamma Island
Catch the ferry from Central Pier 4 to both Yung Shue Wan and Sok Kwu Wan. Ferries are frequent, about every half hour or so in the morning with longer intervals in the afternoon.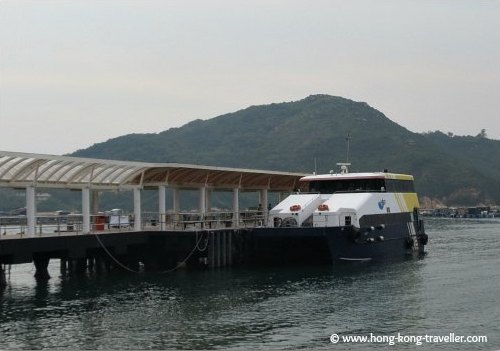 The Lamma Island Sea Kayaking and Hiking Tour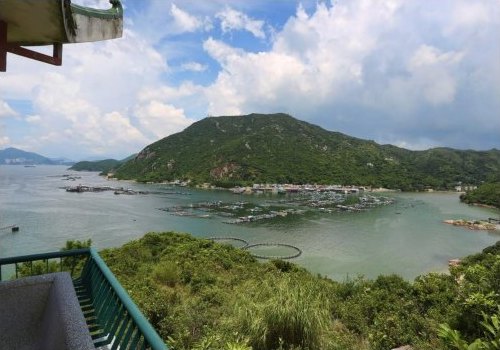 Enjoy a fantastic day on a guided hiking tour of Lamma Island, explore the beautiful and remote southern coastline by sea kayak and hike from Sok Kwu Wan to Yung Shue Wan, passing through some of the most popular spots.
Departs from the Sok Kwu Wan Ferry Pier at 9:05 am
How Long? 7 1/2 hours
Hiking distance is approximately 8 km and paddling distance about 6 km
»» More Info and Booking Lamma Island Sea Kayaking and Hiking Tour US$99
Lamma Island Rainbow Seafood Restaurant Set Menu Lunch
Want to enjoy some fresh seafood while in Lamma Island but the whole process seems a bit daunting? What's with all these tanks of swimming stuff? What and how to order?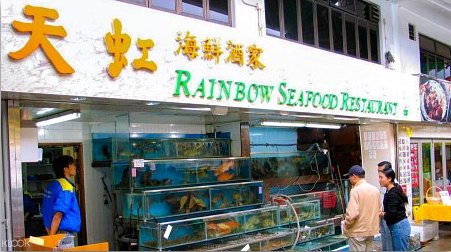 Rainbow Seafood Restaurant in Sok Kwu Wan is very popular and well-established with locals and visitors alike. You can take advantage of a "set menu" offer that makes it easier and more importantly, you know exactly how much the whole ordeal will cost.
You can choose from a Standard or a Deluxe set menu (minimum 2 persons), dishes include the Hong Kong favourites: steamed fish, deep fried squid, clams, crab, lobster... Dining time from 12 Noon to 5:00 pm. Lunch Menu for 2 HK$488 about US$63
Related Topics
Thank you for visiting www.hong-kong-traveller.com!
Here is to a wonderful Hong Kong travel experience!