Temple Street Night Market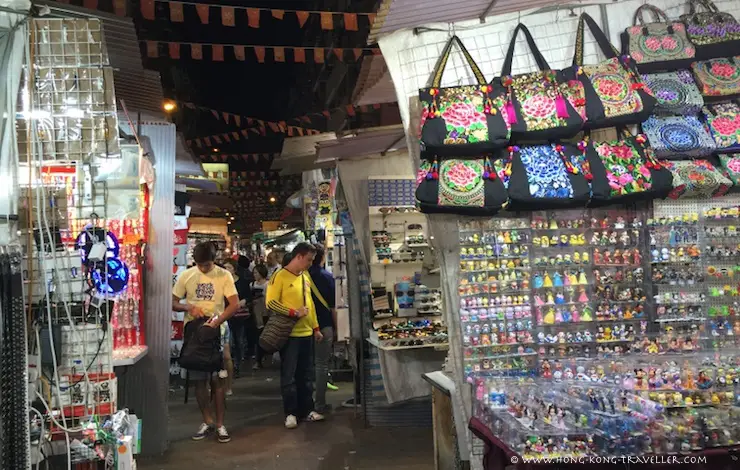 The
Temple Street Night Market
is Hong Kong's busiest and liveliest night market, it is noisy and crowded with rows of stalls with all sorts of cheap merchandise, fakes, souvenirs, clothing, electronics, and open air food stalls.
It is worth a trip to people watch and take in the atmosphere and smells... you may or may not enjoy the shopping here, the vendors seem to be a bit more aggressive than at the other markets and they cater to both tourists and locals, so the range of the merchandise is very varied, from souvenirs to clothing, inexpensive jewelry and trinkets, and every day items for the locals.
(Point Over the Thumbnails at the Bottom to Scroll through the Photos)
Temple Street Night Market - rows of stalls with all sorts of inexpensive merchandise
This is definitely the place to bargain, and bargain hard. You will likely see the same merchandise in several different stalls as you walk from one to the other, so you might want to check out several stands to get a feel for the prices and the types of merchandise. The market is not very big, so you can always go back.
The Temple Street Night Market is also known for its fortune tellers, fengshui experts, herbalists and every now and then you will catch an impromptu cantonese opera performance, this all adds to the lively and bustling atmosphere of the market.
You will also find plenty of watering holes and street food stalls, some are open air canteens and you see them quite frequented by locals, always a good sign if you want to give one a try.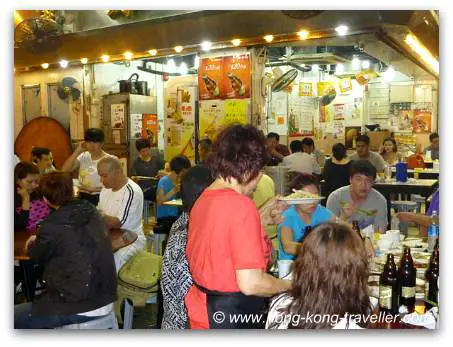 Many are quite organised and have picture menus and even a display of the different dishes where you can just point at what you want...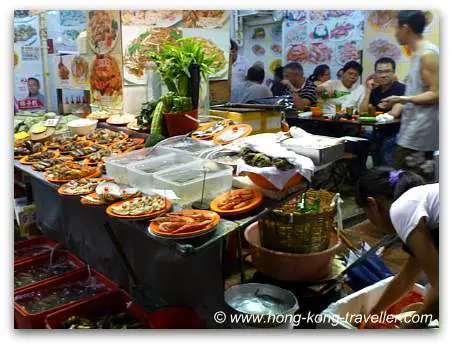 Others are simple "to go" stands, with tasty and cheap offerings like fish balls, tofu, meats on skewers, a bowl of noodles, etc. for a dollar or two, all you need to do is point, the vendors will boil/deep fry it for you on the spot, also a good thing. Caution is always advised when eating on the streets, always make sure your food is piping hot and has not been sitting there for a while.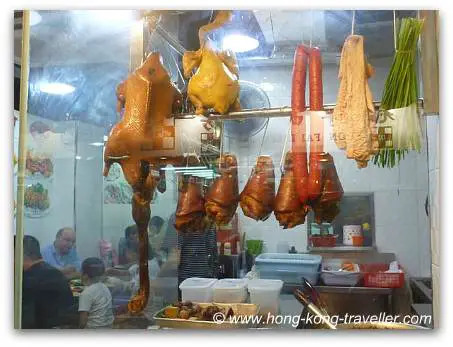 There are also a few hot pot and seafood restaurants in the area that are quite good and fresh and certainly colorful, as well as the fresh produce and fruit stands.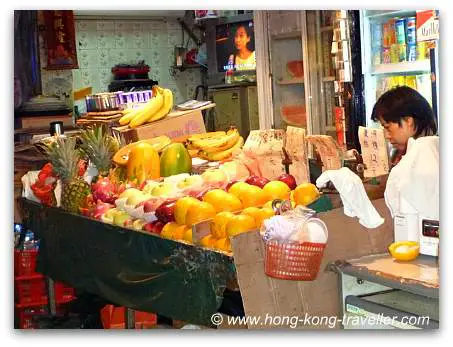 Getting to the Temple Street Night Market in Hong Kong
The night market officially opens in the afternoon, with most stalls setting up by 6:00 p.m. and shutting down by midnight, it is most lively from 9:00 p.m. to 10:00 p.m.
Temple Street runs parallel to Nathan Road, to reach the market, take the MTR to Jordan station, exit C2 and just follow the signs.
Here is a map and sample walking tour covering this and other nearby Kowloon Markets.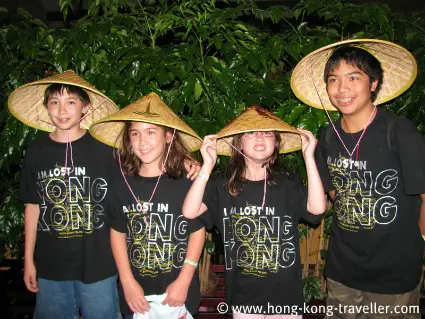 Enjoy your shopping at the Temple Street Market! We did!
---
Walking Tour of Hong Kong Markets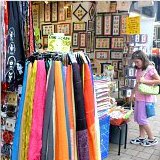 Small Group Guided Walking Tour of Hong Kong MarketsCheck out the best of Kowloon Markets with a small group, maximum of 12, together you will explore Hong Kong's market scene, test your bargaining skills, try the savory treats from one of the many open-air food stands.
The tour starts at 2:00 p.m. as you meet your guide at the Prince Edward MTR Station. It lasts approximately 3 1/2 hours and it will bring you to the Flower Market, Bird Garden, Goldfish Market, Ladies Market, Shanghai Street (Wedding Street), Jade Market and ending by the Temple Street Night Market.
Thank you for visiting www.hong-kong-traveller.com!
Here is to a wonderful Hong Kong travel experience!