Hong Kong Festivals and Events
September 2013
Taking place in September 2013 are some very lively and colorful events: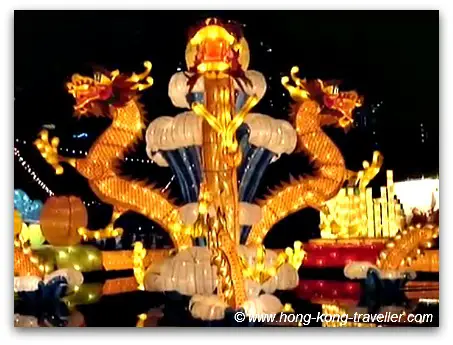 Mid-Autumn Festival Lantern Carnival in Victoria Park
---
Mid-Autumn Festival Celebrations
The 2013 Mid-Autumn Festival is on September 19, 2013.
Lantern carnivals, parades and festivities will run from September 5 to October 13, 2013.
These are some of the most popular celebrations for you to take part in:
Lantern Displays and Exhibitions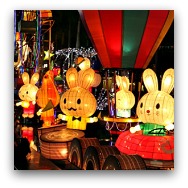 Mid-Autumn Thematic Lantern Exhibition
Tsim Sha Tsui at the Hong Kong Cultural Centre Piazza is fairly easy to pop in for tourists as it's just around the corner from the Star Ferry Terminal and the TST metro station.
This year's theme "Home Sweet Home"
When?: From September 5 - October 13, 2013
How Much?: Free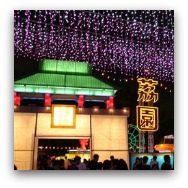 Urban Mid-Autumn Lantern Carnival at Victoria Park is the all-in-one mega event that offers the lantern displays including the magnificent Lantern Wonderland, a full cultural programme, and a Fire Dragon Dance Parade.
The cultural programs include kung fu demonstrations, folk songs and dance shows, acrobatics, Chinese folk arts and crafts demonstrations, etc.
When?: September 19, 2013 8:00p.m.-11:00p.m.
Where?: Victoria Park
How Much?: Free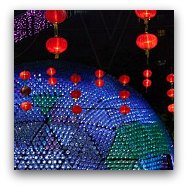 Lantern Wonderland at Victoria Park The Lantern Displays are state-of-the-art designs and the highlight of the event is Lantern Wonderland, the main signature piece which is chosen through a design competition organised by the HKTB and several design organisations.
The Design contest is held months prior to the festival and the winning entry is showcased during the Mid-Autumn Festival.
When?: From September 14-22, 2013
Where?: Victoria Park
How Much?: Free
Here is more on Mid-Autumn Festival Lantern Carnivals and Exhibitions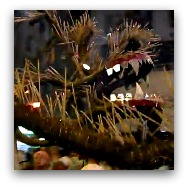 Tai Hang Fire Dragon Dance Parade is another example of Hong Kong's traditional culture and a main part of the celebrations of the Mid-Autumn Festival.
Come take part of this tradition when the 67-metre Fire Dragon winds through the streets of Tai Hang, like it did over a century ago with over 300 performers, 70,000 incense sticks, and lots of firecrackers.
When?: September 18,19, 20 2013 7:30 p.m.
Where?: Tai Hang, Causeway Bay. Here's how to get there.
How Much?: Free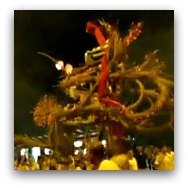 And on a smaller scale than Tai Hang's, the Pok Fu Lam Fire Dragon Dance Parade is no less spirited and colorful.
This year, for the first time, the parade will wind through the Aberdeen Promenade before proceeding to its final destination at Waterfall Bay.
When?: September 19 2013 7:30 p.m.
Where?: Pok Fu Lam and Aberdeen
How Much?: Free
Here's more on this year's Pok Fu Lam Fire Dragon Dance
---
The 2013 Hong Kong Watch and Clock Fair - September 4-8, 2013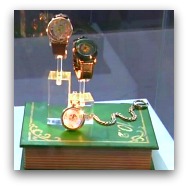 The annual
Hong Kong Watch and Clock Fair
is the world's largest timepiece event which offers a remarkable selection of watches and clocks and a preview into the latest designs and trends in the market.
Highlights of this event are the "Brand Name Gallery" and "World Brand Piazza", featuring limited edition and rare timepieces from the major global brands.

The Brand Name Gallery is open to the public on the last day of the event and timepieces from selected exhibitors are available for sale.
When?: September 4-8, 2013. Sept. 4, 10:30 a.m. to 6:00 p.m., Sept. 5-8 9:30 a.m. to 6:00 p.m.,last day closes at 5:00 p.m.
Where?: Hong Kong Convention and Exhibition Centre
How Much?: Free for trade visitors and the public
---
---
Hong Kong International Jazz Festival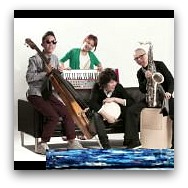 Renowned jazz musicians from around the world will delight audiences with a series of performances, workshops, and photographic exhibitions.
When?: September 29 - October 2, 2013
Where?: Many venues throughout Hong Kong
How Much?: Free outdoor concerts, Concert Hall prices HK 180 - HK 380
More Info: Full line-up, programme and ticket information check the HK International Jazz Festival site.
---
Horse Racing Season 2013-14 at the Happy Valley Race Course begins September 11, 2013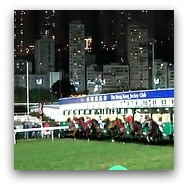 Happy Valley Hong Kong whether or not you are a horse racing enthusiast is an experience not to be missed!
The beautiful horses, the skillful jockeys, the crowds going wild, they all add up to an exciting, fun-filled, thrilling atmosphere in a world-class venue.
The Happy Valley race course itself is a sight in itself, the city has built around it through the years and it is now practically surrounded by skyscrapers, an awesome experience specially at night when the city is illuminated.

When?: Wednesday Nights, season opening September 11, 2013. On race day, first race starts at 7:15 p.m. and the gates open at 5:15 p.m. The races are done by 11:00 p.m.
Where?: Happy Valley Race Course
How Much? Depends, there are many ways to experience the races, from General Stand to Private Boxes and special packages including dinner and drinks. General Stand entrance starts at HK10.
Click here for more on Happy Valley Horse Racing, how to get there and options for viewing the races.
---
Hong Kong Halloween Celebrations are starting now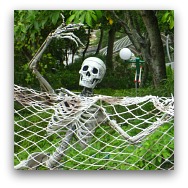 It's more than a month away but the ghostly decorations and waves of orange pumpkins, skeletons and vampires are slowly making their way into the shopping centers and the theme parks in the territory.
The main venues at this early time are Ocean Park and Hong Kong Disneyland where villains, ghosts and goblins are already making the rounds and preparations are underway for a screaming good time this Halloween season.

More info on 2013 Halloween celebrations in Hong Kong.
---
Ongoing Hong Kong Events for September, 2013
These are some popular ongoing events that are worth checking out, specially since they are FREE!
These events feature some of the great and ancient traditions of the territory and are offered by experts in their corresponding fields:
The Symphony of Lights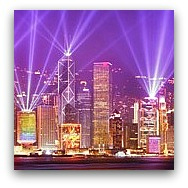 The Symphony of Lights is Hong Kong's light and sound show, a tribute to the city and its people, their diversity, energy and vitality.
The stage is the entire city, which is what makes it so unique, you can watch the lights from just about anywhere in the waterfront.
This free show offered by the city, takes place every night at 8:00 pm and lasts aboout 15 minutes.

When?: Every Night
Where?: Can be seen from both sides of Victoria Harbour
How Much? Free
Click here for more on Hong Kong's Symphony of Lights and best spots to watch.
---
Hong Kong Events
Thank you for visiting www.hong-kong-traveller.com!
Here is to a wonderful Hong Kong travel experience!