Luxury Hotels in Hong Kong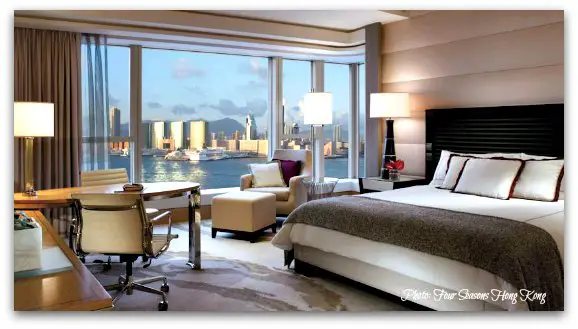 As it is, Hong Kong is already an amazing destination, throw in a stay at one of its epic luxury hotels and you won't want to leave at all. Hong Kong is home to some of the world's top 5-star hotels.
5-Star Luxury hotels in Hong Kong are renowned for their insane views, lavish facilities and spotless service, and moreover, this is where you find a great majority of the territory's top restaurants and spas.
There are many spectacular luxury digs in the city ranging from the old iconic landmarks, the Peninsula and the Mandarin Oriental, to the major international luxury hotel brands which are all present in Hong Kong, some with several flagship hotels on both sides of the Harbour.
You can expect rooms to be generous in size, with jaw-dropping views, designer toiletries, adapters to fit any device from any place in the planet, and staff that addresses you by name.
The out-of-this-world facilites come of course with out-of-this-world prices. But don't be put off, many luxury hotels offer holiday and weekend packages as well as last-minute promotions. You can check all current special offers here. And also don't forget to check your frequent flyer plan or hotel rewards program, I can't think of a better use for those accumulated points!

One thing that sticks out surprisingly enough, is the fact that Wi-Fi is not provided free of charge at many of these luxury establishments, which when you consider the amount of money you are forking over already and the fact that you are in one of the world's most connected cities, does not make any sense in this day and age. You can circumvent the extra charge by signing up for their Rewards Programmes in most cases, or you can pick up a pocket 3G Wi-Fi device at the Airport which cost US$2 per day for 1GB data per day or US$4 per day unlimited.
And while you're splurging, go all the way and book the Executive Lounge packages which are offered at most of these hotels, they are well worth the extra perks.

Luxury Hotels Hong Kong Island Side
Four Seasons Hong Kong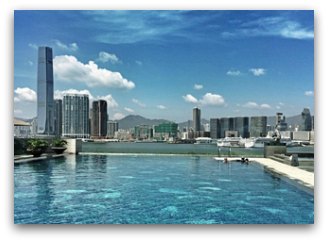 The hotel enjoys a fantastic location in the heart of Central with some of the most striking views facing the harbour.
It is connected to the IFC Mall with easy access to shopping and the main transport links: MTR Central station, Airport Express, Star Ferry, Macau Ferry, Ding Ding Trams.
An incredible infinity pool that seems to reach into the harbour gives you splendid views of the Kowloon skyline while you're swimming your laps or just catching some rays.
Fantastic restaurants including Michelin rated 3-star Lung King Heen and 2-star Caprice, offering Chinese and French cuisine respectively.
A Five-Star Spa to relax and unwind, treatment rooms with oversized windows and amazing views.
45-storey building with 399 rooms, of which 54 are suites. There are two styles of rooms, Asian inspired and contemporary western, with either harbour views or views of the Peak.
Free Wi-Fi.
Four Seasons Hong Kong:
8 Finance Street, Central District, Hong Kong
Mandarin Oriental Hotel Hong Kong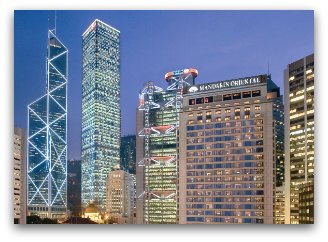 The Mandarin is one of Hong Kong's legendary icons which opened in the early '60s. Now dwarfed by the skyscrapers alongside, you can't imagine it as being the tallest building at the time. It enjoys that perfect location in the Central Business District and despite its height and reclamation projects in Hong Kong Island, it still commands fantastic views of the Harbourfront.
Service at the Mandarin is legendary, enough said.
Its incredible three-story Mandarin Spa, like all Mandarin Oriental Spas, you book a block of time rather than a treatment for maximum flexibility.
Lots of dining choices amongst its 10 restaurants and bars, including Michelin 2-starred Pierre, Chef Pierre Gagnaire's first restaurant in Hong Kong offering French Cuisine and the two one-star-rated Mandarin Grill + Bar and Cantonese counterpart Man Wah.
The hotel contains 501 guestrooms of which 67 are suites, overlooking Victoria Harbour and the surrounding cityscape.
Mandarin Oriental Hotel Hong Kong:
5 Connaught Road, Central, Hong Kong
The Upper House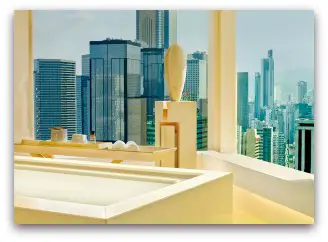 Part of the "House Collection" of Swire Hotels, a handful of uniquely designed small luxury properties that strive to provide a distinctive and highly individualised experience. Their motto: "It's more home than hotel"

Upper House is located above Pacific Place, meaning, you have fantastic views and easy access to world-class shopping and dining, the Admiralty MTR station, and the business district.
With a dedicated "Guest Experience" crew, incredible service is what sets this property apart which consistently earns rave reviews from its guests.
There is no swimming pool and gym facilities are limited.
Café Gray offers fantastic views and signature dishes by renown chef Gray Kunz.
Upper House has 117 spacious, quiet and relaxing guest rooms.
Free Wi-Fi
The Upper House:
Pacific Place, 88 Queensway, Central District, Hong Kong
Hong Kong Luxury Hotels Kowloon Side
The Peninsula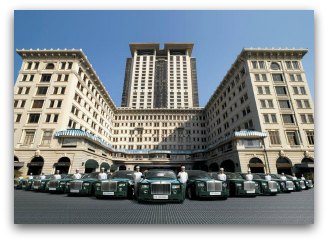 The Pen is the legendary "Grande Dame of the Far East" and oldest hotel in Hong Kong.
Located in the heart of Tsim Sha Tsui, the hotel consists of two buildings, the old original structure and the newer tower.
Rooms are a fusion of modern technology and Old World charm. Everything in the beautifully appointed high-ceiling rooms can be controlled via tablet which is user-friendly even for the not so tech-savy: lights, curtains, room service, tv, etc.
Lots of ammenities: Nespresso machines, nail polish drier?!, smartphone to take around including free data and calls.
Great location by Nathan Road, easy walk to the Star Ferry and Avenue of the Stars, MTR station is a 2-minute walk accross the street.
The five-star Peninsula Spa is 12,000 square feet of sheer luxury. There is also a state-of-the-art Fitness Centre where you can sweat while enjoying sweeping views of the harbour.
The indoor swimming pool done in a Roman classical style, offers striking views through its floor to ceiling windows.
Where else do you find a fleet of 14 Peninsula Rolls Royce Phantoms in the distinct and unmistakeable "Peninsula Green" colour?...
The Peninsula has a helipad on the roof and naturally its own helicopter for when you feel like a little flightseeing.
The classical Afternoon Tea in The Lobby is legendary, a tradition that embodies British flair and grace.
Many restaurants and cuisines to choose from: Gaddi's (French), Felix (Modern European), Chesa (Swiss), Michelin-Starred Spring Moon (Cantonese), The Verandah (Continental), The Lobby (International) and two bars.
The Peninsula is itself a landmark and tourist attraction in Hong Kong, the Lobby is like Grand Central Station crowded with tourists at all times, night and day.
Free Wi-Fi
The Peninsula:
Salibury Road, Tsim Sha Tsui, Hong Kong
The Ritz-Carlton Hong Kong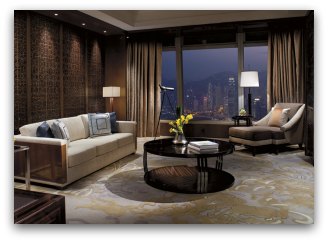 Located between the 102nd and 118th floors of the International Commerce Centre building (ICC), the tallest skyscraper in Hong Kong, the Ritz Carlton is the world's highest hotel.
Decor is trendy and contemporary and as expected, the lap of luxury.
Literally below the hotel you have the Elements Mall with plenty of shopping and dining choices, the Kowloon MTR station and an Airport Express station. It is a 5-minute taxi ride to Tsim Sha Tsui.
The incredible views and panoramic surroundings can be enjoyed with telescopes provided in all guest rooms
Ozone on the 118th floor is the world's highest bar
The Swimming Pool is also on the 118th floor, and you guessed it, it's the world's highest.
Two Michelin-starred restaurants: One-star Tosca and two-star Tin Lung Heen providing Italian and Cantonese fare respectively
The staff and service in keeping with Ritz Carlton will always go the extra mile and make you feel like you are in the clouds, which you are...
The Ritz-Carlton Hong Kong:
International Commerce Centre, 1 Austin Road West, Kowloon West, Hong Kong
Hotel Intercontinental Hong Kong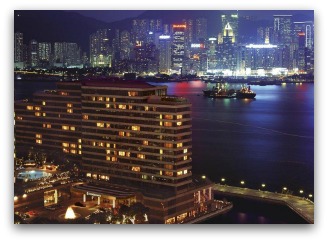 Spectacular panoramic views of Hong Kong Island skyline, the Lobby Lounge that greets you upon entering the hotel is just insane.
Fantastic Dining Options with stunning views of the Harbour: RECH by Alain Ducasse, The Steakhouse and Michelin Two-Star Yan To Heen offering Cantonese cuisine.
MTR station is a 5-minute walk accross the street
The Star ferry about 10 to 15 minute walk along one of Hong Kong's most epic walks, the Avenue of the Stars, which is also great for a morning jog.
The rooftop pool overlooking Victoria Harbour is one of the largest outdoor pools in Hong Kong.
Beware: A lot of construction going on next door at the moment
Hotel Intercontinental Hong Kong:
18 Salisbury Road, Tsim Sha Tsui
---
Hong Kong Hotels Quick Links
Thank you for visiting www.hong-kong-traveller.com!
Here is to a wonderful Hong Kong travel experience!