The Mid-Levels Escalator
Not an Ordinary Escalator: A Microcosm of Hong Kong Daily Life
The Mid-Levels Escalator is the longest outdoor covered escalator system in the world, and it is totally unique, this is how thousands of Hongkoners commute every day to work.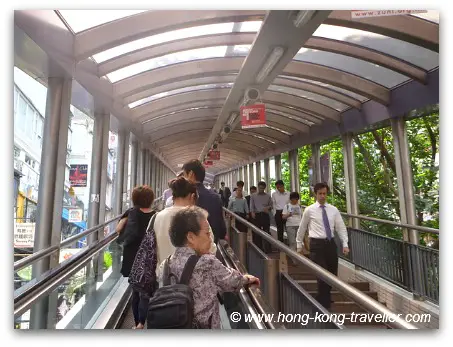 The escalator connects Central and Western Districts, with the SoHo and residential districts of the Mid-levels, from Queen's Road to Conduit Road.
In the morning rush hour it runs downhill, then from 10:30 a.m. until midnight it switches direction and runs uphill.
But more than a transportation option, it has transformed in a very unique micro-culture with bars, restaurants, shops and market stalls along the elevated path, businesses that had previously existed only at street level.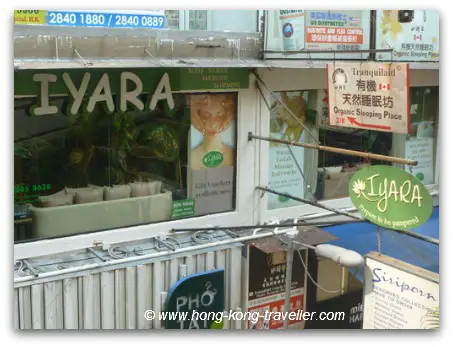 So even though this is not a "tourist attraction" per se, it does give you a very peculiar insight into every day Hong Kong life, taking you from the shimmering glass and steel towers of Central, through the little alleys, stalls and coffe shops popular with the working masses, spread along the route.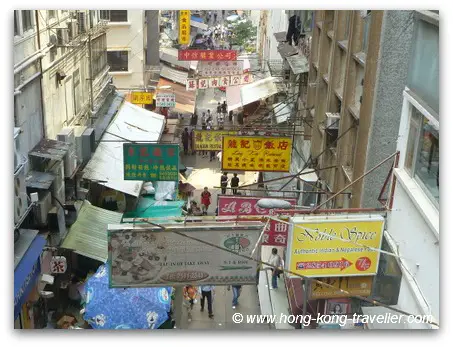 The roughly half-mile long escalator (800 meters) is not one single escalator but a series of 20 escalators and several moving walkways. It is covered and is a vast system that interconnects via covered footways to many areas in the city including some of the main skyscrapers in Central. In fact, this is a great way to get around when it's raining.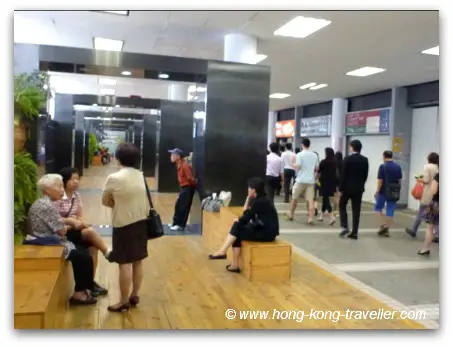 There are over a dozen entry and exit points and there are even "rest areas" in between the long walkways!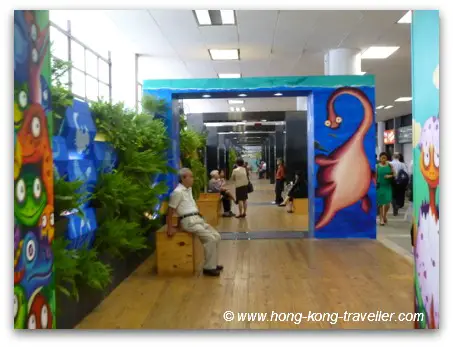 You can hop on and off along the way, signs point out the many points of interest.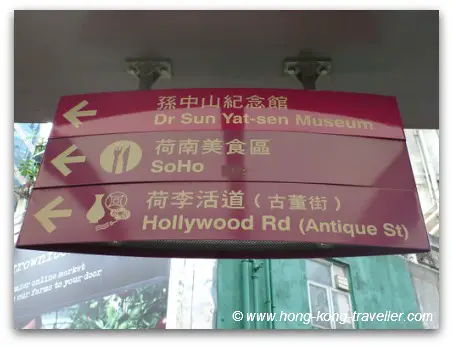 The escalator intersects the following roads:
Des Voeux Road and Queen's Road: glitz and glam of Central skyscrapers and upscale shopping centers
Stanley, Wellington, Gage Streets: colorful market stalls, tea shops, dai pai dongs, walk along Graham Street which runs parallel to the escalator
Lyndhurst Terrace: restaurants, coffee shops
Hollywood Road: antique shops and galleries, nearby Cat Street for trinkets and curios
Staunton Street: SoHo Bars and Restaurants
Elgin Street: SoHo Bars and Restaurants
Caine Road: for Dr. Sun Yat Sen Museum
Mosque Street: for the Jamia Mosque
Mosque Junction
Robinson Road: High rise apartment buildings
Conduit Road: more high-rises and access the Botanical Gardens, follow the signs, it's about a 15 minute walk
Getting back down: you can walk along the stairs next to the escalator, or take Minibus 3 which brings you back to Central.
---
Thank you for visiting www.hong-kong-traveller.com!
Here is to a wonderful Hong Kong travel experience!