Stanley Market Hong Kong
Shopping at its best and a beautiful Seaside Village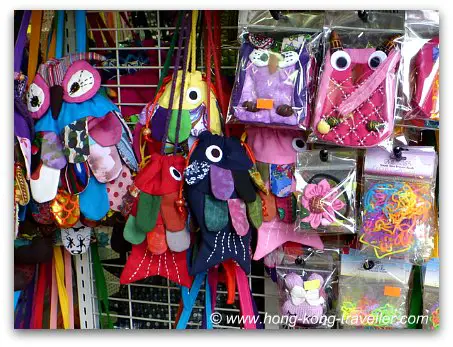 Shopping at Stanley Market Hong Kong has been popular for as long as I can remember since my first outing there more than 20 years ago on one of my early trips to Hong Kong and China.
And although the tourists are still coming in droves, the market and the little seaside town of Stanley have both managed to maintain that quaint, small town and relaxed feeling which is quite a breath of fresh air when escaping the hustle and bustle of the city.
You don't come to Stanley only for the shopping, although that is a big part of the attraction, just getting there is part of the fun as the way is very scenic as you wind around the little bays around the hilly coastline with magnificent views of the South China Sea, the beaches and the nearby islands.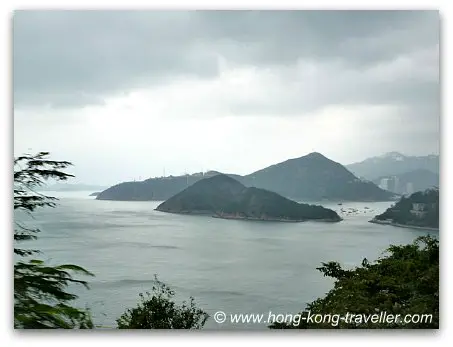 Located in the southern part of Hong Kong Island, Stanley market and village are a 45 to 50 minute bus ride away from Central. You will first see the market when you first approach the town.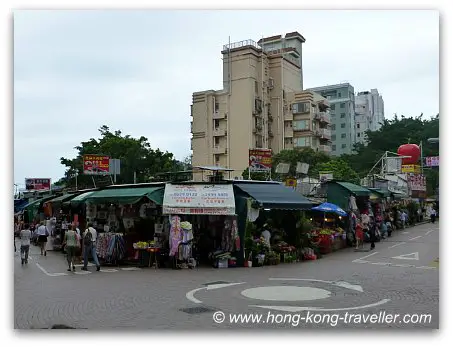 Make some time to browse through the little alleys, the market is a daytime one and is covered, many shops are air-conditioned and the atmosphere is certainly less chaotic than the city counterparts like the Ladies Market.
You will find here about the same kind of products, from clothing, suitcases, paintings, souvenirs, hand bags, watches, small electronics, etc.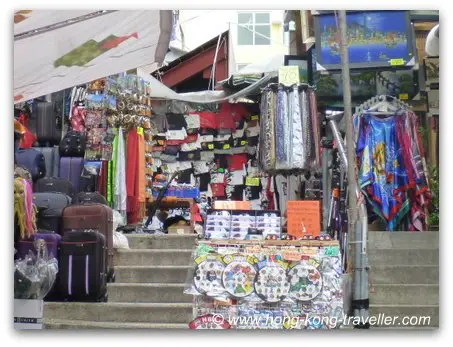 And Stanley Market Hong Kong is also a great place to get a few Chinese Souvenirs, they have a very wide variety of items...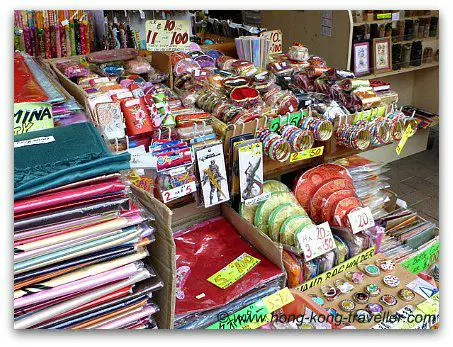 Shopping for Chinese Souvenirs at Stanley Market Hong Kong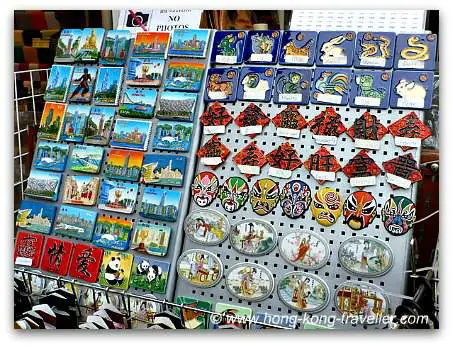 The usual magnets, postcards, frames, shot glasses, coffee mugs, etc...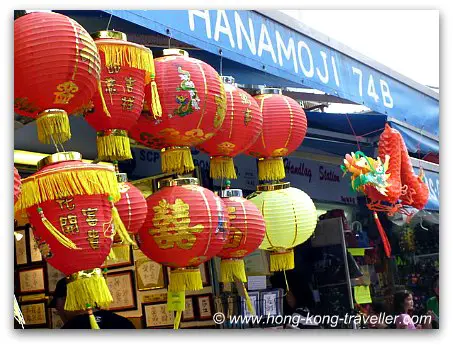 ...Chinese lanterns, kites, banners, umbrellas, decorations...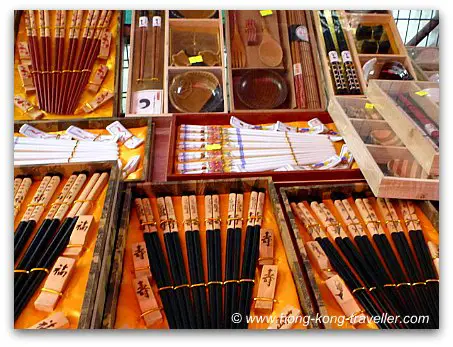 Chopsticks sets, table settings, placemats, mahjong sets...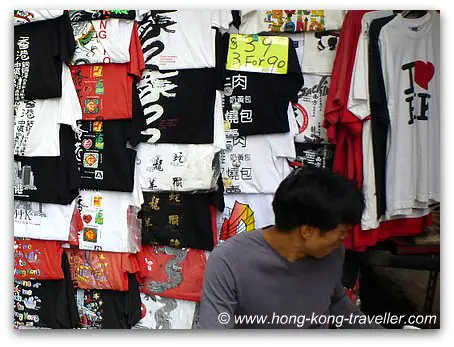 And of course that Hong Kong T-shirt to take home...
Prices as in all markets in Hong Kong are negotiable and this is a great place to polish your bargaining skills, I find the vendors here are not as intense as in the other local markets.
If you need a break from the shopping, get a snack at one of the many local eateries in the market, they are towards the back and up the stairway, you will see the locals hanging around here. The food is great and cheap, my brother-in-law claims this is where he had his favourite meal in Hong Kong!
Stanley Waterfront and Boardwalk
As an alternative, you can walk down to the waterfront which is lined with small pubs and cafes, great to relax, grab a pizza and enjoy the beautiful views.
View
Stanley Village and Stanley Market
in a larger map
| | |
| --- | --- |
| | Stanley Market |
| | Murray House |
| | Stanley Plaza |
| | Stanley Bus Terminus |
| | Stanley Beaches |
Stanley Market Hong Kong: Murray House
If you look towards the west along the seaside, you will see a three-story Victorian building, this is Murray House. It currently houses several restaurants and the Hong Kong Maritime Museum and has a bit of an interesting history.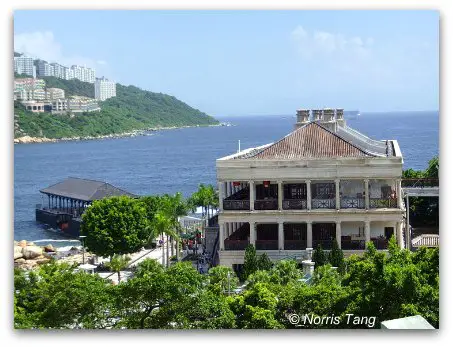 This 160-year-old building was originally constructed in Hong Kong's Central district, where the Bank of China Tower is now, and was to serve as the officer's quarters of the Murray Barracks. It was dismantled in 1982 to make room for the Tower, and later transported and re-built block by block where it stands now in Stanley. The restoration was complete in 1998.
Stanley Beach
The Stanley Main Beach is to the north-east of town and only a five to ten minute walk from the market. There are public facilities, showers, changing rooms and toilets available.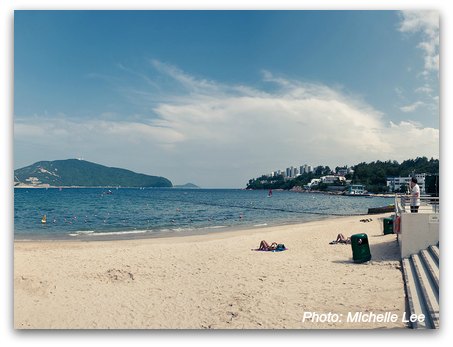 This beach is popular with windsurfers and is also where the most important Dragon Boat Races are held during Tuen Ng or Dragon Boat Festival in May/June.
Here's more on the Hong Kong Dragon Boat Festival and this year's dragon boat race events.
How to get to Stanley
Opening Hours Daily - 7 days a week from 10:30 a.m. to 6:30 p.m.
There is no MTR service to the southern part of the island but getting to Stanley Market Hong Kong is easy with:
Bus
Taxi
The Aqua Luna (weekends only)
City Tours
The Hop-On-Hop-Off Bus
To Stanley By Bus
Take bus 6, 6A, 6X, or 260 from Exchange Square Bus Terminus. Bus 6 is more scenic, 260 is the "express" but might not be a double decker, which I highly recommend, specially if you sit in the top front. Fare varies from HK7.90-HK10.40 depending on which bus you take. You can pay with your Octopus Card.
These same buses also stop at Repulse Bay Beach and a visit to the sandy beach and colorful Shrine can be combined with your trip to Stanley.
Exchange Square Bus Terminus is accross from the Star Ferry Pier in Central just over the walkway, or take MTR Hong Kong Station Exit D.
To Stanley By Taxi
Stanley is roughly 15 km from Central, taxi fare would be about HK120 but will save you time if you are in a hurry.
To Stanley with the Aqua Luna
This is a great way to spend a Saturday or Sunday, the gorgeous red-sail sampan brings you in an hour and a half from the hustle and bustle of the city to the village.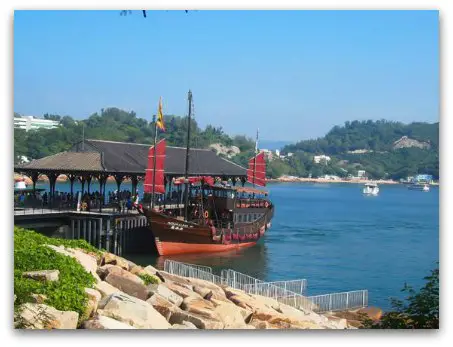 Enjoy the breeze and the majestic skyline aboard one of Hong Kong iconic relics. You can take the Aqua Luna one-way and return by bus or taxi, or take the round trip that brings you back to Central around 5:00 pm.
Prices are:
One-Way: Adult US$33 Child (4-11) US$22
Round Trip: Adult US$50 Child (4-11) US$32
Sailings are Saturday and Sunday only and depart Central at 12:00 noon, TST Public Pier 1 at 12:15. It takes one and a half hours to arrive in Stanley c. 13:30 then you have a couple of hours to look around the market and the village, enjoy a seaside lunch, etc.
The return trip departs Stanley at 15:30 and you are back in Kowloon at 17:15, Central 17:00, or take the bus whenever you're ready!
To Stanley with a City Tour
Many of the city tours offered by operators make a stop here at Stanley. We like Viator's Hong Kong Island Half-Day Tour, which at about US$40 per person is great value and covers a lot of the highlights, it is a great introduction for first-timers.
To Stanley with the HOHO Bus
The Hop-On-Hop-Off Bus also makes a stop at Stanley. You have to take the Green Route which connects at the Central Star Ferry Pier and services Aberdeen, Repulse Bay and Stanley.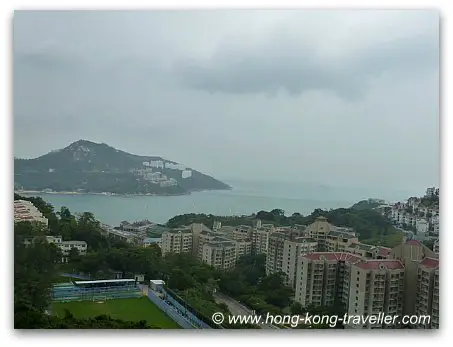 ---
Hong Kong Island Highlights Tour
Hong Kong Island Highlights Half Day Tour. This comprehensive half-day tour is a great way to get to know Hong Kong Island and its famous landmarks and history.

The tour lasts approximately 5 hours with pick up points at several Hong Kong and Kowloon hotels.
Highlights include:
Ride on the Peak Tram and views from Victoria Peak
Aberdeen Fishing Village
Repulse Bay
Stanley Market
Half-Day Tour Hong Kong Island Highlights Adult US$40.59 Child (2-11) US$ 32.19 More Info and Booking ››
More Hong Kong Tours here.
---
More Hong Kong Markets
Walking Tour of Hong Kong Markets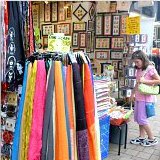 Small Group Guided Walking Tour of Hong Kong Markets
Check out the best of Kowloon Markets with a small group, maximum of 12, together you will explore Hong Kong's market scene, test your bargaining skills, try the savory treats from one of the many open-air food stands.
The tour starts at 2:00 p.m. as you meet your guide at the Prince Edward MTR Station. It lasts approximately 3 1/2 hours and it will bring you to the Flower Market, Bird Garden, Goldfish Market, Ladies Market, Shanghai Street (Wedding Street), Jade Market and ending by the Temple Street Night Market.
Small Group Guided Walking Tour of Hong Kong Markets Adult US$57 Child (6-11) US$37 More Info and Booking ››
Thank you for visiting www.hong-kong-traveller.com!
Here is to a wonderful Hong Kong travel experience!