Tin Hau Festival and Tin Hau Temples
Celebrating the Goddess of the Sea
Tin Hau Festival is on April 19, 2017
The Tin Hau Festival in Hong Kong is one of the most colorful celebrations taking place during the year at Tin Hau temples throughout the territory.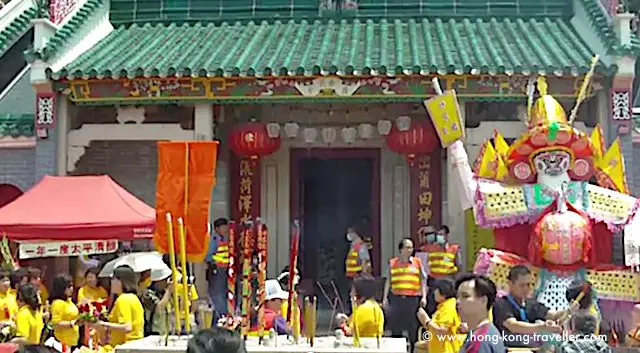 Tin Hau Temple in Saikung
Tin Hau is the Goddess of the Sea, given that in the past Hong Kong's livelihood was tied to the ocean, Tin Hau is sort of the "patron saint" of the city.
Specially among the fishing villages you can imagine these celebrations bring out the festive mood of the communities and are a a riot of color and lively remembrance in honor of this most honored deity.
Tin Hau's Birthday is celebrated on the 23rd day of the 3rd month in the Lunar Calendar which normally falls in April or May in the Western calendar. In 2017, it will be on April 19, 2017.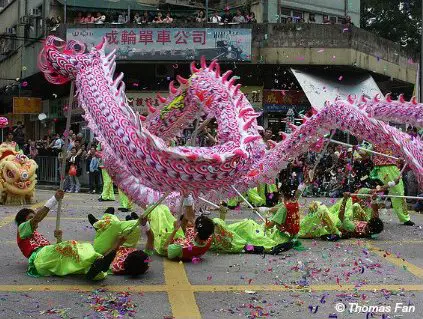 Dragon Dances in Yuen Long
There are over 60 Tin Hau temples in Hong Kong all scattered throughout so joining in the festivities will not be a problem. Even the smallest of the small Tin Hau Temple will be having some celebration going on.
Some of the liveliest celebrations you will find around the islands and fishing villages where boats are colorfully decorated and are a great part of the revelry.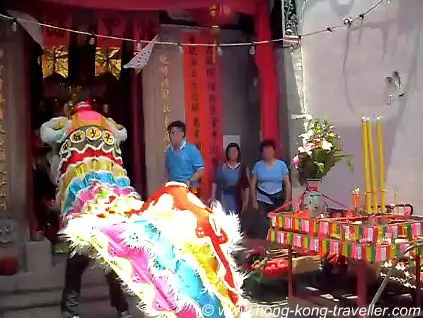 Tin Hau Temple in Peng Chau Island
The celebrations include parades loaded with kung fu troupes, marching bands, lots of drumming, lion and dragon dances, the Fa Pau floats...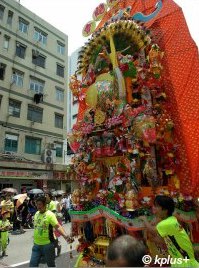 Fa Paus are beautiful towers adorned with paper floral tributes and are unique during the Tin Hau Festival to honor the Goddess of the Sea.
There is also the usual feasts and offerings, in the coastal areas the boat processions, paper and incense burning and of course firecrackers.
Some of the most vibrant and notorious celebrations are in Yuen Long in the New Territories which throws a magnificent procession and also the festivities in Joss House Bay in Saikung which boasts the largest Tin Hau temple in Hong Kong.
Other notable celebrations take place in Tsing Yi, Stanley, Lamma Island, Cheung Chau and Peng Chau Islands.
Tin Hau Celebrations in Hong Kong
The Yuen Long Tin Hau Festival Procession
In the New Territories, one of the largest events takes place at Yuen Long and it's definitely worth a trip.
The Parade from Fung Cheung Road to Tai Shu Ha Tin Hau Temple is one of the most spectacular and eye-catching, with hundreds of participants, dragon and lion dances, and fantastic floats dedicated to Tin Hau.
Without a doubt, the Procession and Fa Pau Parade with a whole array of lion and dragon dances, marching bands and cultural performances is one of the most colorful ones in the territory: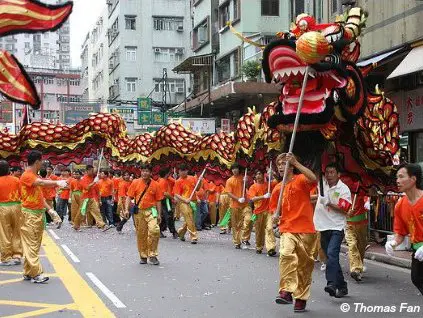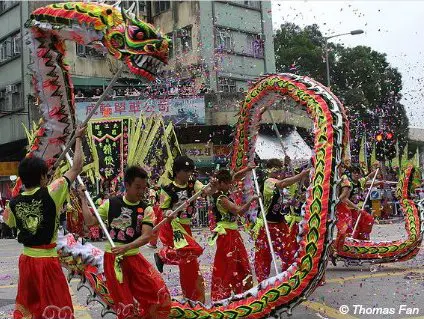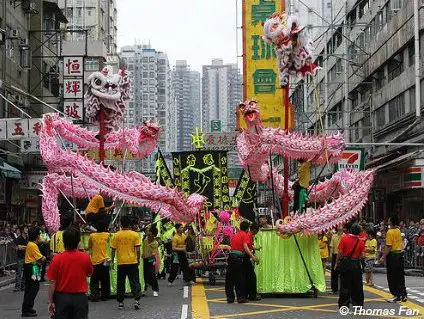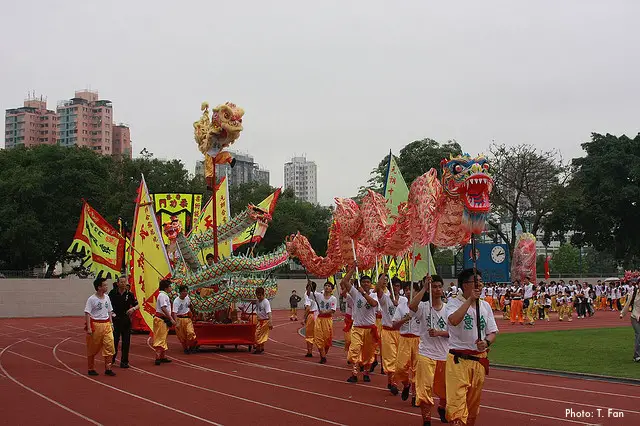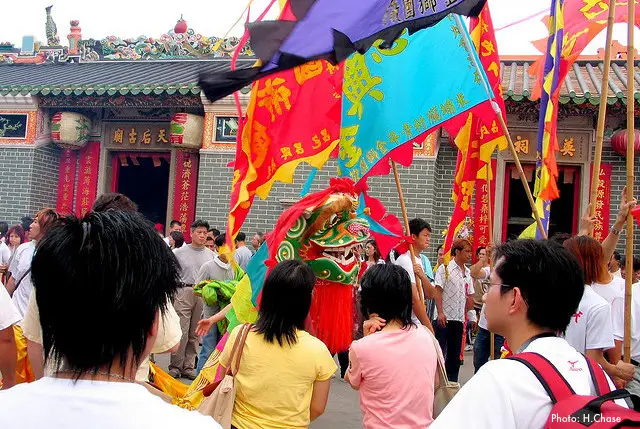 The 2017 Birthday of Tin Hau Parade and Celebrations in Yuen Long will take place:
When?: Wednesday, April 19, 2017
Where?: The parade sets off from Fung Cheung Road around 10:00 am and proceed via Kau Yuk Road and arrive at the Yuen Long Stadium.
First groups start arriving at the stadium around 11:00 am. After performances at the stadium the troupes of Lion and Dragon Dancers and floats continue to the Tai Shu Ha Tin Hau Temple to pay respects to Tin Hau where the procession ends.
The parade lasts about 3 hours.
The exact route of the parade could change but you will see the barricades along the parade route.
How to Get There: It's about a 35 minute ride with the MTR from Tsim Sha Tsui. To get there take the West Rail Line (Magenta Line) from Tsim Sha Tsui East direction Tuen Mun and get off at the Yuen Long station in the New Territories then follow the crowds.
How Much?: Free!
More Info: HKTB Cultural Celebrations and Yuen Long Hong Kong site.
Full-Day Tour Tin Hau Festival With Lunch in Yuen Long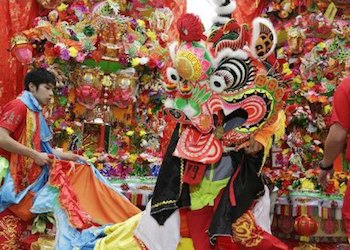 Begin your day with a visit to the Lam Tsuen Wishing Tree, a big banyan tree that is popular with local villagers who come to burn joss sticks and make wishes under it. Then head to Yuen Long Stadium to watch the Tin Hau Festival celebrations.
From your reserved seating area, watch a colorful procession of dragon dances, lion dances, Chinese acrobats, floats, and performances.
Then is on to the market town and the Tin Hau Temple at Tai Shu Ha for the fantastic and colorful far pau displays.
May 8, 2018 - pick up from hotels between 7:30 am - 8:15 am
Return approximately at 5:30 pm
How Much? US$ 130
Full Day Hong Kong Tin Hau Festival With Lunch - More info and booking ››
The Joss House Bay, Saikung Tin Hau Festival Celebrations
Saikung is a pretty coastal town to visit, festival or not, for its splendid promenade, seafood market and restaurants, and during Tin Hau celebrations, it really goes all out. There will be the processions, lion and dragon dances, ceremonies and hundreds of worshippers that come and pay their respects.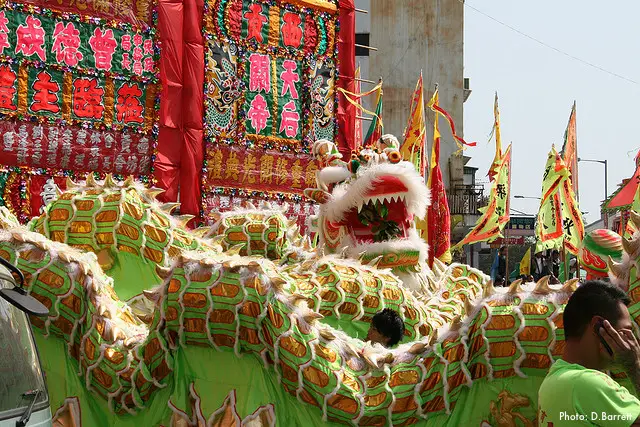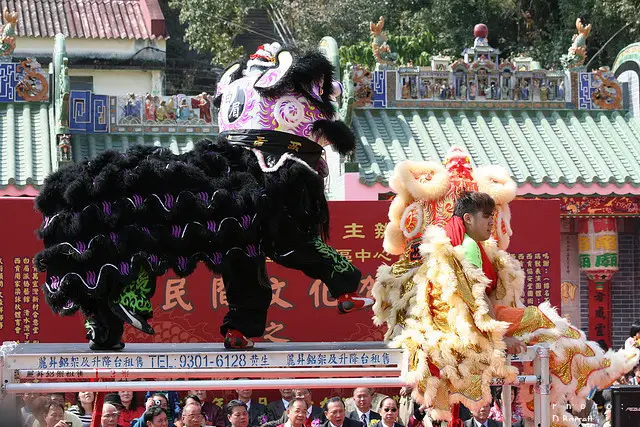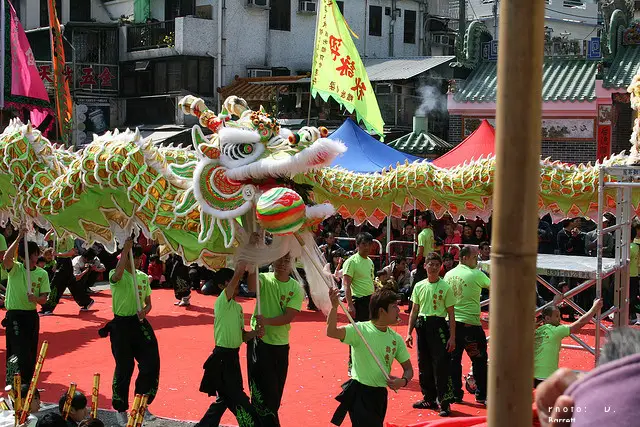 The 2017 Birthday of Tin Hau Celebrations in Joss House Bay will take place:
When?: Wednesday, April 19, 2017
Where?: Joss House Bay and all around the Tin Hau Temple
How to Get There: Easiest way to get to Joss House Bay is with the ferry from the North Point Ferry pier in Hong Kong Island. The ride takes 40 minutes and during the celebrations, the ferry operates additional special holiday sailings. Round trip Adult Fare is HK$60 for the ordinary ferry and HK$70 for the fast ferry. Senior and children rates available.
Additional sailings are provided by First Ferry during the festival:
"First Ferry provides special ferry services during Tin Hau Festival between North Point and Joss House Bay:

Tin Hau Festival is approaching and New World First Ferry Services Limited ("First Ferry") will arrange over 50 sailings plying between North Point and Joss House Bay, Sai Kung for worshippers to make offerings and participate in the celebratory festivities of Tin Hau Festival.

Ferry tickets are available for sale on-site at North Point Pier (only round-trip ticket) and Joss House Bay Pier (only single-trip ticket to North Point). Passengers with the ferry ticket/Octopus record (if applicable) of departing from Joss House Bay to North Point can enjoy a free single trip from North Point to Hung Hom or to Kowloon City during the operating hours of the concerned ferry routes on the same day."
More Info: For more info and detail ferry schedule check out the First Ferry site.
Aqua Luna Cruise to Celebrate The Tin Hau Festival in Joss House Bay
Departs from TST Ferry Pier and Central Pier 9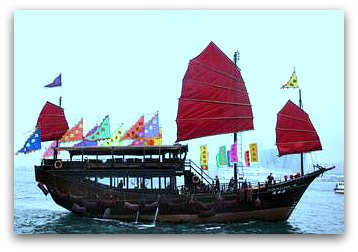 Celebrate Tin Hau's Birthday on board the Aqua Luna with a cruise to Joss House Bay to take part in the festivities at the largest Tin Hau temple in the territories... parades, lion dances, firecrackers, boat processions...
This is a fantastic offer, besides the cruise, it includes 2 glasses of house wine, beer, soft drink, or juice, snacks and a Dim Sum lunch on board.
2018 TBA - Leaves at 11:30 from Tsim Sha Tsui and 11:45 from Central Pier 9
Return approximately at 3:15 pm - 3:30 pm
How Much? US$56.45
Aqua Luna - Tin Hau Festival 2018 TBA - More info and booking ››
Tin Hau Temples in Hong Kong
And even if you don't happen to be in Hong Kong during any major celebration, a visit to any of the Tin Hau Temples will give you a glimpse at the traditions so embedded in this modern metropolis and since Tin Hau temples are so prolific, chances are there is one very near where you stay.
You will find them tucked in some narrow alley in all the neighborhoods. One of the easiests, specially if you will be visiting the Temple Street Night Market, is the Yau Ma Tei Tin Hau Temple, which like most of them might not look like much from the outside, but you might be pleasantly surprised once you are inside...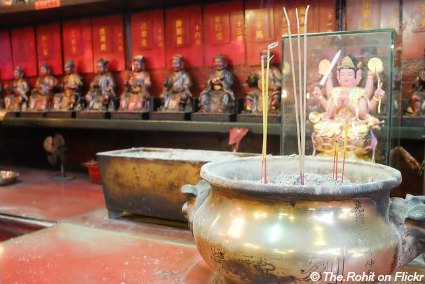 The peaceful serenity is quite welcome...
Hong Kong Events
Thank you for visiting www.hong-kong-traveller.com!
Here is to a wonderful Hong Kong travel experience!