The Tai Kok Tsui Temple Fair
A Full Day of Lions, Dragons, Dancers, Kung Fu, Drummers, Feasts...
Sunday March 5, 2017
The Tai Kok Tsui Temple Fair is a full day of colorful celebrations dedicated to "Hung Shing", the God of the Sea revered back in the days by many of the fishermen in the Southern villages of China.
He was also known as the King of the South Seas, and legend has it, he passed away too early so the people decided to build a temple in his memory to worship his spirit and in turn, Hung Shing would keep bringing them luck and protection from the treacherous seas.
The original temple was located in Fuk Chuen Village, but later moved to its current location in Tai Kok Tsui in Mong Kok and every year, on the 13th day of the first lunar month, a big celebration to honor Hung Shing takes place and is truly a lively event worth checking out.
The festival kicks off in the morning with an opening ceremony followed by a fantastic Grand Parade...
Get ready for a riot of colour, shiny costumes, bright lanterns...
Dancing dragons, skillful acrobats, lots of drumming...
And throughout the day, there are many troupes offering kung fu shows, cultural performances...
Singing, dancing, fashion shows... kids and adults alike...
And another highlight of the festival, the 18 Dancing Lions on Quincuncial Piles come parading in the afternoon...
It is truly quite a spectacle...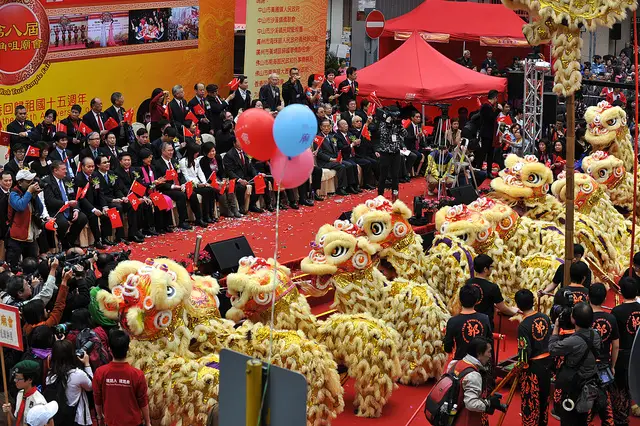 If you make it long enough at night you will be rewarded with a fantastic 500-feet Luminous Night Dragon that makes its way along the festive crowd and is the perfect ending to a fabulous festival.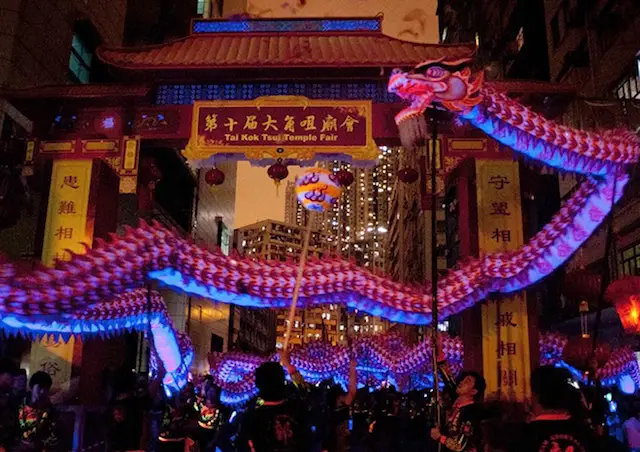 When is the Tai Kok Tsui Temple Fair 2017?
This year's celebrations will be on Sunday March 5th, 2017 from approximately 10:00 am to 9:30 pm.
Highlights Times:
Grand Parade at 11:30 am
18 Lions Dance on Quincuncial Piles at 3:30 pm
500-Feet Luminous Night Dragon Dance Performance at 8:45 pm
How to get to the Celebrations?
The Tak Kok Tsui Temple is located on Fuk Tsun Street on the western side of Mong Kok
. It's a short 10-15 minute walk from the Mong Kok MTR station.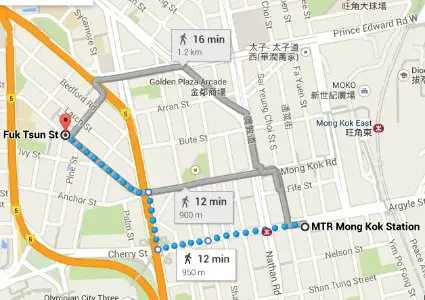 More Info and this year's full programme: Tai Kok Tsui Temple Fair
Here's more on Hong Kong Religion, Traditions and Temples.
Hong Kong Events
Thank you for visiting www.hong-kong-traveller.com!
Here is to a wonderful Hong Kong travel experience!