Hong Kong Disneyland
Come say "Ni Hao"
to Mickey, Minnie, Goofy and the Gang!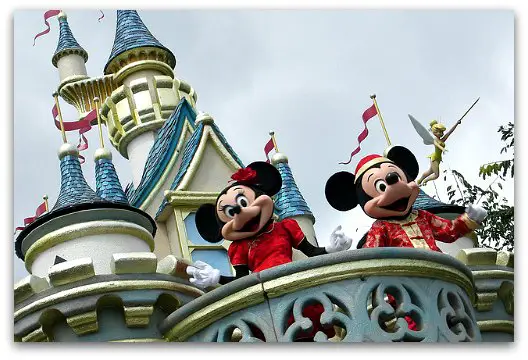 Hong Kong Disneyland is the fifth Disney Theme Park location to open, the second in Asia.
After the original Disneyland Park in Anaheim California came Walt Disney World in Orlando.
Then Disney took the show on the road and went international with Tokyo Disneyland, followed by Disneyland Paris.
It was a tough act to follow for Disneyland Hong Kong, but after a rocky start in 2005, the Park seems to have turned the corner and it is a place where we can certainly say "the magic is still very much alive" which is what the Disney experience is all about!
Hong Kong Disneyland is tiny in comparison with its older cousins and prices as expected are "Disney prices", but all in all, still a very magical, enchanting, and wonderful experience.
The selection of rides and attractions was somewhat limited in the beginning, but now with the latest additions and still some to come, the park is really delivering with more exciting offerings every year.
The small size of the park and family-friendly set up makes it a perfect place to spend the day with small children.
Exploring Hong Kong Disneyland
Although small in comparison to the other Disney parks, Hong Kong Disneyland shares in the same magical atmosphere, and all those perky little details tucked here and there and the outstanding and well landscaped grounds all combine beautifully to give you plenty of magical moments and memories.
HKDL is divided into seven "Lands", it is very easy to find your way around but make sure to pick up a Guidemap at the entrance. Because of additions and new developments, some areas might be closed. At the moment, the construction of the new Marvel Heroes area is getting underway, some attractions like the Train that circumvents the park might be temporarily closed.

Main Street USA
Leads you from the Park Entrance to the Castle with a turn of the 20th century atmosphere


Fantasyland
The magical land of fairies, flying elephants, spinning cups and Sleeping Beauty castle, the Disney trademark


Adventureland
Welcome to the jungle, climb Tarzan's treehouse, go wild at the Lion King extravaganza


Tomorrowland
Exploring the universe at the speed of light, don't miss these thrilling rides


Toy Story Land
Come play with Woody, Buzz and friends at Andy's backyard where three new rides await


Grizzly Gulch
This is the Wild Wild West, complete with mining mountain, runaway cars, geysers and the town jail


Mystic Point
A mysterious mansion, supernatural happenings, exotic forest, a new ride and two new characters


Special Events and Celebrations
Halloween, Christmas, and Chinese New Year are great times to visit the park


HKDL Pictures
Check out Our HKDL Pinterest Board
Particularly for toddlers and children under 10, the park will be a very magical experience, whether it is your first time at a Disney park or a repeat visitor.
It is probably more challenging to keep teenagers amused as the number of rides and attractions for this age group is limited. There isn't much outside of Space Mountain in Tomorrowland, the new rides in Toy Story Land and the newer Grizzly Gulch roller coasters at the moment to keep them busy.
A more suitable option when it comes to amusement parks in Hong Kong for the older kids is Ocean Park, which has a great assortment of rides and rollercoasters as well as marine exhibits and other attractions that will keep them entertained.
But all is not lost, teenagers can still have a great time at the park, our boys (then 12 and 14) still enjoyed it very much, they enjoyed the parades and were happy to spend time with their younger cousins.
More Fun Stuff at Hong Kong Disneyland

Getting There
The Disney Experience begins before you even get to the park!


Meeting your favourite Characters
Mickey, Minnie, Goofy, Pluto, Donald... they all make an appearance, just know
where to look!


The Parade
Best time to see all your favourite Disney characters sing, dance and march at the Flight of Fantasy Parade


The Fireworks Spectacular
Every night, a state-of-the-art fireworks display lits up the sky with the favourite Disney tunes in the background


Paint the Night Parade
Disney's latest dose
of magic with dazzling lights, costumes and floats, where everything glows


The Hong Kong Disneyland Resort
Magic overload! A stay at one of the Disney Hotels to round up your Disney Experience!
If you are familiar with other Disney parks, Hong Kong Disneyland is quite similar in the layout and how it operates. You will also notice some very unique Asian twists, here and there:
For starters, you will find that all shows and performances are offered in Mandarin and Cantonese in addition to English. This is important to note if there is a particular performance you are interested in, i.e. Stitch Encounter, check the times to make sure you don't miss it in the language of your preference.
When it comes to food, you will also find that the menus offer a wide selection of Asian fare in addition to Western, so beware of that hamburger which might be a soy burger rather than the usual beef burger you might be accostumed to.
Chinese culture is evermost present throughout the park and the resorts. With the number four being the "unlucky" number for Chinese, much like the number thirteen in Western culture, you will see no number 4 on the elevators. Other not so noticeable details are the direction the main gate faces, which was positioned for optimal feng shui or good luck, among the mountains and the sea.
Coming Soon to Disneyland Hong Kong: Marvel Superheroes and a Frozen Theme Land!!!
There is much happening at Hong Kong Disneyland nowadays.
The "Iron Man Experience" first of the new Marvel Superheroes Area has opened! It includes a flight simulator ride and the area is located in the Tomorrowland Theme area which has gone through a transformation: Autopia has closed and Buzz Lightyear Astro Blasters has been transformed to conform with the new Marvel Superhero theme.
Little princesses rejoice! A new "Frozen" Theme area is in the works, complete with ice mountain, castle and lake...
And last but not least, a new nighttime show with fireworks and fountains, and a new show based on "Moana" also coming soon to House of Mouse!
When is this all happening? This is a proposed 6-year plan, with highlights coming every year, so stay tuned!
In the not so good news, the park has announced that the nightly Fireworks show will be discontinued for 2018 onwards.
---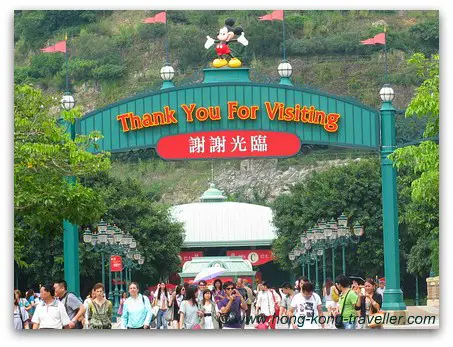 Thank you for visiting www.hong-kong-traveller.com!
Here is to a wonderful Hong Kong travel experience!