Hong Kong Disneyland Parade
"Flights of Fantasy..."
We loved the Hong Kong Disneyland Parade!!! Granted we have always enjoyed the Parades and it is with certainty the one item that always makes it to our Disney "to do" list.
The theme of the Parade varies from time to time, and there are special parades during certain times of the year, for example at Christmas and Chinese New Year.
We caught the "Flights of Fantasy" parade that commemorates the 5th Aniversary of the opening of the park and it was just stunning.
The Disney Marching Band and all the favourite Disney Characters make an appearance, with Mickey and friends in the leading float...
With traditional Disney flair, the colorful floats all shine and sparkle with beautiful details. They are just gorgeous.
Here comes Winnie and the gang, some of the characters walk along the floats and entertain and interact with the kids.
And the Disney Princesses: Snow White, Cinderella, Belle, Sleeping Beauty...
The Jungle Book Clan with Baloo front and center, the monkeys, Sheere Khan, Bagheera...and while we're on the jungle theme, Simba and the Lion King crew also pop for a greeting...
Also along the floats you see cast members that march, dance, sing, perform acrobatics, etc. and kids are invited and encouraged to join in the fun...
Coming up is Tinkerbell's balloon...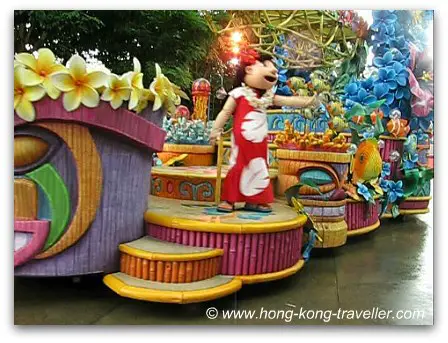 And Lilo and Stitch in their Hawaiian themed balloon...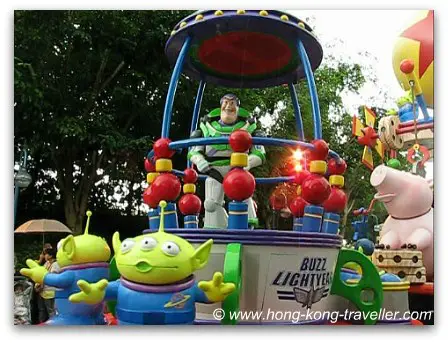 And Buzz and the Toy Story gang...
When does the Disney parade start?
You need to check the Times Guide and start staking out your place at least 15 minutes before the start of the parade.
Where to Watch the Parade?
The Parade starts at the road between Tomorrowland and Fantasyland, behind Space Mountain, it goes around the round-about in front of the Castle, continues down Main street and finishes right by the park entrance where the Railroad Station is.
The Parade Route is clearly marked on your Guidemap, and you will also see the park attendants roping off the area where the parade will pass.
You can watch all along the route and if you are taking pictures, consider the sun light at the time during day parades.
Watch this short video clip of the Flights of Fantasy Parade from our last visit, and remember that regardless of which parade you get to watch, it is sure to be a magical experience!
Thank you for visiting www.hong-kong-traveller.com!
Here is to a wonderful Hong Kong travel experience!