Hong Kong Festivals and Events
September 2012
Taking place in September 2012 are some very lively and colorful events: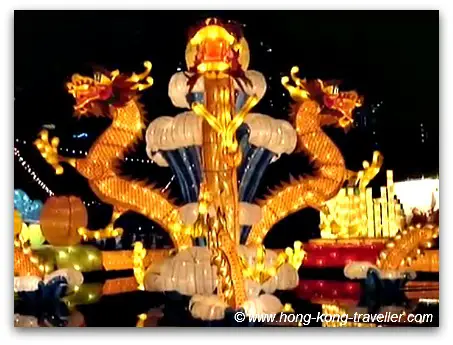 Mid-Autumn Festival Lantern Carnival in Victoria Park
---
Mid-Autumn Festival Celebrations
The 2012 Mid-Autumn Festival is on September 30, 2012.
Lantern carnivals, parades and festivities will run from September 27 to October 2, 2012.
These are some of the most popular celebrations for you to take part in:
Lantern Displays and Exhibitions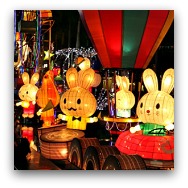 Mid-Autumn Thematic Lantern Exhibition
Tsim Sha Tsui at the Hong Kong Cultural Centre Piazza is fairly easy to pop in for tourists as it's just around the corner from the Star Ferry Terminal and the TST metro station.
This year's theme is Terracotta Warriors of the Qin Dynasty
When?: September 13 to October 21, 2012 6:30p.m. to 11:00 p.m.
How Much?: Free

West Kowloon , at the West Kowloon Waterfront Promenade features beautiful lantern displays with a different theme every year.
When?: September 27-October 2, 2012.
How Much?: Free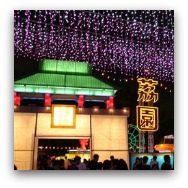 Urban Mid-Autumn Lantern Carnival at Victoria Park is the all-in-one mega event that offers the lantern displays including the magnificent Lantern Wonderland, a full cultural programme, and a Fire Dragon Dance Parade.
The cultural programs include kung fu demonstrations, folk songs and dance shows, acrobatics, Chinese folk arts and crafts demonstrations, etc.
When?: September 30, 2012 8:00p.m.-11:00p.m.
Where?: Victoria Park
How Much?: Free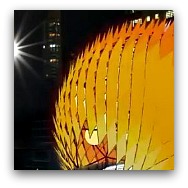 Lantern Wonderland at Victoria Park The Lantern Displays are state-of-the-art designs and the highlight of the event is Lantern Wonderland, the main signature piece which is chosen through a design competition organised by the HKTB and several design organisations.
The Design contest is held months prior to the festival and the winning entry is showcased during the Mid-Autumn Festival.
When?: September 27-October 2, 2012.
Where?: Victoria Park
How Much?: Free
Here is more on Mid-Autumn Festival Lantern Carnivals and Exhibitions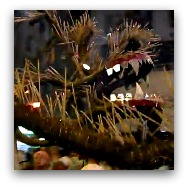 Tai Hang Fire Dragon Dance Parade is another example of Hong Kong's traditional culture and a main part of the celebrations of the Mid-Autumn Festival.

Come take part of this tradition when the 67-metre Fire Dragon winds through the streets of Tai Hang, like it did over a century ago with over 300 performers, 70,000 incense sticks, and lots of firecrackers.
When?: September 29, 30 and October 1, 2012, 7:30 p.m.
Where?: Tai Hang, Causeway Bay. Here's how to get there.
How Much?: Free
---
The 2012 Hong Kong Watch and Clock Fair - September 5-9, 2012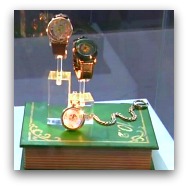 The annual Hong Kong Watch and Clock Fair is the world's largest timepiece event which offers a remarkable selection of watches and clocks and a preview into the latest designs and trends in the market.

Highlights of this event are the "Brand Name Gallery" and "World Brand Piazza", featuring limited edition and rare timepieces from the major global brands.


The Brand Name Gallery is open to the public on the last day of the event and timepieces from selected exhibitors are available for sale.

When?: September 5-9, 2012. Sept. 5, 10:30 a.m. to 6:00 p.m., Sept. 6-9 9:30 a.m. to 6:00 p.m.,last day closes at 5:00 p.m.
Where?: Hong Kong Convention and Exhibition Centre
How Much?: Free for trade visitors and the public
---
Horse Racing Season 2012-13 at the Happy Valley Race Course begins September 12, 2012
Happy Valley Hong Kong whether or not you are a horse racing enthusiast is an experience not to be missed!

The beautiful horses, the skillful jockeys, the crowds going wild, they all add up to an exciting, fun-filled, thrilling atmosphere in a world-class venue.

The Happy Valley race course itself is a sight in itself, the city has built around it through the years and it is now practically surrounded by skyscrapers, an awesome experience specially at night when the city is illuminated.


When?: Wednesday Nights, season starts September 12, 2012. First race starts at 7:15 p.m. and the gates open at 5:15 p.m. The races are done by 11:00 p.m.

Where?: Happy Valley Race Course

How Much? Depends, there are many ways to experience the races, from General Stand to Private Boxes and special packages including dinner and drinks. General Stand entrance starts at HK10.

Click here for more on Happy Valley Horse Racing, how to get there and options for viewing the races.
---
Hong Kong Halloween Celebrations are starting now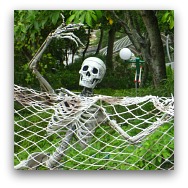 It's more than a month away but the ghostly decorations and waves of orange pumpkins, skeletons and vampires are slowly making their way into the shopping centers and the theme parks in the territory.

Special events and parties likewise will be kicking off in mid-September as in prior years. The main venues at this early time are Ocean Park and Hong Kong Disneyland where villains, ghosts and goblins are already making the rounds.

Ocean Park Halloween Treats for Kids
What?: Halloween Fun Zone with family-friendly actvities including games, a "Pumpkin City Quest" and a costume contest.
When?: September 21 to October 31, 2012 Daytime during park hours
Where?: Whisker's Harbour
How Much? Free with park entrance
Ocean Park Night Time Hauntingly Hip Halloween
What?: After dark for some heavy-duty horror and all-night parties, eight Haunted Houses and over a dozen Halloween Bash shows
When?: Friday to Sunday September 21-23, 28-30, 2012 5:30p.m. to midnight
Where?: Waterfront
How Much? Ticket pricing varies depending on day of visit and activities. Here's more Ocean Park's Hauntinly Hip Halloween, including ticket information.
---
Terracotta Warriors Exhibition: "The Majesty of All Under Heaven: The Eternal Realm of China's First Emperor" now until November 26, 2012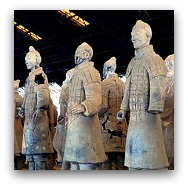 The Terracotta Army is one of China's most significant discoveries, a collection of over eight thousand life-size warriors, designed to protect Emperor Qin in the afterlife.

This magnificent exhibit sponsored by the Hong Kong Jockey Club, brings us a sample of these two thousand year old cultural relics, including terracotta warriors, horses, and seldom seen bronze artifacts.

If you haven't been to Xian, this is your chance to appreciate these priceless treasures.


When?: Now until November 26, 2012

Where?: Hong Kong Museum of History, Special Exhibition Gallery and 1/F Main Lobby

How Much? HK10, you must get tickets in advance. Tickets sell out fast, check the LCSD for bookings and status. The second phase of ticketing for visits between September 3 and October 14 is now on sale. Third and final phase of ticketing opens September 24, 2012.
---
Ongoing Hong Kong Events for September, 2012
These are some popular ongoing events that are worth checking out, specially since they are FREE!

These events feature some of the great and ancient traditions of the territory and are offered by experts in their corresponding fields:

And in modern contrast to the ancient traditions:
---
Hong Kong Events
Thank you for visiting www.hong-kong-traveller.com!
Here is to a wonderful Hong Kong travel experience!
Like our Site? Follow us!
Hong Kong Traveller
---
---
Airport Transfers
Luxury airport-hotel sedan transfers
in a Tesla Model S
Arrival HK650 HKD 357 (US$46)
per vehicle for 3-4 persons
Luxe Van Transfers
in a Toyota Alphard Van
HK690 HKD 505 (US$66)
per vehicle for up to 6 persons
More Private and Group Airport and Cruise Port Transfer Offers
---
---
Where to Stay in Hong Kong
Luxury Hotels
Mid-Range Hotels
Family Hotels

Romantic Hotels
Great Value Under US$100
Airport Hotels
Hotels With Fireworks Views
Apartments and Rentals
Hostels
$$ Current Offers $$
---