Hong Kong Tourism and Sightseeing Guide
From a Skyscraper Filled Skyline to Sleepy Fishing Villages...
Hong Kong Tourism
counts with a wealth of spectacular attractions which coupled with first-rate transportation and accomodation facilities, make it a very enticing tourist destination for people from all over the world.
Hong Kong attractions are endless, with the distinct advantage of being concentrated in a relatively small geographical area. But regardless, plan well, there is much to see and do in Hong Kong!
Hong Kong also enjoys superb transportation options, which for any big city standards are quite inexpensive, making it a breeze to get around the city and the surrounding areas. So, where to start? Follow the links that will guide you from the top must-see attractions and landmarks to the different sightseeing options to make the most of your time and budget.

---
Hong Kong Area by Area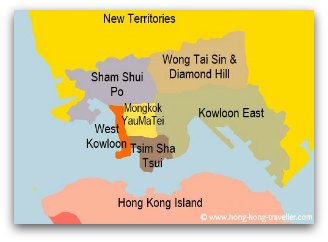 There are four main areas of interest to visitors:
Hong Kong Island
Kowloon
The New Territories
The Outlying Islands
Although most visitors concentrate in the Central (HK Island) and Kowloon areas, I would like to encourage you to see them all if you have the time as they represent such a distinct facet of the Hong Kong landscape, both geographically and culturally, and can give you so many different glimpses of life in the Fragant Harbour.
Here's an introduction to Hong Kong's main areas, including highlights and main attractions...
---
Hong Kong Landmarks and the Hong Kong Skyline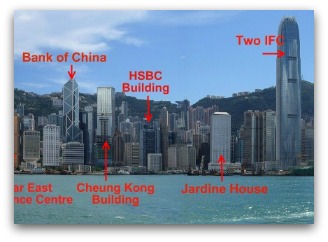 Here is a list of our top Hong Kong Landmarks, the easily recognizable structures of the Hong Kong Skyline which we often use to get our bearings!
The Hong Kong "skyline" goes now beyond the well-known Central skyline featured in most glossy brochures, and extends to the other side of the Harbour in the Kowloon side, which is now home to Hong Kong's tallest building.
Our definition of a "landmark" includes all classic and cultural features that belong to the city as well, enjoy our list and tell us what we missed!
---
Top Hong Kong Tourist Attractions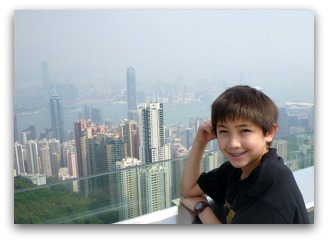 From the all-time classics like Victoria Harbour and the sleek Hong Kong skyline to quaint sleepy fishing villages and bustling, colorful markets and temples, there is much to see and do in Hong Kong.
Here are some top picks, what to see on your first visit, our favorite markets, recommendations and tips for visiting all the top spots...

---
Hong Kong Sightseeing by Bus - the City Highlights
These are our top picks for seeing the top highlights and are an excellent introduction to the city, specially for first time travellers. The buses escape out of the hustle and bustle bringing you to fishing villages, beaches and markets, an excellent overview of the different facets of Hong Kong.
Or by Tram - The Ding Ding Trams and The TramOramic Sightseeing Tour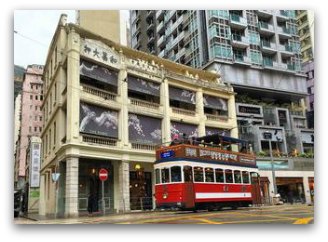 The best way to get around the North part of Hong Kong Island is with the clunky and fun Ding Ding Tram which has been traversing the east-west corridor for over a century.
They are frequent and cheap and you can use them to hop-on and hop-off along the dozens of stops in the 13 km stretch, or take the one-hour narrated introductory tour, a fantastic way to get oriented for the first time.
Gourmet Sightseeing: The Crystal Bus Dim Sum Tour
This is a two for one that includes Hong Kong's fabulous landmarks and our legendary local staple, Dim Sum, all aboard a luxury doduble-decker bus restaurant!
There are two options, one concentrating in the "central" areas of Hong Kong Island and Kowloon, excellent for first-timers so you can get oriented. The second option takes you to Lantau Island. Both routes begin and end by the Peninsula Hotel in Tsim Sha Tsui.
The menu includes a fantastic selection of some of the most popular Dim Sum dishes catered from one of the city's Michelin recommended restaurants. The menu is set and unfortunately cannot be altered for special dietary requirements.
---
Favorite Hong Kong Walking Tours
You haven't seen Hong Kong if you haven't explored by foot!
Hong Kong walking tours are the only way to experience the little corners of the city, the markets, temples and "holes in the wall".
More than sightseeing, these walks are a learning adventure, and a great way to experience the rich history and culture and traditions of the territory.

---
Favorite Hong Kong Day Trips
Getting Out of the City: the Outlying Islands, the New Territories, China and Macau... all at our doorstep and easily accesible as a day trip or weekend trip from Hong Kong.
Hong Kong Day Trips bring you to stunning beaches, quiet fishing villages, areas with abundant wildlife and natural beauty, historic villages, colonial architecture of a former Portuguese enclave, and the bold and contrasting blend that is modern and traditional China.
---
Geography of Hong Kong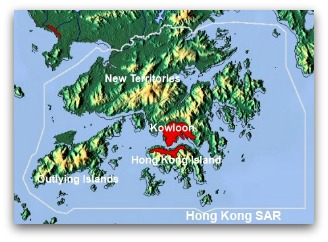 The Geography of Hong Kong is surprisingly varied, beyond the compact jungle of the high-rises and the busy retail and entertainment districts, lie large expanses of greenery, rugged mountain peaks, natural reserves and over 260 islands.
Here's an introduction to Hong Kong's geographical features, mountains and peaks, peninsulas, islands...

---
Getting Around: Transportation Options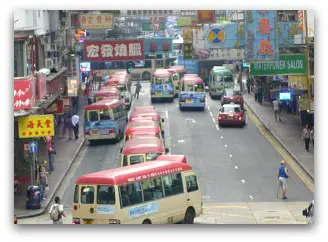 Transportation in Hong Kong is extremely efficient and economical making it one of the easiest places in the world to get around. There are many options for getting from A to B in Hong Kong, and chances are you will use a few of them during your visit.
Hong Kong's Octopus Card is a convenient way of payment that covers all forms of public transportation and is a must-have for all visitors.
---
Getting Out: Airport Transfers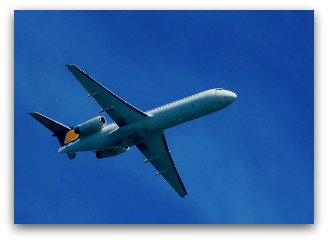 Hong Kong Airport Transfers like all transportation options in Hong Kong are easy and convenient.
What is best? There are many alternatives, ranging from the very economical buses to the over-the-top (literally) helicopter ride straight to the helipads on top of the Peninsula Hotel.
So here we compare all the different ways of getting in and out of the city: the Hong Kong Airport Express, private airport transfers, buses, shuttles...
Pick what's right for you and your wallet and start exploring!
---
Don't Miss Events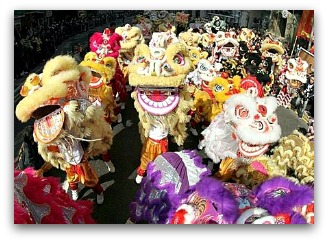 There is a wide range of exciting happenings and top notch events in Hong Kong throughout the year...
There are the art festivals, world class sports events, concerts and performances whether classical, pop, or cantonese opera, food festivals and the fascinating local festivals which besides the spectacular and colorful celebrations, can give such a unique glimpse into traditional Chinese and local life.
Knowing if there is a major happening during your stay is important, first so you don't miss on an extraordinary spectacle, and second, so you can plan your accomodation and transportation needs as during the most popular events and festivals everything is running on full capacity.
Here we list the top festivals, holidays and events every month to help you plan your stay in the city.
---
Thank you for visiting www.hong-kong-traveller.com!
Here is to a wonderful Hong Kong travel experience!