Hong Kong Seafood
Fish... Prawns... Lobster... Crab... Clams...
Cooked to order and as fresh as it gets
Incredibly fresh, sizzling and brimming with flavour, Hong Kong Seafood is one of the territory's hallmark and quite an exquisite and unique experience you don't want to miss if you are a seafood lover!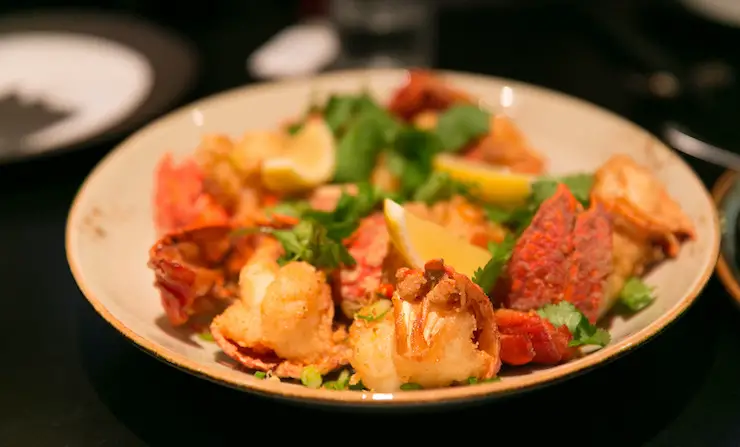 And when paired with a trip to one of the seafood villages around the coastal areas or the outlying islands, you are in for quite a ride. It's a ride back in time to the old traditions of the picturesque and lively fishing outposts.
Whether in town or at the villages, seafood can be had in quaint stalls as well as lavish restaurants. The common denominator here is the large tanks full of their live swimming offerings from which you pick your order. Everything is cooked right there and then. It doesn't get any fresher than that...
There's fish, prawns, crabs, lobster, clams, oysters ... and you can have them braised, steamed, stir-fried, baked, boiled, grilled or however the way you want it, just ask!
These are some of our favorite seafood villages, worth a visit for a change of pace and a look into the colorful traditional fishfolk culture. They make for a great outing, whether for a day or only a couple of hours, the fantastic seafood and atmosphere is the icing on the cake!
Lei Yue Mun Seafood Village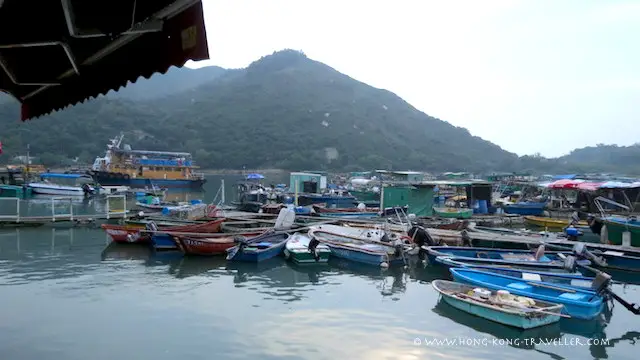 The Sok Kwu Wan Seafood Village in Lamma Island
How to Order and What to Order?
When tripsing around, we normally just pick restaurants or stalls that look busy, where the tables are full.
You select what you will have from the tanks displaying the different offerings.
In most cases there is no menu per se and food is ordered by weight at whatever the commanding market price, so make sure to ask before ordering if the prices are not displayed.
When ordering you should tell them how you want the food cooked and your choice of seasonings and sauces. You can always look around at what others are ordering and what looks good or ask for the server's recommendation.
When it comes to seafood this fresh, you really don't need to complicate things with extravagant sauces. The simpler the better to bring out the fresh flavours. Our one exception to that rule are the spicy crabs or prawns in chilli sauce that are to die for!
Your dishes will be brought to the table as they are being cooked and shared "family style" by all. These are some of our favourite dishes and some of the most popular choices:
Steamed Fish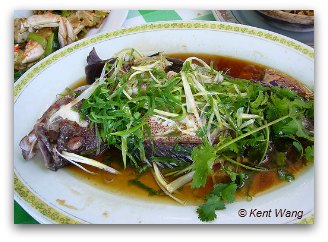 Steamed Fish is a standard in the Hong Kong seafood menu. Silky and tender, the fresh soft flakes melt in your mouth.
There are always many kinds of fish to choose from: red snapper, sea bass, trout, etc. and there is of course the "fish of the day".
For seasonings, less is more here. We like a simple light soy sauce topped with spring onions and ginger.
The fish is steamed and served whole, head, tail and fins. It's a little more effort to deal with the fish bones but the wonderful flavour when the fish is cooked on the bone is worth it.
If this is your first time tackling a whole fish here are some tips:
Lift the flesh on the top side first
Do not turn the fish over, this is bad luck for the Chinese, amongst the fishing communities specially, it means your boat will flip over!
Leaving the head and tail as is, lift the bone to get to the bottom side
Stir-Fried Crab
Stir-fried Crab is another delicious staple.
The fresh crabs are quickly fried and coated with an aromatic garlic sauce and for that extra zest, some spring onions, ginger and chilli.
There are many other ways to enjoy fresh crab. It is also delicious baked or steamed, or for a different flavour, try the black bean and chilli garlic sauce which is also a favorite.

Eating crabs can be messy even if served already cracked and in pieces. Use your fingers and a claw cracker to expose the meat and get it out of the small crevices and don't worry about the mess which is perfectly acceptable and a sign you are enjoying your meal!
Golden Prawns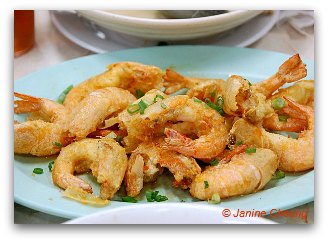 The succulent Golden Prawns deep-fried with shell on to a crisp are a favorite as appetizers.
The coating is very light, sometimes just a drizzle of cornstarch is needd to give it that unique crunchiness. The shrimp meat is flavourful, juicy and firm.
Do you eat the shell? Yes! the deep-fried shell has the right texture and tastes crunchy and delicious.
Sometimes the prawns are cooked with head on, they are easily removed with a simple twist.
Prawns can also be boiled, steamed, sauteed, stir-fried, grilled, baked... nothing beats that sweet taste of fresh juicy prawns.

Sauteed Lobster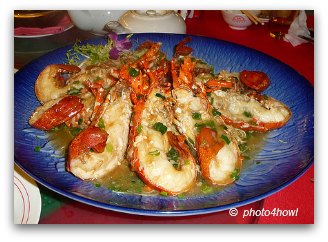 There are also many ways to enjoy fresh lobster. Sauteed Lobster with a light garlic and scallion sauce is very popular.
Baked lobster is also delicious, or simply just steamed. As long as it is fresh, you can't go wrong! We try to stir clear of the large size lobsters, the meat tends to be a bit tougher.
Lobster tails are easy to tackle. Sometimes lobster is served in pieces so that more surface area is coated with the delicious sauce. And as in the case of crabs, use fingers, claw crackers, forks, whatever is needed to get to the meat and feel free to dip, lick your fingers, slurp and enjoy, don't worry about the mess.

Here are some more favourites: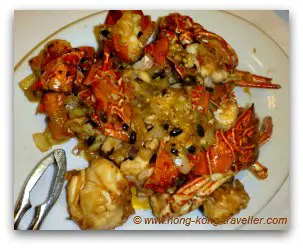 Lobster sauteed in black bean sauce
Steamed Crab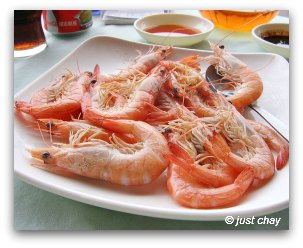 Boiled Prawns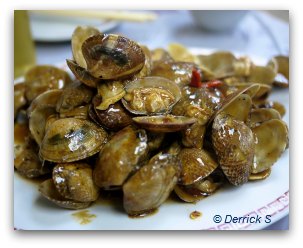 Stir-fried Clams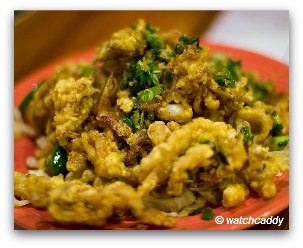 Fried Calamari with Scallions and Pepper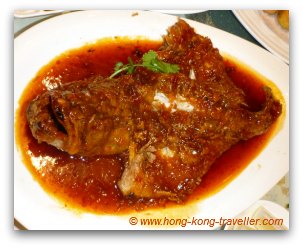 Stir-fried Fish in Garlic and Chilli Sauce
There is also the usual fresh oysters, scallops, razor clams, mantis prawns and the not so usual (at least for Western standards) abalone, sea cucumber, eel, and many other sea creatures you may or may not identify as you browse along the tanks full of fresh catch. Your chance to try something different!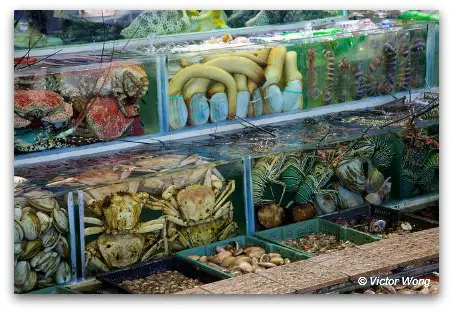 Seafood Delights...
Seafood Village Dinner Cruise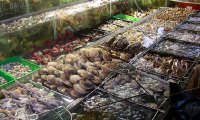 Cruise the Harbour and enjoy a 9-course dinner at Lei Yue Moon Seafood Village.
HK $510 HK $ 462 (US$ 60)
More details at Klook.com
Seafood at the Floating Restaurants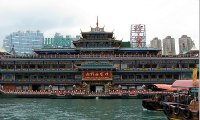 Harbour cruise and city lights, a 9-course dinner at the Jumbo Seafood Restaurant.
US$153
More details at Viator.com
---
Thank you for visiting www.hong-kong-traveller.com!
Here is to a wonderful Hong Kong travel experience!