The Octopus Card
Hong Kong's Smart Money Card
The
Octopus Card
is a smartcard used throughout Hong Kong instead of money, it comes in very handy for getting around Hong Kong's vast public transportation system without having to carry loads of small change.
Although at the beginning the Octopus was launched to be used in the many transportation venues, including the MTR, buses, ferries, and trams, the system has widely spread to other sectors as well. Nowadays, you can use an Octopus Card to pay at convenience stores, fast-food restaurants, vending machines, parking garages, supermarkets, etc.
The Octopus is the equivalent of London's Oyster Card or New York's MetroCard, in steroids... because you can use it for so much more.
It is estimated that 95% of the population age 16 to 65 use it, to locals, the Octopus is a way of life, and it is definitely the way to go when getting around Hong Kong.
They are easy to use, you simply place the card over the "card reader" (the yellow pad with the picture of the card over it), it will beep/lit up and then you proceed through the turnstile:
Getting around is much easier with an Octopus Card: at the MTR
Here are some of the most frequently asked questions regarding this Hong Kong smartcard:
Who needs an Octopus Card?
Each person needs to have his or her own card when using it for transportation where individual tickets must be purchased. You cannot "share" one card to ride the MTR for example. The fare is computed based on departing and arriving points, so each member of the group must have a card.
Are there different kinds? Which one should I get?
There are different kinds of cards, visitors will need the standard
"On Loan" Octopus Card
. They can be purchased and used by anyone.
Other types are the "Sold" Octopus which are special edition cards sold at a premium and are more like "souvenir" cards, i.e. the Hello Kitty Octopus Card. You can get them at the 7-Eleven.
"Personalized Cards" mostly used by Hong Kong residents, you must register for these, they are trackable, linked to your financial institution, and can be automatically reloaded.
Child and Elder Octopus Cards are also available and when using one of these, the corresponding concessionary (discounted) fare will be charged for transportation i.e. child or senior fare.
Child Octopus Card
Senior Octopus Card
Where to get it? How much are they?
Easiest places to get the Octopus are:
When you first arrive at the Airport at the Airport Express Customer Counter
At any MTR Customer Counter
At the Airport Express Stations
At all 7-Elevens
Cards must be paid with CASH only.
Prices for on-loan cards are as follows:
Hong Kong Standard Octopus Prices

Deposit
Stored Value
Total Cost
Adult
50
100
150
Child (3-11)
50
20
70
Senior (+65)
50
20
70
The "Stored Value" is your credit balance, what you have left to spend.
When you leave Hong Kong you can get the deposit and any unused stored value remaining back at the Airport Express Counters (Arrivals Hall) at the Airport. They deduct a small fee of HK$7 (less than US$1) for On Loan Octopus cards refunded within 3 months, not a bad deal for the convenience of using an Octopus throughout your stay.
The Tourist Octopus - HK$50 Preloaded (HK Airport Pick Up)
You can buy a Tourist Octopus online to be ready for pick up at the airport, it comes with HK$50 preloaded credit and special tourist edition motiv. You can keep the card as a souvenir or reuse it on your next trip!
The Tourist Octopus costs HK98. Buy online.
Where can I use it?
The main use will be in
Transportation:
Buses, MTR, Ferries, Trams, Railways. Very handy specially for buses and trams that require exact change.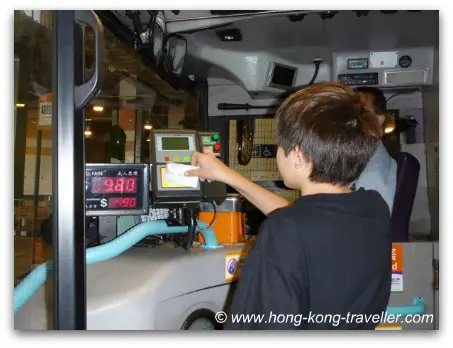 Much easier than carrying exact change for bus fare!
The Octopus can be used for the Star Ferry and the Peak Tram as well.
SOME taxis are beginning to accept Octopus but not all do, so ask first.
Many fast-food joints like McDonalds, Starbucks and Mrs. Fields and convenience stores and supermarkets like 7-Eleven, Circle K, Watsons and Wellcome to name a few.
You will also be able to use your Octopus at tourist attractions like Ocean Park and the Happy Valley Race Course.
Outside of Hong Kong, use of the card is now being extended to a handdful of establishments in Shenzhen and Macau, but this is still in the early stages. New cards expected to come out in 2012 will be in effect multi-currency cards and will certainly make travelling within the area a breeze, no more carrying small change in three different currencies!
How do you re-load it?
You can top up your Octopus at any of the merchants where you can use it: 7-Elevens, MTR stations, etc.
There are also automated Add Value Machines at MTR and selected Light Rail Stations where you can reload your Octopus.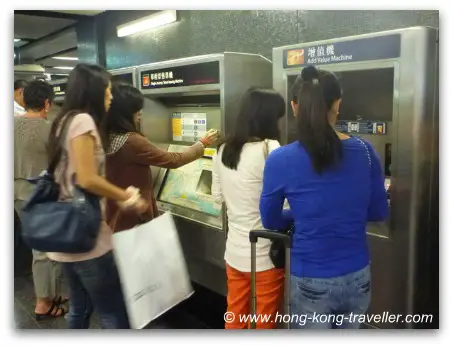 Adding more "money" to your Octopus is easy at any of the Add Value Machines
available at MTR stations
A maximum of HK 1,000 can be added.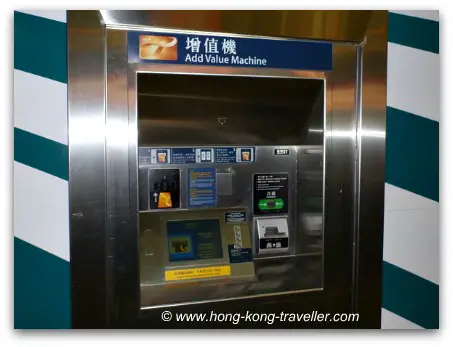 Remember it's CASH only!
What if I lose it?
Sorry, you're out of luck. There is no way to report On Loan Octopus Cards as "lost" or "stolen". They are as good as cash. Be careful and treat them as such.
Octopus Cards are a convenient way to make small purchases, don't forget to pick one up as soon as you land!
---
Thank you for visiting www.hong-kong-traveller.com!
Here is to a wonderful Hong Kong travel experience!