Featured Hong Kong Tour: The Hop-On-Hop-Off Bus
We love Hop-On-Hop-Off bus tours! Every time we come to a new city and want and orientation, this is one of our top choices. They go to the major attractions and highlights of a city, let you get off and explore on foot the little corners, and give you an overview so you know where to go back to if you have the time. The Hop-On-Hop-Off Bus in Hong Kong is no exception.
It is a fun an enjoyable way to discover all the different highlights as you traverse among the skyscrapers and the busy harbour, through bustling street markets and colorful temples, and along the beautiful coastline to faraway fishing villages...
For first time travellers it is a great way to get your bearings, and for kids, a real treat riding on the open-air double deckers and hoping-on-and-off the over 20 points of interest.
The three loops cover all the must sights in the city with some perks added on like a ride on the Peak Tram, the Star Ferry and a traditional sampan in Aberdeen to make sure you cover all the must-see's and must-do's in Hong Kong.
We started our tour at the Star Ferry terminal in the Tsim Sha Tsui side, took our free ride on the Star Ferry to Central where we boarded the Big Bus. Here's an overview of what we encountered along the route:
The Hop-On Hop-Off Bus Tour includes:
All three routes on a 1-day or 2-day pass
Return ride on the Star Ferry
Peak Tram Sky Pass or Sky100 Hong Kong Observation Deck entry
Free Sampan Ride at Aberdeen Fishing Village
Complimentary headphones
Audio commentary in 10 languages: English, Mandarin, Cantonese, Japanese, Korean, French, German, Italian, Spanish and Russian
There is also an optional Night Tour add on, this is a one-hour panoramic tour, this part is NOT hop-on-hop-off
The 2-day pass also offers a FREE one-hour harbour cruise
Hours: Buses run continuously approximately every 30 minutes. These are the times of the first and last buses for each route. Times per route may vary and could be subject to change due to seasonal variations.
Red Route Hong Kong Island: 9:30 a.m. to 6:10 p.m. on the main Red Route.
Blue Route Kowloon: 10:00 a.m. to 6:00 p.m.
Green Route Aberdeen/Stanley: 9:45 a.m. - 4:45 p.m.
Departure: You are free to hop on at any of the stops along the route
More Info and Booking Big Bus Tours ››
Three Routes of Hong Kong's Hop-On-Hop-Off Bus Tour
The Red Route: Hong Kong Island
#1: Central Star Ferry Pier 7
- Star Ferry to TST, IFC, Central Shopping Malls
#2: Hong Kong Convention Center - HKCEC and Golden Bauhinia Square
#3: Causeway Bay - SOGO Department Store, Times Square Shopping Center
#4: Park Lane Hotel - Fashion Walk Shopping Area, Typhoon Shelter and Victoria Park
#5: Wanchai - Computer Center, The Pawn and electronic goods
#6: Peak Tram - For Victoria Peak and Madame Tussaud's Wax Museum
#7: Mid-Levels Escalators - Queen's Road and Central Market
#8: Man Mo Temple - Cat Street, Hollywood Road, antique shops and galleries
#9: Lan Kwai Fong - SoHo, dining and nighlife
The Blue Route: Kowloon
#10: TST East - Avenue of the Stars, Promenade, Hong Kong Cultural Center, Clock Tower, Star Ferry, Museum of Art, Space Museum
#11: The Peninsula - DFS Galleria, Nathan Road, iSquare
#12: Langham Place - Ladies Market, Fa Yuen Street Market, Mongkok Markets
#13: Temple Street - Temple Street Night Market, Jade Market, Tin Hau Temple
#14: Sky 100 - West Kowloon Waterfront Promenade, Elements Shopping Mall, ICC
#15: Hankow Road - 1881 Heritage, Harbour City, Canton Road
#16: Mody Road - DFS Galleria, Science Museum, Museum of History
The Green Route: Hong Kong Island South
#17: Central Star Ferry Pier 7 - Same as #1 above, this is the departure point for buses to Aberdeen, Repulse Bay and Stanley
#18: Ocean Park - The amusement park takes at least half-day to see, we recommend you do this on a separate trip
#19: Aberdeen - Fishing Village, Market, Jumbo Floating Restaurant and FREE Sampan Ride
#20: Repulse Bay - Repulse Bay Beach, Kwun Yam Shrine
#21: Stanley - Stanley Market and Village, Murray House
#22: St. John's Cathedral - Cathedral, Hong Kong Park
You can download the route map here ››
.
The Night Tour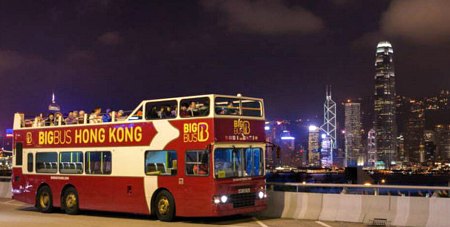 The one-hour Night Tour brings you along the bustling Kowloon side, through neon-lit Nathan Road, the best night markets, and the waterfront to take in the fantastic skyline views.
You can board the Night Tour on either side:
Departs Stop #1 Central Star Ferry Pier 7 at 6:15 pm
Departs Stop #10 By the Peninsula Office Tower at 7:00 pm
Ticket Prices and Options
Hop On Hop Off Ticket Prices

Option
Adult
Child 5-15
Family*
1-Day
US$58.00
US$52.00
US$168.00
1-Day with Night Tour
US$63.90
US$58.50
US$220.00
2-Day
US$65.00
US$58.00
US$188.00
2-Day with Night Tour
US$69.30
US$63.90
US$238
Night Tour
US$35
US$35
US$105
* Family fare is for 2 adults 2 children
Children under 5 go FREE
More Info and Booking Big Bus Tours ››
Tips for riding the Hop-On-Hop-Off Bus in Hong Kong
Even though the buses run intermittently every 30 minutes or so, it would be impossible to do all three routes in one day if you are hopping on and off, specially along the Green Route that brings you to the South of the island. If you only have one day, then either:
Concentrate on two routes only
Do all three routes without getting on and off or limiting the stops to a handful
Do the Green Route first, the buses for the Green Route stop running earlier, you can concentrate later on the other two areas
Not all stops are worth getting off for: Stop #18 Ocean Park, for example, it takes a minimum of half-a-day to see the park and ride the rides, entrance to the park is HK 280 for adults, and HK 140 for children, you are better off doing this on a separate trip and get your money's worth, getting here is easy with Bus 629 from the Admiralty MTR station.
If you are not taking the Night Tour, the last run of the day on the Blue Route is great with the city skyline lighting up all along the promenade (sit on the top deck) and then tripsing around the bustling night markets which are just getting going.
You don't have to use the Peak Tram pass on the same day as your Hop-On-Hop-Off Bus Tour, I would postpone it to another day so I can spend more time at Victoria Peak, this is not a site you rush through... and specially if the day of your tour isn't a clear day, wait!
The one-day tour is actually a 24-hour tour, which means if you start your tour at noon on a Wednesday, you have until noon on Thursday to travel. Likewise, the 2-day tour is a 48-hour tour.
If you are staying for a few days, it is worth buying the 2-day ticket which costs only a few dollars more AND includes an extra FREE Harbour Cruise.
Family tickets are a good deal for families of 4, basically one child goes FREE.