Jade Market Hong Kong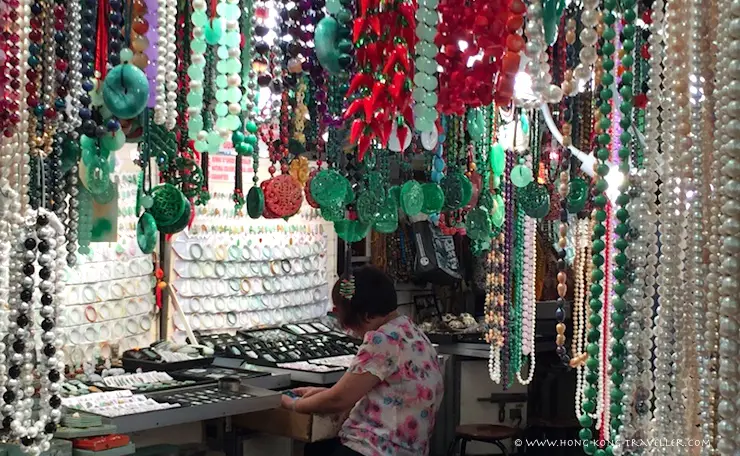 The
Jade Market Hong Kong
is a collection of hundreds of stands selling all kinds of jade, pearls, semi-precious stones, in all forms, shapes and sizes, being jewelry, carvings, little statues, chops, and anything that would make a good gift or just a little knick knack or memento to take home.
Jade has a very special meaning to the Chinese, it is considered a sacred stone that symbolizes purity and morality and stands for beauty and grace. Their appreciation can be compared to the predilection of gold and diamonds in the West.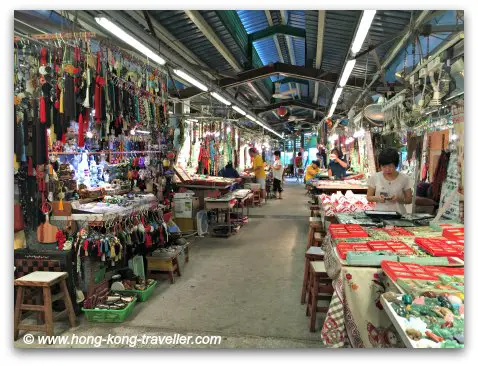 The Jade Market is an inside covered market with stalls lined up side by side.
The stands all carry many of the same products, and needless to say, bargaining is a must and unless you know your jade, stay away from very expensive pieces which may or may not be "the real thing".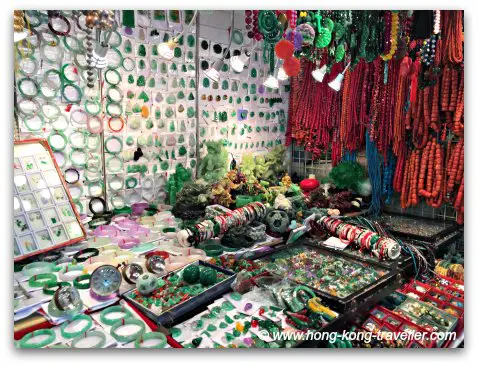 Jewelry pieces abound, you will see beautiful pendants, bracelets and bangles, necklaces, earrings, loose stones, rings... A lot to choose from at some very good prices.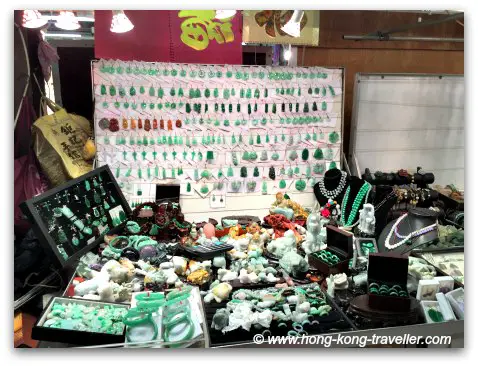 Jade comes in many different colors and shades, light or dark green, white, even orange. There are other stones which are similar to jade, and there is also "synthetic" (definitely fake or plastic) jade.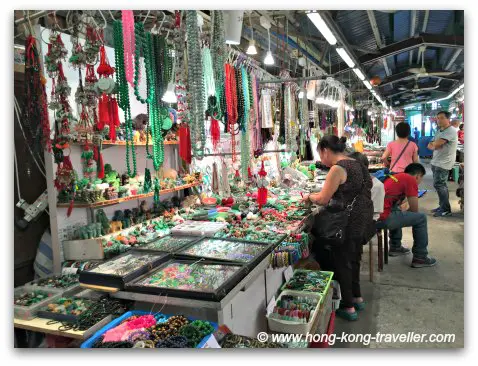 As a general rule, the stone should feel cold to the touch, but keep in mind this market is more about buying a couple of good-looking pieces that you like than about buying "quality jade", this is definitely not the Christie's Jade auction...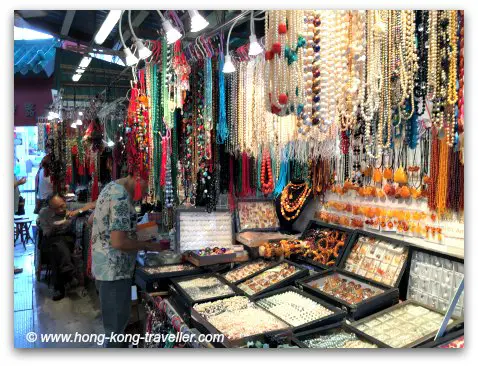 Strolling through the colorful displays is fun as it is watching the vendors peddling their products. Besides jade, you find pearls in all colors and sizes, white, pink, black... other stones like agate, tiger-eye, malachite, coral, mother of pearl, turquoise, etc.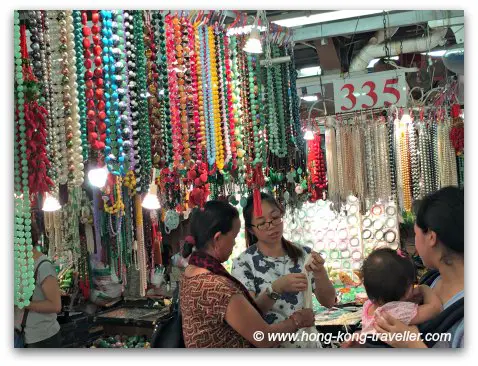 The kids had a great time choosing some animal pendants with their Chinese Zodiac animal which they picked up for a couple of dollars, and mom got a couple of cheap bracelets...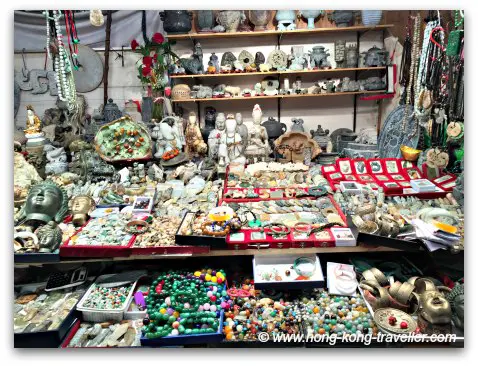 Jade is associated with health and long life, many Chinese wear jade bracelets to keep all malaise and illnesses away!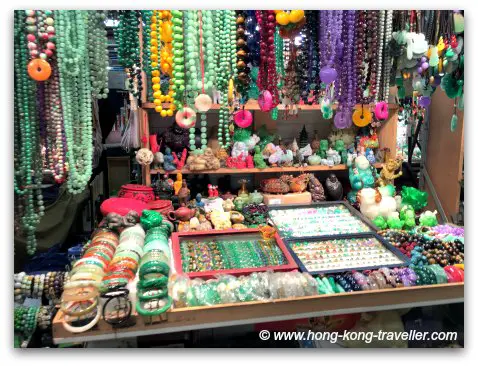 Visiting the Jade Market Hong Kong
The Jade Market is a daytime market, it is open from 10 a.m. to 4 p.m. Located in Kansu Street, take the MTR to Yau Ma Tei Station Exit C and follow the signs, it is a 8-10 minute walk down Nathan Road to Kansu Street, the market is under the freeway overpass. There are actually two locations side by side, the Jade "Bazaar" and the Jade "Market" they both carry the same kind of merchandise.
You can also turn right a block earlier on Market Street and stop at the Yau Ma Tei Tin Hau Temple (this is the temple that gives the "Temple Street Night Market" its name).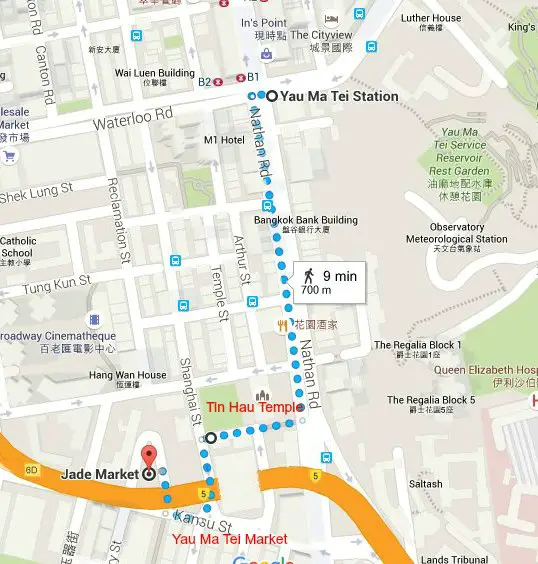 View
Jade Market Walk
in a larger Map
Opposite the Jade Market on Kansu Street is the Yau Ma Tei market, with everything from vegetables, fruits, meats, fish and seafood, fresh flowers, dried foods... it's worth a quick peek just to get a glimpse of local traditional life!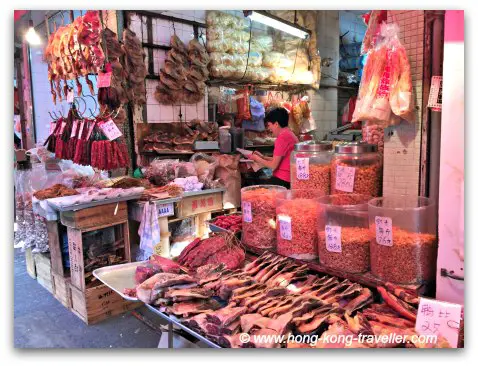 Here is a map and sample walking tour covering the Jade Market and other nearby Hong Kong Markets.
---
Walking Tour of Hong Kong Markets
Small Group Guided Walking Tour of Hong Kong Markets
Check out the best of Kowloon Markets with a small group, maximum of 12, together you will explore Hong Kong's market scene, test your bargaining skills, try the savory treats from one of the many open-air food stands.
The tour starts at 2:00 p.m. as you meet your guide at the Prince Edward MTR Station. It lasts approximately 3 1/2 hours and it will bring you to the Flower Market, Bird Garden, Goldfish Market, Ladies Market, Shanghai Street (Wedding Street), Jade Market and ending by the Temple Street Night Market.
Small Group Guided Walking Tour of Hong Kong Markets Adult US$57 Child (6-11) US$37 More Info and Booking ››
Thank you for visiting www.hong-kong-traveller.com!
Here is to a wonderful Hong Kong travel experience!