Fresh Produce Markets
What is that Fruit or Vegetable? A Picture Gallery Tour
Fresh Produce Markets
are just about everywhere in Hong Kong. These are very colorful fruits and veggies stands or shops scattered throughout regular shopping streets and by the food stalls.
You find many kinds of fruits like you do at home, oranges, apples, pineapples, melons, etc. And some of the fruits or veggies are the kind we might consider "exotic", some you may not know or recognize, so this is a great chance to take a break and have a nice little refreshment, pick up some vitamins and try some new flavours.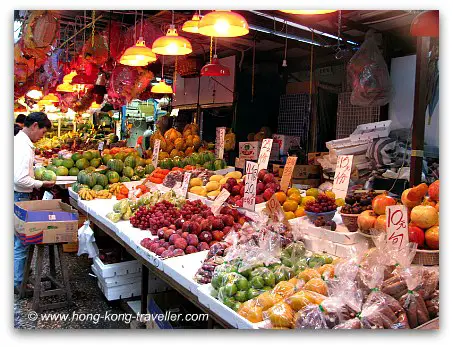 Here is a picture gallery of the many fresh fruit and vegetable markets and stalls we have run into.
We found them nearby the
Guide to Exotic Fruits and Vegetables
Here is a mini-guide of some of those exotic fruits and vegetables you are likely to find at the markets, do try some new flavours!
| | | |
| --- | --- | --- |
| Dragon Fruit | Lychees | Passion Fruit |
| Kiwano/African Cucumber | Pomegranate | Pomegranate (inside) |
| Rambutan | Star Fruit | Chirimoya Anona |
Walking Tour of Hong Kong Markets
Small Group Guided Walking Tour of Hong Kong Markets
Check out the best of Kowloon Markets with a small group, maximum of 12, together you will explore Hong Kong's market scene, test your bargaining skills, try the savory treats from one of the many open-air food stands.
The tour starts at 2:00 p.m. as you meet your guide at the Prince Edward MTR Station. It lasts approximately 3 1/2 hours and it will bring you to the Flower Market, Bird Garden, Goldfish Market, Ladies Market, Shanghai Street (Wedding Street), Jade Market and ending by the Temple Street Night Market.
Small Group Guided Walking Tour of Hong Kong Markets Adult US$57 Child (6-11) US$37 More Info and Booking ››
Thank you for visiting www.hong-kong-traveller.com!
Here is to a wonderful Hong Kong travel experience!