Hong Kong Festivals and Events
February 2012
Here are our top picks for Hong Kong Festivals and events for February 2012. The
Chinese New Year
celebrations continue, the
Well Wishing Festival
and rest of the festivities culminate on February 6 with the
Spring Lantern Festival
. The
Hong Kong Arts Festival
is on going with more top acts this month.
As the Lunar New Year Celebrations are under way, keep an eye out for Lion and Dragon Dances which are being performed just about everywhere, from businesses and office buildings, shopping centers to restaurants and hotels, chances are, you will be able to catch one at some point or another.
Also check these Ongoing Hong Kong Culture Events during the month of February offering an array of FREE programmes ranging from tai chi classes, lion dance demonstrations, etc.
---
Lunar New Year Lantern Carnival - February 6, 2012 - 7:30 p.m. 10:30 p.m.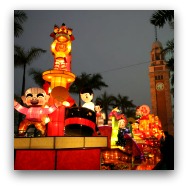 The festivities culminate on the 15th day of the Lunar Year, on February 6, 2012, with the Lunar New Year Lantern Carnival. This day, expect to see fantastic lantern displays, all shapes, size and forms, lining up streets and alleys and particularly at the Carnival, where there will also be cultural performances, dances, stage acts, folk craft demonstrations, .

Where? The Hong Kong Cultural Centre Plaza, Tsim Sha Tsui.

How Much? Free


Here's more on the Chinese Lantern Festival
---
Lunar New Year Lantern Exhibition - Jan 19 - Feb 26, 2012
The Government of Hong Kong's Leisure and Cultural Services Department sponsors a series of events to foster Chinese ethnic culture to residents and tourists alike.

As part of the Lunar New Year festivities, the department sets up an amazing annual Lantern Exhibition, this year's Theme is Glittering Toys - A Showcase of Chinese Zodiac.

Where? Evenings at the Hong Kong Cultural Centre Plaza, Tsim Sha Tsui.

How Much? Free

---
Lunar New Year Craftsmanship of Festive Dragon/Lion Making Exhibition - Feb 1-8, 2012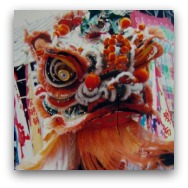 Also sponsored by the Government of Hong Kong's Leisure and Cultural Services Department are many programmes designed to preserve and promote traditional Chinese arts. This year's programme includes an exhibition for Chinese Dragon and Lion Making.

Where? The Hong Kong Cultural Centre Foyer Exhibition Areas E1 and E2

How Much? Free

---
Hong Kong Well-Wishing Festival - January 23 - February 6 2012
Two popular traditions: wishing trees and wishing lanterns, in addition to performances and cultural activities and lots and lots of local foods.

If you missed the Chinese New Year Parade, this is your chance, all the floats will be on display and the performers from the parade will also perform here.

Where? Lam Tsuen Wishing Trees, take MTR to Tai Wo Station (New Territories) then a free shuttle or taxi to Lam Tsuen Wishing Square.
How Much? Most events are free, there is a fee for banquets and feasts. Visit www.lamtsuen.com for more info.
---
---
Chinese New Year at Disneyland Hong Kong - Jan.13 - Feb.5, 2012
During Chinese New Year, Disneyland Hong Kong transforms once again after the rush of the Christmas season. This time instead of fluffy snow and holiday wreaths, it is lanterns, red envelopes, chinese lions, drums and gongs...

And in typical Disney fashion, our favourite characters will be there dressed in full Chinese traditional gear to celebrate and wish you Gung Hay Fat Choy!

---
Hong Kong Arts Festival - January 28 - March 8 2012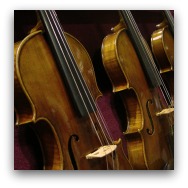 On its 40th year, this is Hong Kong's foremost event dedicated to the performing arts.

All genres of the performing arts are well represented including concerts, ballets, operas, drama by leading international orchestras, performers and artists in world-class venues.

For this year's line up and ticket information check the official site www.hk.artsfestival.org

Other February Hong Kong Events
The Hong Kong Marathon, February 5, 2012
---
Hong Kong Events
Thank you for visiting www.hong-kong-traveller.com!
Here is to a wonderful Hong Kong travel experience!
Like our Site? Follow us!
Hong Kong Traveller
---
Airport Transfers
Luxury airport-hotel sedan transfers
in a Tesla Model S
Arrival HK650 HKD 357 (US$46)
per vehicle for 3-4 persons
Luxe Van Transfers
in a Toyota Alphard Van
HK690 HKD 505 (US$66)
per vehicle for up to 6 persons
More Private and Group Airport and Cruise Port Transfer Offers
---
---
Where to Stay in Hong Kong
Luxury Hotels
Mid-Range Hotels
Family Hotels

Romantic Hotels
Great Value Under US$100
Airport Hotels
Hotels With Fireworks Views
Apartments and Rentals
Hostels
$$ Current Offers $$
---