Hong Kong Rugby Sevens
April 7 - 9, 2017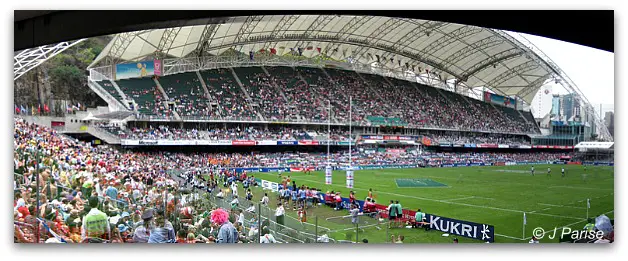 The Hong Kong Rugby Sevens is the territory's premier sports event in the annual calendar. It was typically held on the last week of March but has now moved to April.
The tournament runs from Friday to Sunday drawing crowds of local and overseas fans alike.
More than the 24-team sports match, this has become a festival of sorts and just one huge wild party that goes beyond the Hong Kong Stadium, the official venue of the tournament.
Party tents and big screens for viewing spring throughout Wanchai and Central during the tournament, with a host of other parties and entertainment, carnivals and parades prior and during the event.
The main Rugby Sevens Fan Zone is set up at Chater Garden near the Central Waterfront Promenade and the Hong Kong Observation Wheel, the HSBC Sevens Village accross from Hong Kong Stadium, and of course Lan Kwai Fong is party central as usual, also hosting a kick-off parade prior to the tournament. See below for this year's Sevens parties, parades, carnivals, etc. Here's what's happening in 2017:
2017 Hong Kong Sevens
When? Friday through Sunday April 7, 8, 9, 2017
Where? Tournament held at Hong Kong Stadium, plus outside giant screens and party tents at Chater Garden near the Central Promenade, more partying at Lan Kwai Fong, Soho and Wanchai.
Tickets: For Hong Kong residents by public ticket ballot, registration begins in November. Here's more info on this year's ballot.
For overseas travelers tickets are available through Viagogo, the official marketplace for the Hong Kong Sevens.
How Much? HK$ 572 Event sells out quickly!!! Find 2017 Hong Kong Sevens Tickets.
More Hong Kong Sevens Events, Parties, Carnivals, Parades
Lan Kwai Fong Official Hong Kong Sevens Rugby After Party 2017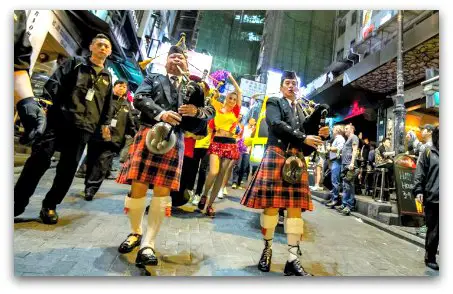 Just as good excuse as any, the streets of Lan Kwai Fong is where it will be happening the entire week. After all the Stadium action, this is where it will be happening every night. There will be booth games, beer and street food and even a marching band!
When? April 3 - 9, 2017 - 9:30 pm onwards
Where? Streets of Lan Kwai Fong. Take MTR to Central Station Exit D2 and follow the crowds to D'Aguilar Street.
How Much?: Free!
More Info at www.lankwaifong.com.
HKSevens Kick-Off Concert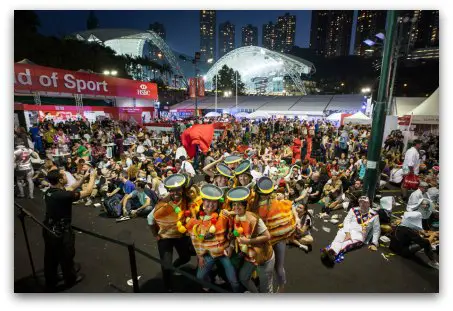 The HKSEVENS Kick-off Concert will be the perfect warm-up for a weekend of world-class sport and entertainment at the Cathay Pacific/HSBC Hong Kong Sevens.
It will be headlined by British pop legends Madness. They will be joined by Mod gods From The Jam, featuring British rock icon Bruce Foxton.
When? Thursday April 6, 2017 - 7:30 pm to 11:00 pm doors open at 6:30 pm
Where? HSBC Sevens Village At the Indian Recreation Club, accross from Hong Kong Stadium, 63 Caroline Hill Road, So Kon Po, Causeway Bay
More Info and Tickets: HK$ 488, VIP HK$ 988 sold out The HKSevens Kick-Off Party and Concert.
HKSevens Central
This is the Hong Kong Rugby Union main Hong Kong Sevens Fan Zone and this year has been extended to six days of electrifying Rugby action and fun. And it is more than Rugby action at this mega party, which features besides the huge TV screens where all games will be telecast live during the three days of the event, lots of food and drink options, DJs, samba performances, autograph signing and after match parties which in the past has included appearances by the Village People.
When? Tuesday Through Sunday April 4 - 9, 2017
The "Pre-Party": Tuesday through Thursday, Rugby clinics for kids, appearances by rugby legends, this year's players for autographs and interaction with fans, kids activities, face painting, arts and crafts, balloon twisting, gourmet lunches, karaoke booths...
Tournament Big Screen Action: Friday through Sunday, Stadium action telecast live from kickoff on Friday to the closing ceremony on Sunday and a carnival atmosphere with food, drink, family entertainment, face painting, games, etc.
Where? Chater Garden near the Central Harbourfront Promenade
How Much? FREE!!!
More info and Activities Schedule HKSevens Central
Hospitality Sevens Village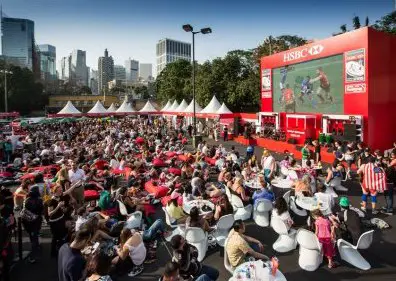 More than Rugby action at this mega party, which features besides the huge TV screens where all games will be telecast live, lots of food and drink options, DJs, and lots of partying after the final whistle on Sunday.
The HSBC Sponsored Sevens Village is situated right across from Hong Kong Stadium and those without a ticket will not only feel all the atmosphere from the Stadium but also have a close up of all the action, as every second of the rugby is broadcast on a giant Big Screen.
The Village will be packed with fun for all the family.
When? All three days of the event
Friday - noon
Saturday - 8:00 am
Sunday - 8:30am
...until the final whistle each day.
Where? Accross from Hong Kong Stadium, The Pavillion, IRC, 63 Caroline Hill Road, So Kon Po
How Much? FREE! The Village is open to the public for FREE all weekend and both ticket and non-ticket holders are welcome.
Overlooking the HSBC Sevens Village is the luxury twin deck pavilion with large outdoor terrace and upper level balcony. VIP packages include 5-star buffet, open bar, private suites, etc.
More info Corporate Hospitality Sevens Village
The Valley Sevens Long Lunch
The Perfect Kickoff To The Tournament
The legendary Long Lunch is now in its 21st year and still remains the ultimate way to kick off the Sevens weekend.
Rugby speakers, dancing performances and a new theme (to be revealed soon) will provide the entertainment for the crowd of 600+, (along with a 4 course lunch and open bar).
When? Friday, April 7, 2017 - Drinks at 12:30 pm, Lunch at 1:00 pm
Where? Renaissance Hong Kong Harbour View Hotel, Wanchai
How Much? HK 2,300 + per person, HK $ 26,400 + per table. Remember proceeds benefit children's charities in Asia, with more than US$2.9 million raised since the event's inception.
More info and Reservations The 2017 Valley Sevens Long Lunch or contact sales@ironmongerevents.com or +852 2970 0372
---
Some Basics about Rugby and Rugby Sevens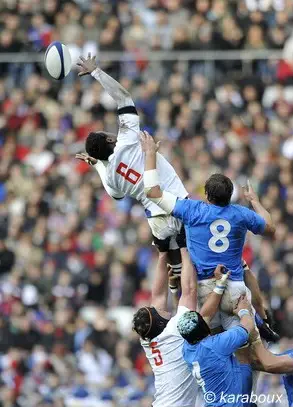 Rugby is much like football, the sport is wildly popular in England and the Commowealth States, including Australia and New Zealand, from which it has spread to the Pacific Islands. In fact, rugby is considered the National sport in New Zealand.
Rugby Sevens is a variation of Rugby Union. The teams consist of seven players instead of 15 players that participate in regular matches.
The games are quick consisting of two seven-minute halves, so basically one match is done in 15 minutes and entire tournaments can be played over a weekend.
Another landmark in the popularity of the sport will be Rugby Sevens' debut at the 2016 Summer Olympics in Rio de Janeiro.
There are two main tournaments in Rugby Sevens: The World Cup and the World Series. The World Cup is held every 4 years, next will take place in 2018 in California.
In the annual Sevens World Series, national teams compete in a circuit of 10 rounds, one of which is played in Hong Kong which is known as the Hong Kong Sevens .
The Hong Kong Rugby Sevens has helped the sport in becoming quite popular accross Asia and is one of the most predominant legs in the World Series circuit which spans all five continents, the 2016-2017 Sevens World Series rounds:
Round 1 - Dubai
Round 2 - South Africa
Round 3 - New Zealand
Round 4 - Australia
Round 5 - USA
Round 6 - Canada
Round 7 - Hong Kong
Round 8 - Singapore
Round 9 - France
Round 10 - England
So as you can expect, fans from all over the world flock to Hong Kong on the weekend of the tournament, which sells out months in advance.
Here is a short video with some highlights of this giant rugby party:
For this year's kick-off times check the official site www.hksevens.com.
Hong Kong Events
Thank you for visiting www.hong-kong-traveller.com!
Here is to a wonderful Hong Kong travel experience!