Hong Kong Festivals and Events
August 2012
These are our top picks for Hong Kong Festivals and Events for August 2012.
Also check these Ongoing Hong Kong Culture Events during the month of August 2012 offering an array of FREE programmes ranging from tai chi classes, lion dance demonstrations, etc.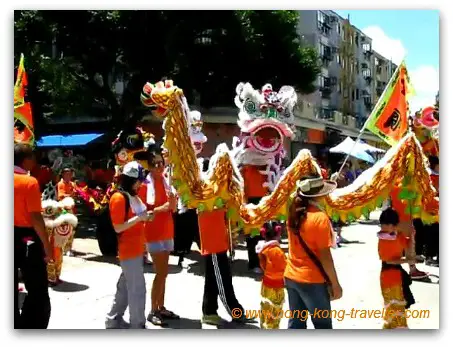 Chinese Hungry Ghost Festival Celebration in Peng Chau Island
---
Hong Kong Food Expo - August 16-20, 2012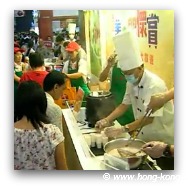 Hong Kong is the city of food, and this annual fair sponsored by the Hong Kong Trade Development Council, is the leading food trade event gathering over 900 exhibitors with delicacies and the finest selection of foods from all over the world.

Another draw for visitors are the series of special events including cooking demonstrations by prominent chefs, forums on a variety of topics such as nutrition and food safety, and games and competitions throughout the five-day event.


When?: August 16-20, 2012 10:00 a.m. to 10:00 p.m., last day closes at 6:00 p.m. Public Hall and Gourmet Zones are open to visitors.
Where?: Hong Kong Convention and Exhibition Centre
How Much?: Free for Trade visitors, admission ticket price to public HK40

Here is more on the Hong Kong Food Expo
---
Chinese Hungry Ghost Festival Yue Lan - August 31, 2012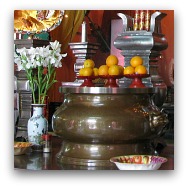 The seventh month of the Lunar calendar is considered the "Chinese Ghost Month". The 2012 Ghost Month will run from August 17 to September 15, 2012. On this month, the spirits of the deceased are released and they come back to wander off in the living world.

It is said that some spirits may be restless and will have to be appeased, and thus, worshippers will burn paper money and make the usual offerings to make sure they are back in the good graces of their ancestors and any other wandering ghost that may happen to "drop by".


The Hungry Ghost Festival marks the middle of the Ghost Month, and offerings and activities will be held particularly on this day.

Activities other than the usual offerings of incense, Chinese paper money and food, include Chinese Opera and the dragon and lion dances with plenty of noise to scare away the evil ghosts, and are held in parks and plazas throughout the territory.

When?: August 31, 2012
Where?: Various locations throughout Hong Kong
---
Chinese Opera Festival - June 15-August 5, 2012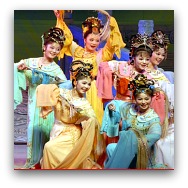 "Chinese Opera encapsulates the long history and traditional culture of China. The immaculately crafted movements of the hands, the eyes, the body and the feet of the actors are unique to a whole system of Chinese performing arts."
This art form has been around for centuries and to foster a better understanding of this ancient art, the Hong Kong Leisure and Cultural Services Department brings the annual Chinese Opera Festival to the community.
If you have never experienced this unique kind of traditional art, this is your chance! The festival will offer daily stage performances by some of the leading Companies in the genre. Besides the stage performances, the festival also puts together an array of events from symposiums, Chinese Opera film screenings and exhibitions.
When?: June 15 - August 5, 2012
Where?: Stage Performances at various venues including a couple of locations very convenient to visitors:
The Grand Theatre at the Hong Kong Cultural Centre at the Tsim Sha Tsui Promenade
The Hong Kong City Hall in Central
The Hong Kong Space Museum
How Much? Ticket prices vary depending on event.
Tickets for a stage performance at the Hong Kong Cultural Centre for example range from HK 100- HK 350.
Tickets for a Chinese Opera Film Show at the Hong Kong Space Museum are HK 30.
Discounts are available to students and seniors.
Tickets can be purchased online at the Urbtix site.
More Info: Visit the official site of the Chinese Opera Festival.
---
Hong Kong Events
Thank you for visiting www.hong-kong-traveller.com!
Here is to a wonderful Hong Kong travel experience!
Like our Site? Follow us!
Hong Kong Traveller
---
Book Your New Year's Eve Fireworks Cruise Now!
New Year's Eve 2018 Fireworks Cruise, Deluxe Dinner and Free-Flow Drinks!
Departs from Causeway Bay Typhoon Shelter
US $399
More Info and Booking
---
---
Airport Transfers
Luxury airport-hotel sedan transfers
in a Tesla Model S
Arrival HK650 HKD 357 (US$46)
per vehicle for 3-4 persons
Luxe Van Transfers
in a Toyota Alphard Van
HK690 HKD 505 (US$66)
per vehicle for up to 6 persons
More Private and Group Airport and Cruise Port Transfer Offers
---
---
Where to Stay in Hong Kong
Luxury Hotels
Mid-Range Hotels
Family Hotels

Romantic Hotels
Great Value Under US$100
Airport Hotels
Hotels With Fireworks Views
Apartments and Rentals
Hostels
$$ Current Offers $$
---