Hong Kong Communications
Staying Connected: About Internet Access, WiFi Coverage, Using Your Mobile Phone and HK SIM Cards
Hong Kong is probably one of the easiest places in the world to stay connected, definitely one of the most "wired" cities I have ever been to.
Using Hong Kong's extensive network of hotspots providing free Wi Fi is one of the most convenient ways to stay in touch.
You find them at major tourist spots, at the airport and all MTR stations for starters, as well as shopping centers, libraries, government offices, and of course McDonalds and Starbucks.
Using your mobile phone, likewise, is a straightforward exercise with widespread excellent coverage. If you are used to calls getting dropped or non-existent signals in basements and elevators back home, you are in for a surprise. Signals even in underground stations, lifts and the Cross-Harbour Tunnels are strong in Hong Kong.
But in general while staying connected is relatively easy, there are some golden rules so you don't end up with extra charges for roaming and excess usage when you return if you are using your own mobile plan from home.
Here are some tips to keep you connected on the go. Although we strive to keep this information current, please keep in mind that when it comes to technology and connectivity things change rapidly, what applies today might not be true tomorrow! We apologize in advance if something is no longer the case and would appreciate your input so we can keep this page up to date.
Before going further, it is a new trend that many hotels are getting into lately, and that is they include free use of a smartphone during your stay that provides unlimited local calls and international calls to several countries, as well as unlimited 3G data connectivity and Wi-Fi hotspot. So check first if your hotel will be providing it, in which case, you are all set!
Internet and WiFi Access in Hong Kong
One of the most popular ways to stay connected while abroad is through one of the many apps and social networks available through the internet, i.e. communicating or sharing pictures via e-mail, WhatsApp, Facebook, Skype, etc. and while in Hong Kong this should be no problem.
However, if you are heading to Mainland China, be aware that some of these popular services are not accesible. Many of the social media sites like Facebook and Twitter are blocked in China. Here's more on Internet and WiFi in China
Using the free wireless coverage will be your best bet to stay in touch, check e-mails, directions, opening hours or the weather, at your hotel and on the go.
Hong Kong's Wi-Fi coverage is one of the most extensive in the world. Although not a city-wide network like Hangzhou or Taipei, chances are you will be able to tap into one of the thousands of free Wi-Fi hotspots available at public places throughout the city, just look for the new orange and blue Wi-Fi.HK logo:
The service is available to visitors and there is no registration required, simply log in the network identifier "Wi-Fi.HK". Wi-Fi access is free but some hotspots limit the amount of time to 30 minutes of usage per device.
The new common brand of Wi-Fi.HK, pulls together all the previous Wi-Fi operators and public and private organisations that offered the free coverage under their own names. It is much easier now to identify where the free hotspots are by just looking for the new logo.
Free Wi-Fi in Hong Kong is available at many tourist spots, MTR stations and transportation hubs, visitor centres, shopping malls, the airport, government offices, college campuses, public libraries, and even some city buses.
Look for the hotspots, the phone booths at bus terminus and iCentres at MTR stations, at the Starbucks, McDonalds and Circle K convenience stores .
Free Wi-Fi Hotspot at iCentre at the Sham Shui Po MTR Station
Free WiFi Hotspots at Transportation venues
Hong Kong International Airport
MTR Stations and Airport Express terminals
Hong Kong Macau Ferry Terminals
China Ferry Terminal in TST
Kai Tak Cruise Terminal
TST Star Ferry Pier
Central Star Ferry Pier
Ocean Terminal
Free Wi-Fi Hotspots at Tourist Attractions, Parks, Museums, Markets
All Visitor Centres
Tsim Sha Tsui Promenade
Star Ferry Piers
Victoria Peak Galleria
Sky 100
Central and Western Promenade
Central Market
Hong Kong Cultural Centre
Stanley Promenade
Repulse Bay Beach
Statue Square
Golden Bauhinia Square
Ngong Ping Village and Cable Car stations
Victoria Park
Yuen Po Street Bird Garden
Hong Kong Zoological and Botanical Gardens
Kowloon Walled City Park
Kowloon Park
Hong Kong Museum of Art
Hong Kong Museum of History
Hong Kong Science Museum
Hong Kong Heritage Museum
Hong Kong Space Museum
Hong Kong Stadium
Dr. Sun Yat-Sen Museum
Ocean Park Hong Kong
More than twelve thousand hotspots are now available throughout Hong Kong under the Wi-Fi.HK brand and the development of public Wi-Fi service will continue to expand with a goal of 20,000 hotspots in the near future.
Stay Connected With a Pocket 3G Wi-Fi Device for US$2 Per Day
What is a portable Wi-Fi device? This is a handy gadget that fits in your pocket and enables you to connect up to 5 devices i.e. phones, laptops or tablets, so you can enjoy stable and fast internet connection everywhere you go.
Klook offers two plan options and you can pick up the device at the airport upon arrival (and return it at the counter when you leave):
1GB data limit per day US$2 per day
Unlimited data in both HK and Macau for US$4 per day
Click here for more info and to reserve your Wi-Fi device
Using your Cell/Mobile Phone in Hong Kong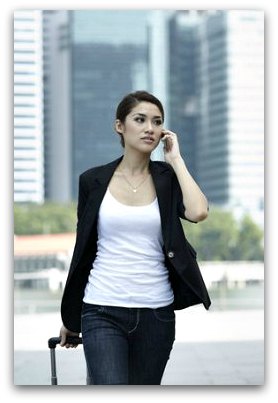 Will my mobile phone from home work in Hong Kong? Very likely but more to the point, it is important to check your existing service provider plan.
Many service providers, in the United States in particular, require that international service be activated. If you do not activate it before leaving home, your phone will not work in Hong Kong or any other international destination for that matter.
Some tips when using your home cell phone in Hong Kong:
Getting a Hong Kong SIM Card
You can buy a prepaid SIM card in Hong Kong at any of the local telecom outlets throughout the city and easily install it into your mobile phone or tablet, this is a great way to save money if you will be using your phone a lot. You must have an unlocked phone for this to work.
What's an unlocked phone? It is a phone that can be used on any network. Many U.S. carriers in particular "lock" the phones you buy through their plans so they can only be used on their networks for as long as you have a contract (normally 2 years). Most phones sold in Europe and Asia are unlocked. At any rate, if you have no outstanding contract, you should be able to have your carrier "unlock" your phone. Even when you have a contract they agree to unlock it temporarily for the duration of your trip.
In Hong Kong, there are many network providers including China Mobile, PCCW, CSL, SmarTone, 3 Hong Kong, One2Free, etc.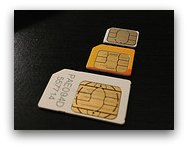 Getting a SIM card is as easy as dropping by one of the many kiosks and outlets throughout the city or at the airport, 7-elevens and even at vending machines all around town. Their prepaid and pay-as-you-go plans are convenient for short-term travelers.
Make sure you get the right size SIM card for your phone or tablet. Iphone 4 uses the Micro-Sim, Iphone 5 and 6 the smaller Nano-Sim Card. iPads 2 through 4 use the Micro-Sim, the iPad mini and Air use the Nano-Sim. The latest Samsung Smartphones use the Micro-Sim, the oldest models use the traditional SIM card.
The Discover Hong Kong Tourist SIM Card
One of the easiest alternatives with great rates is the Tourist SIM Card offered by the Hong Kong Tourism Board. Issued in conjunction with PCCW, there are no subscription or registration charges, just plug in and you're set.
You can choose from a 5-day (HK88, about US$11 ) and 8-day card (HK118, about US$15), there is also an option that includes Macau.
The Discover HK SIM card offers
Free local calls
Free WiFi at PCCW's extensive network of 13,000+ hotspots
1.5 GB or 5.0GB of mobile data
Pre-loaded credit of HK25 and HK35 for international calls and texting (HK$0.45/min rate available for 36 countries)
Low international call rates and texting as low as HK$0.45/min available for 36 countries
Available also on both Micro and Nano SIM
You can get the Discover Hong Kong SIM card at any PCCW/CSL outlet, HKTB TST Star Ferry Visitor Centre, 7-eleven and Circle K convenience stores including the outlets at the arrivals hall at the airport.
More info here: Prepaid Discover HK Tourist SIM Card
One2Free Sim Card Discount Offer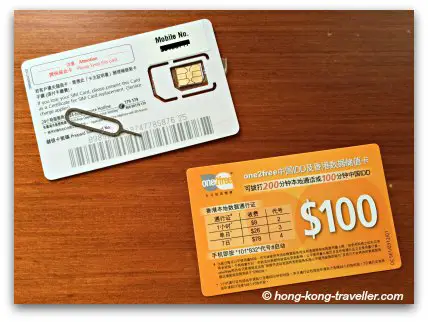 This is what we used on our last trip and it worked like a charm. The One2Free Sim Card offered by Klook.com was great value and super convenient. There are several options:
Unlimited 3G data for 1-day (US$4) or 7-days (US$8) or
Faster 5-Day 4G Sim with 1.5G data (US$7)
If you are making phone calls or sending text messages, it also comes pre-loaded with a HK98 balance and rates are quite affordable. To send a local SMS or text message costs only 0.5 HKD per message, about US$0.07 and also offers free calls within Disneyland and Ocean Park.
All sizes are available: Nano, Micro and Mini SIMs
The online booking process is quite simple, just select the number of days and Sim card size required, you will get an email voucher/confirmation which you redeem at the airport where you pick up your card. The counter is conveniently located at the arrivals area and the guy at the counter did all the swaping and activation for all our phones and made sure everything was working as it should, in a matter of minutes we were on our way.
We had the 7-day 3G card, coverage was quite good, worked perfectly everywhere we went including the MTR. Service was a little spotty once we were out in the marshes in the New Territories, but other than that, it worked seamlessly throughout Hong Kong.
It is seven 24-hour days, not calendar days, which unlike other services, if you buy yours at 9:00 pm on a Sunday, that Sunday counts as one day. We got ours on a Sunday at 4:00 pm and it expired the next Sunday before 4:00 pm.
More info and booking: Hong Kong One2Free Sim Card
Buy a Prepaid Hong Kong SIM before you arrive
You can buy a prepaid SIM card before you leave home and avoid the hassle at the airport or local kiosk. There are voice, data or both SIM cards and most can accomodate any size SIM (Nano, Micro, Standard)
Some can be used in Hong Kong, Macau, Mainland China, Japan and Taiwan, useful if you will be travelling to several of these places.
Charging your Devices in Hong Kong
Electricity in Hong Kong
is 220-240 Volts. This is twice the standard voltage than in North America and some Latin American countries which run on 110V.
The standard wall plugs in most households in Hong Kong are the British and Indian style sockets.
Find out what you will need to charge all of your devices including cameras, phones, tablets, laptops, etc.
Thank you for visiting www.hong-kong-traveller.com!
Here is to a wonderful Hong Kong travel experience!