Hong Kong With Kids
Hong Kong is a great place for kids off all ages and there are many things to do that will keep everyone happy and entertained, from ferry rides, big buddhas, thrilling roller coasters, cuddly pandas, bargaining at markets, fun foods, and yes, even Mickey Mouse!
It might seem overwhelming at first, this is after all, one of Asia's big metropolis where everything happens at whirlwind speeds, and in the other hand, the kids will also marvel and experience the old Chinese traditions and ways of life.
Hong Kong is one of the easiest (and most inexpensive) places to get around, a fact you will certainly appreciate when traveling with kids. Challenge the kids to find all the different ways to get around!
What about the food? Even the most picky eaters will be in good hands here. Noodles and dim sum not your thing? Hong Kong being an international city, caters to all and at all budget ranges. Worst comes to worst, there is always the Golden Arches. Here's our guide to food in Hong Kong.
And even in the most crowded of places where you feel you are surrounded by skyscrapers and people, there are always green open spaces dotted around the city, great places for taking a break from the hustle and bustle and for the kids to run around and unwind.
Try not to cram too many things, Hong Kong is not a city you "see" or "do", you experience, and experience to the max, assume you will be back!

Where to Stay in Hong Kong With Kids
While all areas in the city are family-friendly, the challenge in Hong Kong is to find roomy accomodations. In a city where land is at a premium, you can expect smaller room sizes all-around, single and twin rooms are common, but triple, quad, and family rooms somewhat scarce.
That said, here are a few choices that we have found quite good in the past when travelling with our kids.
We look for places that offer
Family rooms or simply a bit more space to accomodate 3 - 4 people
Kitchenettes or fridge and coffee/tea making facilities
Swimming pools which come in handy with weary kids after some sightseeing or shopping at the markets
"Walkable" areas with eateries, shopping, nearby
Here is a selection of Family-Friendly Hotels in Hong Kong

Top Things To Do In Hong Kong With Kids
Go up the Peak with the Peak Tram
Victoria Peak is Hong Kong Island's highest point, the views from here are legendary.
The fun way to get to the summit is of course with the Peak Tram, the old iconic trams have been around for over a century, so yes, you are riding on a piece of history.
Here's a guide to Victoria Peak and the Peak Tram

Take A Ride On The Star Ferry
Another of Hong Kong's relics, these unmistakable green and white double-deckers have been shuttling residents for over 120 years. It was once the only way to get to and from Hong Kong Island and the mainland.
The Star Ferry runs continuously, there's one leaving every 10 minutes or so.
Check out the crewmen handling the ropes and still wearing their old-style sailor outfits.

Ride the Cable Car to the Big Buddha
Take the Ngong Ping Cable Car and soar over some of Lantau's most beautiful scenery... on a glass-bottomed cabin if you dare...
Once at the Ngong Ping Village, head up the 260 steps that wil bring you to Tian Tan, the largest seated buddha in the world and to fantastic 360 views of Lantau's valleys and mountains

A Day With Mickey at Hong Kong Disneyland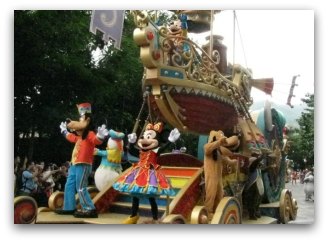 Come say "Ni Hao" to Mickey, Minnie, Goofy and the Gang!
The small size of the park and family-friendly set up makes it a perfect place to spend the day with small children. Particularly for toddlers and children under 10, the park will be a very magical experience.
There is the familiar Disney perks: the parade, the fireworks, meeting Mickey and Friends... In our Complete Guide you learn about the different lands and most popular rides, on our Tips for Visiting, we tell you about where to buy discount tickets and how to skip the lines at the popular rides.
Grand Aquariums, Exotic Animals, Roller Coasters... at Ocean Park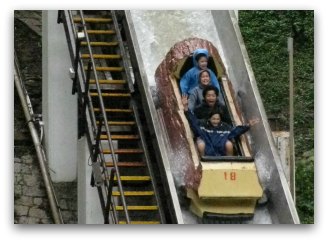 Ocean Park is more than a marine and sea life park. Beyond the magnificent aquariums, shark tunnels, and jelly fish tanks, you find Giant Pandas at the Asian animals exhibit, penguins at the Polar exhibit, koalas at the Australian exhibit, and so on...
And beyond the animals, we have a fantastic cable car and many many rides and roller coasters. This park is a great alternative to Disneyland if you have teenagers.
In addition, Ocean Park offers a range of one-of-a-kind experiences that the kids will enjoy: scuba diving among sharks and rays, dolphin encounters, panda keeper for a day, etc.
Watch a Lion Dance Performance and Kung Fu Show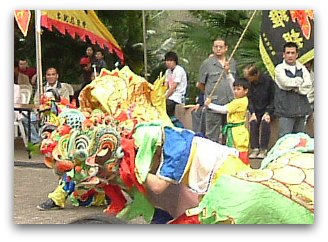 Lion Dances and Dragon Parades are a fundamental part of any Chinese festivity. If you won't be around during any of the many festivals celebrated year round, then check out the Kung Fu Corner every Sunday afternoon at Kowloon Park.
Sponsored by the HK Leisure and Cultural Services Department together with the many martial arts and kung fu associations, the event is free and open to all. In many cases, kids get to try out their skills as well!

Sail on a Traditional Hong Kong Junk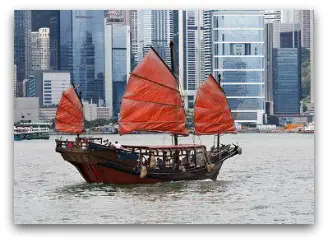 The Hong Kong junk has come to represent the old traditional values that are still so ever present in this cosmopolitan city.
The sight of this venerable vessel with its flashy red sails set against the backdrop of an ultra modern skyline is certainly striking and it has become a cherished symbol of the city.
Easiest way to ride a junk? There are now daily scheduled 45 minute sailings on board Duk Ling. During the week, Monday through Friday, Aqua Luna operates a sort of Hop-On-Hop-Off boat tour of Victoria Harbour with 4 convenient stops at Tsim Sha Tsui, Central, Wanchai and Hung Hom running continuously on a one-hour loop

Bargaining at the Colorful Markets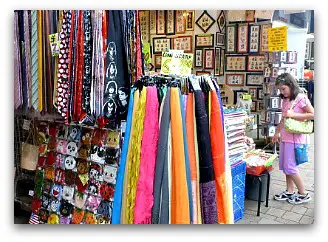 Flower Markets, Fish Markets, Souvenir and Trinket Bazaars, Bird Markets, Night Markets, Food Stalls...
Hong Kong Markets are colorful and lively, kids will love tripsing around, shopping and trying their bargaining skills.
Try to visit at least one market during your stay, chances are, there will be one just around the corner.

We recommend:
Get On The Hop-On Hop-Off Bus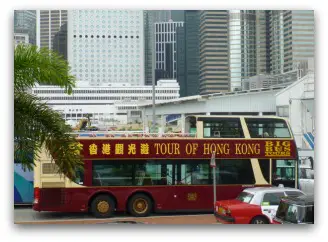 Kids love sitting on the open top Hop-On-Hop-Off bus and cruising around while you pass through the city's skyscrapers and on to the more picturesque corners.
See something you would like to explore further? Hop-Off and enjoy! Then get back on to continue exploring.
Gives you more flexibility than a normal sightseeing tour since you go at your own pace, stop for breaks when the kids are getting tired or hungry then rejoin when you're ready.

This is where the Hong Kong Hop-On Hop-Off Bus takes you
Go Pink Dolphin Watching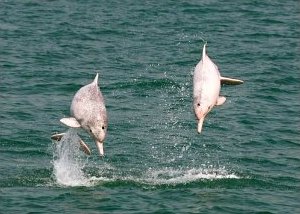 Go on a Pink Dolphin Watch cruise and look for this rare and endagered species that inhabits the waters surrounding Hong Kong.
Children really enjoy the cruises which provide not only a way to enjoy and observe these lovely creatures in the wild, but also give you a little break from the hectic pace of the city and see a bit more from the surrounding areas.

Learn More About the Endangered Pink Dophin and the Pink Dolphin Watch Cruise
Visit a Traditional Fishing Village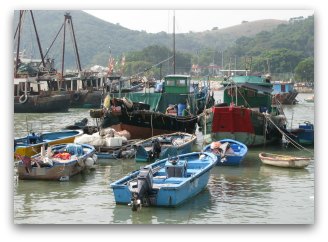 Picturesque Harbours, Sampan Rides, Bustling Markets, Great Seafood...
There are a handful of traditional fishing villages not far from the hustle and bustle of the heart of Hong Kong.
Kids will love the ambiance, so different from the city, rows upon rows of the old-fashioned junks and sampans, house boats where the fishermen and their families still live, houses on stilts and lively markets where the day to day routines unfold.
It is a very picturesque scene, with the unexpected touch of modernity right and left... mobile phones, satellite dishes...
We recommend:
Walk The Avenue of the Stars and the TST Promenade
The Avenue of the Stars and the Tsim Sha Tsui Promenade run along the tip of Kowloon's waterfront and is one of Hong Kong's most spectacular walks.
It offers some of the most breathtaking views of the Hong Kong skyline and bustling Victoria Harbour.
It is a great place to unwind after a day of sightseeing, just sit outside and relax, grab a bite, people watch, enjoy the sweeping views... or take in the daily Symphony of Lights evening free show.
Along the walkway there are cafes and eateries, benches to relax and some of the Kowloon side's greatest landmarks, such as the Tsim Sha Tsui Clocktower and the Hong Kong Museum of Art.
The Avenue of Stars is a tribute to Hong Kong's movie icons and is the territory's answer to Hollywood's Walk of Fame.
Ride the Ding Ding Tram to Sheung Wan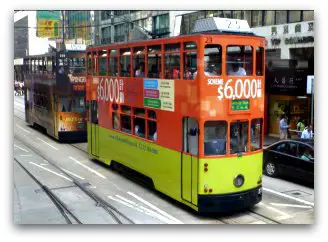 Kids love the rickety rackety Ding Ding Trams. They are as old as they sound and each ride costs only a few cents.
We like to take it from Central to the old neighborhood of Sheung Wan so in minutes you are transported from the glitz and glam of the skyscrapers and luxe business district to the old alleys lined with dry food markets, traditional medicine shops, tea houses and temples.
Get off and walk around, this area is always lively and fun to people-watch.

The Ultimate Kid Culinary Experience: Hello Kitty Dim Sum!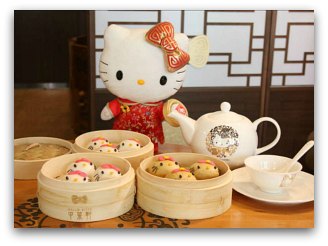 It's Hong Kong's staple and all manner of Cantonese delicacies transformed into a delightful experience for fans of the popular cartoon.
From Hello Kitty Char Siu Paos and Hello Mimmy Vegetable Dumplings... the first Hello Kitty Restaurant in Hong Kong, located in Jordan, is a "do not miss" for all Hello Kitty fans, young and old.

Where? Lee Loy Mansion, 332-338 Canton Road, Jordan, Kowloon
And families visiting during summer during school holidays, there is much splashing fun to be had, check out these events and things to do with kids in Hong Kong during the summer
---
Thank you for visiting www.hong-kong-traveller.com!
Here is to a wonderful Hong Kong travel experience!