Hong Kong Culture
Some Great Free Events to Best Appreciate It
How best to appreciate
Hong Kong Culture
than with some outstanding
Free events
(or almost FREE) that feature some of the great and ancient traditions of the territory.
There is a series of ongoing events sponsored by the Hong Kong Tourism Board and the HK Leisure and Cultural Services Department which are definitely worth checking out. Most of them are free or offered for a very low fee.
They offer a great chance to take part and learn more about Hong Kong culture from some of the best and most prominents experts in their corresponding fields.
Events offered as part of the HKTB Cultural Kaleidoscope programme are offered for visitors only, you must bring your passport and register prior to the event. Spots are limited and offered on a first-come first-served basis. Call the HKTB to register and for more info: +852 2508 1234.
Tai Chi Classes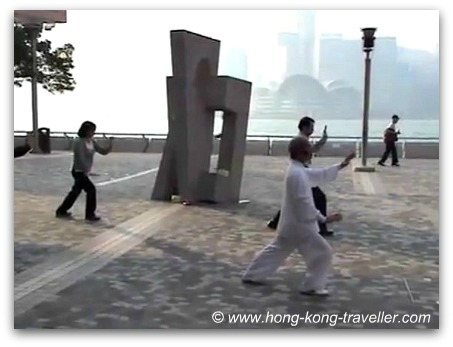 For all levels of fitness and knowledge, it is a great introduction to visitors of this great Chinese art which has been traditionally practiced for years and are still pretty much a part of Hong Kong culture and life.
There are a number of tai chi classes offered year-round throughout all districts of Hong Kong for all levels and age-groups. You can check the Leisure and Cultural Services Department website which has a good search feature to find a good programme that might fit your needs:
Select "Tai Chi" from the Activity Type, the period of your visit, District, etc. to get a listing of all classes available during your stay.
Some of the easiest and more central venues where Tai Chi classes are offered include Victoria Park, Tamar Park, and Chater Garden in the Hong Kong Island side and Kowloon Park in the opposite side.
Many of the classes are offered FREE of charge, some charge a small fee, some you can enroll online, some are walk-in.
Feng Shui Class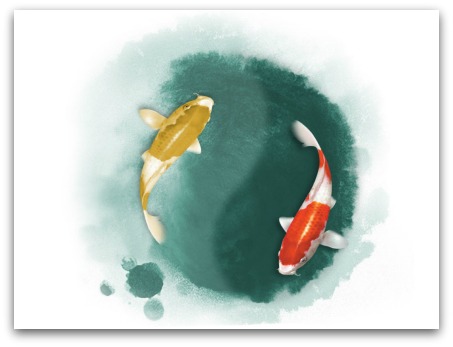 This is a crash course on the ancient Chinese practice of positioning objects and buildings in harmony with nature to ensure good fortune. Taught by Mr. Alex Yu, a geomancy expert that has advised many of the major Hong Kong corporations like Cathay Pacific.
Mr Yu will explain the traditional concepts surrounding the practice of feng shui, how it continues to play a significant role in Hong Kong culture and every day life, and how a basic knowledge of feng shui can benefit all of us at work and at home.
When? Fridays 10:30 to 11:30 a.m. but call to confirm +852 2508 1234.
Where? At Mr. Yu's Practice: Alex Yu Geomancy, Flat B and C, 14/F, Golden Hill Commercial Building, 39-41 Argyle Street, Mong Kok, Kowloon
Directions: Take MTR Mong Kok Station, Exit C2, walk straight ahead across Portland Street, building is on the right.
How Much? No longer sponsored by the HKTB, Call: +852 2508 1234.
Kung Fu Corner: Lion Dance and Kung Fu Demonstration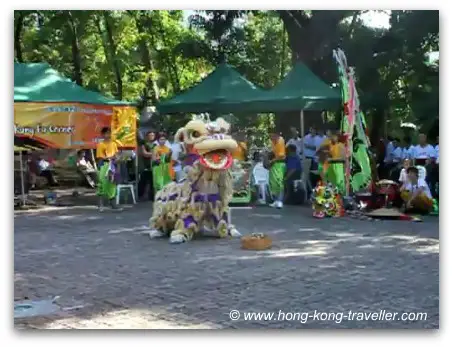 If there is no festival going on during your visit, here's your chance so you don't miss out on the colorful lion dances and martial arts demonstrations, the gongs and drums that are a part of all festivities.
This one is another open air event, and takes place at Kowloon Park on Sundays, a great weekend afternoon with the family. At the end of the demonstrations the public is invited to try their skills, and the instructors are happy to lead visitors through typical kung fu movements.
Sponsored by the HK Leisure and Cultural Services Department together with the many martial arts and kung fu associations, the event is free and open to all.
When? Sundays 2:30 to 4:30 p.m. Weather permitting.
Where? Sculpture Walk, Kowloon Park, 22 Austin Road, Tsim Sha Tsui, Kowloon
Directions: Take MTR Tsim Sha Tsui Station, Exit A1.
How Much? Free.
More Info: www.lcsd.gov.hk/kung_fu_corner
---
---
Hong Kong Events
Thank you for visiting www.hong-kong-traveller.com!
Here is to a wonderful Hong Kong travel experience!