Hong Kong Taxis
Hong Kong Taxis are plentiful and cheap. You can always flag one down (except during rush hour or if it's raining) and they are the easiest for door to door transport.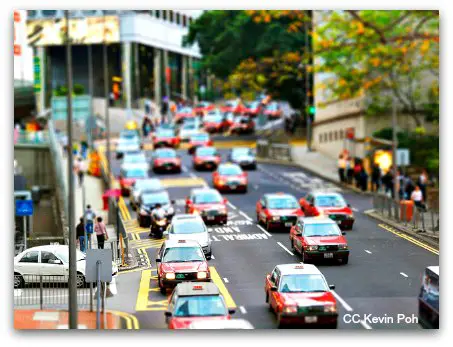 Taxis in Hong Kong are clean and metered. Cab drivers must use the meters by law and this has always been our experience although occasionally there might be the rogue cabbie around.
Your best defense is to inform yourself and know what to expect. Just like anywhere else in the world, it is the unsuspecting tourist that is the most vulnerable to any scam.
There are many times when taking a taxi will make more sense than public transportation, if you have 3 or 4 people in your group for example, sometimes it is more economical and convenient to take a taxi than to navigate with the bus or the MTR and paying for 3 or 4 individual fares.
Getting Around with Taxis
Hong Kong is known for its highly efficient and convenient public transportation system, but there are times when a taxi comes in very handy...
...late arrival at the airport...
...kids are too tired to make the trek back from Disneyland
... buses from Ocean Park are all full
... too late after the horse races
... went overboard with the shopping at the Outlet Mall in Tung Chung...
Here are some sample taxi fares, remember this is the cost per taxi not per person and the fares will vary depending on traffic conditions, included in the total is the tolls for bridges or tunnels if any:
Getting Around by Hong Kong Taxi - Sample Fares

Attraction
To/From Central
To/From Tsim Sha Tsui
Hong Kong Airport
HK295
HK240
Hong Kong Disneyland
HK245
HK190
Ocean Park Hong Kong
HK70
HK120
Ngong Ping Cable Car (Tung Chung)
HK290
HK230
Happy Valley
HK45
HK80
Cruise Ship Port at Ocean Terminal
HK100
HK30
And here is a handy "fare calculator", just enter the "starting from" and "going to" info and it will compute the cost of the fare based on the distance. It gives you a range depending on traffic conditions, you still need to add any tolls for bridges and tunnels.
Riding Hong Kong Taxis: Tips and Precautions
Hong Kong Taxis are color-coded for the different areas they service: Red for Hong Kong Island and Kowloon, Blue for the Outlying Islands, Green for the New Territories. All three kinds serve the Airport. Most of the time you will be dealing with the Red taxis, and ocassionally the Blue taxi for the ride from the Big Buddha to Tai O in Lantau for example.
Although most cab drivers will speak some English, many won't but will certainly understand names of common tourist attractions or hotels. It's always a good idea to have the address written in Chinese just in case. Most hotels have cards printed with "Please take me to..." with the hotel's name and address as well as many of the well-known Hong Kong sights.
Taxi stands are plentiful around Hong Kong, specially near tourist spots, but you can also flag a taxi down the street unless it is a no-stopping restricted zone (marked with yellow stripes)

When taking a taxi from the airport, beware of the guys at the Arrivals Hall offering "you want taxi?", these are overpriced private car services which charge 3 to 4 times more than the regular taxi fare. Just firmly say no and continue to the official taxi stand which you will recognize by the long lines of red, green and blue taxis. Here's more on Hong Kong airport transportation.
How many people can Hong Kong Taxis take? It could be between 4 and 5. Hong Kong taxis are licensed to carry up to 5 passengers, some of the newer ones though take only 4. Children under three don't count, and three small children (no taller than 1.3 meters or 4 feet 3 inches) count as two. Legality aside, we have found that some cab drivers are more lenient whereas others stick unwaveringly to the "rule".
Are car seats for children available and/or required? Hong Kong taxis do not carry child car seats and although they are "advisable" they are not required if one is not available, which brings us to the question of seat belts...
Passengers are required to strap on their seat belts. The driver has the right to refuse a passenger that will not wear one. When the number of passengers is greater than the number of seat belts available (as when a couple of children are riding), the unstrapped passengers must ride in the back.
Get a receipt: All taxis are equipped with a receipt printer which will have in addition to the fare, the taxi number, date and time. All passengers have the right to request a receipt. When you request a receipt, the driver knows you have his number, he won't be tempted to hike up any extra charges that are due, see below.
Paying the Taxi Fare
All taxis should use the meter, if your taxi driver wants to "negotiate" the fare or refuses to use the meter, take another taxi.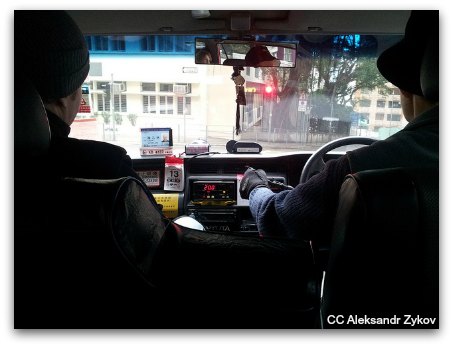 Waiting charges are HK1.60 per minute, if you are in a jam, it piles up quick. Waiting charges will be tallied by the meter.
There are NO special night rates or Sunday and Holiday rates.
In addition to the fare in the meter, sometimes there are extra charges you will also need to cover. Please be aware of these extra charges which the driver will add to the fare in the meter. There is potential for visitors to get ripped off or for visitors to feel they are being ripped off when they do not know about these charges.
Baggage Charges: HK 5 per piece of luggage
If you call a taxi as opposed to flagging one down the street: HK 5
Crossing any toll road, tunnel or bridge: you need to pay whatever the driver pays, HK 10 or HK15 for Harbour crossings, HK30 for Lantau Link (to the airport). In the case of harbour crossings sometimes the return toll also needs to be paid
Dogs, or any animal or bird: HK 5
Can I pay with a credit card? Don't count on it! Some taxis are able to take credit cards and/or octopus cards; however, this is not the standard yet and is better to have cash and in small denominations. You won't make friends with the cabbie if you hand him a HK500 or HK1000 note.
How much do you tip cab drivers? It is not customary to tip taxi drivers in Hong Kong but it's certainly appreciated. You can round up the sum or give a small tip for helpful service. Our last driver from the airport did not charge us the HK5 per bag extra so we just added a bit more as a tip.
Count your change: If you get change back, count it. I have caught one time too many cabbies helping themselves to their tip this way. Get familiar with the currency, notes and coins.
---
Thank you for visiting www.hong-kong-traveller.com!
Here is to a wonderful Hong Kong travel experience!