Hong Kong Museums
Not just for rainy days!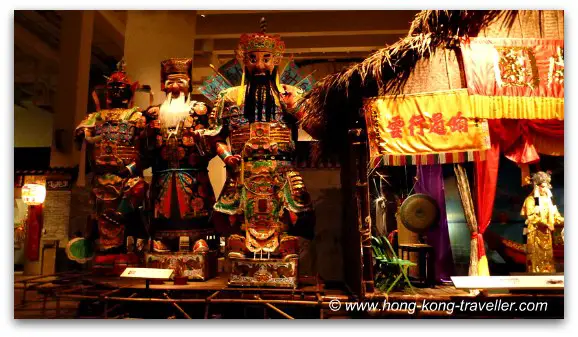 Hong Kong Museums: Folk Culture Exhibit at the Museum of History
Sometimes we think of museums as those places with a lot of boring old stuff, but the new breed of museum is changing that, they are now-a-days a lot more interactive and the exhibits engaging, they make it atractive even for children to visit. In Hong Kong, museums are following that direction, the History Museum might "sound" boring, it is anything but, in fact, it was our kids' favourite.
Hong Kong Museums are a wealth of outstanding historical, technological and artistic legacies offering exceptional one-of-a-kind exhibitions and programmes which are both educational and entertaining.
Most are conveniently located in the heart of Tsim Sha Tsui (see map below), so dropping by for a visit does not require any extra effort, and the ones further away are easily reached with public transport.
Visiting a museum in Hong Kong is not only convenient it is also quite affordable, at HK10 they are another of Hong Kong's tourist bargains, and some days are even free... If you will be visiting a few, be sure to take advantage of the Weekly Museum Pass.


Top Hong Kong Museums

Hong Kong Museum
of History
Life-size exhibits of junks, temples, festivals and street scenes from the early days take you through "The Hong Kong Story".


Hong Kong Science Museum
Eighteen galleries covering topics from electricity and energy to life science and transportation. Most are hands on with live demonstrations, great for kids.



Hong Kong Museum
of Art
It features Chinese Antiquities and Art exhibits and a very dynamic flow of on-loan exhibitions from all over the world.


Hong Kong Heritage Museum
In the New Territories but well worth the trip, it has splendid audio-visual displays and interactive section covering Hong Kong's rich cultural heritage and natural history.


Hong Kong Space Museum
The half dome shaped building houses an Omnimax theater and plenty of interactive exhibits in both theme areas, Astronomy and Space Science.


Dr. Sun Yat-Sen
Museum
Artifacts highlighting the life of "The Father of the Republic" are housed here. The building itself is worth a visit, it is a beautiful well-preserved 20th century building.
There are many Museums to choose from depending on your interests. The vivid life-size exhibits of the Museum of History take you through a wonderful historical journey, which is helpful to understand the development of Hong Kong from the early fishing dwellers, the colonial period, up to the establishment of the Hong Kong Special Administrative Region.
Others like the Science and Space Museums contain informative and entertaining hands-on exhibits where you can easily spend a couple of hours.
In the art and cultural sphere, collections representative of Chinese traditional arts, Chinese antiquities, ceramics, Chinese painting and calligraphy from the Hong Kong Museum of Art's own collection and on-loan exhibitions grace four stories of this spacious and airy building with magnificent views of the harbour.
The Hong Kong Heritage Museum, although a bit out of the way, is a masterpiece that strives to preserve and promote the historical and cultural heritage of Hong Kong. It is a must-see attraction in its own right.
Try to schedule a visit to at least one of these great museums, you'll be glad and amazed at what you can discover!
General Admission and the Hong Kong Museum Pass
General Admission to the museums is quite inexpensive, HK 10 for adults, HK 5 for students and seniors. For frequent visitors, the Leisure and Cultural Services Department which manages the museums, offers a
Museum Pass
. The pass allows unlimited free admission to the above six museums and the Museum of Coastal Defence for a specific time period.
Although the annual passes are more suitable for the local audience, for visitors there is a 7-day pass available for HK30. If you are visiting more than 3 museums, this is worth considering.
Museums Admission and Pass Prices

Class
One-Year Pass
Half-Year
Weekly Pass
Single
General
HK 100
HK 50
HK 30
HK 10
Family (up to 4)
HK 200
-
-
-
Students, People with
Disabilities, Seniors (>60)
HK 50
HK 25
-
HK 5
Note that some special exhibitions might be excluded.
The pass can be purchased at any of the museums. There is also a discount for groups of 20 and up.
Map of Hong Kong Museums
Museum of History

View >Hong Kong Museums in a larger map
Science Museum
Space Museum
Museum of Art
Dr. Sun Yat-Sen Museum
Hong Kong Heritage Museum (In Sha Tin, New Territories)
Museum of History

View >Hong Kong Museums in a larger map
Science Museum
Space Museum
Museum of Art
Dr. Sun Yat-Sen Museum
Hong Kong Heritage Museum (In Sha Tin, New Territories)
For the latest Exhibition Highlights check out the Hong Kong Public Museums site.
---
Thank you for visiting www.hong-kong-traveller.com!
Here is to a wonderful Hong Kong travel experience!