How to Eat Dim Sum
The More the Merrier, Why? Too Many Dim Sum Types to Sample!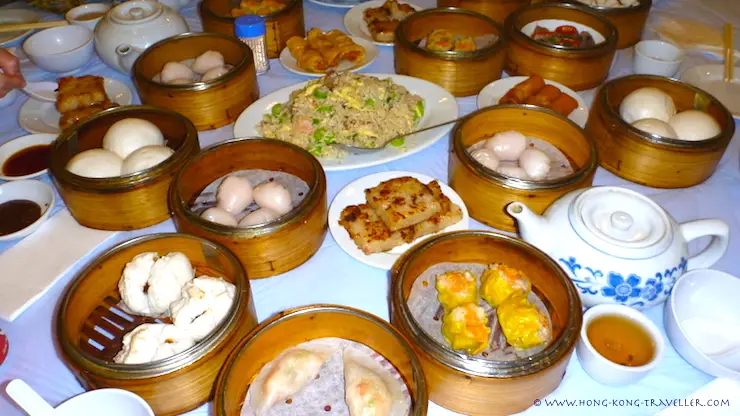 A Dim Sum brunch is a must while in Hong Kong. Not only is the territory considered the "home" of Dim Sum, this is without a doubt one of the best places to sample the flavours, fresh ingredients and that unmistakeable bustling atmosphere...
Dim Sum (well, actually food in general) is serious business here in Hong Kong and the range of offerings is staggering, from little hole in the wall kind of places to five-star hotel restaurants, even Michelin rated establishments.
What they all have in common, they will all be lively and crowded with people, hectic servers scurrying around with trolleys and trays overflowing with piping hot bamboo baskets filled with delicious bites...
So finding a place will not be a problem, but choosing what to eat might be! There are so many different kinds and you will want to try one of everything! Luckily, the dishes are small, with most of them containing 3 to 4 small bites. It does help to assemble a small group of people, that way you can order many different kinds.
Here are some guidelines to tackle your dim sum brunch:
How Dim Sum is Served
Dim Sum is served traditionally for breakfast or brunch, restaurants in Hong Kong start serving them as early as 6:30 a.m. Nowadays many restaurants offer them at all times, at dinner they can be often ordered as appetizers.
Dim Sum is either served
In Trolleys carrying the baskets with all the different kinds of dim sum. The servers and their carts come around the tables, where you simply point at the dishes. This is the more fun and easy way, specially if you don't know the names, you simply point at what looks good to try it.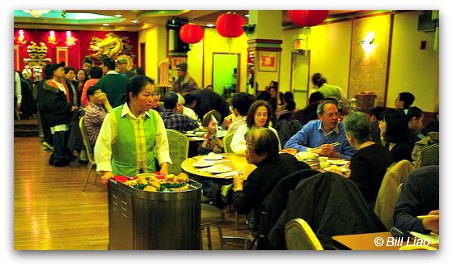 A la carte, you get a checklist in which you mark what you would like to have and the server will bring your dim sum to the table fresh from the kitchen.

Checklists are often in both English and Chinese except for the smaller establishments that cater mostly to locals.

If you don't know what to order, take a few minutes to familiarize yourself with the different kinds (see below), or at any rate, just point at what your neighbor in the next table is having that looks good.
Dim Sum is served with tea. Tea is what had the Dim Sum tradition started in Canton. Originally, tea houses operating in the roadsides started serving small bites with their tea to the weary travelers. The small dishes eventually became very popular and the dim sum tradition was born.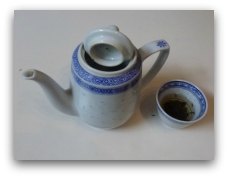 While the small dishes are known as Dim Sum, the Dim Sum meal is referred as Yum Cha, which literally means to "drink tea".
Tea is still very much a part of the meal. This will be the first thing your server will bring as soon as you sit down at your table and will be continiously replenished throughout your meal.
When you are running low, just leave the lid of the teapot ajar, or off to indicate your server to bring some more.
What to eat?
There are dumplings, rolls, cakes, wraps, and small dishes with meats, vegetables, rice, noodles... some are steamed, some braised, some pan-fried, some boiled, some deep-fried to a crisp ... there will definitely be something for everyone.
All are savory on their own, but it's also customary to dip them in your favorite sauce or combination of sauces: soy sauce, sesame oil, chilli sauce or paste or oil, vinegar, add a dash of pepper or some fresh spring onions or cilantro...
Dumplings, Rolls, Buns and Wraps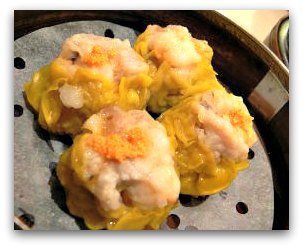 Pork Dumplings Siu Mai
These are one of the favorites. Siu Mai is steamed and made with pork, sometimes also chicken and shrimp in a thin wheat flour wrap.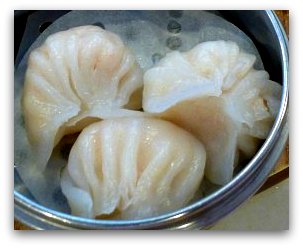 Shrimp Dumplings Har Gao
My son's favorite and a very popular one. Also steamed, Har Gao is made of shrimp, wrapped in a thin translucent rice skin. Very delicate flavor.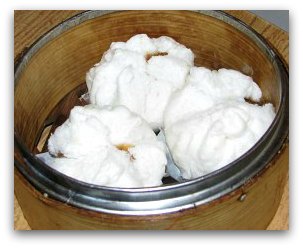 Steamed Pork Buns Char siu bao
The fluffy and spongy steamed buns are filled with our favorite meat, char siu. This is the typical reddish Hong Kong-style bar-b-que pork, spicy and sweet.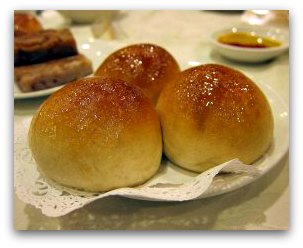 Baked Pork Buns Char siu bao
The same filling used for the steamed pork buns is used here, the buns are baked in the oven rather than steamed and drizzled with honey or sugar.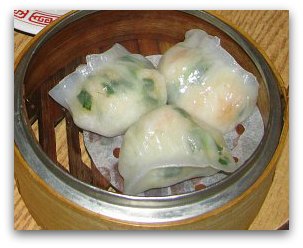 Shrimp and Chive Dim Sum Gao Choi Har Gao
This is one of my favorites. Similar to Har Gao, except it adds some chives for extra zest, sometimes bamboo shoots add a little crunchiness.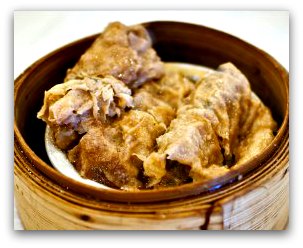 Tofu Skin Rolls Pei Guen
Chicken or pork, Chinese mushrooms and bamboo shoots are wrapped in thin tofu skin and then steamed and served in its own sauce. Very flavorful!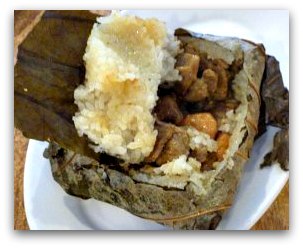 Sticky Rice Wrapped in Lotus Leaves Lo Mai Gai
The kids call it Chinese Tamales. Glutinous sticky rice with a filling ranging from chicken, pork ribs, Chinese sausage, salted egg, shrimp, dried shrimp, Chinese mushrooms. All steamed in lotus leaves, sometimes banana leaves are used.
VERY filling. You might want to leave this for last!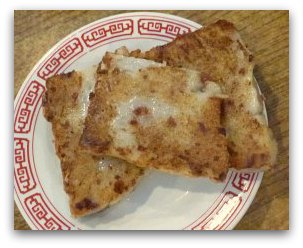 Turnip Cake Lo Baak Gou
Another favorite, made with shredded turnip, actually Chinese radish, and rice flour, mixed in the dough are tiny pieces of shrimp, pork, mushrooms, sausage. Mixture is steamed, then cut into squares, the squares are pan-fried before serving. Crispy in the outside and soft in the inside. Can also be made with taro.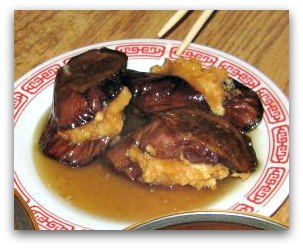 Eggplant with Shrimp
Eggplant stuffed with shrimp, first lightly pan-fried then braised and served with its own sauce. The thin long Chinese eggplant is used. We all love this one!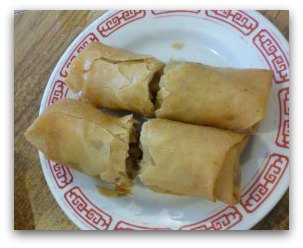 Spring Rolls Chun Guen
Even the most picky eater will have some spring rolls! They are filled with chicken, pork, or just vegetables, wrapped in a thin flaky wrap and deep-fried to a crisp.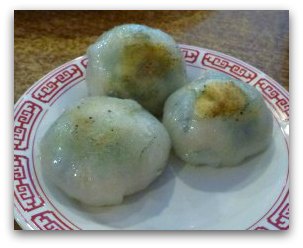 Chive Dumplings Jiu Cai Bau
The vegetarian favorite, the chive dumplings are first steamed and then lightly pan-fried so they are crispy in the outside with a moist and tasty filling. Sometimes bamboo shoots are added.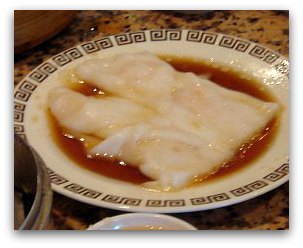 Rice Wraps Cheong Fan
These delicate rice rolls can be filled with meat or shrimp. The wrap has a consistency similar to lightly poached egg whites, they are topped with a thin sweet soy sauce.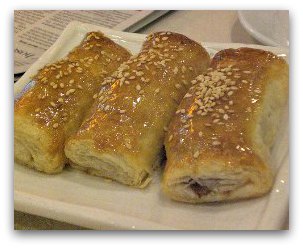 Bar-B-Q Pork Pastry Char Siu Sou
Again, the same char siu filling, this time wrapped in a flaky pastry, baked to a crisp, drizzled with egg whites and topped with sesame seeds.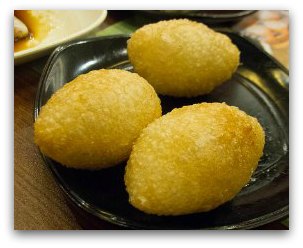 Deep-fried Balls with Meat Haam Sui Gau
The filling is pork, beef or chicken wrapped in a thick layer of glutinous rice then deep-fried. The outer wrap is crispy and because of the thickness rather chewy.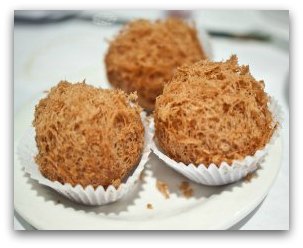 Taro Crispy Balls Wu Gok
A filling of pork and mushrooms covered in mashed taro deep-fried to a fluffy and crispy crust. The outside is light and crunchy, the inside juicy and savory.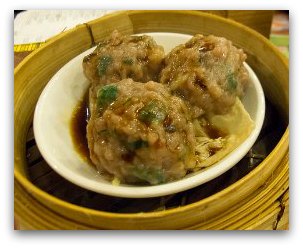 Beef Meatballs Ngao Yuk Kau
Wrapped in a bed of tofu skin, minced beef and spring onion balls are steamed and flavored with soy and Worcestershire sauce, sometimes oyster sauce.
Continue to:
Get out and enjoy one of these savory treats!
---
Thank you for visiting www.hong-kong-traveller.com!
Here is to a wonderful Hong Kong travel experience!