How to Eat Dim Sum
More Dishes to Try, Where to Go?
Meats and Other Soups and Dishes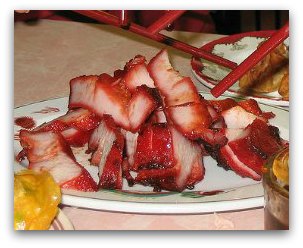 Char Siu
Char Siu is that delicious glossy red-coated barbeque pork. The sauce that gives it that unique sweet spicy flavor is made with hoisin sauce, rice wine and honey.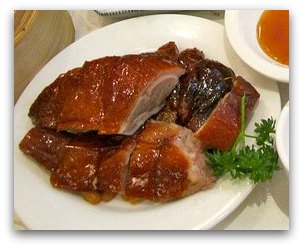 Roast Duck
Another popular with the crispy skin and juicy and flavorful meat. Some restaurants specialize on this dish alone, they will have the ducks hanging in the front window.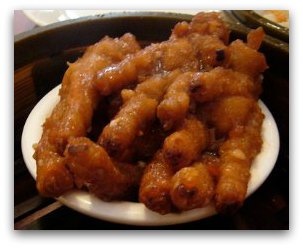 Chicken Feet Fung Zao
First deep-fried then stewed and served with a flavory sauce. Very unique consistency, be ready for tons of little bones. Sometimes served cold. Definitely an acquired taste.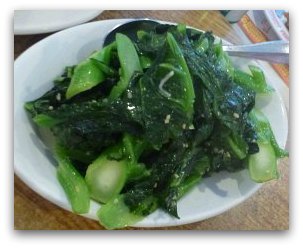 Stir Fried Vegetables
Bok choy, gai lan, spinach, or watercress stir fried with garlic, or sometimes steamed with oyster sauce are very popular.
It complements the Dim Sum meal quite well.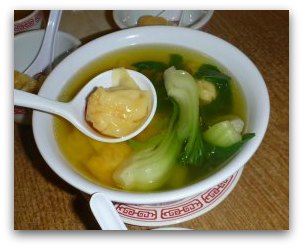 Wan Tan Soup
An all-time favorite, Wan Tan soup is made with dumplings filled with shrimp, pork and spring onions, wrapped in a thin flour skin and boiled and served in the broth. Fresh vegetables or noodles are sometimes added.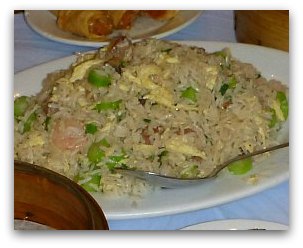 Fried Rice
Rice and noodles are considered the "fillers" and normally served at the end of a meal. In the West, they are served as accompaniment to the meal. Pork, chicken, egg, peas, scallions, Chinese sausage can be stirred in the rice.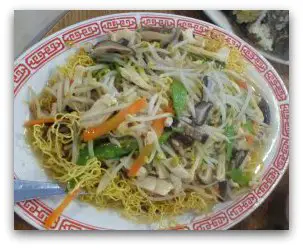 Fried Noodles
All kids love fried noodles, you can order with seafood, char siu, vegetables, soy bean sprouts, chicken, and all of the above.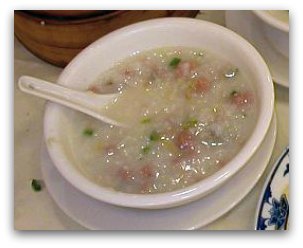 Rice Porridge - Congee
A Chinese staple and popular for breakfast. Tiny chunks of seafood and meat are added with spring onions and topped with crispy deep-fried "doughnut" stripes.
The Desserts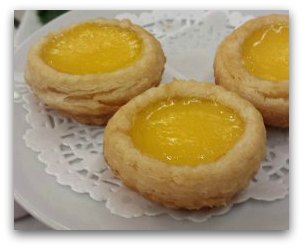 Egg Tarts Daan Taat
The favorite dessert. Egg custard baked in a nice crispy crust.
They literally melt in your mouth.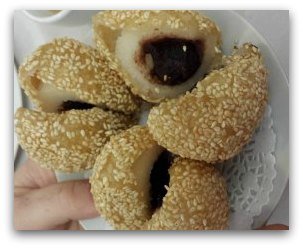 Red Bean and Sesame Balls Jin Deui
Balls of glutinous rice are deep-fried and rolled in sesame seeds, the filling is red bean, lotus or black sesame paste.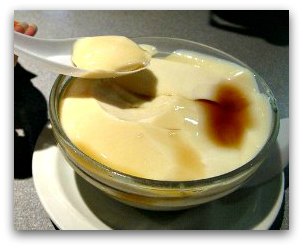 Puddings and Custards Dou Fu Fa
Silky tofu, almond pudding, coconut jelly, all very delicate and topped with fresh fruits or a light syrup.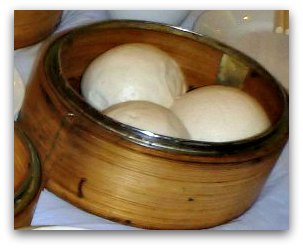 Steamed Bun with Sweet Lotus filling Lin Tung Bao
These fluffy buns are stuffed with a sweet filling like lotus or red bean paste, egg custard or black sesame.
Where to Eat Dim Sum in Hong Kong?
Dim Sum is widely available in Hong Kong and it would be hard to find bad Dim Sum here. You will find dim sum at your hotel breakfast buffet and just about every other corner accross the different neighborhoods, there will be restaurants catering the hungry crowds every day.
That said, for some, there is only one place to have Dim Sum while in Hong Kong, that is the famous Tim Ho Wan, the cheapest Michelin starred restaurant in the planet, opened by former chef of the Four Seasons' 3-starred Lung King Heen. Although the original 30-seat restaurant in Mongkok is no longer there, Tim Ho Wan has expanded and there are now a few restaurants in Hong Kong:
Sham Shui Po, a lively district in northern Kowloon, convenient if you are browsing the bustling computer and electronic street markets, 9-11 Fuk Wing Street, Sham Shui Po

IFC Mall, stop by if you are in Central, Shop 12A, Hong Kong Station (Podium Level 1, IFC Mall)

North Point, 2-8 Wharf Road, Seaview Building, North Point

Olympian City, 18 Hoi Ting Road, Tai Kok Tsui

Tseung Kwan, POPCORN 2, 9 Tong Chun Street, Tseung Kwan O
The lines are long, prices very affordable between HK 10 and HK 30 per dish (US$1.30 - US$3.90), decor and ambiance is nothing special, the food out of this world!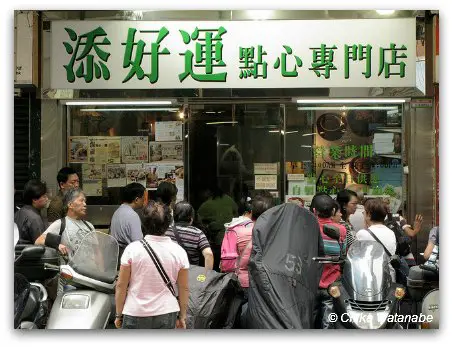 Tim Ho Wan at Sham Shui Po
And remember, the more people the merrier and the wider variety of dishes you get to try out, why not join a group of hungry friends and share a fun time enjoying some of the best food Hong Kong has to offer:
One-Of-A-Kind Dim Sum: The Crystal Bus Dim Sum Tour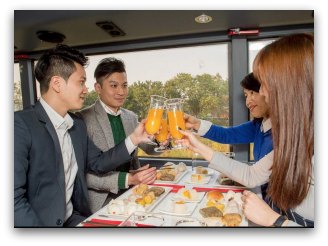 Combine a little sightseeing with a fantastic Dim Sum meal! This is a two for one that includes Hong Kong's fabulous landmarks and our legendary local staple, Dim Sum, all aboard a luxury double-decker bus restaurant!
There are two options, one concentrating in the "central" areas of Hong Kong Island and Kowloon, excellent for first-timers so you can get oriented. The second option takes you to Lantau Island. Both routes begin and end by the Peninsula Hotel in Tsim Sha Tsui.
The menu includes a fantastic selection of some of the most popular Dim Sum dishes catered from one of the city's Michelin recommended restaurants. The menu is set and unfortunately cannot be altered for special dietary requirements.
Get out and enjoy one of these savory treats!
---
Thank you for visiting www.hong-kong-traveller.com!
Here is to a wonderful Hong Kong travel experience!