Man Mo Temple
Incense coils, colorful deities and altars...
A piece of tradition in the midst of modernity
Not far from the tall skyscrapers and glitz of Central, the Man Mo Temple sits quietly and unasummingly welcoming worshippers coming to pay respects to its two gods, Man and Mo, as they have been coming for the last 150 years. This is one of Hong Kong's oldest and most acclaimed temples.
From the outside, this small temple is not quite what I would call a traffic-stopper, in comparison to other Hong Kong temples that have elaborate and grandiose shrines. However, dwarfed in the middle of all the new construction, it really sticks out with its glossy greenish blue roof, the stone animal figures guarding the temple and the intricate carvings...


Man Mo Temple sits unasummingly in Hollywood Road

Temple exterior decorated with stone animal figures and carvings

Beautiful Intricate Carved Doors greet you at the entrance
Once you step in, a riot of color envelops you as whiffs of sandalwood and incense thicken the air.

Man Mo Temple sits unasummingly in Hollywood Road
There is an array of altars and god images, the many offerings from worshippers, statues of deities and lucky animals, and lots of red and gold, the Chinese lucky colors for good fortune and happiness...

Gods and deities abound at this small temple
And the two main gods to which the temple is dedicated to: Man, God of Literature and Mo, God of War.

Left: Man God of Literature, Right: Mo God of War
Suspended from the roof are one of the temple's trademarks, dozens of giant incense coils that have been hung to burn by worshippers.
Incense coils burn non-stop at the temple
The long-burning incense spirals take up to a couple of weeks to burn through and they are considered the "food for the spirits" and also thought to purify the surroundings, which should keep the ancestors and gods happy.
This little temple is a great chance to see the old traditions at play, still very much a part of Hong Kong life.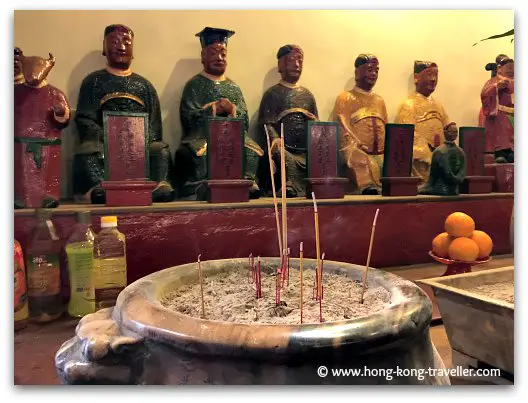 Many deities and offerings throughout the temple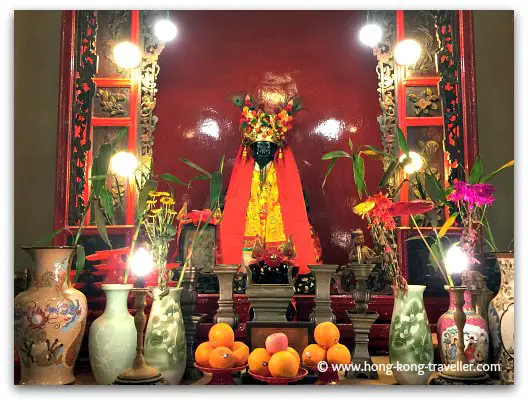 Altars are painstakingly decorated and cared for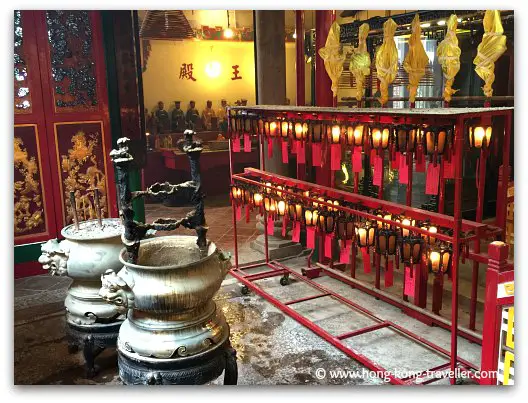 Incense urns and messages and offerings to the gods
How to get to the Man Mo Temple?
Easiest way if coming from Central is to take the Mid-Levels Escalator to Hollywood Road, but the area around the temple is fun to explore as well for its little streets lined with curio and antique shops which can be combined in one visit.


View
Sheung Wan and Western Hong Kong
in a larger map
| | |
| --- | --- |
| | Cat Street |
| | Hollywood Road |
| | Man Mo Temple |
| | Dried Seafood Street |
| | Western Market |
Walking Tour of Hong Kong Old and New - Sheung Wan
New and Old Hong Kong Walking Tour: Sheung Wan District

This guided walking tour takes you through the district of Sheung Wan, where you will be immersed in a world of specialty shops, art galleries and temples. The past and the future converge here, allowing you a peek into authentic Hong Kong life. Ride a traditional tram and sample delicious Hong Kong goodies.
The tour starts at 2:00 p.m. as you meet your guide at the HSBC Building in the Central District (by the lion statues) It lasts approximately 3 hours and includes:
Ride on the Ding Ding Tram
Cha Chaan Teng, a local Cafe/Tea Shop where you can enjoy traditional Chinese snacks like milk tea and egg custard
Sheung Wan Walking Tour - Old and New Adult US$68 Child (2-11) US$62 - More Info and Booking ››
Thank you for visiting www.hong-kong-traveller.com!
Here is to a wonderful Hong Kong travel experience!