Dried Seafood Markets
A Picture Gallery Tour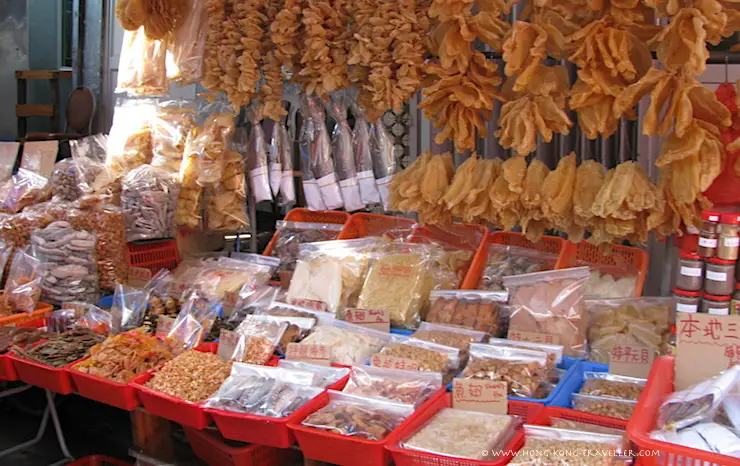 Dried seafood markets
in Hong Kong are found in the older and most traditional areas of town and along the fishing villages around the coastline. These are very colorful array of shops and stands, with smells to match... a photographer's delight and worth exploring for a different taste of traditional every day life.
Here is a picture gallery of some of the easiest to get to dried food markets around which you are likely to bump into during your trip.
You will spot all sorts of dried seafoods and other edibles: dried fish skins, dried mushrooms, Chinese sausages, ginseng, dried oysters, clams, abalone, sea cucumbers, Chinese teas and herbs...
Dry Seafood Street in Western/Sheung Wan District: Des Voeux Road West and Bonham Strand
Not far from the glitz and glam of the Central Hong Kong skyscrapers, you find these little streets packed with all sorts of dried foods, from herbs and medicines, to seafood and dried meats. Dont't miss it, it's just a few minutes super fun ride with the Ding Ding Tram! Check out our
Sheung Wan Highlights Walking Tour here
.
Walking Tour of Hong Kong Old and New - Sheung Wan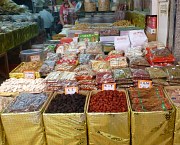 New and Old Hong Kong Walking Tour: Sheung Wan District

This guided walking tour takes you through the district of Sheung Wan, where you will be immersed in a world of specialty shops, art galleries and temples. The past and the future converge here, allowing you a peek into authentic Hong Kong life. Ride a traditional tram and sample delicious Hong Kong goodies.
The tour starts at 2:00 p.m. as you meet your guide at the HSBC Building in the Central District (by the lion statues) It lasts approximately 3 hours and includes:
Ride on the Ding Ding Tram
Cha Chaan Teng, a local Cafe/Tea Shop where you can enjoy traditional Chinese snacks like milk tea and egg custard
Sheung Wan Walking Tour - Old and New Adult US$68 Child (2-11) US$62 - More Info and Booking ››
Dried Seafood Market at Aberdeen
This one we bumped into on our trip to the
Aberdeen Fishing Village
, it is right off the Promenade next to the jetti that brings you to the
Floating Restaurants
.
Market at Tai O
We visited the little fishing village of
Tai O
together with our trip to the
Big Buddha
. It is only a 15 minute taxi or bus ride away and really worth a stop for the traditional houses on stilts and to see a bit more of the beautiful island of Lantau, you might even get a peek at the elusive
pink dolphins
that inhabit the area.
The little market at Tai O is not just for dried seafoods, it has a bit of everything, including fresh produce and seafood, even souvenirs and knick knacks.
Walking Tour of Hong Kong Markets
Small Group Guided Walking Tour of Hong Kong Markets
Check out the best of Kowloon Markets with a small group, maximum of 12, together you will explore Hong Kong's market scene, test your bargaining skills, try the savory treats from one of the many open-air food stands.
The tour starts at 2:00 p.m. as you meet your guide at the Prince Edward MTR Station. It lasts approximately 3 1/2 hours and it will bring you to the Flower Market, Bird Garden, Goldfish Market, Ladies Market, Shanghai Street (Wedding Street), Jade Market and ending by the Temple Street Night Market.
Small Group Guided Walking Tour of Hong Kong Markets Adult US$57 Child (6-11) US$37 More Info and Booking ››
Thank you for visiting www.hong-kong-traveller.com!
Here is to a wonderful Hong Kong travel experience!