Hong Kong Festivals and Events
November 2012
Here are the top Hong Kong Festivals and events for November 2012.
November is Hong Kong's Wine and Dine Month
and features an array of food festivals, street carivals and fairs. Here are some of our picks:
And for one night only:
And it's starting to look a lot like Christmas... Hong Kong Winterfest kicks off November 23, 2012
Also check-out these popular ongoing events during November 2012:
---
Hong Kong Wine and Dine Festival - November 1-4, 2012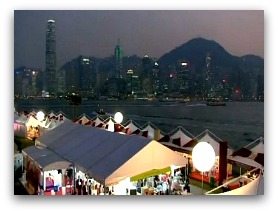 Over 280 booths overlooking fantastic Victoria Harbour celebrating food and wine from around the world...
Wine tastings, live music and entertainment, culinary highlights, signature dishes from Hong Kong's top hotels and restaurants, pastries, cheeses, great wines and a fun atmosphere

When?: November 1 - 4, 2012
Thursday November 1 - 8:30 p.m. - 11:30 p.m.
Friday November 2 - 2:00 p.m. - midnight
Saturday November 3 - 2:00 p.m. - midnight
Sunday November 4 - 2:00 p.m. - 11:30 p.m.
Where?: West Kowloon Waterfront Promenade, Tsim Sha Tsui. Take MTR to Kowloon Station, Exit A and take the free Shuttle Bus to the Promenade
How Much?: Admission to the festival is free. Food and beverages available for purchase from the many booths. For wine tasting, tokens are available for purchase, must be 18 or older and pricing varies according to wine quality.
More information at HKTB Wine and Dine Month.
---
Hong Kong International Wine and Spirits Fair - November 10, 2012
The largest wine show in Asia, with wines and spirits from over 37 regions being represented. It is mainly a trade show but on the last day it is open to the public.
Fun events like cocktail mixing demonstrations, wine competitions, wine auctions and of course wine tastings.
All about the world of wine for the wine enthusiast!

When?: November 8-10, 2012 open to the trade. For the general public age 18 and older open on November 10, 2012 10:30 a.m. to 5:00 p.m.
Where?: Hong Kong Convention and Exhibition Centre
How Much?: This event is open to the general public aged 18 or above by ticket admission HK 200
More information from the HKTDC site.
---
Lan Kwai Fong Carnival - November 17-18, 2012
One huge street party...
As if this wasn't already the liveliest spot in Hong Kong, during this annual Carnival, Lan Kwai Fong really puts on the show.
A colorful parade, arts and crafts, carioca dancers, african drummers, performers from all over the world, fortune tellers and magicians, and of course, some of the best street food and beer!

When?: November 17-18, 2012 1:00 p.m. until late
Where?: Streets of Lan Kwai Fong. Take the MTR to Central Station Exit D2, on to Theatre Lane and up D'Aguilar Street.
How Much?: Free!
More information at www.lankwaifong.com.
---
World of Food and Music at Stanley - November 24-25, 2012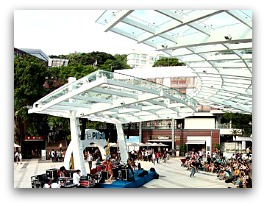 A real culinary treat and great live entertainment on a beautiful setting overlooking Stanley Bay.
World of Food and Music is a celebration of distinct flavours, fine wines and outstanding performances at Stanley Plaza's 300-seat amphitheatre.
For this year's guest appearances and programme check the official site at www.stanleyplaza.com.hk

When?: November 24-25, 2012 11:00 a.m. - 10:00 p.m.
Where?: Stanley Plaza, 23 Carmel Road, Stanley, Hong Kong Island. Here's more on Stanley and how to get there.
How Much?: Free!
---
Lang Lang in Recital - November 24, 2012
Iconic... Unique... Extraordinary... For one night only...
Lang Lang performs in solo recital in Hong Kong for the Hong Kong Philarmonic Orchestra. For this concert he brings together the monumental challenges of Chopin's four gorgeous ballades, and the crystalline delights of three Mozart piano sonatas. It is an evening of pianistic brilliance not to be missed.

When?: November 24, 2012. 8:00 p.m.
Where?: Hong Kong Cultural Centre Concert Hall
How Much?: HK 1280, HK 880, HK 580, HK 380
Tickets on sale from September 26, 2012 available via URBTIX.
More information at Hong Kong Philarmonic Orchestra site.
Lang Lang New Album Autograph Session - November 25, 2012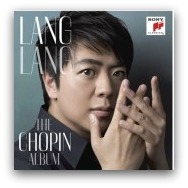 From November 16-23, 2012, shoppers at New Town Plaza who spend HK$1,000 or above using electronic money in a single day at any two shops in New Town Plaza will be eligible to redeem a copy of Lang Lang's new album (The Chopin Album) as well as a free pass to an autograph session where the artist will sign copies of his piano script book.

The top two highest spenders in New Town Plaza during the promotion period will also be given the chance to give a piano performance to Lang Lang and receive his advice and instruction o this special occasion.
When?: November 25, 2012. 1:30 p.m.
Where?: New Town Plaza Phase I, Entrance Arena, Level
---
Hong Kong WinterFest - November 23, 2012 to January 1, 2013
Hong Kong WinterFest is the series of events sponsored by the Hong Kong Tourism Board which kick-off in Mid-November and run up until the New Year's Countdown on January 1st.
One of the highlights is The Christmas Tree in Central's Statue Square, which becomes the season's icon. This year's theme "Love Christmas Love Hong Kong" sponsored by Tiffany & Co. will feature its signature Christmas Tree and Carousel.

When?: November 23, 2012 - January 1, 2013
Where?: Central's Statue Square
How Much?: Free
More details here
---
Star Light Garden at New Town Plaza - November 2, 2012 to January 1st, 2013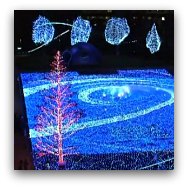 Star Light Gardens is a stunning coreography and one-of-a-kind surreal show with hundreds of thousands of shimmering LED lights.
When?: November 2, 2012 to January 1, 2013 - 6:00pm-10:00pm Extended to 11pm on weekends and from December 14, 2012.
Where?: New Town Plaza Shopping Centre, 18-19 Sha Tin Centre Street, Outdoor Gardens on Level 7, Sha Tin, New Territories. MTR: Shatin Station, Exit A.
How Much?: Free

---
Ongoing Hong Kong Events for November, 2012
These are some popular ongoing events that are worth checking out, specially since they are FREE!

These events feature some of the great and ancient traditions of the territory and are offered by experts in their corresponding fields:
The Symphony of Lights
The Symphony of Lights is Hong Kong's light and sound show, a tribute to the city and its people, their diversity, energy and vitality.

The stage is the entire city, which is what makes it so unique, you can watch the lights from just about anywhere in the waterfront. This free show offered by the city, takes place every night at 8:00 pm and lasts aboout 15 minutes.


When?: Every Night

Where?: Can be seen from both sides of Victoria Harbour

How Much? Free

Click here for more on Hong Kong's Symphony of Lights and best spots to watch.
---
The Happy Valley Horse Races
Happy Valley Hong Kong whether or not you are a horse racing enthusiast is an experience not to be missed!

The beautiful horses, the skillful jockeys, the crowds going wild, they all add up to an exciting, fun-filled, thrilling atmosphere in a world-class venue.

The Happy Valley race course itself is a sight in itself, the city has built around it through the years and it is now practically surrounded by skyscrapers, an awesome experience specially at night when the city is illuminated.


When?: Wednesday Nights. First race starts at 7:15 p.m. and the gates open at 5:15 p.m. The races are done by 11:00 p.m.

Where?: Happy Valley Race Course

How Much? Depends, there are many ways to experience the races, from General Stand to Private Boxes and special packages including dinner and drinks. General Stand entrance starts at HK10.

Click here for more on Happy Valley Horse Racing, how to get there and options for viewing the races.
---
Terracotta Warriors Exhibition: "The Majesty of All Under Heaven: The Eternal Realm of China's First Emperor" now until November 26, 2012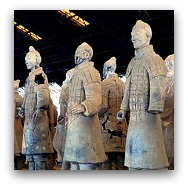 The Terracotta Army is one of China's most significant discoveries, a collection of over eight thousand life-size warriors, designed to protect Emperor Qin in the afterlife.

This magnificent exhibit sponsored by the Hong Kong Jockey Club, brings us a sample of these two thousand year old cultural relics, including terracotta warriors, horses, and seldom seen bronze artifacts.

If you haven't been to Xian, this is your chance to appreciate these priceless treasures.


When?: Now until November 26, 2012

Where?: Hong Kong Museum of History, Special Exhibition Gallery and 1/F Main Lobby

How Much? HK10, you must get tickets in advance. Tickets sell out fast, check the LCSD for bookings and status. The second phase of ticketing for visits between September 3 and October 14 is now on sale. Third and final phase of ticketing opens September 24, 2012.
---
Hong Kong Events
Thank you for visiting www.hong-kong-traveller.com!
Here is to a wonderful Hong Kong travel experience!
Like our Site? Follow us!
Hong Kong Traveller
---
---
Airport Transfers
Luxury airport-hotel sedan transfers
in a Tesla Model S
Arrival HK650 HKD 357 (US$46)
per vehicle for 3-4 persons
Luxe Van Transfers
in a Toyota Alphard Van
HK690 HKD 505 (US$66)
per vehicle for up to 6 persons
More Private and Group Airport and Cruise Port Transfer Offers
---
---
Where to Stay in Hong Kong
Luxury Hotels
Mid-Range Hotels
Family Hotels

Romantic Hotels
Great Value Under US$100
Airport Hotels
Hotels With Fireworks Views
Apartments and Rentals
Hostels
$$ Current Offers $$
---