Jumbo Floating Restaurant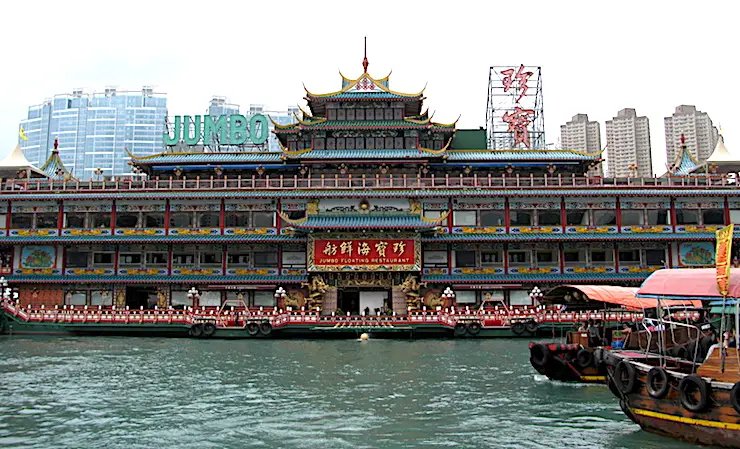 Jumbo Floating Restaurant
The
Jumbo Floating Restaurant
together with the
Tai Pak
, are Hong Kong's iconic Floating Palaces. They have been in movies, are frequented by luminaries, movie stars and royalty, and are a common sight in tourist brochures and postcards. They have been around since the 1950's and are very much a part of the Hong Kong scene.
Hong Kong's floating restaurants are multi-story structures, decorated in the traditional imperial Chinese style, that is lots of dragons, pagodas and red and gold decorations, the colors that traditionally represent the empire, prosperity and good fortune.
The Jumbo is the larger of the two and is able to accomodate up to 2,000 diners. There is a walkway that connects it to the Tai Pak and both restaurants are managed by the same conglomerate and form Jumbo Kingdom, in itself a tourist attraction with a range of entertainment, shopping and of course dinning attractions.
Jumbo and Tai Pak Floating Restaurants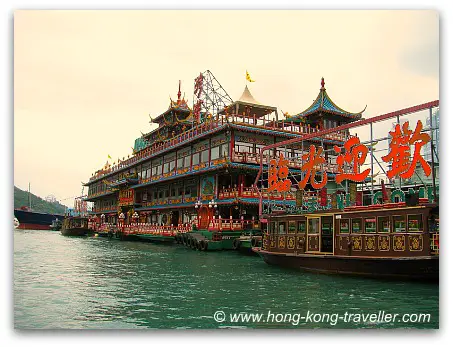 Jumbo Kingdom: The Jumbo and the Tai Pak Floating Restaurants are both connected through a bridge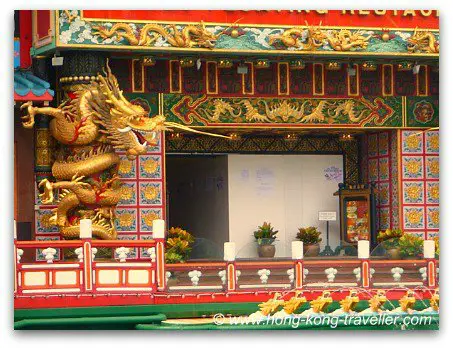 Decorated in Chinese Imperial style, lots of dragons and pagodas adorn the Jumbo Floating Palace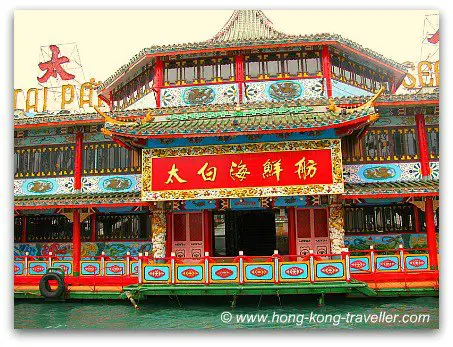 The Tai Pak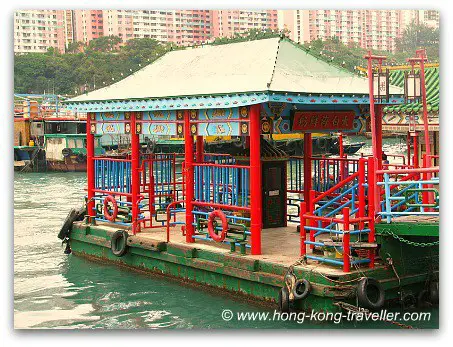 Ferry Wharf at the Aberdeen Promenade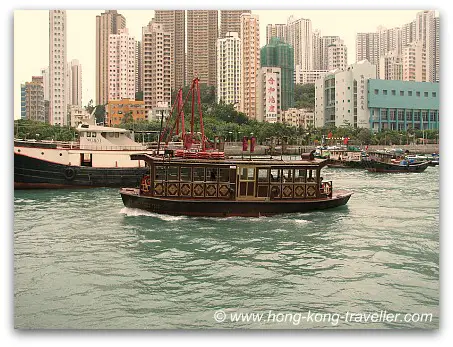 Free Ferries to the Jumbo and Tai Pak shuttle back and forth from the Aberdeen Promenade jettis
The view of the restaurants at night is quite phenomenal, when these floating palaces are lit up.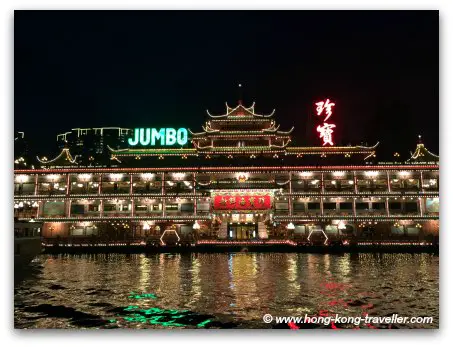 The Jumbo Floating Palace at Night
They are a very imposing sight as you approach, with matching interiors to impress. The Floating Palaces are somewhat of a tourist attraction, with prices to match, but with the right expectations, it can be indeed a very unique experience with the ostentatious surroundings, taking the short ferry accross, and the great views of the harbour...
Dragon Court Restaurant at Jumbo Kingdom
The Dragon Court Restaurant on the first floor of the Jumbo serves Cantonese cuisine in an elegant and fine dinning atmosphere. It counts with many famous stars among its guests.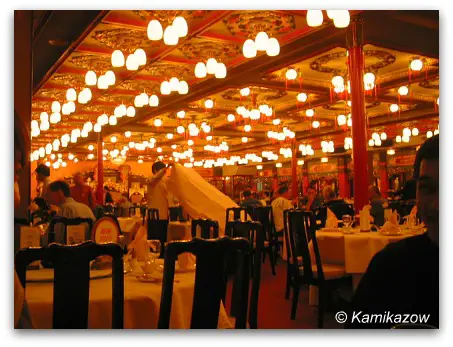 The Dragon Court at Jumbo Floating Restaurant
There are seafood tanks with the fresh catch ready to be consumed. For the not-so-adventurous when it comes to food choices, you might do well avoiding the Chinese restaurants. There are spectacular displays where they cook the fresh catch table-side, which might prove too much for some...
My friends complained that the Peking Duck dinner was just skin and no duck, but a proper Peking Duck dinner IS about the skin, it consists of several courses, with the crispy duck skin being the center of the meal, then there is the meat cooked in different ways, the soup, etc.
Also be aware that sometimes an appetizer will be brought to the table when you arrive, none of this comes free, anything on your table including water, tea, etc. (yes, even tea) whether you asked for it or not, will make an appearance at the final bill. Charges are not significant but quite annoying when you are not expecting them.
You can also take advantage of some of the offers from Klook for set lunch or dinner that takes the guessing and ordering stress out of the equation.
There are several options starting at HK$198 (US$26) for a Dim Sum Lunch to HK$329 (US$43) for a seafood set lunch or dinner, all inclusive of service charges and tea.
Top Deck at Jumbo Kingdom
Top Deck as the name suggests, is located on the top floor of the Jumbo Floating Restaurant. It provides a very unique al fresco dining experience with great views of the harbour and the action criss-crossing it. Fare is Western and Asian, anything from fresh catch seafood to hamburgers can be had here.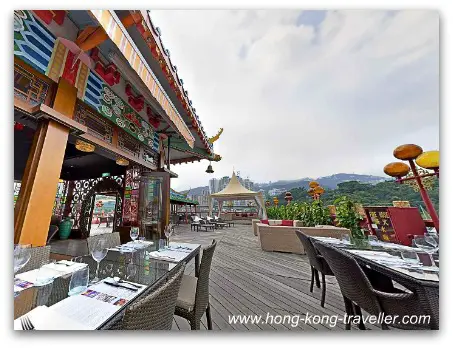 Al fresco dinning at Top Deck in Jumbo Kingdom
Top Deck's Sunday brunch (with free flowing bubbly) is legendary and a favourite of local expats and visitors alike in a relaxed family atmosphere. It is not a bad deal at about HK400 per head but be sure to make reservations ahead of time.
Important! Top Deck is under renovation at the moment. Call 2552 3331 for further information
Jumbo Floating Restaurant Dinner Packages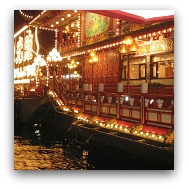 You can also consider special packages that include a bit of sightseeing in Victoria Harbor and dinner at the floating palaces. Viator's Hong Kong Sunset Cruise plus Dinner at the Floating Restaurants is a not a bad deal and a great night out with fellow travellers.
The dinner package is good value considering that is what the price of a 9-course meal alone is at the Jumbo Floating Restaurant. The package includes a Sunset Sightseeing cruise on Hong Kong's Victoria Harbour, 9-course meal at Jumbo Floating Restaurant and on your return after dinner, a stop at Hong Kong's Mid-Levels lookout for beautiful views of the Harbour and Kowloon. Pick up points are convenient in Central and Kowloon.
Getting to Hong Kong's Floating Restaurants
The Floating Restaurants are located in Aberdeen Harbour in the south of Hong Kong Island.
Getting to Aberdeen is easy with bus 70 from Exchange Square. There are free ferries from the Aberdeen Promenade, not far from the jetties next to the Seafood Wholesale Market. The ferries for the Tai Pak and Jumbo Floating Restaurant stand right next to each other, are very well marked so you can't miss them, and run continuously throughout the day during service hours.
Hong Kong Island Highlights Tour
Hong Kong Island Highlights Half Day Tour. This comprehensive half-day tour is a great way to get to know Hong Kong Island and its famous landmarks and history.

The tour lasts approximately 5 hours with pick up points at several Hong Kong and Kowloon hotels.
Highlights include:
Ride on the Peak Tram and views from Victoria Peak
Aberdeen Fishing Village
Repulse Bay
Stanley Market
Half-Day Tour Hong Kong Island Highlights Adult US$40.59 Child (2-11) US$ 32.19 More Info and Booking ››
More Hong Kong Tours here.
---
Thank you for visiting www.hong-kong-traveller.com!
Here is to a wonderful Hong Kong travel experience!