Hong Kong Apartments and Vacation Rentals
Serviced apartments, Studios, Home Rentals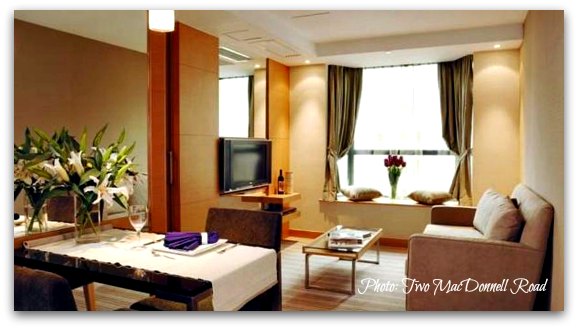 Staying in Hong Kong in an apartment vacation rental is a great option specially for families, or if travelling with a group of friends.
Apartments have much to offer... it is quite convenient having a little extra space, a kitchen for quick meals or snacks... or a living room, den, your own small space to hang out together... and overall a more "localized" experience...
Although many properties require a minimum stay of 3-4 days, many do not and can be rented for only one night.
Renting an apartment involves a little more work but is definitely worth it. Sometimes but not always, the savings can be substantial when travelling with a group and is definitely a lot more fun.
Luckily, there has been a surge of interest in the apartment/home rental market with apps and specialised rental agencies that make the whole process much safer and easier for both the apartment owner and the visitor. But of course, unlike a well-established hotel or resort with an expected level of service and standard, the process of booking and staying in an apartment might be a little more involved.
It will most likely require communicating with the owner or property manager directly, make arrangements for picking up keys on arrival, etc. and there is always the risk that the property is not as advertised or as it "looks in the pictures".
Since each property is different, be sure to pay attention to the descriptions and previous customer reviews for each property, they are a good indication of what you're getting and how the entire experience worked out. The range of ammenities varies greatly among properties, so know what to expect to avoid dissapointment. Just as important when reading the reviews is to make sure the reviews are recent.
Searching for an Apartment or Vacation Rental in Hong Kong
We have used the following companies when booking rentals, not only in Hong Kong but wherever our travels take us. We normally check them all as they all will have different properties on offer, although many will overlap.
Tips when booking your apartment or vacation rental
During high season or holidays the popular vacation rentals go fast! Plan on booking six months to a year in advance, and don't hesitate to contact multiple properties at a time
You can book some properties directly online; however, many properties, especially homes managed directly by the owner, require personal contact. In this case, fill out the e-mail form provided on the site and the owner will reply directly to you. Responses typically take 24 to 48 hours. Besides the regular e-mail communication, we normally call and speak to the owner directly, which we recommend you do specially if you have any doubts or concerns.
Make sure you know what is included in the price. If it's not indicated in the property description, you need to ask. Things like:

WiFi
Sheets and Towels
Is there a cleaning fee?
Appliances in the kitchen if you want something in particular i.e. microwave, toaster, etc.

Review and sign a rental agreement and read it carefully as each rental typically has their own cancellation policies and house rules
Payment and Deposit policies vary among properties with most requiring a security deposit.
All the online booking platforms offer a secure payment system so you are protected in case of something going terribly wrong, i.e. you are denied access to the property, the rental was substantially misrepresented, etc. so basically a "Book with Confidence" feature, which you should take advantage of.
Easiest: Serviced Apartments in Hong Kong
These are apartments listed by management companies rather than individual owners and are serviced in a similar way as hotels, i.e. fresh towels and linens and daily housekeeping, front desk, etc. One of the easiest ways to search for serviced apartments is with Booking.com where you get an instant confirmation for your desired dates. Use the search feature and click on the Apartments box for the "Property Type":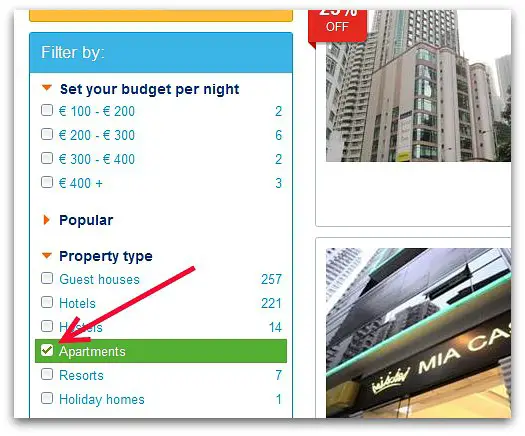 Below is a selection of top picks for serviced apartments in Hong Kong in superb locations with great neighborhoods and convenient transportation options. Try to book as early as possible so you have more options to choose from and be sure to look specifically for any available properties on the dates of your visit:
Eaton Residences, Wan Chai Gap Road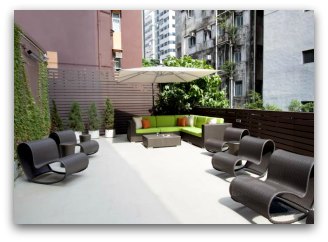 Fantastic location 5 minutes from Wanchai MTR station, buses and trams
Modern and stylish studios in a quiet street but right in the middle of a lively neighborhood. Shops, restaurants, bars, open street markets, grocery store, all nearby
Kitchens with stove, microwave, toaster and fridge. Studios include a washing machine, sofa and flat-screen TV.
Fitness Centre on-site
Free WiFi
Eaton Residences, Wan Chai Gap Road:
No. 3-5, Wan Chai Gap Road, Wan Chai, Hong Kong
The Jervois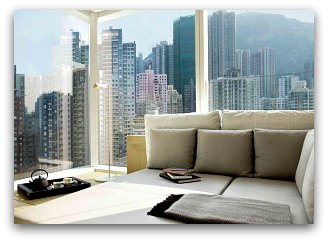 Superb location 3 minutes from Sheung Wan MTR station, convenient to buses, trams and ferrys
Contemporary stylish One and Two-Bedroom Suites in Sheung Wan, with floor to ceiling windows and fantastic city or harbour views
Separate living room area
Kitchenette with Refrigerator, Dining area, Electric kettle, Toaster, if you require full kitchen facilities you should request as not all units have them
Self-service laundry facilities
Free WiFi
Free welcome minibar
Location is convenient to restaurants, bars, shops, Lan Kwai Fong, SoHo, Central...
The Jervois:
89 Jervois Street, Sheung Wan, Hong Kong
99 Bonham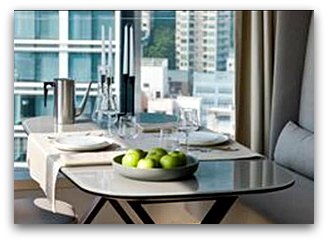 Superb location minutes from Sheung Wan MTR station, convenient to buses, trams and ferrys, 10 minute walk to Central
Chic and modern suites in Sheung Wan, with floor to ceiling windows and fantastic city views
Kitchenette with Refrigerator, Dining area, Electric kettle, Toaster, Nespresso, Microwave
Business Centre
Fitness Centre
Free WiFi
Self-service laundry facilities
Free welcome minibar
Location is convenient to restaurants, bars, shops, the Peak, Central, SoHo...
99 Bonham:
99 Bonham Strand, Sheung Wan, Hong Kong
Two MacDonnell Road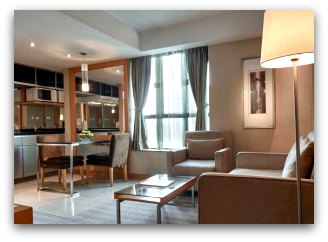 Studios and One-Bedroom Suites in residential area of Midlevels, Central. This is a "hilly" part of town, not convenient for the mobility-challenged, otherwise, you can walk to the Peak Tram (it's downhill from here) Lan Kwai Fong and SoHo which have a great variety of restaurants, bars, etc. Central and Wanchai about a 15 minute walk.
Public transport from here is with buses, MTR does NOT run here
Kitchenette, Refrigerator, Microwave, Electric kettle
Fitness Centre on-site
Restaurant on-Site
Free WiFi
Two MacDonnell Road:
2 Macdonnell Road, Mid-Levels, Hong Kong
---
Hong Kong Hotels Quick Links
Thank you for visiting www.hong-kong-traveller.com!
Here is to a wonderful Hong Kong travel experience!