The Hong Kong Disneyland Resort
It's all about that Disney Magic...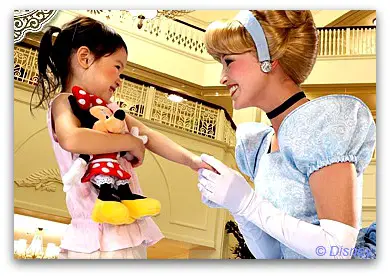 The
Hong Kong Disneyland Resort
offers
two Disney hotel options
for staying within the park giving you total immersion in the magical world of Disney.
The flagship Hong Kong Disneyland Hotel, and the more casual Disney Hollywood Hotel are both outstanding venues, family and kid-friendly, with well-appointed facilities, with the Hong Kong Disneyland Hotel being the fancier and pricier option.
There is also buzz about a third Disney Hotel with an "exotic locations" theme set to open in 2017. This new addition will be the largest property and be positioned as a luxury hotel to be located between the two existing hotels.
It is not just necessarily about the accomodations themselves, but instead about the magical moments in this realm of princesses, enchanted forests and dwarfs, Mickey ears and "Goofy" characters.
Here's a comparison of both Disney hotels features and rates.
Besides their convenient location just a stone-throw away from the Theme Park, you see that magic Disney touch everywhere around.
All this Mickey overload of course comes with a price, and may or may not be for everyone. Here we give you a few guidelines on what to expect and what not to expect at the Hong Kong Disneyland Resort and try to answer some of your most frequent questions.
Disney Magic All Around
Both hotels are very different in style, the Hong Kong Disneyland Hotel's Victorian style is regal, dreamy and romantic, and the Disney Hollywood Hotel is simpler, fun and colorful.
Disney has done an outstanding job in weaving little magical details to fit into each hotel's particular style, from the beautifully landscaped gardens down to the tiniest corner here and there.
There will be hints of those famous mouse ears in every little corner and where you least expect it...
Mickey Detail on Carpet

Be in the look out for hidden Mickeys
... watch the floor
... ceilings
... railings
... picture frames
... plants
In your bedroom and bathroom...

... Mickey robes and slippers

... shampoo and soaps...

Mickey Toiletries at Hollywood Hotel
Mickey Waffles

Even in your breakfast!

... Mickey pancakes

... Mickey waffles

... and yes, Mickey Dim Sum!
As mentioned before, Disney details have been carefully woven into each hotel's decor, do not expect a big bright Mickey statue welcoming you to the Hong Kong Disneyland Hotel, some details are so subtle if you are not looking you might miss them!
Convenience to the Park: The Hong Kong Disneyland Shuttle Bus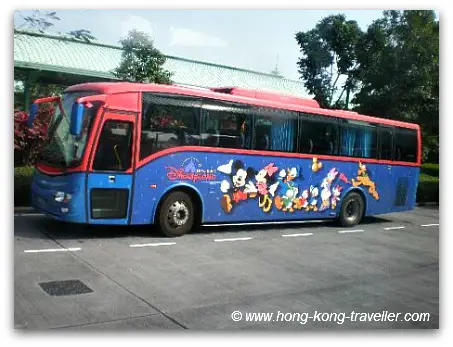 Convenience to the Theme Park is one of the advantages of staying within the resort. The five minute shuttle bus that takes you between the Park and the hotels runs consistently on schedule every 10-15 minutes during park times, and continuously after the fireworks at closing time.
The shuttle bus takes you to the Public Transport Interchange, where the MTR station and Public Buses are, this is a 5 minute walk to the Disneyland Park Entrance.
The convenient shuttle makes it a snap to go back to your room for a nap during the day, and return later to the park and catch the fireworks. Having this flexibility is a great perk if you are travelling with little ones.
The shuttle operates after the park closing time until 1:00 a.m. if you are in town and coming back late it is no problem, and beyond this time by request.
The Disney Shuttle does NOT provide transportation to the Airport.
If you prefer, you can also walk to the park from the hotels, from the Disneyland Hotel it is a 15-20 minute walk along the Park Promenade, and from the Hollywood Hotel an extra 5-10 minutes. (see Hong Kong Disneyland Resort Map below)
Convenience to the city: Getting to Central and Kowloon from the Hong Kong Disneyland Resort
Getting to the city from the Disneyland Resort MTR station is easy and convenient although not exactly around the corner. It will take you some 35-40 minutes to get to Kowloon and about 40-45 minutes to get to Central.
The 5-minute Disney Free Shuttle will bring you to the Disney Resort Transport Hub where the MTR station is: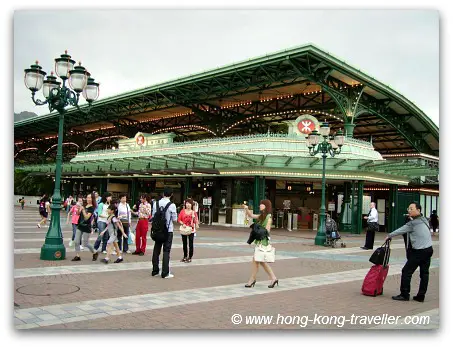 From here then:
To get to Kowloon take the Tung Chung MTR Line to connect to the Tsuen Wan MTR line that will take you to the most popular stops including Mongkok and Tsim Sha Tsui.
To get to Central take the Tung Chung MTR line all the way to Hong Kong Station.
Here are instructions and MTR line map for getting to the park from Central and Kowloon, you can follow them in reverse to get to the city.
Where can you see the Disney Characters?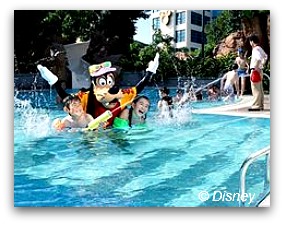 You are likely to catch the princesses at the Hong Kong Disneyland Hotel lobby, or Chip and Dale by the Hollywood Hotel grounds, but keep in mind that the schedules are kind of haphazard for seeing the characters around the resort, do not expect characters greeting you at the lobbies at all times.
Goofy swims at the pool of the Hollywod Hotel in the summer months, but again, check with the concierge to see when he will be around.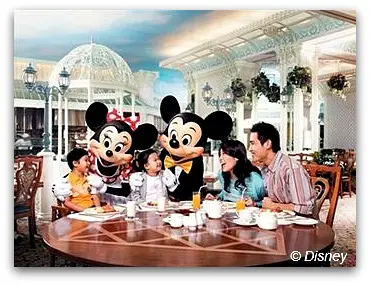 One of your best chances for seeing characters is at the Enchanted Gardens Buffet at the Hong Kong Disneyland Hotel, where Mickey, Minnie and friends make the rounds and come to your table for great photo ops.
Reservations are almost always necessary.
Here's more on the Disney Character Buffet at Enchanted Gardens.

Can you watch the fireworks from the Hotels?
To watch from your room, you need to book
Park View
rooms, which carry a slight premium over Garden View Rooms.
At the Disneyland Hotel, if you book a Kingdom Club room, you can watch the fireworks from the Lounge.
They pipe the music in, if you are in your room it comes through a specific TV channel, so you get the audio effects as well.
Hong Kong Disneyland Resort Map
| | |
| --- | --- |
| Hong Kong Disneyland Hotel | Disney Hollywood Hotel |
| Park Entrance | Transportation Hub: MTR, Buses |
Also part of the Hong Kong Disneyland Resort is the Ferry Pier on the harbour just accross from the Disneyland Hotel, which is now offering a new transportation option. The Star Ferry runs daily service between the Tsim Sha Tsui Star Ferry Pier and the Disneyland Resort Pier. For fares and schedule click here.
Staying at the Hong Kong Disneyland Resort vs. Staying in the City
Magical moments aside, cost and time dedicated for Disneyland vs. city attractions will be at play. You don't want to spend much of your vacation commuting on Hong Kong's MTR system as convenient as it is.
When deciding, you should consider the amount of time you want to spend in Hong Kong
1) overall
2) in the city visiting the attractions
3) at Disneyland
If you are spending several days overall, you might consider splitting your stay between Disneyland and a hotel in either Kowloon or Central.
Staying at the Disneyland resort gives you a respite from the hustle and bustle of the city, and is a nice break specially if you have kids that are tired of temples, heavy traffic, and markets.
The Hong Kong Disneyland Resort can also be used as a base for visiting other sights in Lantau Island. The Disney MTR interchange is only a couple of stations from the main interchange at Tung Chung, the transport hub for Lantau which is convenient for some of the main sights:
You get to spend some time in more quiet and relaxed surroundings, immerse yourself in the Disney Magic and have a convenient base for many other popular Hong Kong attractions.
Cost considerations to keep in mind: Hong Kong Disneyland Resort rates could be higher than other hotels of the same category in the city, however, rooms are large (for Hong Kong standards), most have two double beds and can accommodate up to 4 people. If you are a family with 2 kids, then this option will not be any more expensive than staying somewhere else, since not too many hotels in Hong Kong can fit four to a room so you would be left with booking two rooms.
---
Alternative Lodging Options Near Hong Kong Disneyland
Airport Hotels
Hotels near the Airport are also very convenient to the park and in most cases offer family vacation packages which make them a very attractive option.
They all provide free shuttle transportation to Disneyland as well as convenient transportation into the city, larger and connecting rooms are available which are great for families.
Vacation Rentals Near Hong Kong Disneyland
Consider an apartment or vacation rental in Lantau Island. This is a great option for families or larger groups if you are staying for a few nights.
It is quite convenient having a little extra space and a kitchen for quick meals or snacks and it can also save you some money.
The Discovery Bay area is quite popular and also has a Ferry service that connects you with Central.
There are many waterfront and beach rentals, some will give you direct views of Disneyland and the fireworks at night!
How to look for vacation rentals near Disneyland?
You can look for available vacation rentals at TripAdvisor here
Enter the dates of your travel, number of people, etc.
To find any rentals near Disneyland, click on the map on the right

This will open a map with all the rentals available in Hong Kong during your visit. To find one near the park, type "Disneyland" in the "Search by address or point of interest" box on the top left: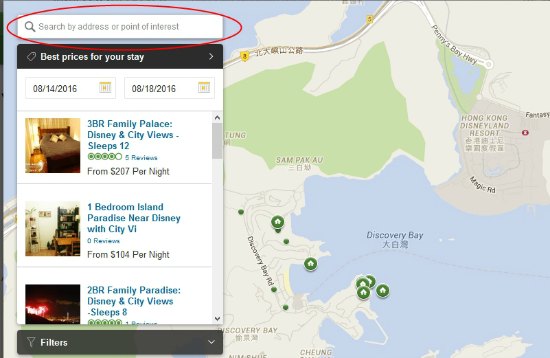 The little green dots represent all rentals available for your dates. You can check reviews and rates and select one that's right for you.
---
Thank you for visiting www.hong-kong-traveller.com!
Here is to a wonderful Hong Kong travel experience!