Geography of Hong Kong
The Geography of Hong Kong is surprisingly varied, beyond the compact jungle of the high-rises and the busy retail and entertainment districts, lie large expanses of greenery, rugged mountain peaks, marshes and natural reserves in the lowlands and over 260 islands.
Where is Hong Kong?
Hong Kong is located in Asia, clinging to the southern tip of China's Guangdong Province (Canton) and bordering the city of Shenzhen.
Hong Kong lies on the eastern edge of the Pearl River Estuary surrounded by the South China Sea.
The Shenzhen and Sha Tau Kok Rivers serve as the natural border between Hong Kong and Mainland China.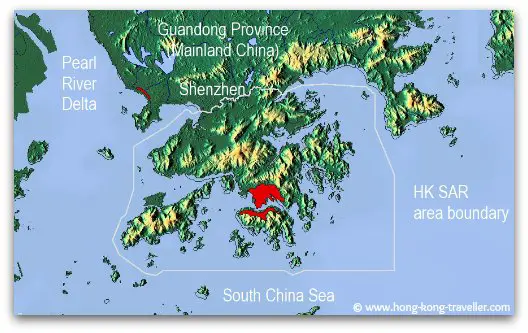 Hong Kong Area
Hong Kong's Land Area amounts to merely 426 square miles. This scarce availability of land is a contributing factor in making it one of the most densely populated cities in the world.
Land Area: 1,104 km2 or 426 mi2
Sea Area: 1,650 km2 or 640 mi2
Total Area: 2,754 km2 or 1,063 mi2
There are four major geographical areas in Hong Kong:
Technically, the Outlying Islands are part of the New Territories.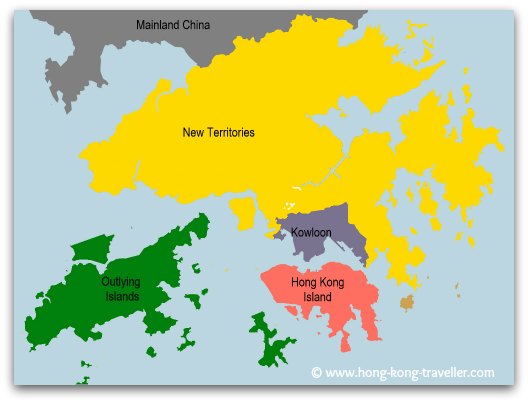 Geography of Hong Kong: Main Areas
Hong Kong Island covers a mere 7% of the total territory while Kowloon consists of roughly 4%, but together they account for 47% of Hong Kong's total population according to the 2014 Census.
The New Territories make up more than two-thirds of the land, it fans out from the Kowloon peninsula upwards until the border with Mainland China and they offer quite a different aspect from the urban sprawl of Hong Kong Island and Kowloon with vast areas and the protected country parks that comprise woodlands, peaks, wetlands, marshes and reservoirs.
Although there are more than 260 islands in the territory only a few are inhabited, and some sparsely populated.
Hong Kong Islands
There are over 260 islands in the territory, the largest is Lantau Island, followed by Hong Kong Island.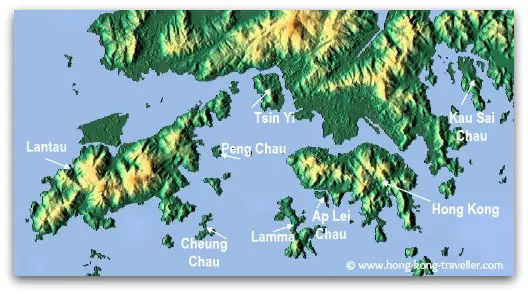 Hong Kong Island was the site of the original colonial settlement and is now the political and commercial hub of the territory.
All other islands are referred to as the Outlying Islands.
The main Outlying Islands are:
Lantau Island, the largest, where the Airport is located and some main tourist sites: Disneyland, the Big Buddha
Lamma Island, popular for hiking, beaches, seafood
Cheung Chau Island, well-known for its traditional bun festival in May
Peng Chau Island, tiny island known for its small island lifestyle, Tin Hau Temple and fresh seafood
Tsing Yi, connects Lantau Island with the Peninsula via the Tsing Ma Bridge
Ap Lei Chau, or Aberdeen Island is the most densely populated island in Hong Kong, known for its massive residential housing estates and outlet shopping
Kau Sai Chau, in Saikung, where the Jockey Club Golf Course is located, the only public golf course in Hong Kong
Most of these islands have much to offer, here's how to get there and recommended Day Trips
Hong Kong Peninsulas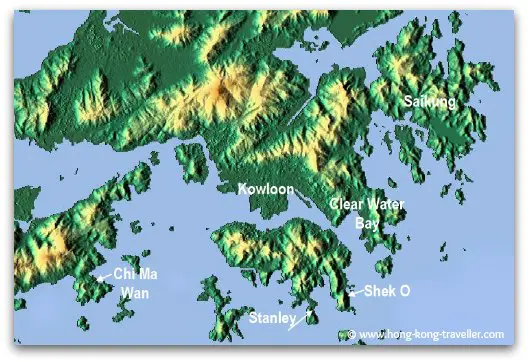 In the Mainland:
Kowloon Peninsula
Sai Kung Peninsula
Clear Water Bay
Hong Kong Island Peninsulas:
Lantau Island Peninsulas:
Hong Kong Mountains and Peaks
Hong Kong's tallest peak is Tai Mo Shan in the New Territories but the most famous is of course Victoria Peak in Hong Kong Island, site of Hong Kong's most iconic views.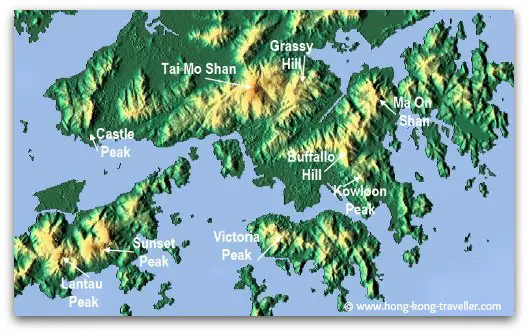 Tai Mo Shan 957 m
Lantau Peak 934 m
Sunset Peak 869 m
Ma On Shan 702 m
Grassy Hill 647 m
Buffalo Hill 606 m
Kowloon Peak 602 m
Castle Peak 583 m
Victoria Peak 552 m
Thank you for visiting www.hong-kong-traveller.com!
Here is to a wonderful Hong Kong travel experience!