The Disneyland Fastpass
Why wait in line if you don't have to?
Let the
Disneyland Fastpass
stand in line for you to reduce the waiting time at Space Mountain and other popular rides.
Some of the most sought-after attractions at the park unfortunately have very long lines before you can ride them, but with a little advanced planning and some help from the Disneyland's Fastpass, you can reduce the waiting time which sometimes might be an hour or more to only a few minutes.
And the best part? It is FREE!
What is the Disneyland Fastpass and how does it work?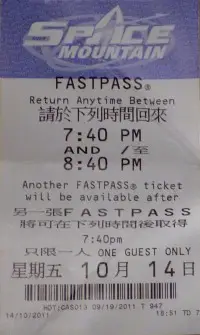 The
Fastpass
is a "ticket" that gives you a predetermined time to ride a popular ride, so basically
Fastpass
is standing "virtually" in line, while you do something else, grab something to eat, use the restrooms, see a nearby attraction, etc.
You first get your "ticket" which gives you a one hour window to return. When your alloted time comes, then you enter the ride using the separate "Fastpass Line" which basically lets you by-pass everybody else that has been in the regular stand-by line for ages.
For example, when we got to Space Mountain at 7:00 p.m., the regular line was running about 50 minutes, according to the sign posted at the entrance of the line, I got the Fastpass for Space Mountain and my alloted time was from 7:40 p.m. to 8:40 p.m. Some people might say, the Fastpass only saved 10 minutes, but the difference is that there were 40 minutes that we DID NOT have to stand in line and could use to squeeze another spin at Orbitron.
When our time came, we simply showed up at the shorter Fastpass line and walked right in without having to wait.
How much does Disneyland Fastpass cost?
Nothing, zip, nada! Disneyland
Fastpass
is a free service and included in your admission price. However,
you must have your entrance ticket
to be able to get a
Fastpass
ticket.
For which rides is it available?
Fastpass is available at the following rides at Disneyland Hong Kong:
Fastpass
issued for a specific ride cannot be used on any of the other rides.
Where do I get a Fastpass?
There will be a
Fastpass
distribution area at the entrance of the above rides where the dispensing machines are.
These are similar to mini ATM machines, you insert your park entrance ticket in the corresponding slot, make sure you insert it with the bar code in the right direction.
There will be another slot where your Fastpass ticket will come out.
What are the Disneyland Fastpass rules?
Each person must have a valid Fastpass


Fastpass is good for one hour, you can return to the ride anytime during the alloted hour


You cannot have more than one "active" Fastpass at any one time, that is, if your alloted time for Buzz Lightyear is between 6:00 and 7:00, you can get a Fastpass for Space Mountain only after 7:00 p.m.
Disneyland Fastpass tips
There is a chance that the Fastpass machines "run out" of tickets, that is, demand was too high and all time allotments have been given out, the only chance to see the attraction will be by queing in the standby line and waiting with everybody else. To avoid this, plan on riding the popular rides first.


Check the "Return Time" to make sure there is no conflict with another activity you want to see, i.e. the Parade or a show.
---
Thank you for visiting www.hong-kong-traveller.com!
Here is to a wonderful Hong Kong travel experience!