Grizzly Gulch at Hong Kong Disneyland
Runaway Mine Cars, Bursting Geysers,
Golden Nuggets, the Town Jail...
Grizzly Gulch
is an Old American Wild West Town in the style of "Frontierland" complete with mining mountain, golden nuggets, gushing geysers, the town jail and a new roller coaster. It was the sixth Land to open at Disneyland Hong Kong.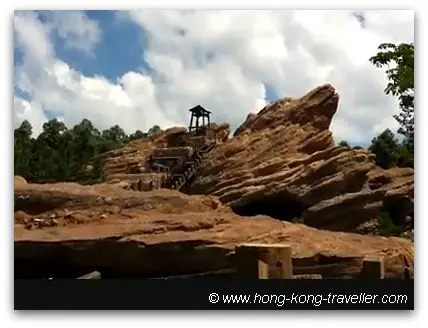 Here you will find Mickey, Minnie, Chip and Dale in their Old Wild West costumes true to the theme of this new land, with the Big Grizzly Mountain as backdrop, and geysers, pools and chuckwagons dotting the landscape surrounding the town.
This new land is located in the western side of the park, tucked between Adventureland and Mystic Point, and can be reached from both of these lands.
Grizzly Gulch Rides and Attractions
The main attractions at Grizzly Gulch are:
Big Grizzly Mountain Runaway Mine Cars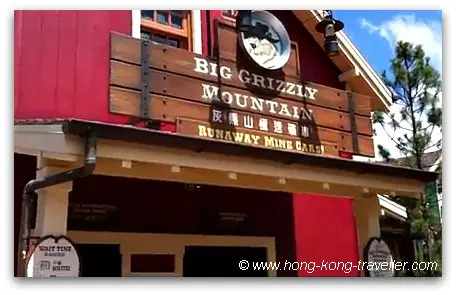 The Grizzly Mountain Runaway Mine Cars are perhaps at the center of all the action at this new land. The ride is quite like the Thunder Mountain in Disneyworld, as the mine cars twist and twirl all over Grizzly Mountain, frontwards and backwards, with plenty of surprises along the way.
Height requirement for Grizzly Mountain Roller coaster is 112 cm.
Take a peek at this new exciting ride:
Thanks to michael20183 for this great video!
Geyser Gulch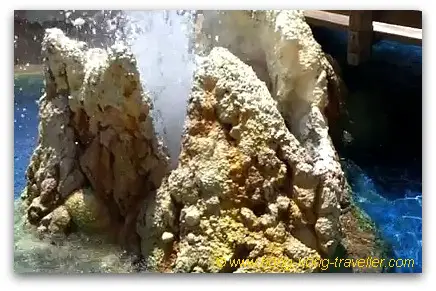 The entire town of Grizzly Gulch has been built on an "active geyser basin" reminiscent of the world-famous Yellowstone National Park, in fact, you will see the erupting geysers much like Old Faithful and the turquoise pools that are the park's signature attractions.
The geysers at Geyser Gulch though are cool and refresing, surprise spurts are specially welcome in the hot summer months.
Watch out for the water tower and don't miss the "dry" goods store!
Welcome Wagon Show
So it's time to clap your hands and kick up your heels in this true show of western hospitality. Performances are ongoing, and you can of course join in the fun!
---
Thank you for visiting www.hong-kong-traveller.com!
Here is to a wonderful Hong Kong travel experience!