Hong Kong Festivals and Events
January 2013
We kick off 2013 with the New Year's Countdown and Fireworks and an array of events to welcome the new year on January 1st. Also the Winterfest celebrations will be wrapping up on this day, so you need to hurry! And it won't be much longer and the preparations for the most anticipated event of the year will start, Chinese New Year 2013 will be on February 10, 2013, mark your calendars!
Here's this months line-up:
Also check-out these popular ongoing events during January 2013:
---
Hong Kong's New Year's Countdown and Fireworks - January 1st, 2013 0:00 hours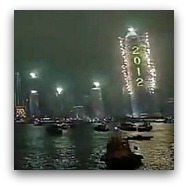 Wave goodbye to 2012 and welcome the new year with a bang! Hong Kong's New Year's Countdown to 2013 promises to be the biggest ever.
This year's limelight will be on the Hong Kong Convention and Exhibition Centre. The fireworks display will last eight minutes, the longest in the history of the event and will be launched from both the skyscrapers and the harbour barges, so the scope and range of view will be much larger than in previous years. But still, choosing a place to view will be important.
When? Midnight December 31, 2012
Where? Many vantage points, preferably where you have the Convention Centre in view.
How Much? Free!
---
Dragon Lion Dance Extravaganza - January 1, 2013, 2:00 p.m. - 4:30 p.m.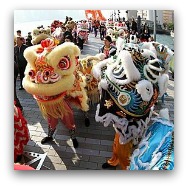 Truly a feast for the eyes! This year's event will attempt to set two new Guinness World Records like they did in 2011 for the largest Lion and Dragon Dance display which featured 1,111 Dragons and Lions.
For 2013, this world-class act will be featuring over 800 lucky animals, including five traditional celestial guardians: the Golden Dragon, the Southern Lion, the Northern Lion, the Chinese Unicorn and the Pixiu, a Winged Dragon.
In addition, there will be 50 performing lions dancing on bamboo poles, a real acrobatic delight and sure to amaze young and old. A truly "do not miss" event.
When?: January 1st, 2013 - 2:00pm to 4:30 pm
Where?: Parade starts from Canton Road along the Hong Kong Cultural Centre and the Avenue of the Stars in Tsim Sha Tsui, finishing at UC Centenary Garden, East Tsim Sha Tsui
How Much?: Free!
---
New Year's Day Race Meeting - January 1st, 2013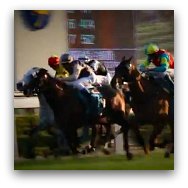 This is one of eight "Magnificent Race Days" being waged in the Sha Tin Race Course during the racing calendar. This New Year's Day Race is full of excitement with the Chinese Club Challenge Cup a HKG3 race, being the highlight of the event.
Good luck on this very first day of the year!
When?:January 1st, 2013 - Noon - 6pm (Gates open at 11am)
Where?: Sha Tin Race Course
How Much?: General Admission at Public Enclosure HK10 or Members' Enclosure with Tourist Badge HK100 (must bring passport)
---
Hong Kong Arts Festival - January 28 - March 24 2013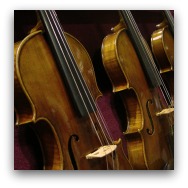 On its 41st year, this is Hong Kong's foremost event dedicated to the performing arts.
All genres of the performing arts are well represented including concerts, ballets, operas, drama by leading international orchestras, performers and artists in world-class venues.
For this year's line up and ticket information check the official site www.hk.artsfestival.org
---
And this is what we have to look forward to next month. Check out this video with a recap for the Lunar New Year Celebrations in Hong Kong for 2012:
---
Ongoing Hong Kong Events for January, 2013
These are some popular ongoing events that are worth checking out, specially since they are FREE!
These events feature some of the great and ancient traditions of the territory and are offered by experts in their corresponding fields:
The Symphony of Lights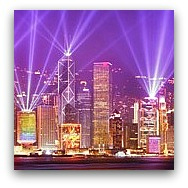 The Symphony of Lights is Hong Kong's light and sound show, a tribute to the city and its people, their diversity, energy and vitality.
The stage is the entire city, which is what makes it so unique, you can watch the lights from just about anywhere in the waterfront. This free show offered by the city, takes place every night at 8:00 pm and lasts aboout 15 minutes.
When?: Every Night
Where?: Can be seen from both sides of Victoria Harbour
How Much? Free
Click here for more on Hong Kong's Symphony of Lights and best spots to watch.
---
The Happy Valley Horse Races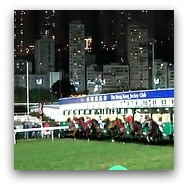 Happy Valley Hong Kong whether or not you are a horse racing enthusiast is an experience not to be missed!
The beautiful horses, the skillful jockeys, the crowds going wild, they all add up to an exciting, fun-filled, thrilling atmosphere in a world-class venue.
The Happy Valley race course itself is a sight in itself, the city has built around it through the years and it is now practically surrounded by skyscrapers, an awesome experience specially at night when the city is illuminated.
When?: Wednesday Nights. First race starts at 7:15 p.m. and the gates open at 5:15 p.m. The races are done by 11:00 p.m.
Where?: Happy Valley Race Course
How Much? Depends, there are many ways to experience the races, from General Stand to Private Boxes and special packages including dinner and drinks. General Stand entrance starts at HK10.
Click here for more on Happy Valley Horse Racing, how to get there and options for viewing the races.
---
Hong Kong Events
Thank you for visiting www.hong-kong-traveller.com!
Here is to a wonderful Hong Kong travel experience!