Hong Kong Festivals and Events
August 2014
These are our top picks for Hong Kong Festivals and Events for August 2014.
Also check-out these popular ongoing events during August 2014:
Hot offers and discount tickets
The following are some of the best Hong Kong deals available
---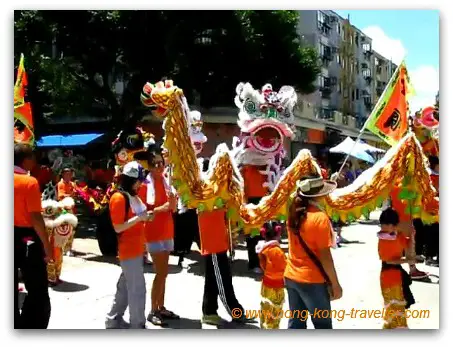 Chinese Hungry Ghost Festival Celebration in Peng Chau Island
---
---
Hong Kong Food Expo - August 14-18, 2014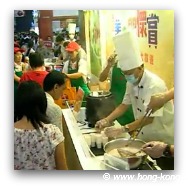 Hong Kong is the city of food, and this annual fair sponsored by the Hong Kong Trade Development Council, is the leading food trade event gathering over 900 exhibitors with delicacies and the finest selection of foods from all over the world.
Another draw for visitors are the series of special events including cooking demonstrations by prominent chefs, forums on a variety of topics such as nutrition and food safety, and games and competitions throughout the five-day event.

When?: August 14-18, 2014 10:00 a.m. to 10:00 p.m., last day closes at 6:00 p.m. Public Hall and Gourmet Zones are open to visitors.
Where?: Hong Kong Convention and Exhibition Centre
How Much?: Free for Trade visitors, admission ticket price to public HK40
Here is more on the Hong Kong Food Expo
---
Chinese Hungry Ghost Festival Yue Lan - August 10, 2014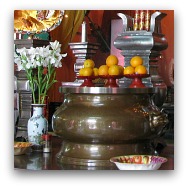 The seventh month of the Lunar calendar is considered the "Chinese Ghost Month". The 2014 Ghost Month will run from July 27 to August 24, 2014. On this month, the spirits of the deceased are released and they come back to wander off in the living world.
It is said that some spirits may be restless and will have to be appeased, and thus, worshippers will burn paper money and make the usual offerings to make sure they are back in the good graces of their ancestors and any other wandering ghost that may happen to "drop by".

The Hungry Ghost Festival marks the middle of the Ghost Month, and offerings and activities will be held particularly on this day.
Activities other than the usual offerings of incense, Chinese paper money and food, include Chinese Opera and the dragon and lion dances with plenty of noise to scare away the evil ghosts, and are held in parks and plazas throughout the territory.
When?: August 10, 2014
Where?: Various locations throughout Hong Kong
---
Mid-Autumn Festival Celebrations
The 2014 Mid-Autumn Festival is on September 8, 2014.
Watch for Lantern Displays to start popping up by the end of August!
Lantern Displays and Exhibitions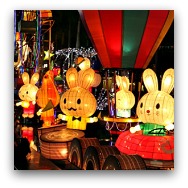 Mid-Autumn Thematic Lantern Exhibition
Tsim Sha Tsui at the Hong Kong Cultural Centre Piazza is fairly easy to pop in for tourists as it's just around the corner from the Star Ferry Terminal and the TST metro station.
This year's theme is "The World in Colours".
When?: From August 28, 2014 to October 5, 2014 Thursdays to Sundays from 6:30 pm to 11:00 pm with extended hours on September 8 until midnight.
How Much?: Free

Here is more on this year's Mid-Autumn Festival Lantern Carnivals and Celebrations
---
---
Ongoing Hong Kong Events for August 2014
These are some popular ongoing events that are worth checking out, specially since they are FREE or offered for a low fee!
These events feature some of the great and ancient traditions of the territory and are offered by experts in their corresponding fields:
---
The Symphony of Lights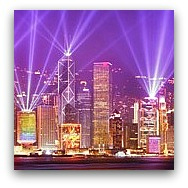 The Symphony of Lights is Hong Kong's light and sound show, a tribute to the city and its people, their diversity, energy and vitality.
The stage is the entire city, which is what makes it so unique, you can watch the lights from just about anywhere in the waterfront. This free show offered by the city, takes place every night at 8:00 pm and lasts aboout 15 minutes.

When?: Every Night
Where?: Can be seen from both sides of Victoria Harbour
How Much? Free
Click here for more on Hong Kong's Symphony of Lights and best spots to watch.
---
Hong Kong Events
Thank you for visiting www.hong-kong-traveller.com!
Here is to a wonderful Hong Kong travel experience!