Hong Kong Festivals and Events
October 2014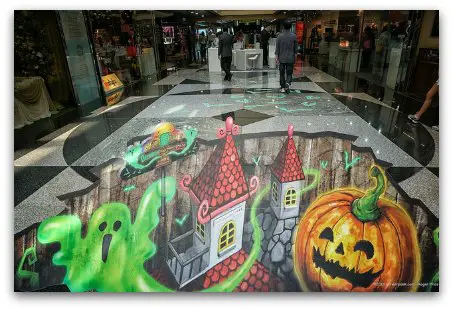 Here are the top Hong Kong Festivals and events for October 2014.
To start off the month are the National Day celebrations on October 1st and as the colorful lanterns and the Mid-Autumn celebrations wind down, the pumpkins and goblins are just getting started as Halloween fests are in full swing!
And specially for foodies this month, the Hong Kong Wine and Dine Festival celebrates food and wine from around the world in one of the most spectacular settings overlooking Victoria Harbour and surrounded by Hong Kong's mindblowing skyline.
Here's this months run down:

And check-out these popular ongoing events during October 2014:
Hot offers and discount tickets
The following are some of the best Hong Kong deals available
---
Hong Kong National Day Celebrations - October 1, 2014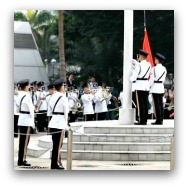 October 1, 2014 marks the 65th Anniversary of the founding of the People's Republic of China. To commemorate the occassion, a series of events are planned including the flag raising ceremonies and parades and a lavish fireworks display is planned which will lit up Victoria Harbour as in previous years.
The fireworks can be seen from both sides of the Harbour. In the Kowloon side, they can be viewed in Tsim Sha Tsui all along the Promenade and Avenue of the Stars as well as the Hung Hom Bypass. In the Hong Kong Island side, there are many vantage points in Central, Wanchai, Causeway Bay and the Midlevels.

When?: October 1, 2014 at 8:00 pm and last approx. 23 minutes
Where?: Wherever there's a view of Victoria Harbour
How Much?: Free!
Here's more on the 2014 National Day Celebrations
---
Chung Yeung Festival - October 12, 2014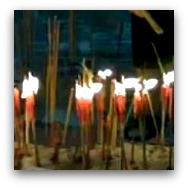 Chung Yeung Festival is Autumn Remembrance Day.
This is a day for families to get together, visit the graves of the ancestors and pay their respects.
You are likely to see a lot of activity around the cemeteries throughout the territories as the typical offerings of Chinese paper money, incense, fruits and other foodstuffs are being brought.
---
---
Lan Kwai Fong Carnival - October 11 and 12, 2014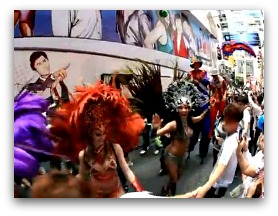 One huge street party...
As if this wasn't already the liveliest spot in Hong Kong, during this annual Carnival, Lan Kwai Fong really puts on the show.
A colorful parade, arts and crafts, carioca dancers, african drummers, performers from all over the world, fortune tellers and magicians, and of course, some of the best street food and beer!

When?: Saturday and Sunday October 11-12, 2014 - 1:00 p.m. until late
Where?: Streets of Lan Kwai Fong. Take the MTR to Central Station Exit D2, on to Theatre Lane and up D'Aguilar Street.
How Much?: Free! Food and Drink available for purchase at the more than 80 booths and stalls set up for the occasion.
More information at www.lankwaifong.com.
---
Hong Kong Triathlon Asian Cup - October 25 - 26, 2014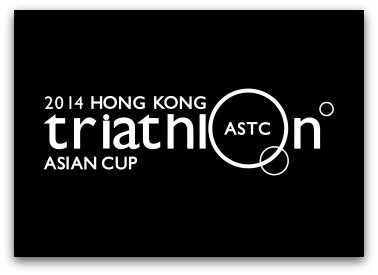 Hong Kong's signature Intenational Triathlon and premier event where recreational triathletes can rub shoulders with age-groupers and professionals is returning this year.
The Hong Kong ASTC Triathlon Asian Cup is getting a shake-up. 2014 will see some changes in the course as well as a new event organiser.
Challenge yourself with a distance that suits you and afterwards enjoy mingling with spectators and other athletes in the festival grounds.
When?: October 25 - 26, 2014
Where?: Lantau Island
How Much? FREE for spectators. There is a race entry fee for participants.
More Info: www.hongkongtriathlon.com
---
Hong Kong Wine and Dine Festival - October 30 - November 2, 2014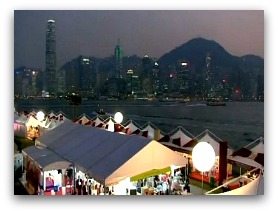 Over 300 booths overlooking fantastic Victoria Harbour celebrating food and wine from around the world...
Wine tastings, live music and entertainment, culinary highlights, signature dishes from Hong Kong's top hotels and restaurants, pastries, cheeses, great wines and a fun atmosphere.
And don't miss the Tasting Room with great offerings for wine pairing dinners, mastering wine and cheese, etc.

When?: October 30 - November 2, 2014
Thursday October 30 - 8:00 p.m. - 11:30 p.m.
Friday October 31 - 4:00 pm - midnight
Saturday November 1 - noon - midnight
Sunday November 2 - noon - 10:30 p.m.
Where?: Important: The Festival's location has moved to Kai Tak, location adjacent to the new Kai Tak Cruise Terminal Free shuttle bus service will be offered from the following MTR stations: East Tsim Sha Tsui, Kowloon Tong and Lam Tin. The New Central Harbourfront, near Central Piers 9 and 10, easiest way to get there? With the Star Ferry, just a couple minutes away from the Central Pier.
How Much?: FREE. Admission has been waived but visitors must still buy wine passes for tastings. A HK$200 wine pass includes eight tasting tokens and a wine glass. Adults HK 30, Children (3-11) and Seniors HK 15.
Must be 18 or older.
The festival is ongoing through November 30, 2014 with city-wide carnivals and dining offers throughout the territory.
More information at HKTB Wine and Dine Month.
Hong Kong Halloween Celebrations are in full swing now! Fright Dome makes its debut in Asia!
The ghostly decorations and waves of orange pumpkins, skeletons and vampires are making their way into the shopping centers and the theme parks in the territory. Villains, ghosts and goblins are already making the rounds.
There are many events, parties, and parades centered around Halloween this year, Fright Dome Las Vegas, touted as one of the top five scariest attractions in America is coming to Hong Kong.

Here are some highlights of this season:

Ocean Park Halloween Fest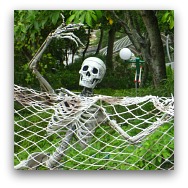 What?:There will be many featured attractions this year, including fun for the little ones with games, funhouses, costume parties and contests, etc.
And the heavy-duty horror seekers will not be dissapointed, Ocean Park's array of haunted houses and live shows and concerts feature some of the best technological and state-of-the-art terror design. New this year is the H14 Madhouse "restricted only to persons 16 years of age or above capable of withstanding extreme fear..." where reservations are required.
When?: Seleted Dates from October 2 to 31, 2014.
Time: Park hours during Halloween days is 10:00 am to 10:00 pm, Halloween activities start at 1:00 pm
Where?: Throughout the Park
How Much?
General Admission Adults HK 320, Children HK 160. The all day-and-night ticket gives access to the Halloween shows and spectacularly decorated attractions. You can buy a "Premium Ticket" that gives you priority access to some of the most popular regular and Halloween activities for Adults HK 628 and Children HK 314.
Remember you can buy tickets online and also at all 7-Elevens (except Premium option). Discounts available for students and Hong Kong residents.
More about Ocean Park's Hallween Fest.
Disneyland Hong Kong Haunted Halloween Celebrations

What?: Trick or Treating with Mickey and the gang, Halloween parade, haunted mansions, creepy surprises! And this year, Disney introduces the "Horrors of the Amazon"
When?: October 2 through October 31, 2014. Opening hours are extended to 11pm every Thursday to Sunday during this period.
Where?: Thoroughout the park
How Much? Included with park admission, reduced price night tickets also available during Halloween celebrations, admission is from 6:30 p.m.
More Info: Check our Hong Kong Disneyland Halloween page

Lan Kwai Fong Halloween Street Party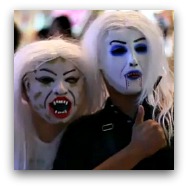 What?: A massive outdoor street party that needs no introduction
When?: October 31, 2014 dusk 'til...
Where?: Take MTR to Central Station Exit D2 and follow the crowds to D'Aguilar Street.
How Much? Free

Fright Dome Hong Kong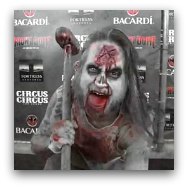 What?: One of the top 5 scariest halloween attractions in America, Fright Dome features fog-filled attractions with ghoulish and gore-clad professional actors and six haunted houses
When?: September 26 to November 2, 2014
Where?: Peak Galleria Rooftop
How Much? HK199 - HK399

Dead Not Alive Halloween Party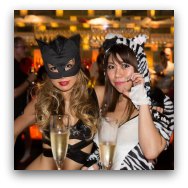 What?: Huge venue with three distinct areas: Aqua, Terrace, Privé, top local and international DJ's, a full house of Hong Kong's most beautiful celebrities and party people.
When?: Friday October 31, 2014 - 10:00 pm onwards
Where?: Armani/Privé 3583-2828 Chater House in the Landmark, 8 Connaught Road, Central, accessible directly from the MTR via Central Station exit E.
How Much? HK400, table packages available, HK300 after 1:00am
---
Ongoing Hong Kong Events for October, 2014
These are some popular ongoing events that are worth checking out, specially since they are FREE or offered for a low fee!
These events feature some of the great and ancient traditions of the territory and are offered by experts in their corresponding fields:
---
The Happy Valley Horse Races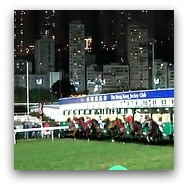 Happy Valley Hong Kong whether or not you are a horse racing enthusiast is an experience not to be missed!
The beautiful horses, the skillful jockeys, the crowds going wild, they all add up to an exciting, fun-filled, thrilling atmosphere in a world-class venue.
The Happy Valley race course itself is a sight in itself, the city has built around it through the years and it is now practically surrounded by skyscrapers, an awesome experience specially at night when the city is illuminated.

When?: Wednesday Nights. First race starts at 7:15 p.m. and the gates open at 5:15 p.m. The races are done by 11:00 p.m.
Where?: Happy Valley Race Course
How Much? Depends, there are many ways to experience the races, from General Stand to Private Boxes and special packages including dinner and drinks. General Stand entrance starts at HK10. The "Come Horseracing Tour" US$135 provides transportation to/from your hotel, dinner and drinks and access to the Member's Boxes.
Click here for more on Happy Valley Horse Racing, how to get there and options for viewing the races.
---
The Symphony of Lights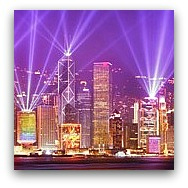 The Symphony of Lights is Hong Kong's light and sound show, a tribute to the city and its people, their diversity, energy and vitality.
The stage is the entire city, which is what makes it so unique, you can watch the lights from just about anywhere in the waterfront.
This free show offered by the city, takes place every night at 8:00 pm and lasts aboout 15 minutes.

When?: Every Night
Where?: Can be seen from both sides of Victoria Harbour
How Much? Free
Click here for more on Hong Kong's Symphony of Lights and best spots to watch.
---
Hong Kong Events
Thank you for visiting www.hong-kong-traveller.com!
Here is to a wonderful Hong Kong travel experience!