Hong Kong Festivals and Events
September 2016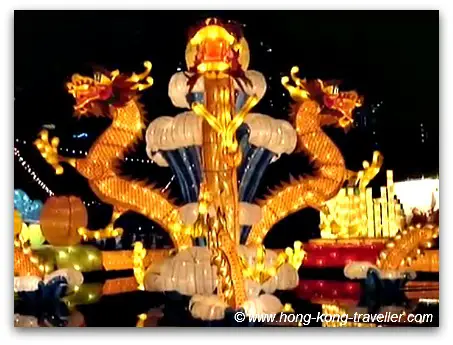 Mid-Autumn Festival Lantern Carnival in Victoria Park
The scorching heat and hummidity of the summer months are receding and cooler days are ahead as September welcomes a host of lively and colorful events:
Hot offers and discount tickets
The following are some of the best Hong Kong deals available
Mid-Autumn Festival Celebrations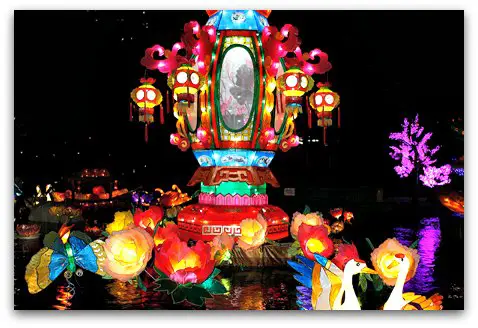 The 2016 Mid-Autumn Festival is on September 15, 2016.
Lantern carnivals, parades and festivities will run from early September on.
These are some of the most popular celebrations for you to take part in:
Urban Mid-Autumn Lantern Carnival at Victoria Park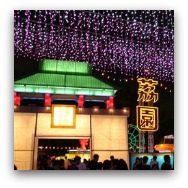 This is the all-in-one mega event that offers fantastic lantern displays, a full cultural programme, and a Fire Dragon Dance Parade.
The cultural programs include kung fu demonstrations, folk songs and dance shows, acrobatics, Chinese folk arts and crafts demonstrations, etc.
When?: September 15, 2016 - 8:00 p.m.-11:00 p.m.
Where?: Victoria Park
How Much?: Free

More Info: Urban Mid-Autumn Lantern Carnival at Victoria Park
Mid-Autumn Thematic Lantern Exhibition in Tsim Sha Tsui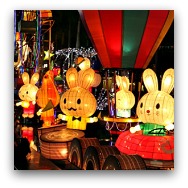 Bright and colorful lantern displays pop up in Tsim Sha Tsui, this year outside the Hong Kong Space Museum.
This is a fairly easy spot to pop in for tourists as it's just around the corner from the Star Ferry Terminal and the TST metro station.
This is one of the longest running lantern displays during the celebration as they normally run for over a month rather than just a few days.

When?: From September 2 - 25, 2016, lit Thursdays through Sundays.
Displays are normally lit up from 6:30 pm to 11:00 pm with extended hours on September 15 until midnight.
How Much?: Free
More Info: Mid-Autumn Thematic Lantern Exhibition in Tsim Sha Tsui
Tai Hang Fire Dragon Dance Parades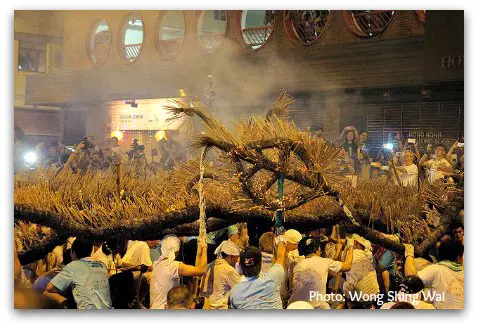 The Tai Hang Fire Dragon Dance Parade is another example of Hong Kong's traditional culture and a main part of the celebrations of the Mid-Autumn Festival.
Come take part of this tradition when the 67-metre Fire Dragon winds through the streets of Tai Hang, like it did over a century ago with over 300 performers, 70,000 incense sticks, and lots of firecrackers!
When?: September 14, 15, 16 2016 8:15 p.m.
Where?: Tai Hang, Causeway Bay.
How Much?: Free
More Info: Tai Hang Fire Dragon Dance, parade route and how to get there.
The 2016 Macau International Fireworks Contest
September 3, 10, 15, 24, Oct 1, 2016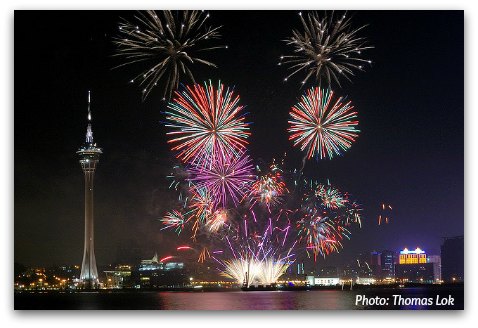 Just next door in Macau... Five evenings of mesmerizing fireworks and music extravaganzas!!! Fireworks displays can be some of the most sensational spectacles one can witness, imagine the best of the best in the world battling it out on a competition that encompasses five evenings of stunning lights and sounds, with international teams competing for the coveted trophy.
Two teams participate each evening, each evening features a different theme. So who's competing this year?
When?: Saturdays September 3, 10, Thursday September 15, Saturdays September 24, October 1, 2016
Times?: 9:00 pm and 9:40 pm
Saturday September 3 "Pyro Fantasia": Thailand, Portugal
Saturday September 10 "Tribute to Bond": United Kingdom, Switzerland
Thursday September 15 "Mid-Autumn Harmony": Japan, Korea
Saturday September 24 "Stars from Afar": Italy, Canada
Saturday October 1 "Celebration in the Sky": Romania, China
Where?:
Sea area in front of the Macau Tower. Where to watch? Just about anywhere in Macau, preferably where the Macau Tower is in full view
How Much?:
FREE!
More Info: Macau Toursim Board

Getting to Macau: See our page on Macau Day Trip
And remember you can get Turbojet Macau Ferry Discount Tickets from Klook.com:
Round Trip Weekday ticket: HK 317 US$ 41
Round Trip Weekend Ticket: HK389 HK357 US$ 46
One-Way Weekday, One-Way Weekend: HK343 HK336 US$ 44
More information and Booking Macau TurboJet Ferry Tickets ››
The 2016 Hong Kong Watch and Clock Fair - September 6 - 10, 2016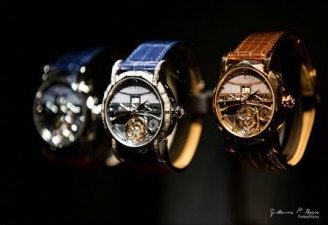 The annual Hong Kong Watch and Clock Fair is the world's largest timepiece event which offers a remarkable selection of watches and clocks and a preview into the latest designs and trends in the market.
Highlights of this event are the "Brand Name Gallery" and "World Brand Piazza", featuring limited edition and rare timepieces from the major global brands.

The Brand Name Gallery is open to the public on the last day of the event and timepieces from selected exhibitors are available for sale.
When?: September 6 - 10, 2016.
Where?: Hong Kong Convention and Exhibition Centre
How Much?: Free for trade visitors and the public
More Info: Hong Kong Watch and Clock Fair
The 1st Hong Kong Disneyland 10K Weekend - September 10 - 11, 2016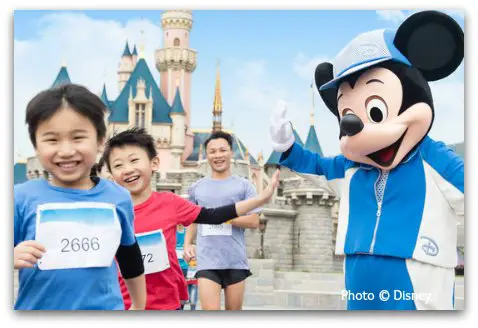 For the first time, a series of 3K, 5K and 10K races happening through the theme lands of Hong Kong Disneyland.
Mickey 10K Run: For 16 and over, co-organised by the Hong Kong Amateur Athletic Association, the results of the Mickey 10K Run will be recognized in the Hong Kong rankings.
Duffy 5K Fun Run: For 14 and over,
Mickey & Minnie 3K Family Run: All ages welcome!
Kids Races: 100m & 200m, for ages 5 and below
When?: September 10 - 11, 2016. Register before July 18, 2016
Where?: Hong Kong Disneyland
How Much?: Race Packages for Mickey and Duffy Runs HK$ 899, Family Run Adult HK$599 Child HK$449, Kids Races HK$199. Discounts offered for Magic Access Members.
More Info: Hong Kong Disney 10K Weekend
And don't forget, non-participants can buy Hong Kong Disney discount tickets through Klook.com
1-Day Adult HK 539 HK 489 US$61, children HK 385 HK 350 US$45
2-Day Adult HK 739 HK 680 US$88, children HK 525 HK 480 US$62
»» More Info and Booking Hong Kong Disneyland Discount Tickets.
Hong Kong International Jazz Festival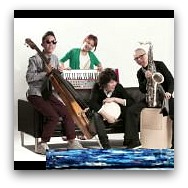 Renowned jazz musicians from around the world will delight audiences with a series of performances, workshops, and photographic exhibitions.
When?: September 11 - 14, 2016
Where?: September 11 at the HK Cultural Centre Piazza, September 12 - 14 at the Hong Kong City Hall Theatre
How Much?: Concert Hall prices HK 180, HK 260, HK 360. HK Cultural Centre Pizza Free Admission

More Info: Full line-up, programme and ticket information check the HK International Jazz Festival site at www.hkijf.com.
Road to ULTRA Hong Kong 2016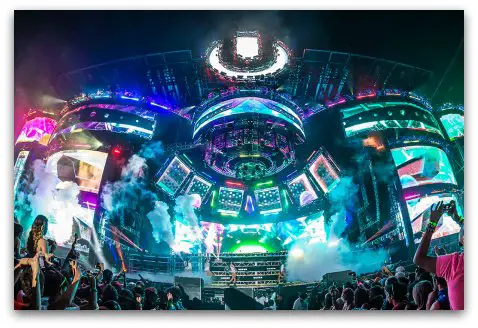 ULTRA is the world's most famous outdoor electronic music event and will for the first time be coming to Hong Kong this month.
Taking place at Nursery Park at the West Kowloon Cultural District, this opening program promises to deliver a uniquely diverse, forward thinking line-up and is likely to be a sell-out like it always is everywhere else around the world.
When?: Saturday, September 17, 2016 - 12:00 to 22:00
Where?: Nursery Park at the West Kowloon Cultural District
How Much?: HK$ 1,180+ Find Tickets
More Info and Lineup: www.hongkong.roadtoultra.com
Pentatonix World Tour 2016 - September 22, 2016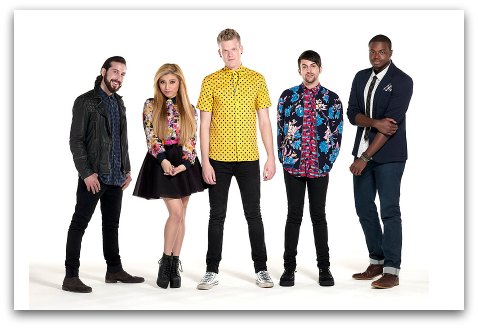 When?: Thursday, September 22, 2016 - 8:00 pm
Where?: AsiaWorld-Expo
How Much?: HK$ 1,300+ Find Tickets
Earth Wind & Fire in Concert - September 24, 2016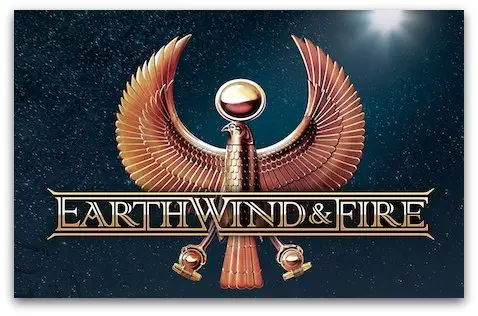 When?: Saturday, September 24, 2016
Where?: AsiaWorld-Expo
How Much?: Likely to sell out soon! Find Tickets
Hong Kong Cyclothon - Sunday, September 25, 2016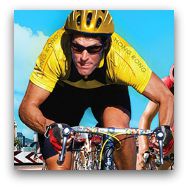 Returning for the second time the Hong Kong Cyclothon will again welcome cyclists from around the world to immerse in the culture and breathtaking landscape only offered by Asia's World City.
With several different riding categories, from kids and family races, 30 km community rides, to international criterium riders, cyclists of all skill levels have the opportunity to participate and experience the beauty of Hong Kong.

When?: Sunday September 25, 2016
Where?: Vantage points along Salisbury Road near Tsim Sha Tsui promenade and along Mody Road near UC Centenary Garden in Tsim Sha Tsui East
How Much?: Spectators Free!
More Info including how to participate in the races.
Queen + Adam Lambert - Summer Festival Tour
September 28, 2016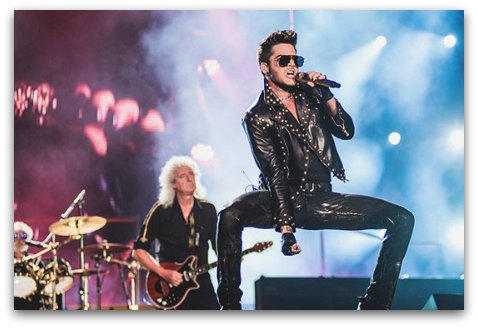 When?: Wednesday September 28, 2016 - 8:00 pm
Where?: AsiaWorld-Expo
How Much?: Selling out quick! Find Tickets
Horse Racing Season 2016-17 at the Happy Valley Race Course starts this month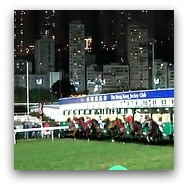 Happy Valley Hong Kong whether or not you are a horse racing enthusiast is an experience not to be missed!
The beautiful horses, the skillful jockeys, the crowds going wild, they all add up to an exciting, fun-filled, thrilling atmosphere in a world-class venue.
The Happy Valley race course itself is a sight in itself, the city has built around it through the years and it is now practically surrounded by skyscrapers, an awesome experience specially at night when the city is illuminated.

When?: Wednesday Nights, season opening is on Wednesday September 7, 2016. On race day, first race starts at 7:15 p.m. and the gates open at 5:15 p.m. The races are done by 11:00 p.m.
Where?: Happy Valley Race Course
How Much? Depends, there are many ways to experience the races, from General Stand to Private Boxes and special packages including dinner and drinks. General Stand entrance starts at HK10. The "Come Horseracing Tour" provides transportation to/from your hotel, dinner and drinks and access to the Member's Boxes.
Click here for more on Happy Valley Horse Racing, how to get there and options for viewing the races.
Ongoing Hong Kong Events for September, 2016
These are some popular ongoing events that are worth checking out, specially since they are FREE or offered for a low fee!
These events feature some of the great and ancient traditions of the territory and are offered by experts in their corresponding fields:
The Symphony of Lights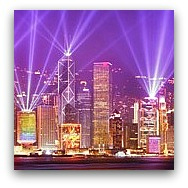 The Symphony of Lights is Hong Kong's light and sound show, a tribute to the city and its people, their diversity, energy and vitality.
The stage is the entire city, which is what makes it so unique, you can watch the lights from just about anywhere in the waterfront.
This free show offered by the city, takes place every night at 8:00 pm and lasts aboout 15 minutes.

When?: Every Night
Where?: Can be seen from both sides of Victoria Harbour
How Much? Free
Click here for more on Hong Kong's Symphony of Lights and best spots to watch.
Hong Kong Events
Thank you for visiting www.hong-kong-traveller.com!
Here is to a wonderful Hong Kong travel experience!