Hong Kong Festivals and Events
June 2014
Front and center for June 2014 is the Dragon Boat Festival, exciting races and carnivals will be held throughout the territory. Here is a guide to the most popular spots to catch these colorful and electrifying events.
In the Cultural front, the Chinese Opera Festival is kicking off this month and will run through August 30, 2014.
Also check-out these popular ongoing events during June 2014:
Hot offers and discount tickets
The following are some of the best Hong Kong deals available
---
The Hong Kong Dragon Boat Festival - June 2, 2014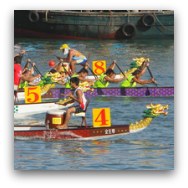 The Hong Kong Dragon Boat Festival , also known as the Tueng Ng Festival, is one of the favourite amongst the revelry of Chinese Festivals celebrated in the territory. Taking place on the 5th day of the 5th Lunar month, it is most well-known for its energetic and colorful dragon boat races.
On the day of the Festival, races are held by the several Dragon Boat Associations throughout the territory. All events are free to the public.
These are some of the most popular sites for dragon boat races in Hong Kong during the Dragon Boat Festival. Races are ongoing just about the entire day at most locations, for further details check out our main Dragon Boat Festival page.
SunLife Stanley International Dragon Boat Championships are the "main" races known in the dragon boat circuit worldwide.
Aberdeen Dragon Boat Festival Races
Saikung Dragon Boat Festival Races
Cheung Chau Dragon Boat Festival Races
Tai O Water Parade and Dragon Boat Festival
Although there are plenty more locations to catch a race on this day, these are easy and of interest for visitors to get to and are also usually in most travellers' "must see attractions".
---
Water Parade in Tai O's Dragon Boat Festival - June 2, 2014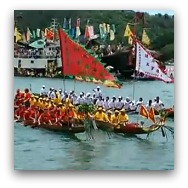 A procession of colorfully decorated sampans, temple deities and ceremonies enmeshed in hundred-year old traditions, a beautiful coastal town with its unique characterising houses on stilts, and to top it all off, exciting action-packed dragon boat racing at its best, that's what we have to look forward to at this fascinating festival, which is held on the day of the Dragon Boat Festival.
A visit to Tai O, is a must for all travellers, and on this day, the town comes alive and you get to glimpse another facet of this otherwise sleepy and tranquil town, don't miss it if you are around. Most of the festivities will be in the morning, so you still have time to make it to the main races at Stanley or the other sites throughout Hong Kong, which normally end in the afternoon.
When?: June 2, 2014, 8:00 a.m. - approx. 2:00 p.m.
Where?: Tai O waterfront.
Here's more on the Tai O Water Parade.
---
---
The Dragon Boat Carnival and the Hong Kong International Dragon Boat Races - June 6-8, 2014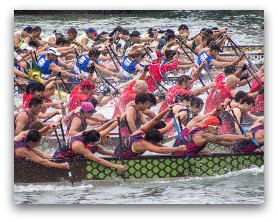 Sponsored by the Hong Kong Dragon Boat Association, this event along with the Stanley Dragon Boat Championships, is one of the top events in the dragon boat-racing calendar. International teams as well as local and company sponsored teams compete in one of the most prestigious of tournaments.
When?: June 6-8, 2014
Where?: Victoria Harbour, Tsim Sha Tsui East Promenade.

More on the Dragon Boat Carnival.
---
Stanley Dragon Boat Short-Course Races - June 22, 2014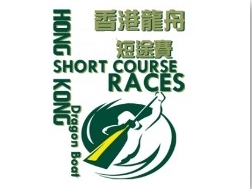 Celebrated 3 weeks after the main races of the Tuen Ng festival, as the name suggests, the races are on a shorter course, only 200 meters.
When?: June 22, 2014, 9:00 a.m. - approx. 4:00 p.m.
Where?: Stanley Main Beach.
More Info: www.dragonboat.org.hk

---
1600 Pandas World Tour in Hong Kong: Creativity Meets Conservation - June 10 - July 17, 2014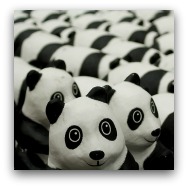 What?:Panda Flash Mobs swarming the territory and a main exhibition, it's 1,600 paper mache panda bears on a worldwide tour.
When? Where?: "Planned" flash mobs at some of Hong Kong's top attractions:

Tuesday, June 10, 2014 at Ma Wan Tung Wan Beach from 12:00 noon to 3:00 pm
Saturday June 14, 2014 at the Clock Tower at the Hong Kong Cultural Centre Piazza, Tsim Sha Tsui from 1:00pm to 4:00pm
Thursday June 19, 2014 at Victoria Park from 12:00 noon to 2:00 pm
Friday June 20, 2014 the Pandas will be Tram Touring from 12:00 noon to 3:00 pm, so if you are around Central you will definitely see them. Here's the Ding Ding Tram route map.
Saturday June 21, 2014 at Statue Square, Central from 8:00 am to 10:00 am
June 25 - July 17, 2014 Main Exhibition at PMQ

How Much? FREE!
More Info: More on 1600 Pandas in Hong Kong
---
Chinese Opera Festival - June 20 - August 30, 2014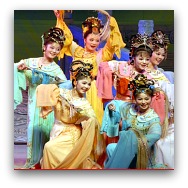 "Chinese Opera encapsulates the long history and traditional culture of China. The immaculately crafted movements of the hands, the eyes, the body and the feet of the actors are unique to a whole system of Chinese performing arts."
This art form has been around for centuries and to foster a better understanding of this ancient art, the Hong Kong Leisure and Cultural Services Department brings the annual Chinese Opera Festival to the community.

If you have never experienced this unique kind of traditional art, this is your chance! The festival will offer daily stage performances by some of the leading Companies in the genre. Besides the stage performances, the festival also puts together an array of events from symposiums, Chinese Opera film screenings and exhibitions.
When?: June 20 - August 30, 2014
Where?: Stage Performances at various venues including a couple of locations very convenient to visitors:
The Grand Theatre at the Hong Kong Cultural Centre at the Tsim Sha Tsui Promenade
The Hong Kong City Hall in Central
The Hong Kong Space Museum
How Much? Ticket prices vary depending on event.
Tickets for a stage performance at the Hong Kong Cultural Centre for example range from HK 100- HK 350.
Tickets for a Chinese Opera Film Show at the Hong Kong Space Museum are HK 30.
Discounts are available to students and seniors.
Tickets can be purchased online at the Urbtix site.
More Info: Visit the official site of the Chinese Opera Festival.
---
Ongoing Hong Kong Events for June 2014
These are some popular ongoing events that are worth checking out, specially since they are FREE!
These events feature some of the great and ancient traditions of the territory and are offered by experts in their corresponding fields:
The Symphony of Lights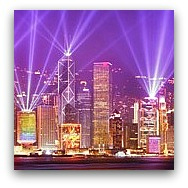 The Symphony of Lights is Hong Kong's light and sound show, a tribute to the city and its people, their diversity, energy and vitality.
The stage is the entire city, which is what makes it so unique, you can watch the lights from just about anywhere in the waterfront. This free show offered by the city, takes place every night at 8:00 pm and lasts aboout 15 minutes.

When?: Every Night
Where?: Can be seen from both sides of Victoria Harbour
How Much? Free
Click here for more on Hong Kong's Symphony of Lights and best spots to watch.
---
The Happy Valley Horse Races are On!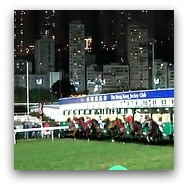 Happy Valley Hong Kong whether or not you are a horse racing enthusiast is an experience not to be missed!
The beautiful horses, the skillful jockeys, the crowds going wild, they all add up to an exciting, fun-filled, thrilling atmosphere in a world-class venue.
The Happy Valley race course itself is a sight in itself, the city has built around it through the years and it is now practically surrounded by skyscrapers, an awesome experience specially at night when the city is illuminated.

When?: Wednesday Nights. First race starts at 7:15 p.m. and the gates open at 5:15 p.m. The races are done by 11:00 p.m.
Where?: Happy Valley Race Course
How Much? Depends, there are many ways to experience the races, from General Stand to Private Boxes and special packages including dinner and drinks. General Stand entrance starts at HK10.
Click here for more on Happy Valley Horse Racing, how to get there and options for viewing the races.
---
Hong Kong Events
Thank you for visiting www.hong-kong-traveller.com!
Here is to a wonderful Hong Kong travel experience!