Hong Kong Festivals and Events
May 2017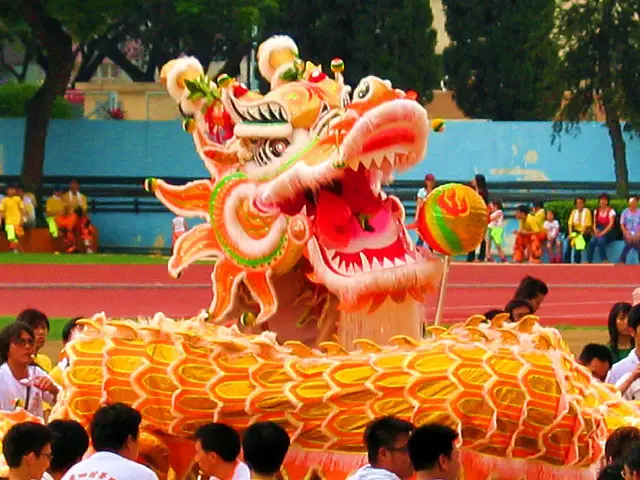 The top Hong Kong Festivals and events for May 2017 feature an array of colorful festivals that open up the season of cultural celebrations in the city including:
... Buddha bathing ceremonies...
... Lively parades to celebrate the Birthday of Tam Kung, the Seafarer's God...
... The one-of-a-kind bun-scrambling contest at the Cheung Chau Bun Festival...
... Exciting Dragon Boat racing action!!!...
This is a great month to be in Hong Kong! Take advantage of the fantastic festivals and the last balmy days before the scorching heat and humidity of summer start trickling in...
May 1st is Labor Day, a public holiday. May 1st falls on a Monday this year so get ready for the long weekend!
Exciting dragon boat races, parades and carnivals will be held throughout the territory this month.
May also sees the start of our infamous typhoon season. Hong Kong deals with typhoons every year, don't be alarmed, just aware and if a warning is issued, take the precautions outlined here and stay safe.

Here is a guide to this month's most popular happenings and where and when to catch these colorful and electrifying events.
Also check-out these popular ongoing events during May 2017:
Hot offers and discount tickets
The following are some of the best Hong Kong deals available
The Cheung Chau Bun Festival - April 30 - May 4, 2017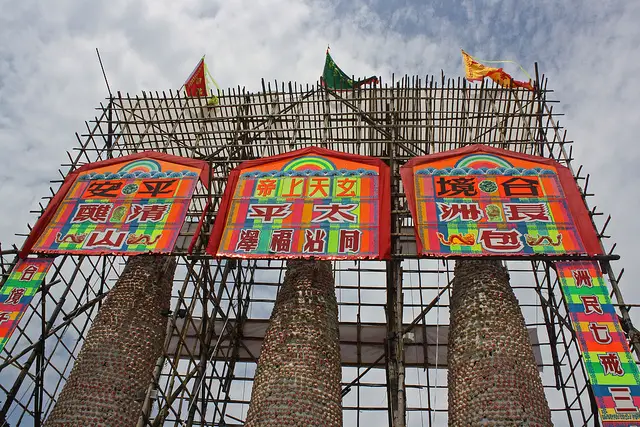 A very colorful and unique festival in the island of Cheung Chau, just a short ferry ride away.
The Cheung Chau Bun Festival has been celebrated for hundreds of years and is dedicated to the god Pak Tai, in thanks for protecting the island and to drive away the evil spirits.
One trademark of the festival is the huge bamboo mountains covered with handmade buns which are set up near the Pak Tai Temple where the majority of the celebrations take place.

There are the parades, lion dances, the many rituals and of course lots of drumming!
This is a very lively event, not to be missed if you are in Hong Kong during this period.
When? This is a week-long celebration starting on April 30 and culminating on May 4, 2017
Getting to Cheung Chau: 40 or 60 minutes with ferries from Central Pier #5 approx. every 30 minutes. The fast ferry is an enclosed cabin, the standard or slow one is a much more scenic way to get there on the outside decks.
More on the Cheung Chau Bun Festival and getting there.
The Birthday of Lord Buddha - May 3, 2017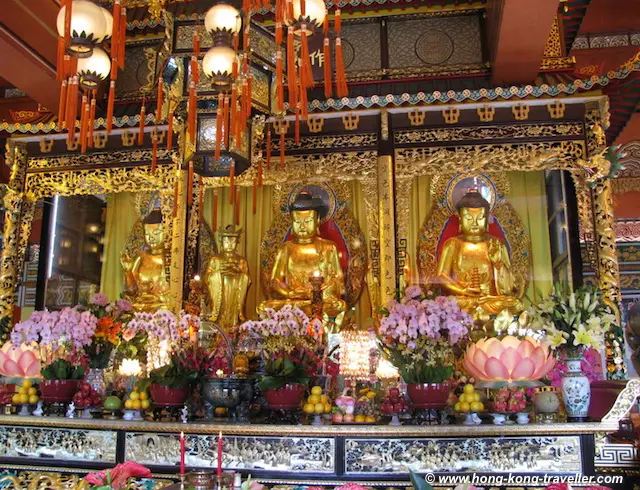 A celebration that will be observed at most monasteries, shrines and buddhist temples in Hong Kong to commemorate the birth of Buddha as worshippers and followers flock to the temples to pay their respects.
The "Bathing of the Buddha" Ceremony is performed as part of the festivities.
One of the biggest celebrations is at the Hong Kong Big Buddha in Lantau and the nearby Po Lin Monastery.

Here's more on the Buddha Birthday and this year's celebrations.
The Birthday of Tam Kung - May 3, 2017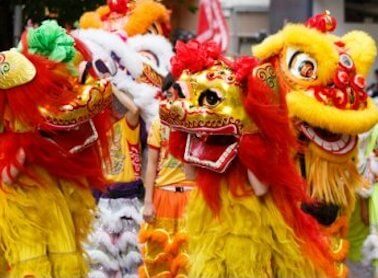 Tam Kung, together with Tin Hau, is considered the protector of the fishermen and the seas, and so there is also a festival in his honor, on the eight day of the fourth moon, this year on the Western calendar it will be celebrated on May 3, 2017.
The festivities take place by the Tam Kung Temple in Hong Kong Island and involve a large parade with the colorful dragon and lion dances, lots of drumming, acrobats and performers accompanying the floats and the procession.

When?: May 3, 2017 - Parade from 9:00 am to 2:30 pm
How to get there?: The Tam Kung Temple in Shau Kei Wan can be easily reached with the MTR: MTR Shau Kei Wan Station Exit D1, about a 5 minute walk to Tam Kung Temple Road, just follow the crowds.
Here's more on the Birthday of Tam Kung Celebrations.
Stanley Dragon Boat Warm-Up Races - May 6, 2017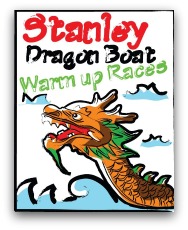 The Dragon Boat Festival is fast approaching and the Stanley Dragon Boat Warm Up Races are the perfect prelude to the most anticipated Dragon Boat International Championships coming up at the end of the month on May 30, 2017.
This is a great chance to take a peek at what is to come. The Warm Up races differ a bit from the regular races, the course is shorter and the number of paddlers is limited to 18, but although on a smaller scale, it is still a very exciting fun-filled day of dragon boat racing with the same action-packed festival atmosphere and enthusiasm as the main event.
When?: May 6, 2017, 8:00 a.m. - 5:00 p.m.
Where?: Stanley Main Beach. Click here for more on Stanley Market, Stanley Beach and how to get there
How Much? Free!
Check out this short clip of the Stanley Dragon Boat Warm-Up Races held in the previous years:
Here's more on the Dragon Boat Stanley Warm-Up Races
The Lamma International Dragon Boat Festival - May 7, 2017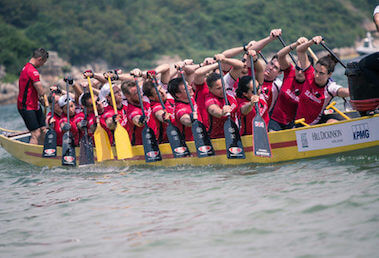 Now on its tenth year, the Lamma 500 International Dragon Boat Festival takes place at Tai Wan To Beach, the home of the Lamma Dragons and the Lamma Outrigger Canoe Club in Lamma Island.
Besides an exciting day of dragon boat action, including Men's, Women's and Junior Crews (12 to 17), there is the beach-side after-party following the races, or you can head into the Village for dinner and festive drinks along with the many participants.

When?: Sunday May 7, 2017, 9:00 a.m. - approx. 6:00 p.m.
Where?: Tai Wan To Beach, Lamma Island. Take the Ferry from Central Pier 4 to Yung Shue Wan. The ferry takes 25 minutes. The walk to the beach will take approximately another 15-20 minutes.
How Much?: Free
More Info: Lamma International Dragon Boat Festival
The Hong Kong Dragon Boat Festival -Tuesday May 30, 2017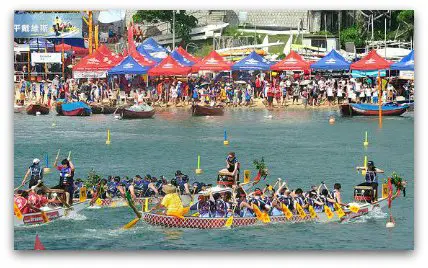 The Hong Kong Dragon Boat Festival , also known as the Tueng Ng Festival, is one of the favourite amongst the revelry of Chinese Festivals celebrated in the territory. Taking place on the 5th day of the 5th Lunar month, it is most well-known for its energetic and colorful dragon boat races.
On the day of the Festival, races are held by the several Dragon Boat Associations throughout the territory. All events are free to the public.
These are some of the most popular sites for dragon boat races in Hong Kong during the Dragon Boat Festival. Races are ongoing just about the entire day at most locations, for further details check out our main Dragon Boat Festival page.
SunLife Stanley International Dragon Boat Championships are the "main" races known in the dragon boat circuit worldwide.
Aberdeen Dragon Boat Festival Races
Saikung Dragon Boat Festival Races
Cheung Chau Dragon Boat Festival Races
Tai O Water Parade and Dragon Boat Festival
Discovery Bay Dragon Boat Races (ATTENTION!!! Races will be on SUNDAY May 28, 2017 at Discovery Bay!)
Although there are plenty more locations to catch a race on this day, these are easy and of interest for visitors to get to and are also usually in most travellers' "must see attractions".
More on this year's Dragon Boat Festival
Water Parade in Tai O's Dragon Boat Festival - May 30, 2017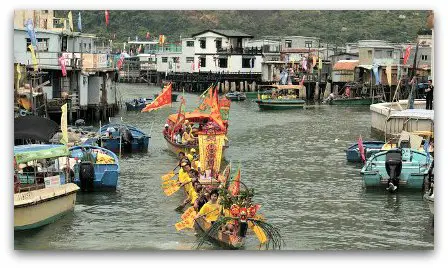 A procession of colorfully decorated sampans, temple deities and ceremonies enmeshed in hundred-year old traditions, a beautiful coastal town with its unique characterising houses on stilts, and to top it all off, exciting action-packed dragon boat racing at its best, that's what we have to look forward to at this fascinating festival, which is held on the day of the Dragon Boat Festival.
A visit to Tai O, is a must for all travellers, and on this day, the town comes alive and you get to glimpse another facet of this otherwise sleepy and tranquil town, don't miss it if you are around. Most of the festivities will be in the morning, so you still have time to make it to the main races at Stanley or the other sites throughout Hong Kong, which normally end in the afternoon, or pay a visit to the Big Buddha which is also in Lantau Island.
When?: Tuesday May 30, 2017, 8:00 a.m. - approx. 2:00 p.m.
Where?: Tai O waterfront.
Here's more on the Tai O Water Parade.
Disney Springtime Carnival and Egg-stravaganza
March 16 - May 28, 2017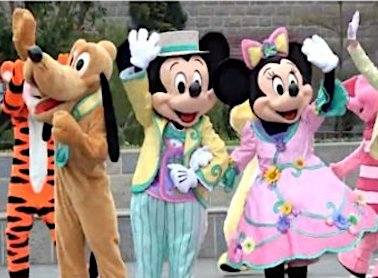 This year's Spring Carnival will include as in prior years the Disney Character Egg Hunt at all seven themed lands with over 100 Disney eggs scattered around and hidden in every corner imaginable, get a special edition Egg-stravaganza Guide Map to help you locate them!
Mickey, Minnie and the gang will be sporting their new spring-themed outfits and new this year, a Springtime Carnival Procession, a brand new parade with all our favourite Disney friends old and new!
When? March 16 - May 28, 2017
Where? Hong Kong Disneyland
How Much? Disney Springtime Carnival activities are free with Park Admission.
Remember you can buy discount tickets online at Klook.com:
HK Disneyland Discount Tickets Adult HK619 HKD524 US$67, Children HK458 HKD366 US$48
More Info and Booking at Klook.com
Here's more on this year's Disney Springtime Carnival and Eggstravaganza.
Ongoing Hong Kong Events for May, 2017
These are some popular ongoing events that are worth checking out, specially since they are FREE or offered for a very low fee!
These events feature some of the great and ancient traditions of the territory and are offered by experts in their corresponding fields:
The Symphony of Lights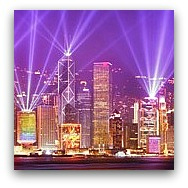 The Symphony of Lights is Hong Kong's light and sound show, a tribute to the city and its people, their diversity, energy and vitality.
The stage is the entire city, which is what makes it so unique, you can watch the lights from just about anywhere in the waterfront.
This free show offered by the city, takes place every night at 8:00 pm and lasts aboout 15 minutes.

When?: Every Night
Where?: Can be seen from both sides of Victoria Harbour
How Much? Free
Click here for more on Hong Kong's Symphony of Lights and best spots to watch.
---
The Happy Valley Horse Races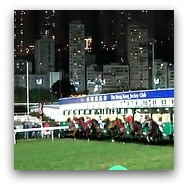 Happy Valley Hong Kong whether or not you are a horse racing enthusiast is an experience not to be missed!
The beautiful horses, the skillful jockeys, the crowds going wild, they all add up to an exciting, fun-filled, thrilling atmosphere in a world-class venue.
The Happy Valley race course itself is a sight in itself, the city has built around it through the years and it is now practically surrounded by skyscrapers, an awesome experience specially at night when the city is illuminated.

When?: Wednesday Nights. First race starts at 7:15 p.m. and the gates open at 5:15 p.m. The races are done by 11:00 p.m.
Where?: Happy Valley Race Course
How Much? Depends, there are many ways to experience the races, from General Stand to Private Boxes and special packages including dinner and drinks. General Stand entrance starts at HK10.
Click here for more on Happy Valley Horse Racing, how to get there and options for viewing the races.
---
Hong Kong Events
Thank you for visiting www.hong-kong-traveller.com!
Here is to a wonderful Hong Kong travel experience!