Hong Kong Festivals and Events
November 2016
November is the time to get outdoors and enjoy the pleasant temperatures and clear days without the overwhelming humidity of the summer months.
A light jacket and dressing in layers is probably best as there will be some warm days with temperatures dropping a bit at night.
November is Hong Kong's Wine and Dine Month and features an array of food festivals, street carnivals and fairs. Clockenflap and Symphony Under The Stars are back at the Central Waterfront!
Enjoy!

And it's starting to look a lot like Christmas...
Also check-out these popular ongoing events during November 2016:
Hot offers and discount tickets
The following are some of the best Hong Kong deals available
---
Hong Kong Wine and Dine Month
Although the main festival to kick off Wine and Dine Month takes place at the end of October, a series of events are ongoing through November 30, 2016 with city-wide carnivals and dining offers throughout the territory.
Look for offers for culinary-themed tours of Hong Kong neighborhoods, there will be plenty of events to keep all foodies happy!
More information at HKTB Wine and Dine Month.
Hong Kong International Wine and Spirits Fair
The largest wine show in Asia, with wines and spirits from over 37 regions being represented. It is mainly a trade show but on the last day it is open to the public.
Fun events like cocktail mixing demonstrations, wine competitions, wine auctions and of course wine tastings.
All about the world of wine for the wine enthusiast!

When?: November 10 - 12, 2016 open to the trade. For the general public age 18 and older open on Saturday, November 12, 2016 10:30 a.m. to 6:00 p.m.
Where?: Hong Kong Convention and Exhibition Centre
How Much?: Ticket admission HK 100 (Pre-Register for free admission!)
More information from the HKTDC site.
The Hong Kong International Literary Festival
The Hong Kong International Literary Festival is an annual event featuring established and emerging writers from around the world in a programme that includes discussions, literary lunches and dinners, workshops, book signings and more.
HKILF celebrates English creative writing and emphasizes writing with an Asian connection.
When: November 4 - 13, 2016
Where: Various venues, including The American Club and The Fringe Club
How much: Various prices; some free admission
More Info: www.festival.org.hk
Symphony Under The Stars with the Hong Kong Philarmonic - a FREE outdoor concert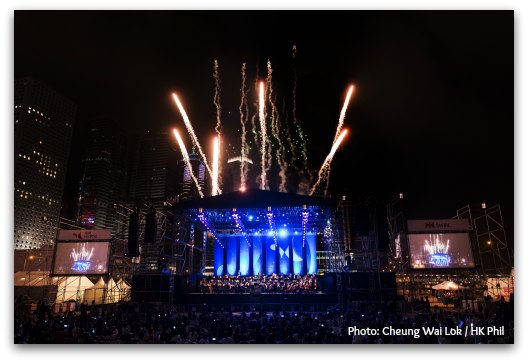 A night of enchanting music with the Hong Kong Philarmonic in the backdrop of the city's stunning skyline.
Come enjoy the gems of classical music for an inspiring, relaxing and magical evening!
This is one of the city's largest outdoor concerts and it's FREE!

When: Saturday, November 12, 2016
Where: Central Harbourfront Event Space
How much: FREE (Pre-registration is required. Please visit the official website for details.)
More Info: www.hkphil.org
Lan Kwai Fong Carnival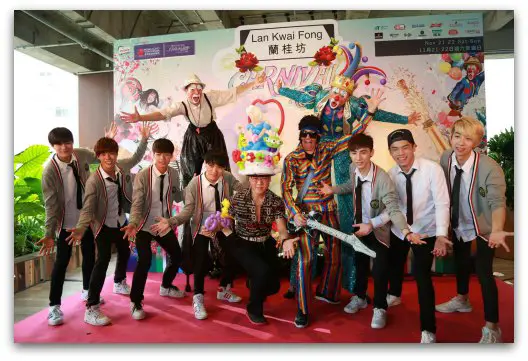 One huge street party... as if this wasn't already the liveliest spot in Hong Kong, during this annual Carnival, Lan Kwai Fong really puts on the show.
And with a new twist this year... the Lan Kwai Fong Carnival has gone interactive! Don't forget to download the LKF Play app!
Over 50 booths, live enterntainment, stage games, face painting, a night parade, special lighting effects and of course some of the best street food and beer!

When?: Saturday and Sunday November 19 - 20, 2016 - 1:00 pm until late
Where?: Streets of Lan Kwai Fong. Take the MTR to Central Station Exit D2, on to Theatre Lane and up D'Aguilar Street.
How Much?: Free! Food and Drink available for purchase at the more than 50 booths and stalls set up for the occasion.
More information at www.lankwaifong.com.
Clockenflap Hong Kong's Music and Arts Festival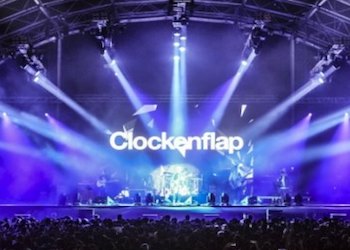 A weekend of live musical acts, film screenings, family fun, and of course food! And all this in Hong Kong's world class setting in the Central Harbourfront.

When: Friday to Sunday November 25 - 27, 2016
Where: Central Harbourfront Event Space
How much: General Admission HK980 - HK1,020, 3-day passes and student discounts available. Children under 12 FREE. Find Tickets to Clockenflap
More Info and Line Up: www.clockenflap.com
World of Food and Music at Stanley
A real culinary treat and great live entertainment on a beautiful setting overlooking Stanley Bay.
World of Food and Music is a celebration of distinct flavours, fine wines and outstanding performances at Stanley Plaza's 300-seat amphitheatre.
For this year's guest appearances and programme check the official site at www.stanleyplaza.com.hk

When?: Sundays in November
What time?: 1:00 to 6:00 pm
Where?: Stanley Plaza Amphitheater, 23 Carmel Road, Stanley, Hong Kong Island. Here's more on Stanley and how to get there.
How Much?: Free!
Hong Kong WinterFest
Hong Kong WinterFest is the series of events sponsored by the Hong Kong Tourism Board which kick-off late November/early December and run up until the New Year's Countdown on January 1st.
One of the highlights is the centrepiece in Central's Statue Square, which becomes the season's icon. Stay tuned for this year's hallmark feature!

When?: November 25, 2016 - January 1st, 2017
Where?: Central's Statue Square
How Much?: Free
More Info: Hong Kong Christmas Events
Hong Kong Disneyland Sparkling Christmas
Parades, Carols, Christmas Trees...The entire park is transformed into a wonderland full of the holiday cheer, shiny ornaments, dazzling lights, fluffy snow, bows, balls and garlands, holiday wreaths... all decorate every corner of this magical world and make it even merrier...
You don't want to miss the magnificent Christmas Tree, the parties, the parades, and of course the fireworks.

When?: November 17, 2016 - January 2, 2017
Where?: Disneyland Hong Kong
How Much?: Included with Admission Ticket
More info:Disneyland Hong Kong Sparkling Christmas.
---
Ongoing Hong Kong Events for November, 2016
These are some popular ongoing events that are worth checking out, specially since they are FREE or offered for a low fee!
Hong Kong Cultural Events
These events feature some of the great and ancient traditions of the territory and are offered by experts in their corresponding fields:
The Symphony of Lights
The Symphony of Lights is Hong Kong's light and sound show, a tribute to the city and its people, their diversity, energy and vitality.
The stage is the entire city, which is what makes it so unique, you can watch the lights from just about anywhere in the waterfront. This free show offered by the city, takes place every night at 8:00 pm and lasts aboout 15 minutes.

When?: Every Night
Where?: Can be seen from both sides of Victoria Harbour
How Much? Free
Click here for more on Hong Kong's Symphony of Lights and best spots to watch.
---
The Happy Valley Horse Races
Happy Valley Hong Kong whether or not you are a horse racing enthusiast is an experience not to be missed!
The beautiful horses, the skillful jockeys, the crowds going wild, they all add up to an exciting, fun-filled, thrilling atmosphere in a world-class venue.
The Happy Valley race course itself is a sight in itself, the city has built around it through the years and it is now practically surrounded by skyscrapers, an awesome experience specially at night when the city is illuminated.

When?: Wednesday Nights. First race starts at 7:15 p.m. and the gates open at 5:15 p.m. The races are done by 11:00 p.m.
Where?: Happy Valley Race Course
How Much? Depends, there are many ways to experience the races, from General Stand to Private Boxes and special packages including dinner and drinks. General Stand entrance starts at HK10. The "Come Horseracing Tour" provides transportation to/from your hotel, dinner and drinks and access to the Member's Boxes.
Click here for more on Happy Valley Horse Racing, how to get there and options for viewing the races.
---
Hong Kong Events
Thank you for visiting www.hong-kong-traveller.com!
Here is to a wonderful Hong Kong travel experience!