Hong Kong Day Trips
Get Out: the Outlying Islands, the New Territories,
China and Macau all at our doorstep
Hong Kong Day Trips
bring you to stunning beaches, quiet fishing villages, areas with abundant wildlife and natural beauty, historic villages, colonial architecture of a former Portuguese enclave, and the bold and contrasting blend that is modern and traditional China.
These are some of our favourite Hong Kong Day Trips:
Lantau Day Trip
The Big Buddha, Tai O Fishing Village, Po Lin Monastery, Ngong Ping Cable Car... this day trip bundles together some of the top attractions in Lantau Island.
It can be done easily on your own using many kinds of public transportation, and on this day trip you will definitely experience most of them: MTR, buses, ferries, taxis, and the fab Cable Car to bring you to the Ngong Ping plateau.
These are the main highlights on this day trip:
Ngong Ping cable car journey
Giant Buddha
Po Lin Monastery
Wisdom Path
Tai O fishing village and market
Boat ride through traditional houses on stilts and if you're lucky the elusive pink dolphin
Here's more on the Big Buddha and Lantau Island Day Trip
If you prefer, there is also a full-day tour hitting all these highlights, with pickups at many centrally located hotels in Kowloon and Hong Kong. What could be easier?
Macau Day Trip
Macau is an astounding mixture of colonial charm, Chinese zest and glitzy casinos just a short one-hour ferry ride from Hong Kong.
With convenient sailings every 15 minutes throughout the day, it is one of the most popular Hong Kong day trips that offers something different, whether it is some enticing Portuguese and Macanese cooking, striking colonial architecture, a UNESCO World Heritage city center, a hand at the baccarat tables or stint at the slot machines.
There is much to keep you busy for a day here in Macau, these are some of our favorite highlights:
The Ruins of the Church of St. Paul
The "Old Town" and Largo do Senado
Portuguese and Macanese food
Chinese traditional temples and shops
The Macau Tower
The Casinos in Taipa
Here's more on the Macau Day Trip, how to get there and getting around the different sights.
There are also a number of full or half-day tours that pick you up at your hotel and arrange the transportation and sightseeing in Macau. Options to stay at the casinos and make your own way also available, as well as an option starting and ending in Macau:
Shenzhen Day Trip
To get a glimpse of China's manufacturing mecca and the area that spearheaded the country's modernity and economic explosion, head just accross the border from the New Territories.
A day trip to Shenzhen is not as much for sightseeing as for shopping. This is where you find bargains from electronics, clothing, shoes, accessories, jewelry... at fantastic prices, both the real thing as well as counterfit, so beware.
Getting to Shenzhen from Hong Kong is easy with the MTR and takes just under one hour. As you will be crossing into Mainland China, a China Visa is necessary. Most European nationalities are able to get 5-day visas at the border costing HK150 but rules change frequently. U.S. passport holders are not eligible for the 5-day visa. If you only want a quick peek into China for a day, I recommend taking the guided tours which include the Group China Visa, in many cases more economical than the cost for an individual single-entry visa alone, for Americans for example, the visa fee alone is US$140
If shopping is your main goal with a quick look-around at modern China, then this Shenzhen tour is for you.
Or if you prefer, you can arrange for door to door transfers to Shenzhen only, easy and convenient.
Guangzhou Day Trip
Guangzhou, also known as Canton, is a vibrant city of 12+ million, a business and exhibition hub and home to the Canton Fair, one of the biggest trade shows in the world.
Guangzhou is a popular day trip from Hong Kong for visitors that just simply want a look at Mainland China. There are no high-caliber historical sites here, but the city has a charm of its own, including its world-famous Cantonese food.
These are some of the highlights in Guangzhou:
The Sun Yat Sen Memorial
The Chen Clan Ancestral Temple
Yuexiu Park
The Canton Tower
Cantonese food and dim sum
The train from Hung Hom station in Kowloon to Guangzhou East takes less than two hours. As in the case of Shenzhen, a China visa is required, but unlike the SEZ, it cannot be obtained at the border. You will need to get a visa ahead of time, or take the recommended guided tour that includes your tranportation, lunch, sightseeing and group visa.
Or if you prefer, you can arrange for door to door transfers to Guangzhou only, easy and convenient.
Cheung Chau Day Trip
Cheung Chau Island is a little jewel of an island which is mainly known for its iconic Bun Festival in May. But festival or not, a visit to this small island is well-worth your time whether you have only a few hours or a whole day.
Getting to the island is totally hassle-free with frequent ferry service from Central Pier 5. It takes only 40 minutes to get there and once in the island, there is much to keep you busy.

These are just some of the main highlights on this day trip:
Stroll the waterfront promenade and the small alleys in town
A bustling and colorful harbour
Pak Tai Temple as well as several Tin Hau temples
Beaches
Coastal hiking walks and paths with stunning views, even a "Mini Great Wall"
Sampan rides
Cheung Po Tsai Cave, "the pirate's den"
Here's more on the Cheung Chau Island Day Trip
If you prefer, there is also a 6-hour tour hitting many of these highlights, with pickups at several centrally located hotels in Kowloon and Hong Kong. What could be easier?
Lamma Island Day Trip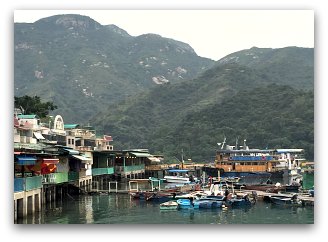 Whether for a day or only a few hours, Lamma Island is another great option for an escape from the tumult of the city and it is only a 20 minute ferry ride away.
It is one of the very few places in Hong Kong that still hangs on to its old fishery ancestry customs and traditions and a real treat to visit any time of the year.
Lamma has some of the best hiking trails in Hong Kong, a very enjoyable activity during the cooler months. If temperatures run high, then the beaches are a better option. And one of the main highlights? Its seafood! All year-round!
There are two main villages with a hiking trail that connects both. Yung Shue Wan is the main "town" with a livelier vibe. Sok Kwu Wan is the small "fishing village town".
Sok Kwu Wan's waterfront is lined with seafood restaurants where you can sit out in the open and enjoy the views from the lively harbour.
These are some of the main highlights and things to enjoy in Lamma:
Stroll the alleys in town in Yung Shue Wan
The harbour and waterfront at Sow Kwu Wan
Seafood at Sok Kwu Wan
Beaches
Hiking Paths with fantastic views
Temples
Don't have a full day? Just take the short ferry ride and enjoy a fantastic seafood feast! Rainbow Seafood Restaurant in Sok Kwu Wan offers a great set menu.
Sai Kung Town and the Sai Kung Peninsula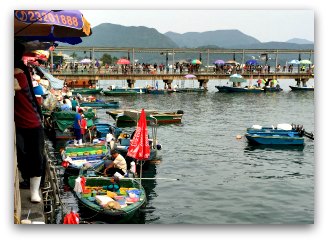 Sai Kung is a delightful picture-perfect seaside town in the eastern part of the New Territories. It takes about one hour and a combination of public transport to get to it as there is no direct MTR station nearby but it is well-worth the time and effort to get there.
The main draw to the town is a very colorful and bustling floating market and the waterfront seafood restaurants.
In addition, Sai Kung Town is a gateway to the surrounding area which contains fantastic country parks with the territory's most fabulous hiking spots and beaches, a myriad of small islands and also the Hong Kong UNESCO Global Geopark.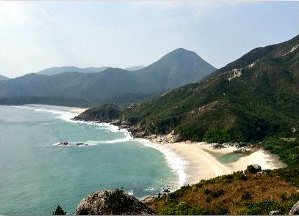 Some of the favourite activities in the area:
Sai Kung Promenade and the colorful seafood floating market
Glorious fresh seafood!
Sampan rides
Beaches
Nearby islands
Geopark formations
Hiking
Watersports: kayaking, paddleboarding, jetskiing...
Here's more on Sai Kung Fishing Village and many options for outings in the Sai Kung Peninsula
There are also many full and half-day tours that organise all the details:
---
Thank you for visiting www.hong-kong-traveller.com!
Here is to a wonderful Hong Kong travel experience!