Mai Po Nature Reserve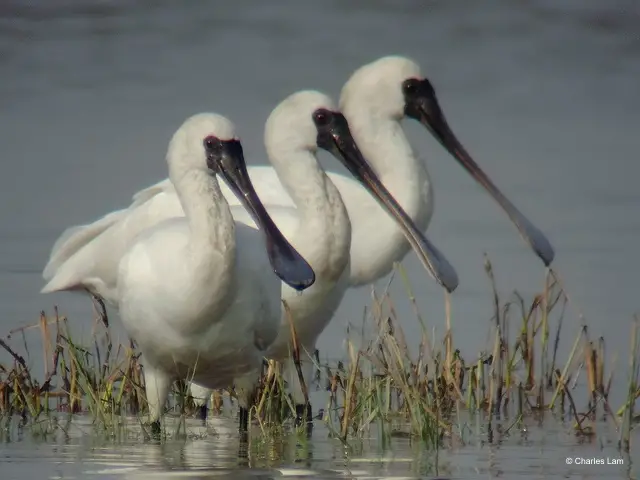 A Trio of Black-Faced Spoonbills at the Reserve
The Mai Po Nature Reserve is a protected area in the New Territories composed of mudflats, ponds, wetlands and mangroves that offer a rich environment for all kinds of wildlife, specially our resident and migratory birds.
Although a bit out of the way, a visit to the Mai Po marshes is a must for birdwatchers, even more so in the winter months when you are rewarded with wonderful sights of tens of thousands of migrating birds making their way to the wetlands where they make their home until temperatures start to climb back again.
The diversity is astounding, about 72% of Hong Kong bird species are found in Mai Po, including some endangered species and one of the largest congregations of Black-Faced Spoonbills in the world.

Visiting Mai Po Nature Reserve
Because this is a protected area, visitors cannot just "walk in". You are required to obtain a permit or join one of the organised walks provided by the reserve.
There are different tours during the various seasons ranging from 3 to 6 hours and different levels of physical abilities. They are all guided by professionals with vast knowledge about the marshes, their importance and challenges.
Tours are offered year-round, normally on weekends and public holidays. Tour availability, times and locations vary depending on current conditions, the season, tides, etc. Check here for tours being offered during the time of your stay and book as soon as you can as spaces are limited. Registration can be done as early as 3 months prior to your visit.
If travelling with children please observe the age requirements, some areas such as the floating boardwalks for example, do not allow children under 12.
You will need your passport to register. Tour prices range from HK$120 for a 3-hour "Exploring Mai Po" tour to HK$360 for the 6-hour "The Magic of Migration" Winter Tour. Our "Mangrove Boardwalk" tour was HK$220. There are discounts during the summer months.
Tours are offered in Cantonese and English, so be sure to choose the right option for your needs.
Guided walks start at the Warden Post/Wellcome Center. This is a no-frills building next to the small parking lot with not much other than a bathroom and some vending machines.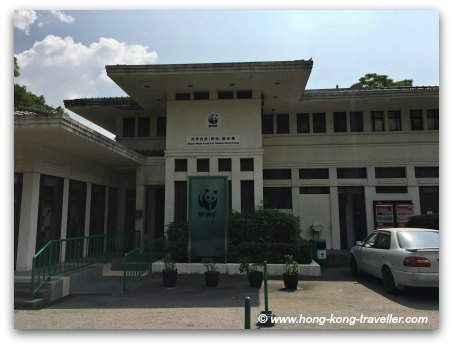 This is where you register and receive a badge and a pair of binoculars provided free of charge for the duration of the walking tour.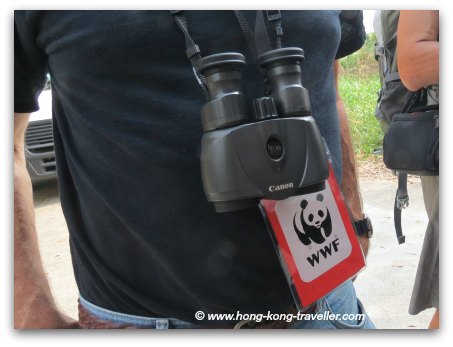 Walks will take you to the different areas of the reserve, which are basically
The Gei Wai or shrimp ponds
The Mangroves
The Mudflats of Deep Bay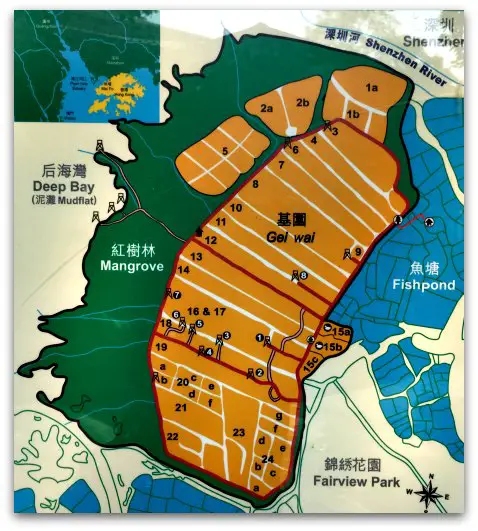 Getting around the Gei Wai area is easy over paved walkways that criss-cross the shrimp ponds. These are suitable for people with mobility issues and wheelchairs.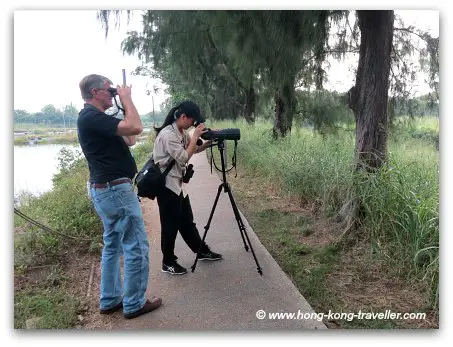 There is wildlife all along the paths surrounding the ponds. Guides carry scopes and are constantly looking and finding wildlife for you to observe and enjoy.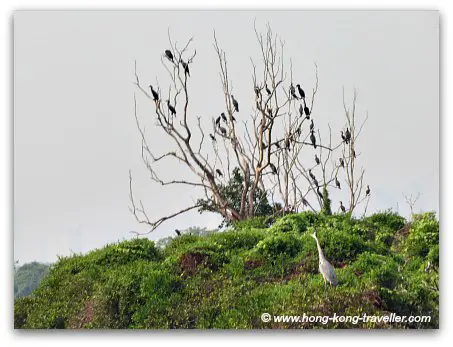 Throughout the Gei Wai area are 7 hides for bird-watching, also wheelchair accesible with ramps that bring you up to the first level and stairs to the higher levels.
There are multiple telescopes set up in all three levels of the hides, the views from here are fantastic.
We spent some time on the hides spotting all kinds of birdlife, beautiful gray herons wading in the ponds...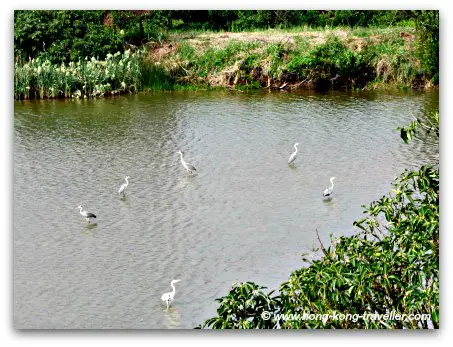 Cormorants, egrets, purple herons...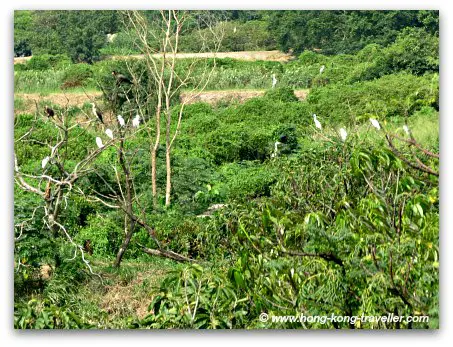 Many birds of prey like this pair of Black Kites...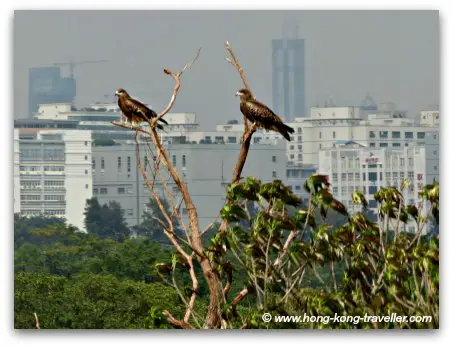 Mainland China is practically accross the reserve, it's a bit bizarre being able to observe so much wildlife in the backdrop of the Shenzhen skyline...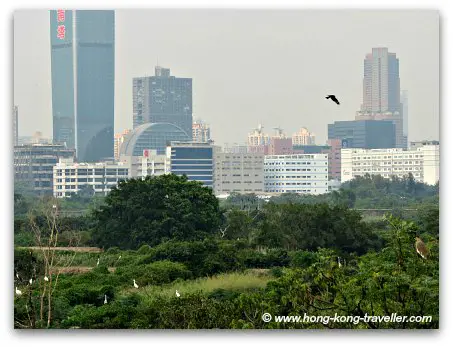 You meander over boardwalks through beautiful lily ponds...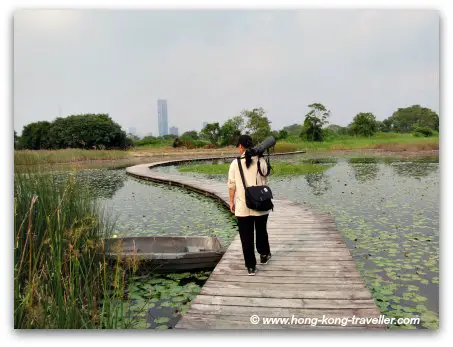 And have a short stop at the quite informative WWF Mai Po Marshes Wildlife Education Center...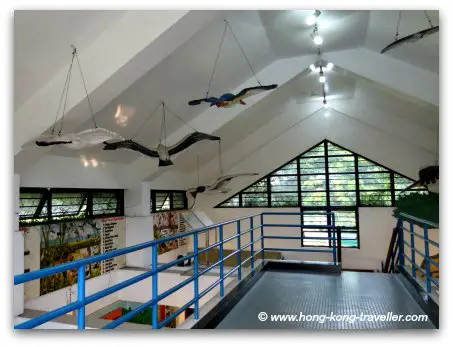 Some guided walks end with the visit at the Education Center and then return to the starting point at the Warden's office. Up to this point, it has all been through fairly easy terrain and well-paved paths or boardwalks that are wheelchair and mobility challenged-friendly.
The longer tours continue on through the mangrove area...
A series of wooden planks and a fantastic floating boardwalk cut accross the mangroves to bring you all the way to the mudflats of Inner Deep Bay.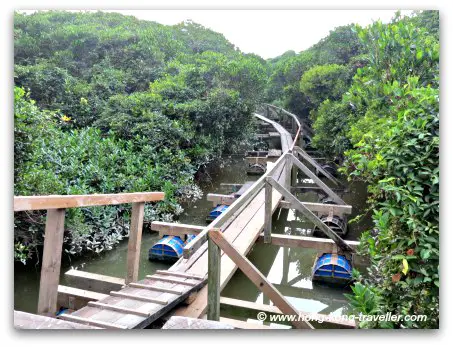 As you can see from the pictures the planks are narrow and wiggly. There is one handrail on one side and nothing to prevent you from falling on the other. We were asked to go on a single line, obviously, and not more than two at a time per plank section.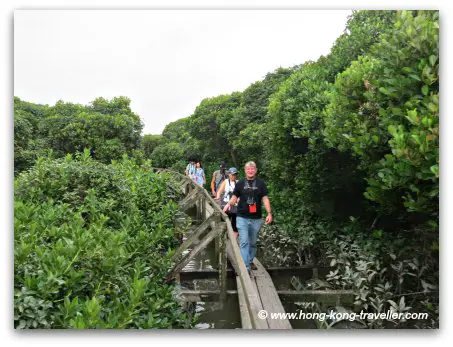 Crossing the boardwalk took about 10-15 minutes or so. At the end of the boardwalk, there is yet another hide, this one opens up to a sweeping view of the mudflats of Inner Deep Bay, the main feeding site of the waterbirds.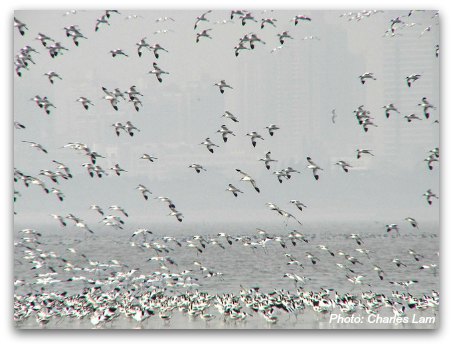 If you are here during the autumn/winter season, THIS IS A MUST. This is where the action is. Thousands of birds flock to this area where you will catch them feeding, swimming, wading, diving, hunting, flying... Your strong set of binoculars, scope, telephoto lens will come in handy here...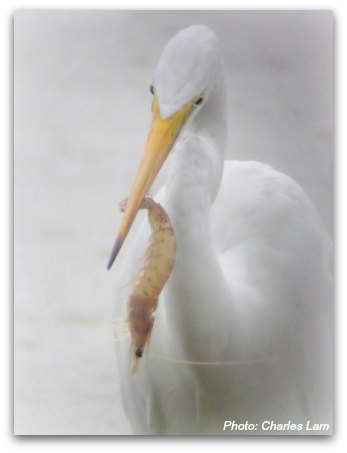 An egret catches a shrimp for dinner...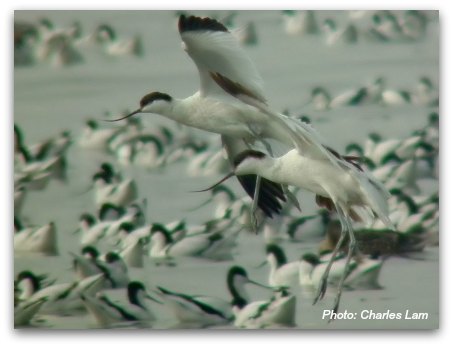 Graceful Pied Avocet in flight...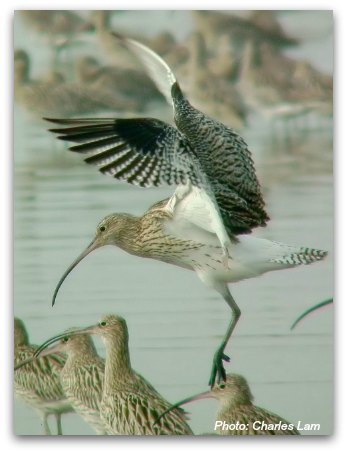 And an Eurasian Curlew approaching for landing...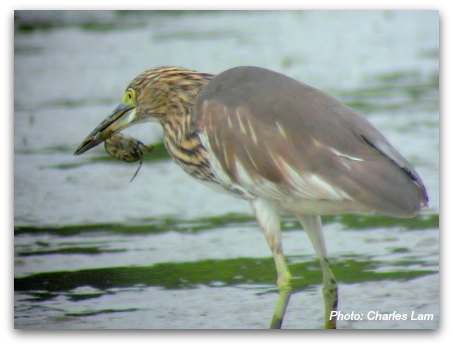 Dinner time for this Chinese Pond Heron...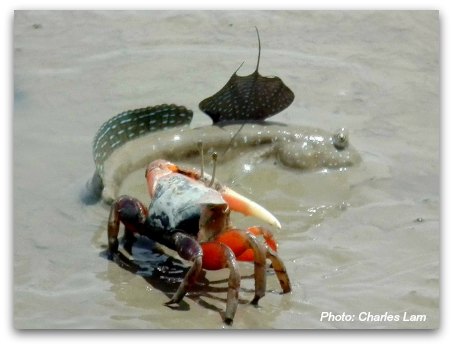 The bottom of the food chain: mudskipper and crab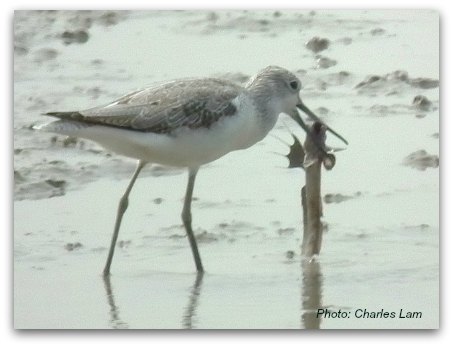 ...Which this Wood Sandpiper managed to find...
By the time we left the hide it was close to sunset, it was difficult to leave such beautiful sight...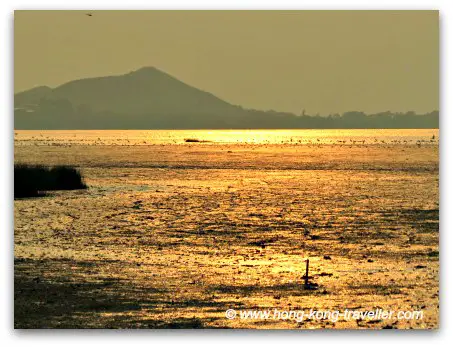 Getting To Mai Po Nature Reserve
Mai Po Nature Reserve is in the New Territories, you need to allow at least one hour travel time from the city.
One option is to take the MTR to Yuen Long Station (West Rail Line or the Violet Line), then Bus 76 K to Mai Po Village, then walk 20 minutes to Mai Po Reserve.
We found the easiest way was to take the MTR to Yuen Long Station and then a taxi to the Reserve. Have the name and address written in Chinese for the taxi driver. It should take about 15 minutes and cost around HK70.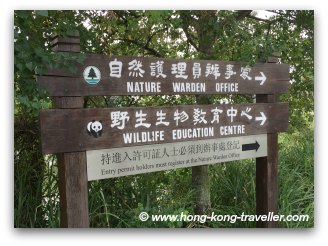 Unless your tour is in the morning and more tours follow in the afternoon, getting a taxi from the Reserve back to town will be more challenging.
Our tour for example was the last one of the day, so by the time we were done, there were no more taxis coming to Mai Po. The kind ladies at the Registration office helped us call a taxi which they remarked "might not be easy".
Remember tours run on weekends and holidays only, so many drivers don't want to come late in the day for the one-way ride. We were lucky and got one, but in the event there are no taxis, be ready to walk and take the Bus back to Yuen Long.
There are detailed instructions and driving directions if coming by private car here.
Visiting Mai Po Reserve On Your Own
Is it possible to visit the marshes without a guided tour? Yes, but permits still need to be obtained.
They have what they call a "Solo Visit for Overseas Naturalists" which offers a one-day entry permit to short-term visitors to Hong Kong.
There are several requirements that need to be fulfilled:
You must be:

Members of another WWF affiliate
Members of a recognized bird-watching society i.e. Audubon Society
Staff of recognized natural reserves
University teaching staff in a related field
Members of other conservation organizations
Entry to the Reserve for ages 4 and up, entry to restricted floating boardwalk area for ages 12 and up

You need to fill out the application which can be downloaded here. (Scroll to the bottom of the page)
Email the application along with proof of membership and a copy of your passport to publicvisit@wwf.org.hk or fax it to (+852) 2471 0325 at least one week prior to your visit.
On the day of your visit, bring along passport and original proof of membership, HK$200 deposit.
It is very important to register and send in your application as early as possible as there is a limit of 5 Solo permits extended per day and permits will NOT be issued on the spot.
Alternatives to Mai Po Nature Reserve
If you are unable to apply on time and/or there is no tour available during the time of your visit to Hong Kong, there are a few other options to enjoying the marshes and the wildlife of the area:
Thank you for visiting www.hong-kong-traveller.com!
Here is to a wonderful Hong Kong travel experience!