Hong Kong Nature and Wildlife
The Wetlands in the New Territories:
Birdwatchers' Paradise
Hong Kong Nature and Wildlife: Migratory Birds flock to Mai Po Nature Reserve in the winter
There is a fragile ecosystem just a stone-throw away from mainland China in Hong Kong's New Territories. This area is a heaven for birdwatchers specially in the winter months when tens of thousands of migratory birds flock to the protected marshes and mudflats.
Although the area is a bit far from the city, it can be easily accessed with public transportation.
This rich habitat is home to many resident birds that inhabit year-round, as well as the migratory species escaping the harsher temperatures in the colder months.
Here are also found some endangered species and one of the largest concentrations of Black-faced Spoonbills in the world, which we are happy to report, got to see in our last visit!

What To See?
Here are some of the wonderful birds that are found in the wetlands of Hong Kong: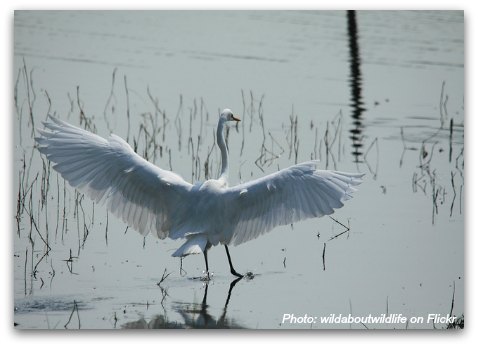 Great Egret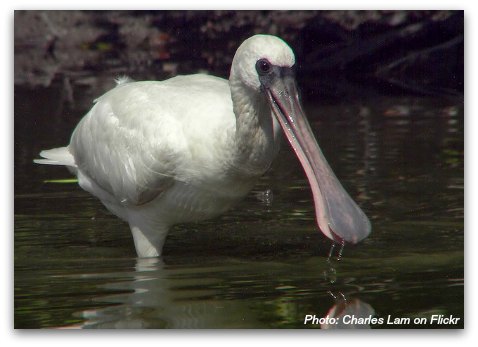 Black-Faced Spoonbill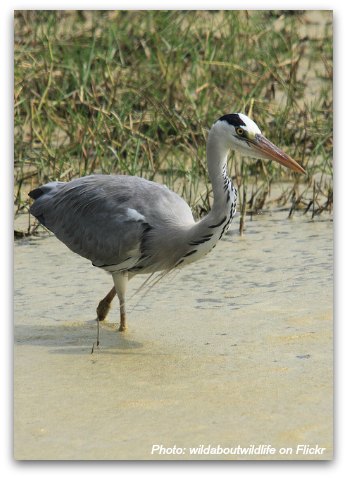 Gray Heron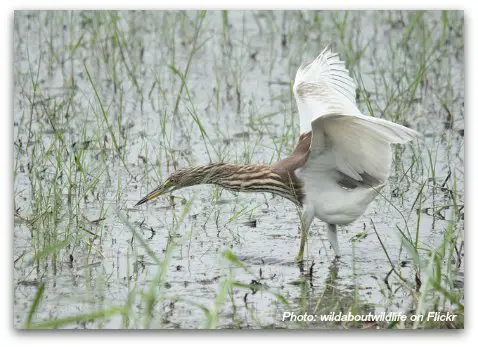 Chinese Pond Heron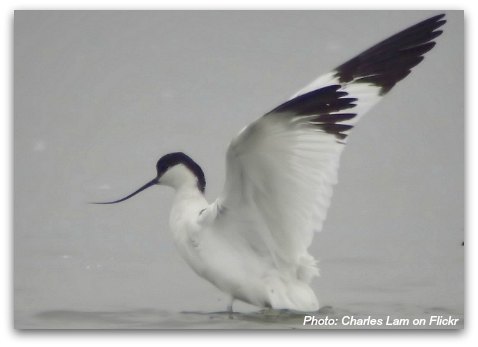 Pied Avocet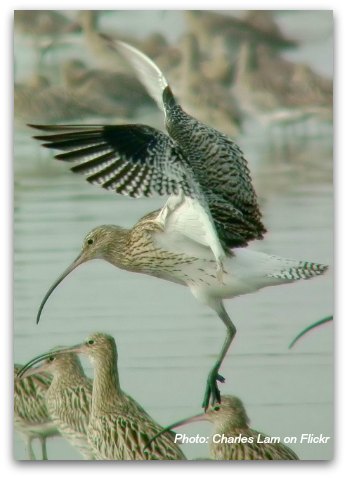 Eurasian Curlew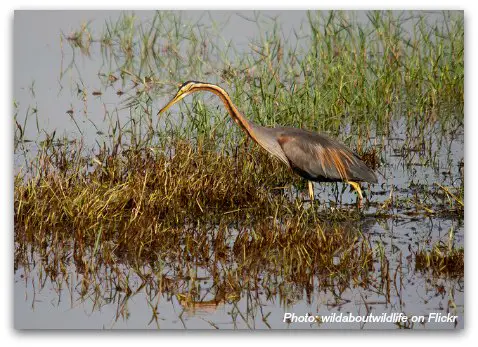 Purple Heron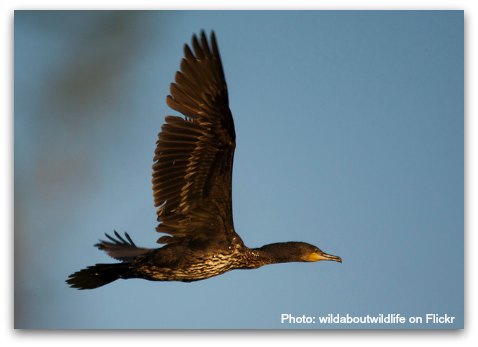 Great Cormorant
And at the bottom of the food chain, there is of course the mudflat inhabitants that provide the sustenance for the wading birds. You are likely to see mudskippers...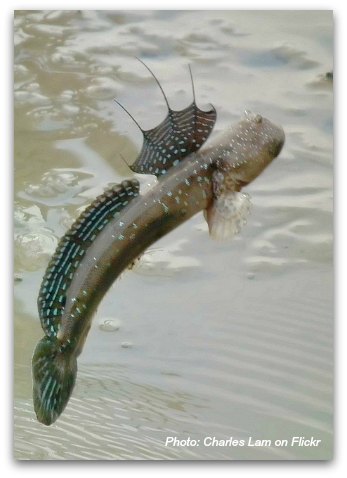 ...and crabs galore...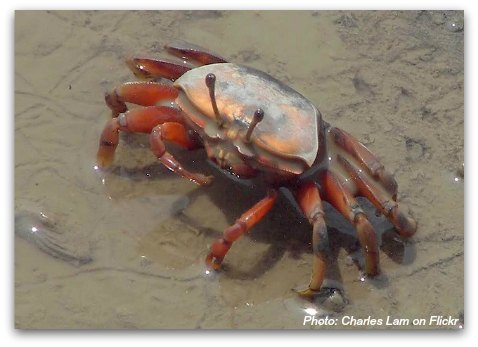 For more stunning wildlife photographs follow Charles' and Darren's channels on Flickr: www.flickr.com/photos/kclama and www.flickr.com/photos/wildaboutwildlife/
Where to Go?
So where do we go to find this wonderful wildlife? There are two main parks or reserves dedicated to the protection and conservation of the habitats and wildlife of the area:
Another great alternative to visiting the area and enjoying the wildlife and local culture is by joining an Eco-Biking Adventure through the Lau Fau Shan and Bak Nai areas.
Of the two reserves, Hong Kong Wetland Park is more easily accessible and has more tourist facilities, and other than the entry fee, it does not require a special permit to visit. This park is better for families and is wheelchair accesible.
The Mai Po Reserve on the other hand requires you to either join a guided walk or obtain a special permit which can be applied for online. Children are NOT allowed on some of their guided walks and restricted areas.
The Eco-Biking tour requires a minimum of 6 participants and the tours must be booked in advance. This is also a fun option for families as the kids will certainly enjoy cycling around and meeting some of the local youths.
Equally important as your choice of where to go, is the question of WHEN to go, the time of the year when your chances of seeing the most wildlife are higher.
When to Visit?
All options can be visited and are open year-round. However, the peak of the season is "after Christmas", that is, if you want to see the wading birds in abundance, then late December, January and February are the months to come.
Although we visited Mai Po early in the season in late October, we were happy to see one of the species we really wanted to see, the black-faced spoonbill, which our wonderful nature guide relentlessly helped locate with her scope until she found some far far far away in the distance...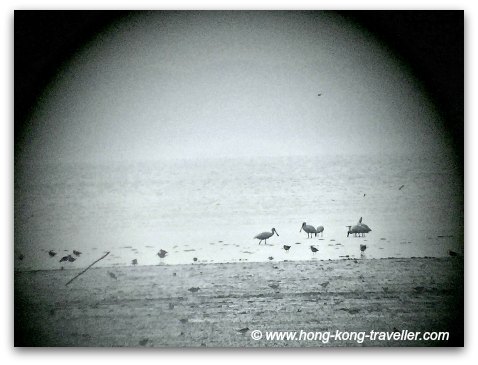 Hong Kong Wetland Park
Boardwalks, lily ponds, bird hide stations, mudflats, fish ponds, mangroves, a beautiful butterfly garden and an informative visitor center at this 60+ hectares of wetlands.
The Park is great for kids with many interactive displays, which also makes it a magnet for school field trips.
Although not precisely "around the corner", this is the easiest option to get to with MTR and Light Rail which will drop you right at the entrance of the Park. There is also a bus from the city, just allow about an hour to get there.

Mai Po Nature Reserve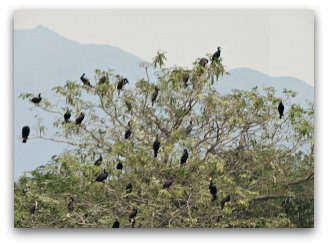 The reserve is jointly managed by WWF Hong Kong and the Hong Kong government. Unlike Hong Kong Wetland Park which has more of an "amusement park" atmosphere, the reserve is limited to visitors with permits and there are very few facilities other than a couple of vending machines, a small wellcome center and education center.
What it lacks in fancy facilities is made up by a blissful quiet and serene atmosphere, plenty of bird hides and observation platforms and a fantastic floating boardwalk that brings you through the mangroves all the way to the mudflats of Inner Deep Bay, the main feeding site of the waterbirds.
If you are travelling with children, also please note there are age requirements for several areas and walks.
You can join a nature guide at one of the organised walks or request a permit online. The number of spots allowed on any given day or for tours which are mainly on weekends and public holidays are very limited, so needless to say you need to plan ahead of time.
This Reserve is a little more difficult to reach. You have the option of MTR + Bus + 20 minute walk, or MTR + HK70 taxi (the easiest option); however, taxis are not a sure thing for the return trip, so be prepared to walk.

Eco Biking Adventures in Lau Fau Shan and Bak Nai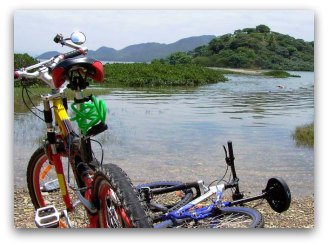 A cycling adventure through mangroves, wetlands and fish markets... seafood lunches... fanstastic sunsets... while being guided by a local youth.
These are 5 or 7-hour small group tours, a fun way to see the area and learn more about the local culture and way of life away from the city.
The Eco-Biking adventure is a social project to support eco-tourism and employment opportunities for the local youth in the area. These tours feature youngsters from the Tin Shui Wai district as your guides to the New Territories West.

More Hong Kong Wildlife Our Beloved Pink Dolphins
Go on a Pink Dolphin Watch cruise and look for this rare and endagered species that inhabits the waters surrounding Hong Kong.
Kids specially enjoy the cruises which provide a way to enjoy and observe these lovely creatures in the wild.
The trip is conducted in a way that minimizes disturbance to the dolphins, and it is at the same time an educational experience as the guides are very knowledgeable about the Chinese dolphins and are more than happy to tell you all about them, their habits, characteristics, habitat and the plight they face.

---
Thank you for visiting www.hong-kong-traveller.com!
Here is to a wonderful Hong Kong travel experience!